jlevandoski
Member since Nov 3, 2012

Male / 24
Ellington , Connecticut
""I only ride park" - Matt Dennison" - Joseph Levandoski
Block user
Recent
Apr 22, 2020 at 10:31
Apr 22, 2020
Selling
Apr 22, 2020 at 10:30
Apr 22, 2020
$225 USD
Installed this dropper to replace the original Race Face Turbine I had on my Knolly Warden. It's worked perfectly since installation in late 2019 and the only reason for replacing is I purchased a new frame that let me run a longer dropper. It was used for only two rides last season and only a couple of rides the season prior, so there are no scratches on the stanchion or dropper body. It's the Factory version with the Kashima coat and comes with the little bushing for the cable and a lever to run under the left side of the handlebars (keeping the lever out of the way during the inventible crash). Let my loss be your gain! Feel free to shoot me a PM with any questions you may have. I'm more than happy to deliver locally, but any shipping and/or PayPal fees are the responsibility of the buyer.
Apr 15, 2020 at 7:39
Apr 15, 2020
Selling
Apr 15, 2020 at 7:39
Apr 15, 2020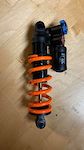 $550 USD
Installed this shock last season and went on less than 5 rides with it before deciding to revert back to an air shock. The 2-position switch works great for those long fire road climbs, but I prefer the feel of an air shock. This unit is normally $800+ for the shock, spring, and hardware - I'm letting it go for $550 (or reasonable offers). Let my loss be your gain! Specs are as follows: Size: 7.875" x 2.25" Spring: 400lbs x 2.4" Reducer/Hardware (Top): 21.8mm x M6 Reducer/Hardware (Bottom): 21.8mm x M6 Any shipping and/or PayPal fees are the responsibility of the buyer.
Selling
Aug 4, 2019 at 13:11
Aug 4, 2019
$1250 USD
"Half the fun of the Warden is pointing it up silly climbs that your friends have bet that you can't clean. Be sure to make those bets count because they'll quickly learn their lesson and stop doubting you." - Mike Levy The big details: Frame: Knolly Warden Aluminum 27.5 (large) Shock: Cane Creek Double Barrel Air CS Seatpost: Fox Shox Transfer Factory (125mm) Wheel Size: 650B Rear Wheel Travel: 150mm Other: Tapered head tube, titanium pivot hardware, 12mm x 142mm rear axle w/ pinch bolts, internal/external dropper post routing, replaceable ISCG05 tabs The little details: Frame is in very good condition and was used for all around riding in New England (but always received appropriate attention at a local Knolly dealer when necessary). Blemishes include three small paint chips; one on the weld between the top tube and downtime, one on the right seatstay (which has been covered with clear adhesive tape), and one on the right side of the chainstay. at the rear of the seat tube and a scrape near the rear axle from the chain. Other susceptible areas (such as the downtube and chainstay) were covered with frame guard patches. Also included is the rear axle (obviously), derailleur hanger, seat post collar, and the various screws, bolts, and housing holders for whichever way you decided to run. The miscellaneous details: The frame will come packaged in a box just like you'd find in a shop with each component secured for a safe shipment in boxes, dampening foam, and/or bubble wrap at no additional cost. Shipping and PayPal fees are NOT included in the asking price.
May 19, 2019 at 19:31
May 19, 2019
Selling
May 19, 2019 at 19:30
May 19, 2019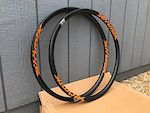 $400 USD
Selling my half-used set of Atömik Carbon hookless trail rims - that's right, I said "half-used". Due to some extremely poor judgement on my end (read: I didn't check my tire pressure before going for a ride and got a little too zesty on a downhill stretch), I cracked the rear rim. The original wheel (which I used as my front rim) shows signs of scuffs, but in no way has the carbon or structure been damaged. The other rim is BRAND new under warranty. MSRP on a set of two rims is $870, but I'm looking for $400. Why so low you ask? Well, these rims are (clearly) not on my bike as I learned my lesson and purchased rims that were better suited to poor line choices and full DH riding. Noting the capabilities of these rims, they're an excellent choice for the XC weight weenie or a weekend trail warrior. If you have any questions, please feel free to shoot me a PM. I'm open to reasonable offers. If you'd like these shipped, please understand that you're responsible to cover charges (I've got a box ready to go though).
Selling
May 19, 2019 at 19:26
May 19, 2019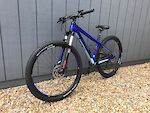 $850 USD
We've all heard of the 'N+1 Formula', but how about the 'S-1 Formula' (where 'S' is the number of bikes that will get you kicked out of the house)? Well, it looks like that magic number has been hit for me, so it's time to part ways with an excellent bike. This bike was hardly ridden - one 10-mile rails-to-trails ride to dial in the shifting and wear in the brake pads. It's still that new! MSRP was $1,350 when purchased, but I'm looking for $850. With that being said, I'm open to reasonable offers. If you're looking to have this shipped, please understand you are responsible for REASONABLE shipping charges. Specs are as below. Please feel free to shoot me a PM if you have any questions! Frame: Cannondale F-Si SmartFormed Alloy hardtail (size XS) Fork: RockShox Recon Gold TK - 100mm Solo Air (includes PopLoc remote lockout) Wheelset: Stan's NoTubes ZTR Rapid 25 rims laced to Formula hubs using stainless steel spokes CURRENTLY RUNNING TUBES Tires: Schwalbe Rapid Rob (27.5" x 2.1") CURRENTLY RUNNING TUBES Crankset: Shimano Deore (M617) Chainring: Race Face Narrow/Wide 30T Rear Derailleur: Shimano XT Shadow+ 10-Speed Cassette: Shimano HG-50 (11-36, 10-speed) Shifter: Shimano Deore Handlebar: Cannondale C3 Grips: Cannondale grips Brakeset: Shimano Deore Rotors: Shimano Deore (F 180mm, R 160mm) Saddle: WTB Speed She Seatpost: Cannondale C3 I have all of the original drivetrain parts (shifter, derailleur, and chainrings) if you are looking to convert this back to 2x10 - all included with sale of course (because who likes being charged extra).
Jul 1, 2017 at 19:43
Jul 1, 2017

Red Loop (Clockwise)
May 2, 2017 at 21:53
May 2, 2017
What's In a World Cup Mechanic's Toolbox?
@johnboy33: Can I sent you my tool box and a couple 6-packs for your trouble? This looks awesome and definitely has me looking (I'd definitely be OK if you "accidentally" slipped a couple tools in as well)!
Load more...