nwguerilla425
Member since Mar 16, 2010

Male / 33
Bothell , Washington
Ticking away the moments that make up a dull day
Block user
Recent

Mar 28, 2014 at 9:32
Mar 28, 2014

Selling
Jan 27, 2014 at 19:25
Jan 27, 2014

Jul 8, 2013 at 14:29
Jul 8, 2013

Selling
Jun 12, 2013 at 17:14
Jun 12, 2013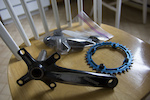 $50 USD
I have a 83mm bb set of Descendants for sale with a E13 34t chainring. Has a fairly new bottom bracket with only a few rides on it. No trades. Buyer pays shipping and paypal fees (3%)

Selling
Jun 12, 2013 at 17:08
Jun 12, 2013

May 16, 2013 at 12:10
May 16, 2013
The Kids Don't Ride
I've always had that dream of having kids that ride, after reading this, I may not force them into quite so hard, you bring up a lot of good points. mtbing really isn't for the faint of heart. "Really, look around you, how many of your friends are committed cyclists?" I thought this was a great question you posed, because out of all my friends only a really small handful are actually into riding, obviously they are my better friends but looking around most of them are just not into it, mostly because every time they see me I got some new injury story for them but that's all the hear is that I got hurt, they failed to listen to all the glory before that or after.

Mar 13, 2013 at 10:41
Mar 13, 2013

Mar 13, 2013 at 10:38
Mar 13, 2013

Mar 12, 2013 at 18:33
Mar 12, 2013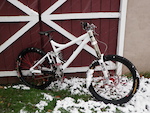 Fail. I've been down this rabbit hole dude. I wanted to buy a Sunday a few years back and it was still a nightmare to source parts. http://www.pearcecycles.co.uk/basket.php This is the only place I've ever been able to find and just because their website says they have them doesn't mean the actually do, they don't even stock linkages. Neither The Hub or The Path have anything to do the IH nor can they order parts, called and chatted with them both about it, literally a few minutes ago. I may have called the wrong Hub shop as there were a couple to pick from but either way like or not that frame is just plain old. That's why when linkages do pop on here they are able to sell for 150-200 still, (I saw a set go for $75 half a year, maybe a year ago and it sold within a day or two.) and your frame you could probably sell for $500-$600. I'm not trying to be an ass or anything it's just I did my research on these frames a while back. I have no doubts you'll sell your bike some day especially since it's an 07, it's just how flexible are you going to be, which is entirely up to you. There's a buyer out there for everything.

Mar 12, 2013 at 15:54
Mar 12, 2013
Load more...