slamman
Member since May 21, 2003

Plus
Male / 65
Gloucester , United Kingdom
Slam69 - The Bicycle Workshop, Wheel Builder, Custom Bike Builder, Enduro bikes and Servicing. FATBIKE SHOP, UK Home of Smokestone Bikes
Slam69 Ltd, Unit 2 Pegasus Centre, Hurricane Road, Gloucester Business Park, Gloucester, GL3 4FF.
Block user
Recent

Aug 6, 2020 at 9:33
Aug 6, 2020

Selling
Aug 6, 2020 at 9:32
Aug 6, 2020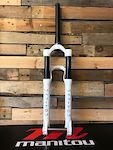 $349 GBP
The Circus project started as a way to get our slope-style riders into competition; but it wound up becoming an industry leading dirt jump fork for riders all over the world. Circus has set the benchmark for the everyday riders' jump session requirements, and delivered podium results at pro-level competitions for almost a decade. 80/100mm or 120/130mm Internally Adjustable Travel Air Spring ABS+ Compression Damping w/ Jump Stack Adjustable TPC Rebound Damping Wheel Size: 26" Weight: 4.29lb Steerer: Aluminium 1.5" Tapered and 1 1/8" Straight Stanchion: 7050 Straight Wall Aluminium Axle: 110mm x 20mm Hex Thru Axle Crown-to-Axle: 478mm(100mm) or 508mm(130mm) Colour: 100mm - Tapered 1.5 - Silver decals only (already applied). 130mm - Tapered 1.5 - Silver decals only (already applied). 100mm - Straight 1.1/8 - Silver decals only (already applied). Order online - https://slam69.co.uk/products/manitou-circus-expert-suspension-forks-20mm-white-2021?_pos=1&_sid=1c0e1b2d3&_ss=r Free UK delivery, or Collection from our store in Gloucester, UK Just off M5 Jnc 11A Thanks for looking :tup:

Jun 3, 2020 at 9:21
Jun 3, 2020

Feb 24, 2020 at 3:29
Feb 24, 2020

Selling
Feb 24, 2020 at 3:28
Feb 24, 2020
$35 GBP
NEW Dartmoor Chukka Two Cranks - 19mm Axle / 175mm Arms Reliable, BMX 3-pcs cranks. Crank arms made of steel seamless tubes. 19mm axle with 8 splines. With steel crank bolts and sprocket bolt included. Arms length: 175m. Axle diam.: 19mm. Splines: 8. Weight: 1100g / 2.43lbs. RRP £60 SALE PRICE £35 LAST WHITE LEFT Order online: https://slam69.co.uk/products/dartmoor-chukka-two-175mm-cranks Or we accept: PayPal, Bank Transfer or on collection all methods of payment. Free UK delivery, Next day available. Or collection from Gloucester, UK Ask me any questions - Happy to help.

Feb 20, 2020 at 3:06
Feb 20, 2020

Selling
Feb 20, 2020 at 3:06
Feb 20, 2020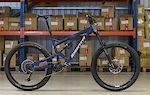 $2800 GBP
Brand New/ Ex-Display Identiti Mettle R Complete Bike 2020 - Gloss Night Time Navy, RRP £3199.99 Mettle II R Bettered Perfection The Mettle is our much loved but often abused bike of choice that lives its life covered in mud and used for taking on all day epics in the mountains, uplift days, or just thrashing around. A true workhorse designed to take it all and keep on coming back for more. Its widely become the bike of choice for riders that want to spend more time riding, less time faffing and its just got even better. Whats different? Slacker Head Tube Angle | Steeper Seat Tube Angle | Longer Reach on all sizes. What does this mean? We hear your screaming at your computer. We dont believe in change for changes sake, but if we can make a change for the better, we will. Heres how it helps you As a combined package all three geometry changes mean that our sat down sizing (effective top tube length) remains almost identical to the previous generation Mettle, yet your mass is more central and balanced between the wheels. But the stood up, foot out, berm slapping sizing - the kind of riding youd buy this bike for - is more confident and ready to get loose when you are, simple. What else? Two fresh licks of paint - Satin Rich Rust or Gloss Night Time Navy. SPEC 6000 Series Alloy frame - Mettle = Metal. Be weird if it wasn't, right? Horst Link Suspension The Mettle is built around a proven Horst link suspension platform, it works, simple. It let us tune the kinematics to provide progression deep into the travel, low pedal kickback and optimised anti squat figures for pedal efficiency. Metric Shock Designed around Metric 230x60mm shocks early on, we were a first adopter of this superior technology. We also use bearing mount shocks for extra suppleness off the top. Proper Sealed Bearings Chunky 6902 bearings in every pivot. Reliability is key. Anyone got a 5mm? Every hardware bolt on the frame uses a 5mm hex key. Who needs multitools anymore!? Practical Tyre Clearance Designed and tested in the UK, theres mud, lots of it. Boost axle spacing 148mm back end for stiff wheeled goodness. Low Stand over Thank us later. Tapered Headtube Run a zero stack headset for a fully slammed set up. ZS44 Upper ZS56 Lower. Threaded BB and ISCG 05 tabs Remember pressfit? Weve NEVER put it on a frame because threaded is better. Bonus water bottle mount Drink Water Specifications Fork Rock Shox Yari RC 170mm 37mm Offset Rear Shock Rock Shox Super Deluxe Ultimate Headset Gusset S2 Handlebar Gusset S2 20mm Rise Stem Gusset S2 40mm Grips Gusset S2 lock on Black Saddle Gusset S2 AM Seatpost KS e30i 150mm Chain Guide MRP 1x CS Rear Derailleur SRAM NX Eagle 12 Speed Gear Levers SRAM NX Eagle 12 Speed Chain SRAM NX Eagle 12 Speed Crankset SRAM X1 Eagle 170mm DUB 34t Cassette SRAM SX Eagle 11-50t 12 Speed Brakes SRAM Guide T Wheels Halo Ridgeline Tyres Schwalbe Magic Mary Addix Soft Snake Skin 2.35 Accessories Halo Tubeless valves and Sealant

Selling
Feb 20, 2020 at 3:01
Feb 20, 2020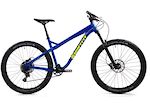 $1700 GBP
Brand New - Ex-Display, Identiti AKA RC 27.5 Complete Bike 2019 - Blue Identiti AKA RC 27.5 The bike that defined a new category, it achieved high praise and was enjoyed by many. The original AKA was developed from our first Mr Hyde frame, designed for trail riding but keeping the aggressive riding characteristics for the dirt jumper wanting to go further. Precursor to a multitude of wannabees it defined the hardcore hardtail for a generation. For 2019 it is back and the new, second generation AKA is packed full of class defining features including long/slack geometry a 64.5º head angle equating to 66º on the trail with sag factored in. Retaining the adjustable dropouts but using a new ADS system with 15mm of adjustment and hidden tensioner. Perfect for either geared or single speed use. Big volume tyre capacity - 2.6 max letting the rider explore the limits of grip and traction. 2 sets of bottle bosses to carry enough for a big day out exploring trails. Proven threaded BB not fashion led alternatives. 148 boost rear axle, 1x cable routing and internal dropper post routing and designed around a 140mm fork in 27.5 or 120mm with 29 wheels in the same frame this bike is built to shred everything in its path. Our bikes are built to order and even though the stock figure may suggest that it is out of stock. We can often complete the bikes by substituting a part or altering a specification. If you wish to order a bike, please contact us directly and we'll be happy to help with options. SPEC 6000 Series alloy tube set Geometry designed around sag 3 Sizes, small, medium and large 2 Colours; Satin Red or Gloss Blue Max tyre size 2.6 (65mm measured on 28 internal rim) Triple bottle cage mount inside front triangle for adjustable bottle placement or extra storage for longer adventures and 1 bottle cage mount under the downtube. Custom designed ADS sliding drop outs with built in hidden tensioner for single speed use 1x Only cable routing 12 x 148 boost drop outs Threaded Bottom bracket with ISCG 05 tabs Stealth dropper post routing Specifications Frame Identiti AKA Fork Rock Shox Revelation RC 140mm Headset Gusset S2 Handlebar Gusset S2 20mm / 800mm Stem Gusset S2 40m Grips Gusset Single File Saddle Gusset R-Series Seatpost KS E30i 150mm Chain Guide MRP 1x CS Rear Derailleur SRAM NX Eagle 12 Speed Gear Levers SRAM NX Eagle 12 Speed Chain SRAM Crankset SRAM NX Eagle DUB 170mm 34t Cassette SRAM NX Eagle 11-50t Bottom Bracket SRAM DUB Brakes SRAM Level TL Pedals none Wheels Halo Vapour 35 Tyres Schwalbe Nobby Nic 2.35

Selling
Feb 20, 2020 at 2:52
Feb 20, 2020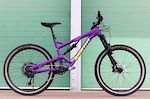 $2999 GBP
Brand New/ Ex-Display Slam 69 Custom Built Identiti Mettle - Purple - Medium SPEC: Identiti Frame - Purple with RockShox Super Deluxe 2019 2019 RockShox - Pike Charger RCT3 Debonair 27.5" Boost Sram BB – Threaded Sram cassette PG-1230 Eagle Trigger 12 Speed Rear Sram rear derailleur GX Eagle 12 Speed - Black Sram Chain Ring X-sync - 32T/6mm Shimano SM-RT66 ZEE/SLX Rotor - 6 bolt - 180mm Dartmoor Raider 27.5 Rear wheel - 148x12mm Boost Dartmoor Raider 27.5 Front - 110x15mm Boost Maxxis Minion DHF Folding EXO TR Skinwall tyres x2 Schwalbe Innertubes x2 Race Face Chester 35 20mm Rise Handlebar - 20mm/35/780 Black Raceface Chester 35 Stem - Length: 40mm DMR Brendog Deathgrips - Black Gusset R-Series Saddle - Black Jack

Selling
Feb 20, 2020 at 2:47
Feb 20, 2020
Load more...
Featured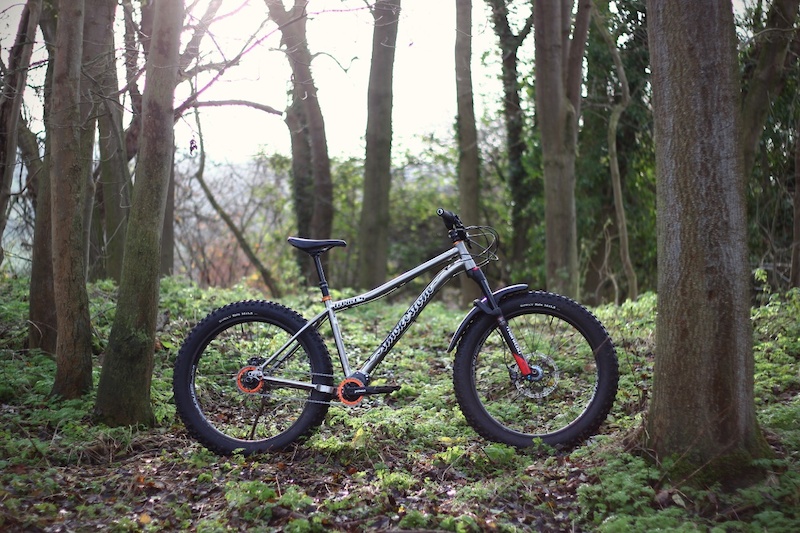 Photo by slamman