steveperry
Member since Mar 22, 2012

O+
Male / 39
Yucaipa , California
Block user
Recent

Sep 1, 2022 at 17:49
Sep 1, 2022
Fox US Open of Mountain Biking Brings Top Pro Riders to Killington
The US Open 2019 held in Big Bear allowed my boys and I see our biggest hero's of DH take to the course. We got to meet Gwin, Minnaar, Mulally, Norton, Rheeder, McCall, Seagrave, Verbeeck, and Kitner. Riders were chill, fun times. Can't wait for it to return to the west coast. Almost like having a World Cup. I keep hoping for a Mammoth event.

Aug 25, 2022 at 18:20
Aug 25, 2022

Aug 25, 2022 at 18:19
Aug 25, 2022

Aug 23, 2022 at 22:22
Aug 23, 2022

Selling
Aug 13, 2022 at 22:02
Aug 13, 2022

Selling
Aug 13, 2022 at 21:48
Aug 13, 2022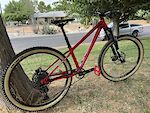 $1200 USD
Selling my son's Meta HT Jr. the bike is stock. There are a few scratches from the water bottle cage and the chain dropping (see photos). I have upgraded to a smaller carbon bar (685) that was more inline with the size of my son. I still have the original bars if you want them. The bike was ridden very little so it's in great shape. You can see how little wear there is on the cassette. Two things to note about the bike: the dropper is not working 100%, it does not extend fully without a slight tug to pull it up the last bit. It is a basic KS dropper, so service and air spring are limited. (New droppers run $150-200, so we dropped the price down.) Secondly, the rear brakes need new pads. The last set did not bed well and they don't bite as the should. The hydraulics work fine, but the rotor/pads just don't like each other, so a new set is recommended. Here is the link for the bike. https://www.commencalusa.com/PBCPPlayer.asp?ID=2059097

Jul 13, 2022 at 20:29
Jul 13, 2022

Jul 5, 2022 at 23:14
Jul 5, 2022

Jul 5, 2022 at 22:36
Jul 5, 2022

May 16, 2022 at 20:06
May 16, 2022
Video: Red Bull Formation Highlights & Full Runs 2022
Did I miss Vaea's final run or did she not finish the session. Was looking forward to seeing her run. She has been a favorite of the North American racers. Had the chance to watch her claim the second step at the US Open in 2019.
Load more...