tomireland
Member since Mar 31, 2015

34
Forres , Scotland
Block user
Recent

Oct 19, 2018 at 10:03
Oct 19, 2018

Selling
Oct 16, 2018 at 5:56
Oct 16, 2018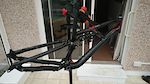 $425 GBP
For sale is my beloved 2012 Specialized Enduro Expert EVO. It is a 26" wheel, XL frame, so suited for the taller rider (I'm 6' 3"). Bought the frame as new in late 2015 and built it up in January 2016. Ridden ever since until autumn 2017 when I stopped riding for a few months. I'm selling because I have moved to a 27.5+ hardtail, which is better suited to my local trails. The Enduro is an absolute beast on the downs and would suit any "26 ain't dead", Enduro / Freeride shredder who likes to go down, fast! The coil shock is super plush and always made me feel confident on the gnarlier trails I visited. It does climb pretty well too. I ran a Shimano Zee 1x10 drivetrain (for sale if interested) on it before and it can climb the hills. I'd recommend a 1x11 if you're building it up. It will give you the extra leg power if you plan on using it as an enduro machine, or "do anything" trail bike. The frame has been taped in the usual places, however there are some paint chips on the chainstays and a couple of other areas - this bike was lovingly used! Bottom bracket shell threads in good order, no cracks or dents in the frame, no cracks or issues at the welds. Happy to post if you cover the cost of the courier. I have created a walkthrough video on YouTube if you want a better look. See https://youtu.be/2g49LTacXuY Specifications are as follows: Rear shock: Fox DHX RC2 coil. Rebound, compression and bottom-out force adjustment., 8.5 x 2.125"", XL: 600, custom eyelet for Enduro. Headset: 1-1/8" to 1-1/2" threadless, Campy style upper with 1-1/2"" lower, cartridge bearings. I have 2 exact headsets for sale (used, but in good condition) if you want me to include them with the frame. Seat tube: 34.9mm clamp. Frame: M5 alloy, ISCG mount, 142mm dropouts, sealed cartridge bearing pivots, replaceable derailleur hanger, 142+ 12mm thru-axle. This was a complete bike which I stripped down, so other parts are for sale. I will putting these up on Pinkbike soon, so let me know if you're interested in the complete bike and we can chat about it. - Shimano Zee 10 speed groupset. - SOLD - Shimano Hollowtech II bottom bracket. - SOLD - Shimano SLX front and rear hydraulic brake. 160mm rear and 180mm front rotors. - Funn Full On riser bars (red to match the frame) and 40mm Truvativ Hussefelt stem. - Stans No Tubes ZTR Flow Ex rims, with Superstar Switch hubs. 15mm bolt through on front hub and 12mm bolt through on rear. Rear hub had a new freehub body added in August 2017. Tyres are Schwalbe Magic Mary on the front and Schwalbe Nobby Nic on the rear, both running tubeless. - SOLD - Manitou Mattoc Expert forks with IRT kit bought brand new from Chain Reaction Cycles in July 2017. 160mm travel and fork can be internally travel adjusted to 140mm, 150mm and 170mm travel.

Oct 15, 2018 at 7:23
Oct 15, 2018

Oct 5, 2018 at 1:16
Oct 5, 2018

Oct 5, 2018 at 1:14
Oct 5, 2018
Review: Fix It Sticks Blend Edition Tool
Just get the mountain kit, or separate chain breaker. Job done! [Does this link thingy work?](https://store.fixitsticks.com/collections/mountain/products/mountain-kit?variant=41795550925)

Aug 30, 2018 at 9:03
Aug 30, 2018

Jul 29, 2017 at 11:34
Jul 29, 2017

Apr 28, 2017 at 13:00
Apr 28, 2017

Apr 28, 2017 at 12:50
Apr 28, 2017

Apr 23, 2017 at 8:45
Apr 23, 2017
Load more...