vtdhdoc
Member since Dec 2, 2010

O+
Male / 50
Stowe , Vermont
Block user
Recent

Nov 2, 2021 at 18:10
Nov 2, 2021

Oct 28, 2021 at 12:49
Oct 28, 2021

Oct 19, 2021 at 18:05
Oct 19, 2021
Vermont's 5 Most Popular Trail Networks According to Trailforks Data
I have my cherished spots I'll never talk about here AND I do appreciate and enjoy all of the above. Maybe not as much on a holiday weekend but oh well. So lucky to have the variety of options from my door to no more than 2 hours away. Mountain biking in VT is second to none and I'm glad to share it with anyone stoked to ride. Most of it anyway.

Oct 9, 2021 at 15:50
Oct 9, 2021

Selling
Oct 7, 2021 at 9:30
Oct 7, 2021
$4500 USD
2018 Juliana Strega extra small. This is the Juliana version of the Santa Cruz Nomad. The bike is in excellent condition. I can't find a scratch on the frame. This bike was built up as a DH/bike park bike (7 speed, rigid seat post) for my daughter. She rode it from age 10-12. Great DH bike for a kid or small adult. It could easily convert to a trail/enduro bike with a dropper post and larger cassette. Fork: Rock Shox Lyrik RC. Shock: Rock Shox super deluxe R. NX cranks. GX 7 speed derailleur. SRAM hubs on WTB rims with Minion DHR front and rear (still in plenty of life left). Diety stem, bar, saddle, pedals. XT brakes.

Selling
Sep 19, 2021 at 12:48
Sep 19, 2021

Selling
Sep 18, 2021 at 15:19
Sep 18, 2021

Feb 24, 2021 at 17:39
Feb 24, 2021

Selling
Nov 8, 2020 at 16:15
Nov 8, 2020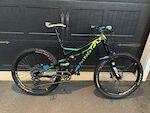 $2800 USD
2015 Devinci Spartan. Rock Shox Pike 160. SRAM guide brakes. Diety bar and stem. Industry 9 Enduro Wheels. SRAM XO carbon cranks. SRAM XO 11sp der 11-44. Wolf tooth 32 ring. Rock Shox Monarch Debonair. Rock Shox reverb post. Minion DHF/DHR good for one more season. Wife's trail bike. Never raced. Very well maintained.

Oct 24, 2020 at 7:37
Oct 24, 2020
Load more...