The team is back on the Morewood bikes, I9 wheels, Formula brakes, Maxxis tires and Manitou forks. Different look, same great ride! We are also very exited to have renewed our partnership with Race Face with the Atlas bar, stem and cranks as well as the new RF I-Beam post and saddle. We picked every single part that we want to race on to get the lightest bike possible, without compromising strength, durability and riding experience. This year again, we are confident to say that we did an awesome job!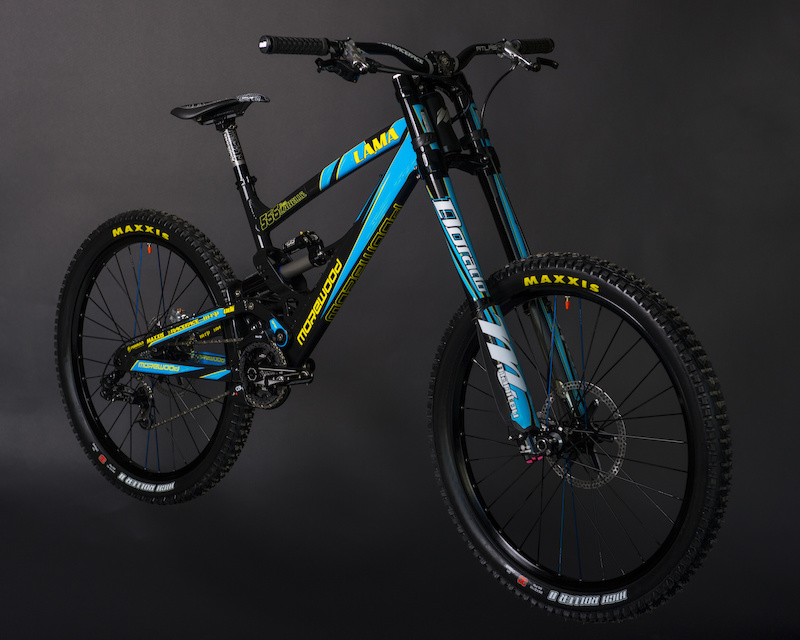 Here is the complete spec list of the 2013 team bike
: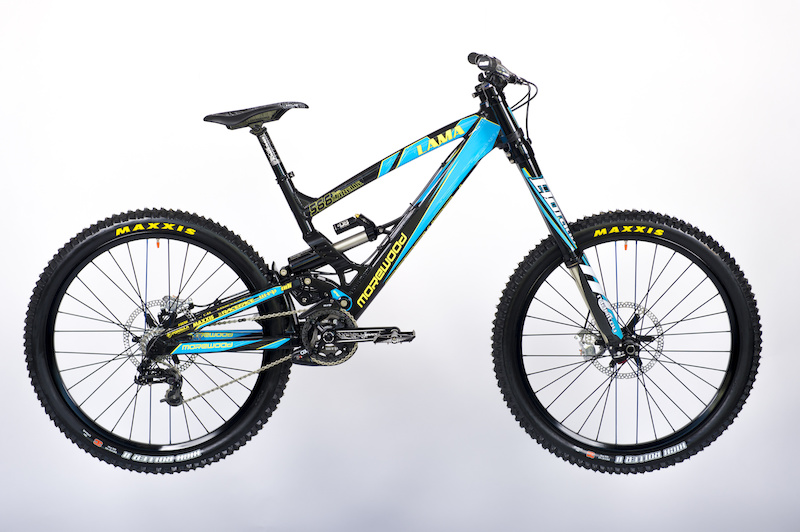 | | |
| --- | --- |
| Frame and size | 2013 Morewood Makulu, Medium |
| Rear Shock | Cane Creek Double Barrel air Shock |
| Fork | Manitou Dorado Pro |
| Headset | Cane Creek ZS44/ ZS49 |
| Crankarms | RaceFace Atlas, 165mm |
| Chainrings | RaceFace Single ring |
| Bottom Bracket | RaceFace X-Type DH |
| Chainguide | MRP G3 |
| Chain | SRAM PC-1091 |
| Cassette | SRAM PG-1070 11-23 |
| Rear Derailleur | SRAM X0 Type 2 10spd. Short Cage |
| Shifter Cable/Housing | Stock |
| Shifter Pods | SRAM X0 10 spd |
| Handlebar | RaceFace Atlas 1 1/4 Riser, 785mm |
| Stem | RaceFace Atlas DM, 50mm |
| Grips | ODI SDG lock-on |
| Brakes | Formula RO Brakes w. 203mm alu carrier discs |
| Wheelset | Industry Nine DH/FR with Enduro rim |
| Tires | Maxxis HighRoller2 3C 2.5 |
| Saddle | RaceFace Atlas |
| Seatpost | RaceFace Atlas I-BEAM |
| Weight | 37.2 lbs (with pedals) |
The team's main goal is to offer the best possible exposure for its athletes and to further their recognition on the provincial and national cycling scene. Following that train of thought, we have a six racer' team split between many categories. One thing is for sure, it will be difficult to miss the Lama riders with their flashy yellow and blue kits.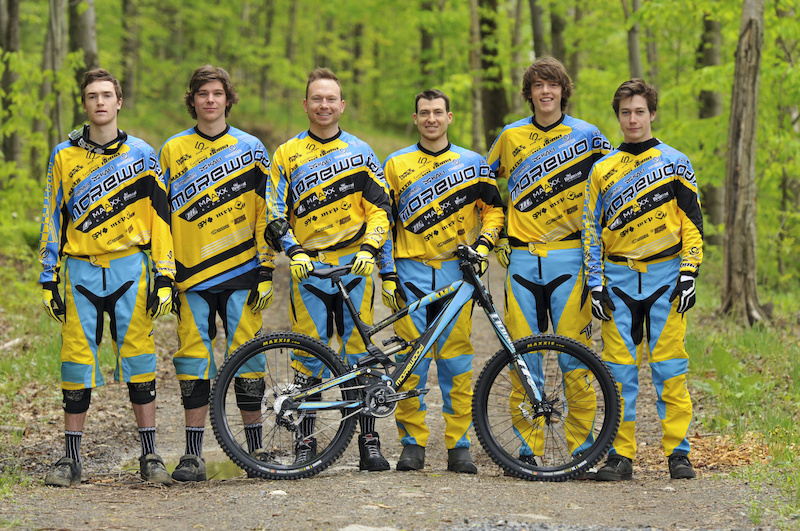 | | |
| --- | --- |
| | We are very pleased to have recruited such highly-talented athletes on our 2013 roster. Not only they will help themselves gain confidence and overall speed on their bike, these giants (indeed, 3 out of our 4 pinners are over 6'1") will mutually share their knowledge about past racing experience. - Benoit LaBelle - Lama Cycles Team Manager |
Lama Cycles is proud to announce it's 2013 team roster
: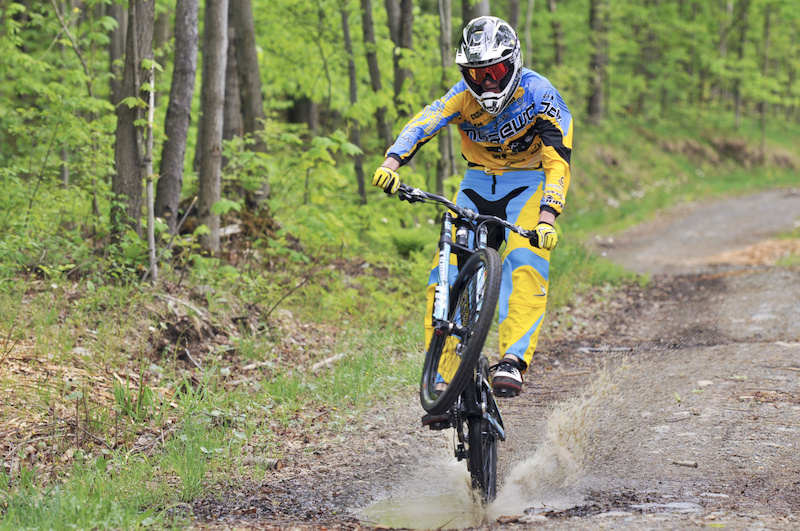 Benjamin Marois
Age: 16
Height: 6'4''
Category: Cadet
2012 Highlights: 2nd Quebec Overall, 1st Quebec Cup Chelsea, 6th MSA National Champs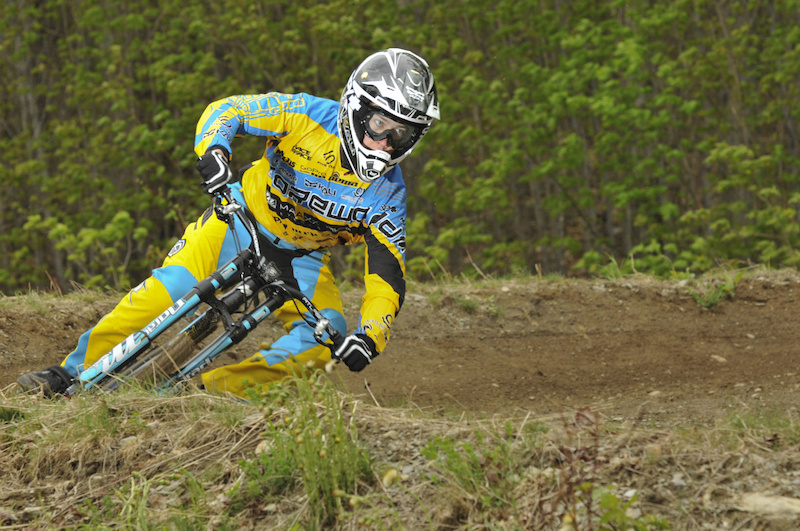 Nicolas Konow
Age: 21
Height: 5'10''
Category: Senior Elite
2012 Highlights: 12th Quebec Overall, 9th Quebec Cup Chelsea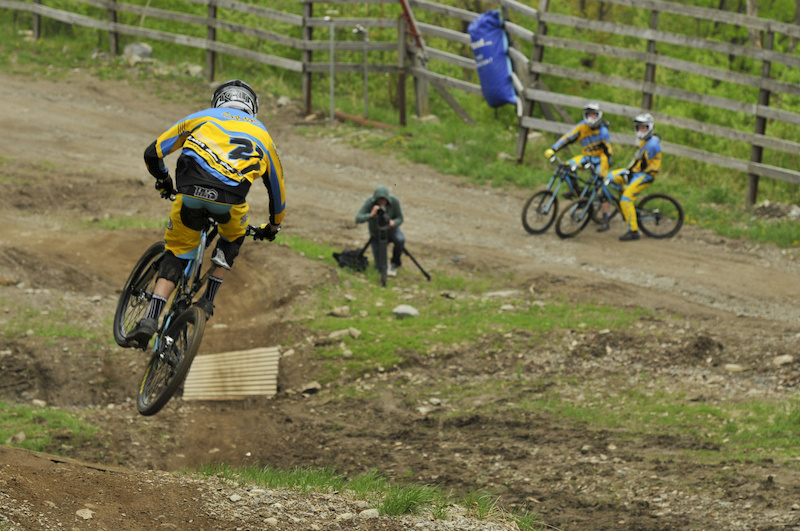 Samuel Thibault
Age: 19
Height: 6'3''
Category: Senior Elite
2012 Highlights: 6th Canada Cup Mont-Tremblant, 2nd Ontario Championship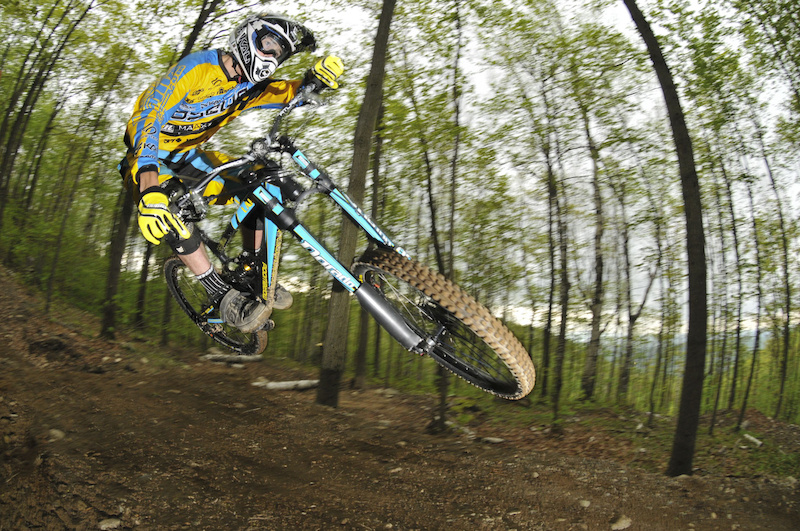 Philippe Ricard
Age: 18
Height: 6'1''
Category: Senior Elite
2012 Highlights (Junior Expert): 1st Quebec Overall, 1st Quebec Cup Chelsea, 3rd Canada Cup Mont-Tremblant
| | |
| --- | --- |
| | I am super stoked with the new bike and team. The support from Lama Cycles will help me achieve my goals this year. It is a great season in perspective ! - Philippe Ricard |
For a fifth year in a row, our beloved team mechanic, Alexandre Ouellet, will make sure the team bikes will run flawlessly throughout the season. Needless to say, his mechanic and racing experience will also benefit our fellow racer since he helped countless numbers of them stuck with last minute problems throughout the years.
Regarding the media exposure, most of our team pictures will be taken by our good friend
Gabriel Distilio
. We are also glad to add to the team our new filmer
Dustin Nesciorek
who will follow us during the entire season. Moreover, for a second year in a row, we are working in conjunction with
Maaxx Events
, a company from Quebec specialized in organizing bicycle events and festivals including numerous Quebec Cup races as well as their own Bromont local circuit. This partnership enables our sponsors to be viewed on other marketing platforms and be seen by a larger audience.
This success is only possible with the best products, riders and support out there. We would like to welcome our new sponsors to the Lama Cycles team for 2013 and thank the continuing ones for their commitment to the program.
In addition to Lama Cycles distribution co. and Morewood Bikes, the Lama Cycles team is sponsored by Industry Nine, Nema Cycling, RaceFace, Five Ten, GoPro, Spy Optic, Formula Brakes, Kali Protectives, Maxxis, Manitou, MRP, SkiBromont.com, Maaxx Events, Thule, Maxima, Sports Beans, G-Form, ODI, NSK and Thomas&Betts.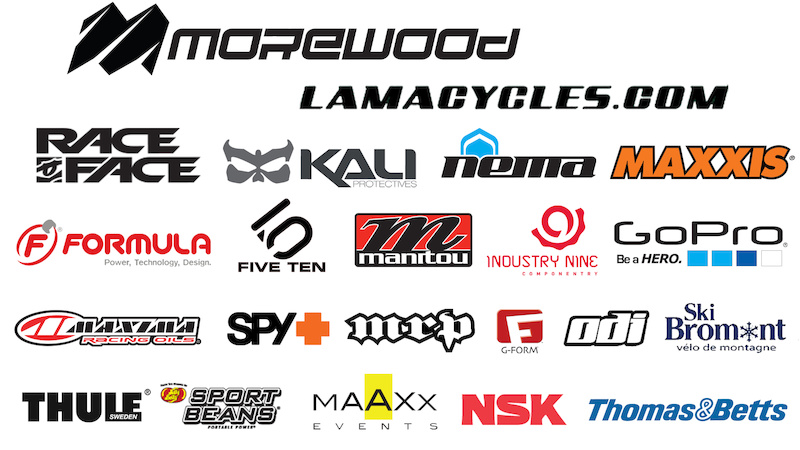 We invite you to meet up with our riders at
Ski Bromont
where we frequently ride and to follow up on the team's evolution throughout the season on
www.lamacycles.com
, our
Facebook page
and our
Pinkbike page
.