Urge's Down-O-Matic fullface
and
Endur-O-Matic half shell
helmets not only have a unique style, but they also have some interesting design features that set them apart from the crowd. Inside you can read my impressions of their Euro inspired Down-O-Matic and check out their All-Mountain helmet as well!
Read on...
Urge Down-O-Matic
Urge Down-O-Matic Fabien Barel replica
The composite
Urge Down-O-Matic
helmet certainly has a look all its own that separates it from the crowd. Used by Fabien Barel, the very euro looking Down-O-Matic not only looks different, but also has some unique features. If you haven't seen an Urge helmet in person, you may be a bit taken back by the strange looking visor. What you can't tell just by looking at a picture of the Down-O-Matic is that the visor is actually made from a very flexible plastic that basically refuses to snap. You can actually take the visor right off the helmet and fold it in half without it breaking - form follows function down to a T. Sure it looks a bit different, but now that I've used the Down-O-Matic I prefer its appearance to the sea of look-a-likes out there. The helmet's round vents look like viewing ports from a submarine and are covered with a non-flexible, stiff mesh that won't tear or be easily penetrated like other helmets' thin plastic coverings. Padding is removable when the time comes to wash away a Summer's worth of dirt and sweat. Total weight is a very respectable 966 grams.
The Down-O-Matic's soft visor should be virtually smash proof, plus it makes you look a bit like Bob Hannah!
Urge Down-O-Matic details
CE1078 certification
Composite fiber construction
Shaped to promote internal venturi effect
Soft flexible visor to avoid snapping
Grilled vents
Three color options: Barel replica (shown), black, and white
Weight: 966 grams
MSRP $205.99 USD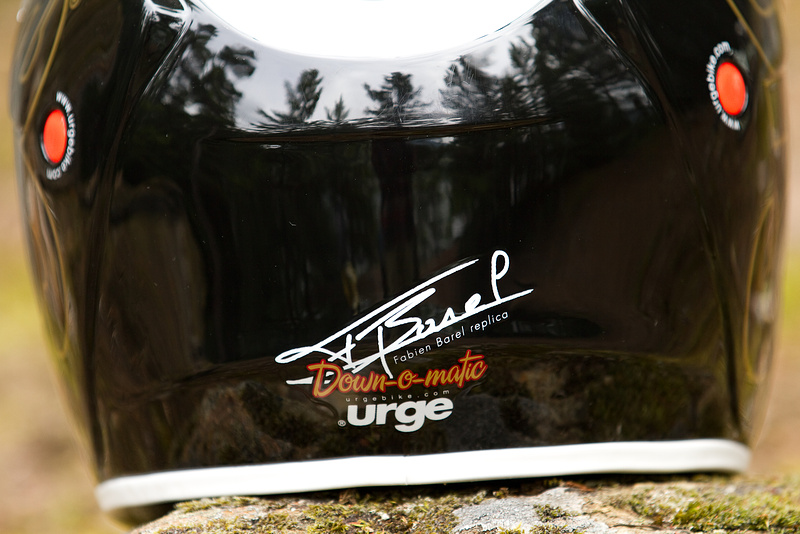 There is no way you're going to be as fast as him, but at least you'll look good
I'm not going to lie, I was bit skeptical of the Down-O-Matic's appearance before I held it in my own hands. Once out of the box it was clear that the distinctive helmet is made to a very high standard. The assembly and finish was spot on, dare I say better than any other helmet on the market. Fit is a very personal thing, but I found that the Down-O-Matic was perfect for my average shaped head. The cheek padding wasn't too tight, but applied enough pressure to help hold the helmet from rocking back and forth as I did the bobble head down rough sections. There are not a lot of vents, but the round openings do let in some air flow when you start moving quickly. I used Giro's Station goggles with the Down-O-Matic and they didn't quite fit as good as I had hoped into the shell, catching a bit on the sides and preventing them from sitting flush against my face.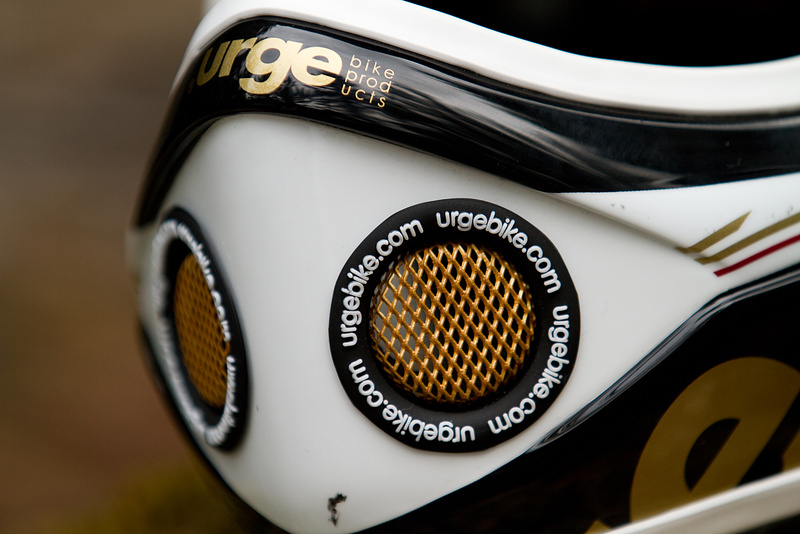 Sturdy grills won't tear over time
I liked the Down-O-Matic's unique looks and unbreakable visor, but loved its great fit even more - double check to be sure your goggles are compatible though.

- Mike Levy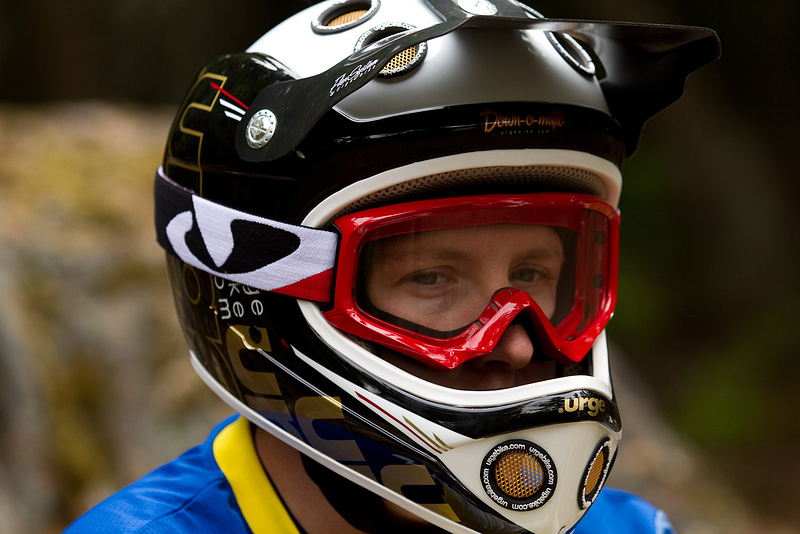 Not Fabien
---
Urge Endur-O-Matic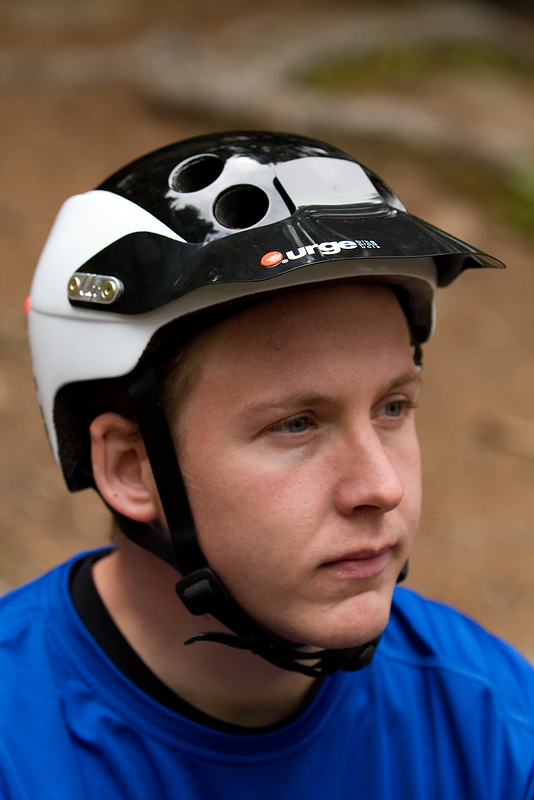 Urge Endur-O-Matic
The
Endur-O-Matic
is clearly related to its bigger brother, the Down-O-Matic, but in half shell guise. Urge's open face lid looks very much like a cross between a modern snowboard helmet and a motorbike trials' lid with its round shape and hard external shell. The shell extends quite far down at the rear to offer much more protection than other companies "all-mountain" helmets, but obviously at the price of trapping a bit more heat. Just like the Down-O-Matic, the Endur-O-Matic uses Urge's flexible and nearly weightless visor that seems to be unbreakable. If you're looking for something a bit different than what your friends have, or just want a bit more protection, try on an Endur-O-Matic to see if it fits.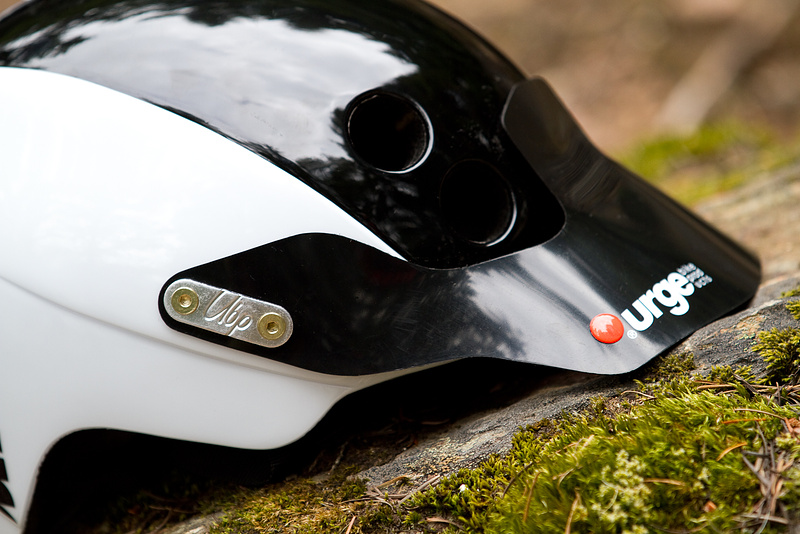 The visor mounting is very solid, but the entire thing is flexy enough to keep it from snapping when you hit the ground
Urge Enduro-O-Matic details
CE1078 certification
Hard outer shell
In-mold construction
Soft flexible visor to avoid snapping
Shaped to promote internal venturi effect
Weight: 319 grams
Seven color options, including Fabien Barel replica
MSRP $109.99 USD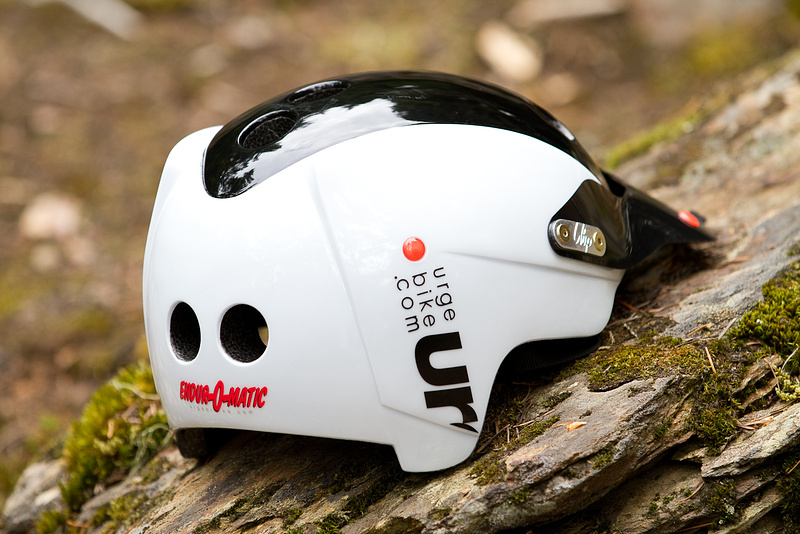 The Endur-O-Matic certainly has a style all it's own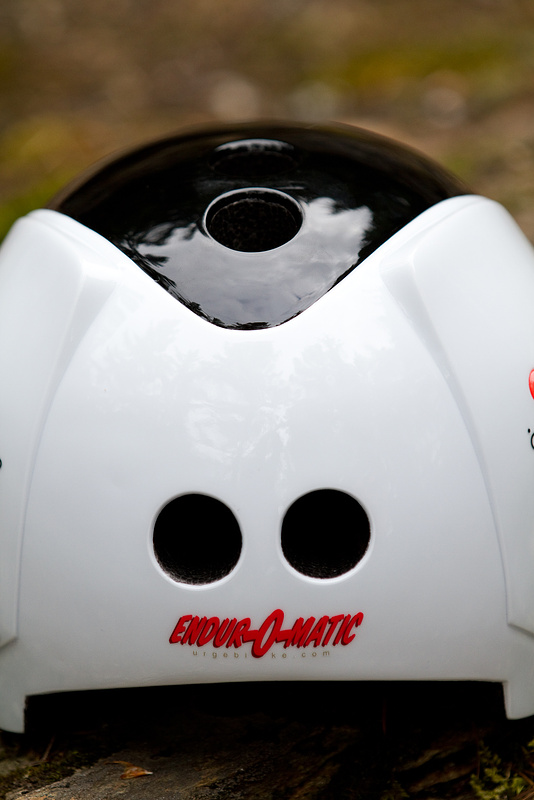 Visit
Urgebike.com
to see their entire lineup of helmets.