Bjammin
Member since Aug 1, 2010

O+
Male / 27
Colorado Springs , Colorado
I am a man who enjoys riding bicycles.
Block user
Recent

Feb 1, 2021 at 16:04
Feb 1, 2021

Selling
Feb 1, 2021 at 16:02
Feb 1, 2021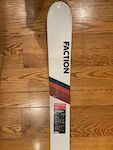 $800 USD
These are brand new, in plastic. 183cm long, 122mm waist, reverse camber powder skis. Absolute beefmeisters. Willing to negotiate on price. Will ship anywhere, the skis are currently located outside San Francisco. From Faction: This is the ski that Candide Thovex skis more than all others. It is his true go-to. It is the magic shape that inspired this season's entire CT collection. The Faction 2021 CT 5.0 brings the original Candide 4.0 back to life, revived and updated. As playful, poppy and easy to pivot as the first legendary ski we developed with Candide, this twin tip for advanced/expert big mountain skiers has an updated core, rocker curves and construction to polish up the ride and add extra durability. You'll love this ski if: You want skis that float; You want a fat ski that turns a dime and is super playful; You want to ski like Candide; You want a ski with a lighter construction to reduce swing weight.

Selling
Aug 4, 2019 at 15:19
Aug 4, 2019
$2600 USD
2018 XL Transition Sentinel, bought new from EVO Denver 1 year ago. I am a professional bike mechanic, and this bike has been kept running extremely well. Transition's Speed Balanced Geometry is no joke, and this bike descends better than many bikes of more travel. The long reach, slack head angle, steep seat tube angle, and shortened fork offset combine to create a bike that is extremely stable at speed, while remaining nimble and easy to maneuver up technical climbs. I love this bike, and I'm only selling it to upgrade to a carbon-framed version. The XL size should work great for anyone 6 ft and taller—I'm 6'1" and it feels perfect for me. All parts are stock, except for Specialized Butcher tires and Sensus grips. Pedals not included, buyer pays shipping. Please feel free to text me (4152726626) with any questions or requests for additional pictures! Full parts list, with parts condition noted. Frame: Sentinel Alloy XL, 140mm Rear, 160mm Front. Cosmetic scratches and paint chips are pictured, all from shuttling (top tube scratch is from a friend's brake lever), rock strikes, or chainslap. Pivots run smooth, with no play—They have been freshly greased and torqued to spec, as of August 4. No dents or structural damage. Fork: Rockshox Lyrik, w/ Charger Damper. Serviced last spring, feels great currently. Due for a rebuild in a few months. Shock: Fox DPX2. Serviced last spring, also feels great. Due for a rebuild in a couple months. Stem: Raceface Aeffect. Handlebar: Raceface Chester 35. Small cosmetic scratches. Grips: Sensus Disisdaboss Saddle: ANVL Forge Cromo. Slight creak when weight is placed on the nose of the saddle, but other than that has been pretty comfortable for me! Seatpost: Rockshox Reverb Stealth. Works well, I've had no issues with it in a year of use. Brakes: SRAM Code R. Both brakes have been bled recently (end of July) and are working perfectly. Another bleed is probably in order in a couple months. Drivetrain: SRAM GX Eagle. The drivetrain is currently shifting flawlessly, but the chain should probably be replaced soon—it's nearing 70% wear. The cassette and chainring will likely last through the lifetime of 1 more chain. The cranks and the derailleur have some scratches, but nothing that impacts the bike's performance. Wheelset: E*Thirteen TRS rims laced to Novatec hubs. The rear rim has a few dents, and is not perfectly true, but I recently re-tensioned all the spokes and breathed a good amount of life back into the wheel. It seats up Tubeless with no issues, and responds well on the trail. The largest dent is pictured, the others are smaller and harder to see in photos. Both hubs have performed flawlessly, and the front wheel remains true and dent-free. Tires: Specialized Butcher 2.6, BLK DMND rear, GRID front. Both tires have >80% of their life left in them. They're great aggressive trail tires, and corner so well!

Aug 4, 2019 at 14:59
Aug 4, 2019

Selling
Aug 4, 2019 at 14:27
Aug 4, 2019

Added 2 videos
Jun 7, 2019 at 17:22
Jun 7, 2019

Selling
Jun 1, 2018 at 9:56
Jun 1, 2018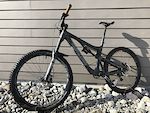 $2900 USD
Size Large Santa Cruz Bronson V2, Carbon C frame: I am the original owner of this bike, and have had it for the past two years. I work as a bike mechanic at my college campus bike shop, so I have been able to keep the bike running very well since i bought it. Pivots have been fully rebuilt/regreased/torqued to spec whenever any play has developed, Both the fork and shock have been serviced every six months, last serviced around the new year. Both brakes were bled last week and are running well (despite cosmetic scratches). 4 months ago, I replaced the chain, chainring, and cassette. The chain is well below 70% wear. The ARC27 rear rim didn't do well with the sharp rocks in Colorado, so I upgraded to a DT EX471, which is running true and dent-free. Fresh bearings were installed in the rear hub 2 months ago. Both tires (Specialized Butcher Grid 2.6 Front, Maxxis Minion DHR2 EXO Rear) are nearly new. The reverb was warrantied about 6 months ago, and has been running flawlessly. Issues: Cosmetic scratches (pictured). Everything else runs well! FULL SPECS: Fork - Rockshox Pike RC Shock - Fox Float X Factory Derailleur - SRAM GX Shifter - SRAM GX Cranks - Raceface Turbine Chainring - Absolute Black Oval 32t Cassette - SRAM GX 10-42 Chain - KMC 11spd Bottom Bracket - SRAM GXP threaded Brakes - Shimano SLX Headset - Cane Creek Bars - Raceface Aeffect 780mm Stem - Raceface Ride 50mm Grips - Sensus Disisdaboss Hubs - Sram MTH 746/716 Front Rim - Easton ARC 27 Rear Rim - DT Swiss ex471 Front Tire - Specialized Butcher Grid 27.5x2.6 Rear Tire - Maxxis Minion 27.5x2.35 Seatpost - Rockshox Reverb Stealth 150mm Saddle - WTB Volt

Feb 25, 2018 at 15:54
Feb 25, 2018

Selling
Feb 25, 2018 at 15:50
Feb 25, 2018

Jun 7, 2017 at 22:11
Jun 7, 2017
Load more...