Mgabriel757
Member since Feb 13, 2017

Male
Denver , Colorado
i like bikes
Block user
Recent

Selling
Mar 13, 2020 at 4:26
Mar 13, 2020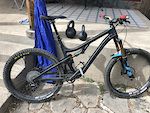 $3200 USD
For sale is a BIKE SHOP EMPLOYEE owned 2018 Pivot Mach 5.5 size XL. this is the Pro XT/XTR build. Bicycle has a couple modifications from stock. Renthal Fatbar 800mm x 35mm x40mm rise alloy. Shimano Deore XT 11sp rear derailleur Shimano XTR 11sp chain Bontrager Line 40mm stem Maxxis Assegai 27.5x2.5 tires, EXO casing, maxterra front, dual compound rear All other components are stock. Bicycle has been well maintained and is in excellent mechanical condition, needs nothing, is ready to ride today. Both fork and rear shock in great condition. Bike has a couple small blemishes which include a small scuff on the downtube (pictured) and a few small blemishes in the paint on the rims. All blemishes are aesthetic only, no dents of any kind. Located in the Denver, CO area. Willing to sell local or ship anywhere in the USA. Buyer pays Paypal fees and shipping costs, no refunds.

Mar 12, 2020 at 11:23
Mar 12, 2020

Selling
Mar 12, 2020 at 11:16
Mar 12, 2020

Jun 22, 2019 at 18:40
Jun 22, 2019

Mar 10, 2019 at 18:05
Mar 10, 2019
First Ride: Specialized Stumpjumper EVO Pro Carbon
I think that because the bike is rather radical in terms of geometry (at least compared to the regular Stumpjumper) specialized wasn't sure that it would be well received. Therefore they have started off with just two sizes that are roughly equal to medium and large.

Feb 6, 2019 at 10:11
Feb 6, 2019

Jan 31, 2019 at 10:42
Jan 31, 2019

Dec 10, 2018 at 20:24
Dec 10, 2018

Dec 6, 2018 at 11:03
Dec 6, 2018
Field Test: Yeti SB150
Ye old Maxxis Aggressor is only available in DC. I'd assume Maxxis has determined most folks prefer a slightly firmer rubber compound that will have less rolling resistance and slower wear.

Dec 6, 2018 at 10:50
Dec 6, 2018
Field Test: Trek Remedy 9.9
@mikelevy: I feel you on that one. Come spring time ill be ditching the stock 2.6" tires on my pivot mach 5.5 and trying some of the 2.4" - 2.5" Maxxis WT tires instead. 0.1" doesnt sound like a lot, but the tires are definitely significantly less voluminous, which i suspect will have a noticeable effect on handling.
Load more...