NickDHash
Member since Apr 8, 2015

Male / 32
Park City , Utah
Block user
Recent

Aug 9, 2022 at 9:57
Aug 9, 2022

Selling
Aug 9, 2022 at 9:56
Aug 9, 2022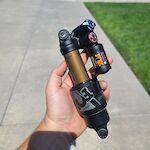 $285 USD
Great shock but I just upgraded, so it'll need a new home. Climb switch and volume epacer installed. Everything works as it should and the shock is immaculate, but it could use a service for new oil as its been a while. I have set the price to somewhat reflect that. It holds air and oil just fine. No leaks, no scratches etc. Buyer pays shipping so please hmu with your zip code prior to purchase for a quote. Any q's just ask! Thanks! -Nick

Jun 13, 2022 at 10:03
Jun 13, 2022

Mar 15, 2022 at 11:54
Mar 15, 2022

Oct 27, 2018 at 10:15
Oct 27, 2018
Final Results: Red Bull Rampage 2018
Hanging from harnesses with a whole entourage of builders digging a freeway into utah's natural beauty is the exact opposite of "Bringing rampage back to its roots." Pick a line, sweep it off, send it and know the consequence. Thats rampage. Ask bender.

Sep 23, 2018 at 18:51
Sep 23, 2018

Selling
Sep 23, 2018 at 18:45
Sep 23, 2018

Nov 14, 2017 at 22:06
Nov 14, 2017

Oct 20, 2017 at 23:54
Oct 20, 2017
Sponsored: Red Bull Rampage Clothing Collection Released
It's ideas like those that seem to kill off my favorite parts of my favorite sports. Wait for it. 5 years from now, Rob Katz will own the whole fucking rampage site, all the gaps will be gone and there will be yellow jackets issuing athletes citations for riding "in a manner inconsistent with and unbecoming of a Vail resorts affiliate."

Oct 19, 2017 at 8:12
Oct 19, 2017
Load more...