bikeblur
Member since Nov 16, 2013

Portland , Oregon
Block user
Recent

Selling
Sep 20, 2023 at 11:32
2 days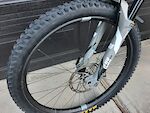 $500 USD
Only selling to fund a dual crown swap.. -Will coming in original packaging -Fantastic Dual Air Chamber Fork! Not in a hurry to sell and happy to keep *I've ridden and owned Fox 38's, Zeb's. Manitou Mezzer Pro's etc. - this fork's performance is easily on par with all of them. ONLY TRADES: 29R - I would consider a partial trade for a Manitou Dorado Expert, Suntour Rux, Ohlins DH38 (wishful thinking I know) Prefer local pickup but happy to ship at buyers expense. Cheers! Fork Specs: Steer tube length: 8" Additional Silk Graphics Black Decals (can easily be removed) Travel changed by negative support tube assembly RC2 (low & high speed compression & rebound adjust) PCS Cartridge Internal Floating Piston (IFP) design 27.5+ x 2.8" tire compatible 29 x 2.6" max tire size Adjustable air chamber with air volume spacer EQ air system equalizes the air chambers for perfect set up Air positive chamber Air negative chamber A7000 series hollow and forged crown SKF wipers 38mm A7050 black anodized stanchion 15x110mm boost thru axle Light weight magnesium casting 203mm max rotor AL7050 1.5-11/8" steerer tube Integrated fender and hardware included CNC Aluminum dials and hardware Weight 2300g Axle to crown 580mm at 160mm 44mm fork offset Made in Taiwan 2 year warranty

Sep 17, 2023 at 9:57
Sep 17, 2023

Selling
Sep 17, 2023 at 9:55
Sep 17, 2023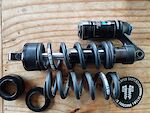 $325 USD
Great shock! - Comes with spacers pictured - I have a DVO LS 450lb and DVO LS 500lb Spring for $45 each or $80 for both. Low Speed Compression Low Speed Rebound CNC Aluminum Controls 1/2" 5 Piece Bushing External Piggy Back Internal Floating Piston design Air Adjustable IFP Oversized 14mm Main Shaft With Nickel Plating Trunnion and Metric Sizing Available Multiple Spring Rates Available Spring Sold Separately 400-445 grams 2 Year Warranty Made In Taiwan *buyer pays shipping PayPal or Venmo.

Sep 7, 2023 at 14:19
Sep 7, 2023

Sep 7, 2023 at 13:05
Sep 7, 2023
First Ride: 2024 Trek Slash
@Glory831Guy: There are already a few ebikes (YT as you mentioned, Scott, Fezzari, Vitus to name a few) that are cheaper or same price with a better or comparable spec to non-bikes. It's a good time to be biking for sure!

Sep 6, 2023 at 16:48
Sep 6, 2023

Sep 6, 2023 at 6:58
Sep 6, 2023

Selling
Aug 21, 2023 at 11:48
Aug 21, 2023

Aug 16, 2023 at 13:52
Aug 16, 2023
Video: Phil Atwill in 'Power Up, Party Down'
@bmfeastcoaster: It depends on the bikepark and the rider. For most bikeparks probably not but there are some that are much flatter, require a lot more pedaling than a typical, steeper park. Timberline bikepark in Oregon is better / more fun on an ebike.

Aug 14, 2023 at 11:55
Aug 14, 2023
Load more...