sevensharpnine
Member since Aug 2, 2011

Male / 32
Aliso Viejo , California
Block user
Recent

May 9, 2019 at 13:56
May 9, 2019

Jan 2, 2018 at 9:46
Jan 2, 2018

Oct 5, 2017 at 12:09
Oct 5, 2017

Sep 13, 2017 at 15:05
Sep 13, 2017

Sep 7, 2017 at 9:59
Sep 7, 2017

Selling
Sep 7, 2017 at 9:58
Sep 7, 2017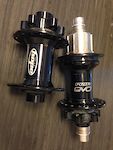 $180 USD
For sale is a pair of Hope Pro 2 Evo hubs in black, 36 hole. The rear is the single speed/trials version. Front has end caps for 15mm thru axle. They were laced up and ridden for a little while but are still in excellent shape. I just cleaned and regreased the freehub. All bearings spin very smoothly. They'd be great for a dirt jump build. I can provide more pictures if necessary.

Selling
Sep 7, 2017 at 9:58
Sep 7, 2017

Aug 31, 2017 at 7:39
Aug 31, 2017

Aug 29, 2017 at 8:15
Aug 29, 2017

Aug 2, 2017 at 13:42
Aug 2, 2017
Three Cheers for Damp, Dark, and Deep
For crying out loud I wish people realized this! We can ride probably 325 days of the year and folks still can't wait just an extra day or two after it rains to ride. Instead they have to jank up the trails for everyone else until basically the next rain season.
Load more...