I have to admit - I'm crazy for new tricks!
The bigger, higher, more technical and just plain crazier the better! So I was really impressed by Daniel Dhers' 2009 BMX creation called "The Cashroll" and also by Brett Banasiewicz's nohanded combo. Then I saw Benny Phillips' short indoor edit this summer and was pretty excited - looked like someone finally brought that trick to MTB!! Shortly after I came home from Crankworx Whistler I saw Antti's short Cashroll clip and was stunned - a Finnish guy landing this trick on dirt!
I'm a half-Finn and I had a one-week-vacation planned at our place in Finland for later that same month. I instantly wrote to Antti here on Pinkbike and asked him where that jump was and if he wanted to photograph the Cashroll during my vacation. He wrote back quickly and it turned out that his home spot was about 30 minutes from our place. Couldn't get any luckier than that!
I flew to Finland directly from the Suzuki Nine Knights event and arrived in perfectly sunny and warm conditions, ready for battle! Some quick phone calls and my friends and I drove to Kuopio to meet Antti. The dirt jumps looked great and I had a very good feeling taking the first photos of Antti throwing some sweet frontflips, backflips, cliffhangers, flipwhips and 360 nohanders. This kid can ride! Give him some time and some progressive training spots and he'll definitely make his impact on the dirt jump scene.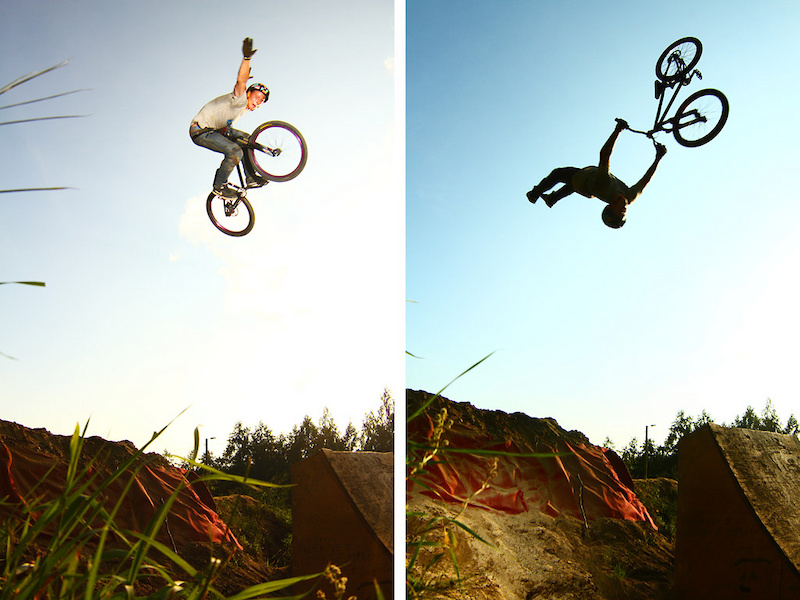 The short video clip was actually shot on a different location, on a slightly bigger jump. The jumps in Kuopio were a bit smaller, but Antti was confident that they'd give him enough airtime to do the Cashroll. After some practice runs he decided to go for it and just landed it perfectly on the very first try! What more can you ask for as a photographer?!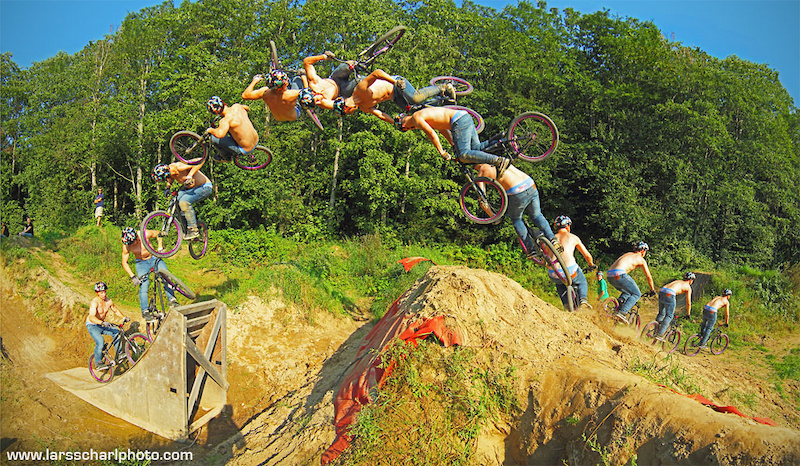 Afterwards we waited for some better evening light and Antti cashrolled a few more times, but eventually it was clear that the very first picture was the best one. Having nailed all the shots we came for, Antti decided he wanted to go for just one more trick - a double flip. I was definitely more nervous than Antti when he rolled in, but he rotated perfectly and just slipped a pedal and went down after the landing.
Nothing happened and we all called it a day - I'm superstoked that everything worked out so well. Hopefully we'll see some more stuff from Antti out of Finland, and maybe also from some international contests in the future! Kiitos once more for the super nice session Antti!