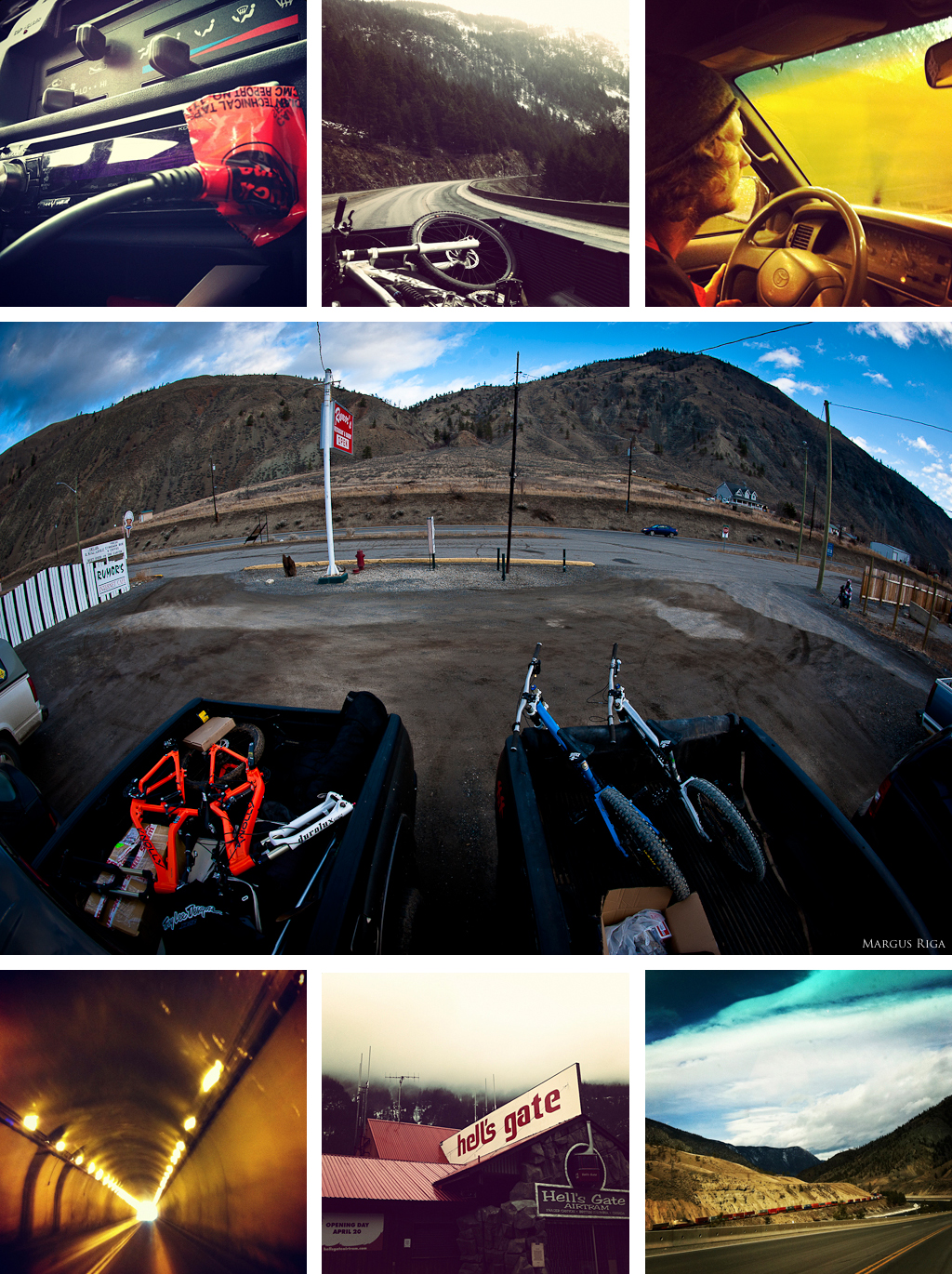 Driving east from the life-sucking drizzle of the Vancouver winter, the landscape changes pretty fast. Within an hour you reach the flat, aromatic farmland valley of Chilliwack. Then another half-hour has you at the gateway town of Hope...gateway to good times that is. After Hope the highway winds itself through arguably BC's most treacherous stretch of the trans Canada highway. Aptly named "death highway" by the truckers. There are sheer cliffs that rain boulders on unsuspecting motorists on the right and to the left it drops precipitously down to the Fraser River. Add to that constatntly changing mountain weather and a narrow, winding, steep road, and it's no wonder there's more highway accident closures here than anywhere else in BC. Then, another hour north, if you make it out in one piece...BAM!.. you're in another land. The desert to be exact. Where it's usually sunny and ten degrees warmer. This is what we came for.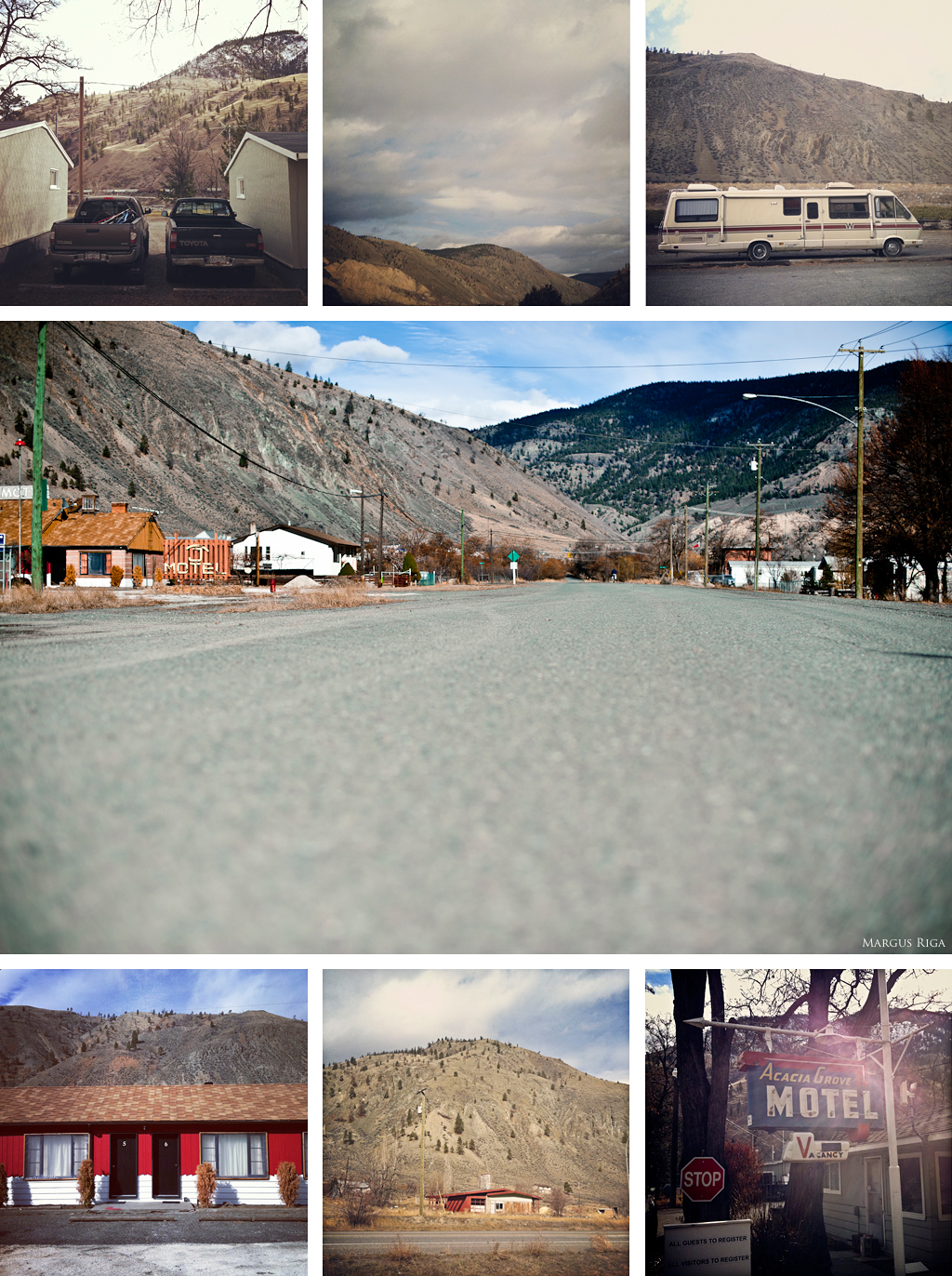 Spences Bridge, can you spot the tumbleweeds?

After settling in to our Motel beside the railway tracks, we tried some oven-baked, pre-deep-fried, un-home cooking at the local pub. Then set off to find something…anything.

It didn't take long before we were in business. Five minutes to be exact, was all it took to get Garett squeezing through this little hourglass line.

Doerfling.

Buehler.

Lost and found. After some initial warm up runs, we decided to look a little further and our efforts were rewarded with a massive zone, complete with thousand-foot scree chutes of varying steepness and difficulty; with the main chute snaking down a canyon to a lake, with a fire pit. We scoped and hiked the lines before nightfall to make sure they were good to go, and then set off back to the pub for some burgers and beers and a history lesson on the local biker culture.

The Log Cabin Pub. The food's not the greatest, but the atmosphere more than makes up for it.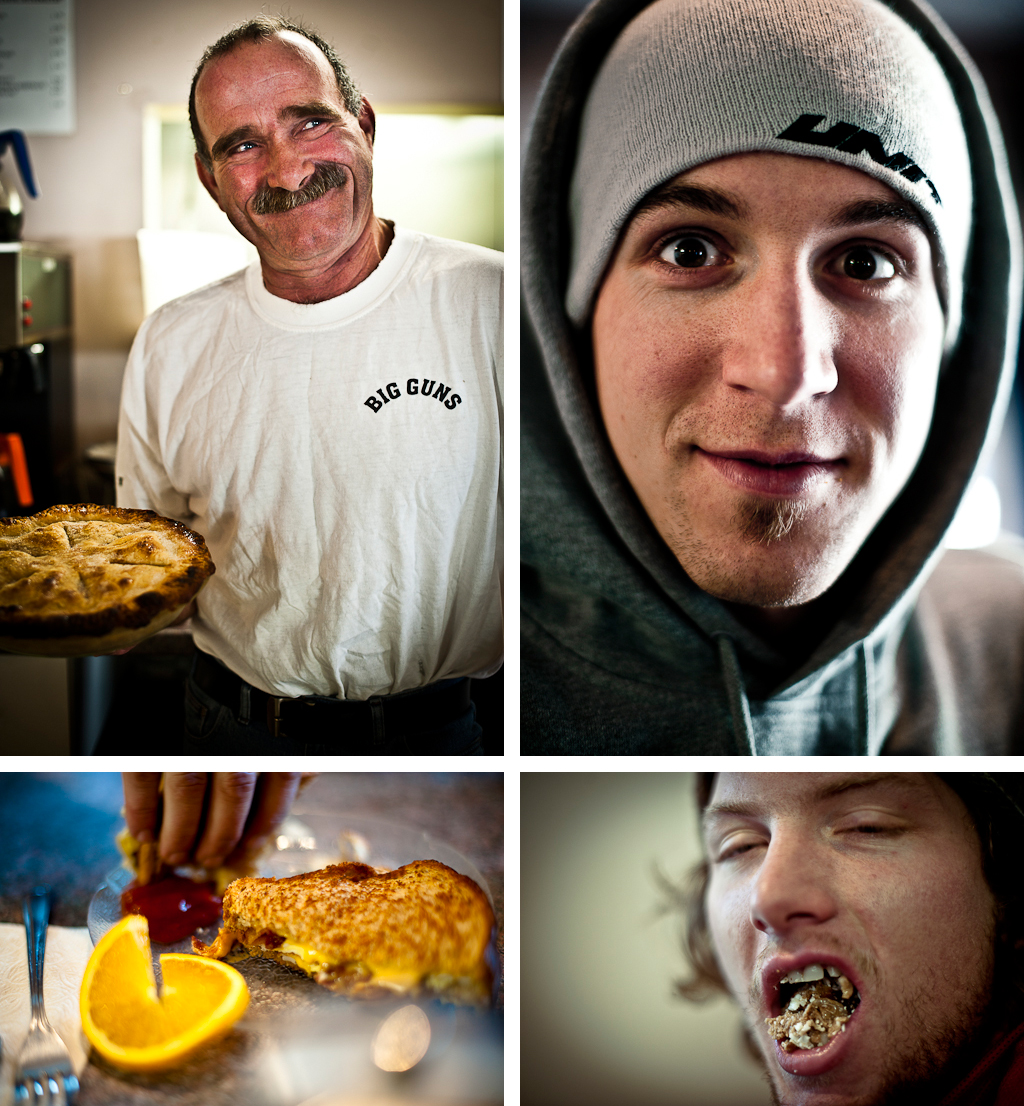 Breakfast at Rumor's Restaurant with homemade menu signs written in black marker on white pieces of paper. Seats patched up with so much duct tape that it looked like they were made of duct tape. Enough to deter most, but going against the grain again, we opted to try it out, and to our surprise the food was some of the best roadside diner food I've ever had, complete with complimentary pie served with some local flair.

This whole scene reminds me of sled skiing. Roll in, scope your lines, hit your lines, and admire your lines.

Mitch Cheek of Solos Productions checking the angles, while James and Garett contemplate the meaning of life.

Left...James guinea pigs the first run. Apparently it was a lot steeper and faster than first expected. Right...Garett basically skied the line like a skier, at ski speed. A quick note: Darren Berrecloth sent this same line in NWD 10 right into the lake. Garett and James opted for a different exit. One that kept them dry.

Garett coming in. James going out.

Three, two, one...dropping.

Last big line of the day, and the trip. This shot was super sketchy to get. One - It was a lot steeper than it looks, and I had to scurry up and place a flash up high and make sure it didn't fall off the mountain. Two - James was coming through this spot so fast, that if I didn't jump to my left right after I took the photo he would probably clip me coming through.

After a successful super session on the chute line, Doerfling cools down with a mellow road gap.

Final thoughts..."Yup, this place rocks."

Cariboo courage in full effect.

This trip was all about going against the grain and trying something different and getting out of your normal routine, and seeing what happens when you do that. Things are not always what they seem, and the more you test that fact, the more interesting life becomes.
www.knollybikes.com