Chain management on a downhill bike is pretty straightforward these days, with a number of different guides to choose from that all perform quite well, but things become a bit less obvious when talking about keeping the chain in place on an all-mountain or trail bike that runs a single ring setup. One could fit a full-featured DH chain guide (so long as the bike's design permits), yet running a relatively heavy guide intended for much more abusive riding isn't ideal, and lighter-duty, upper slider-only setups sometimes do not offer enough retention on rough terrain. SRAM was the first to look at the chain rings as part of the solution, with their XX1 X-Sync rings employing tooth profiles that act to hold the chain from rattling and bouncing off of the ring, especially at the six o'clock position where it most often occurs. The XX1 system has been proven to work (we've experienced just a single dropped chain after months of use without a chain guide), but riders must use the system as a complete group, meaning that you have to pony up for the entire impressive, yet very pricey, 11-speed drivetrain to see the benefits. A similar concept from e*thirteen looks to open the doors of compatibility for riders who may not want to go with an 11-speed system.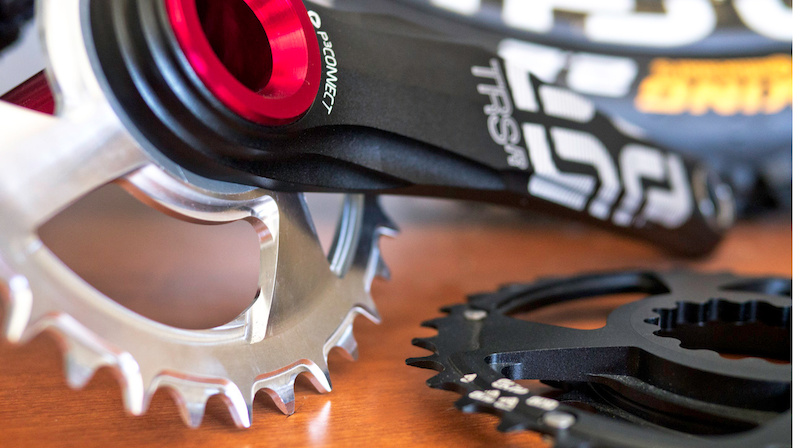 It's All In The Teeth
By looking at the photos shown here of e*thirteen's prototype chain rings, they look to be tackling the challenge from the same angle - chain ring teeth with profiles that work to keep the chain on the ring - but we have hopes that e*thirteen's system will be compatible with a wide range of drivetrain components, thereby allowing riders to see the benefits without being required to change their entire drivetrain. Having said that, it is XX1's system integration that allows it to function so well, with the wide-skinny-wide tooth profiles employed on the X-Sync rings designed to mesh like puzzle pieces with the proprietary chain's inner and outer links. It looks as though e*thirteen is applying that same theory. Todd Bischoff told us that the rings are being evaluated with both 11 and 10-speed chains, and the idea that we may be able to simply swap out a single chain ring onto our 10-speed setups without needing to replace the chain, crankset, rear derailleur, and cassette has us excited.
We've been told that the prototype ring design will see production in 2013, although it sounds like we will still have to wait awhile before we discover how well they work with a 10-speed drivetrain (assuming that they get the go-ahead for 10-speed chains).
''This is all e*thirteen. We have been working on it for a few months,''
Bischoff says. ''
Right now we are dialling in the chain ring tooth shapes to achieve the best function vs. the least wear. We see chain ring wear as being one of the biggest issues with longevity of the system and have a few new really strong chainring coating processes on the table.
'' While they are evaluating a 104mm BCD option, the prototype rings are currently only being tested in a spider-less version that fits their TRS series cranksets - lets hope that the 104 BCD version makes production. The rings will only be available in even numbered options for obvious reasons, and there is no word on expected pricing at this point.
www.bythehive.com/e-thirteen