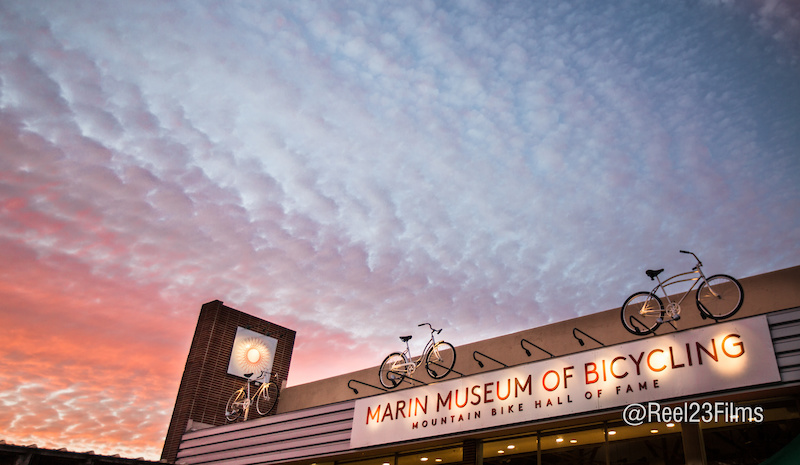 A couple of weekends ago, the 2016 Mountain Bike Hall of Fame inductions were held at the Marin Museum of Bicycling in Fairfax, California. Right there near Mount Tam, where this whole mountain biking thing started some 40 years ago with a bunch of hippies and the Repack Downhill race on Klunker bikes.
In the past 18 years, the inductions were held during Interbike in Vegas. It often wasn't the right setting or timing. People were too busy with other Interbike events and the Las Vegas ballroom setting wasn't inspiring. The museum in Fairfax gave the inductions historic glamor. We spent a whole weekend in the midst of legendary bikes whilst riding and rubbing elbows with the pioneers of our sport.
The Mountain Bike Hall of Fame has been around for 28 years and has to date almost 150 inductees. It used to be run out of Crested Butte, Colorado by Don & Kay Cook. Two years ago they passed the duties on to the guys in Fairfax, including Joe Breeze, Otis Guy and the rest of the Museum/ Hall of Fame board.


With the new board, a new approach has begun. A nomination committee with several experts and industry veterans has been created to vet applications and ultimately nominate the candidates that will be up for voting to be added to the Hall of Fame. Every nominee has to be shown as worthy of induction. Some folks that have been inducted in the past might not have got in by the new standards. Now the whole process has a much more global approach. It is important to make sure that nobody has been overlooked. Each nominee should have had a major impact on the sport or industry, a lasting ripple effect on a national or international level.
The Hall of Fame is not just for early bike designers, builders, and racers. It includes advocates, influencers, journalists, promoters, industry folks and Freeriders. Yes, Freeriders. The time has come to recognize the next generation of mountain bikers. Several persons and groups whose roots influenced or ignited Freeride have already been recognized. Others will follow in the years to come, not limited to shredders, but also filmmakers, promoters and other key figures who had a breakthrough and lasting influences on the scene.
The likes of The Laguna Rads Club, often recognized as the original Freeriders, and the Froriders (Wade, Richie and Tippie), the North Shore Builders (Dangerous Dan & Digger), Glen Jacobs (early Mudcow video, trail designer, Minjin Club, Inventor of 4 Cross), and yours truly have already been inducted.
More will follow in the years to come, but the active support and involvement of the Freeride/Gravity community are important. Once a person is nominated he or she is up for voting. Anybody can join the Mountain Bike Hall of Fame with a yearly voting membership ($30) to become eligible to cast a vote. For the last two years, Josh Bender has been nominated, but he hasn't received enough votes to make the cut. His nomination will be up for voting one last time in 2017.
The Hall of Fame is also encouraging more international entries. That effort started in 1999 when they held the inductions in Italy, and it regained momentum in 2015 when the likes of Horst Leitner (Austria), Uli Stanciu (Germany), Glen Jacobs (Australia) and The North Shore Builders (Canada) got inducted.
There are a lot of people that most of us have never heard of, but when reading their bios and accomplishment, one quickly realizes that without them a lot of things would be different today or wouldn't have happened in the first place.
It is time to preserve our history and honor our peers, those that have made a difference. Mountain Biking is only 40 years old and already so many people, trends, brands and ideas have come and gone. Let's remember those folks that stand out and have led the way for many of us, helping us to fall in love with this sport or making it a little bit better.
This year's list of inductees included none other than Missy Giove, one of the brightest characters and racers our sport has seen. Her personality and style changed our sport. Hank Barlow was an early Crested Butte Pioneer. He started Mountain Bike magazine and took journalism to the next level after Fat Tire Flyer. Hank's magazine helped shape our sport, trends, bikes and philosophy—not to mention that they put Moab on the MTB map. Roman Urbina started the epic stage-race La Ruta in Costa Rica 24 years ago. La Ruta was the first of its kind and has inspired many events in that genre around the world. Matt Fritzinger started NICA, the US high school mountain bike league. This has been the best thing to happen to American racing and the bike industry in many years. Over 11,000 kids are racing now in 18 different states. And last but not least, Jeff Archer, who was tragically killed this summer. Jeff was an advocate and bike shop owner, but most of all, a true historian, a collector of everything mountain bike who created his own museum.
It's these kinds of people who are being honored and who have made a difference. Some of them are famous, others less so, but their contributions have influenced our sport and the way we ride.
If you are ever in the Bay Area, make sure you visit the Marin Museum of Bicycling in Fairfax and see the Mountain Bike Hall of Fame. Support their cause by becoming a member —keep the museum going and help shape the history of our sport.
Happy Trails,
Hans Rey
---
MENTIONS
:
@GTBicycles
---