RYAN LEECH USED TO BE THE NICEST GUY IN THE WORLD
---
I recently sat down with Ryan, the busiest Zen-like person you will meet, over a coffee to talk about everything from egos to wheelies, and how the evolution of his career in bikes has led to diversity in his skills. He has the calm and reflective speaking voice of someone who has nowhere else to be but sitting outside in the rain at an over crowded coffee shop on a holiday Monday, listening to questions that he has likely answered a hundred times before about his life and career. In fact, transcribing our interview was more like listening to a guided meditation than a biography of one of the bike world's most influential riders.
Whether or not Ryan Leech is still the nicest guy in the world is still up for debate; *spoiler alert* he says he's not. But the important thing is that he wants to share with you what he has learned throughout his career; "these things worked for me so maybe it's going to work for some other people."
---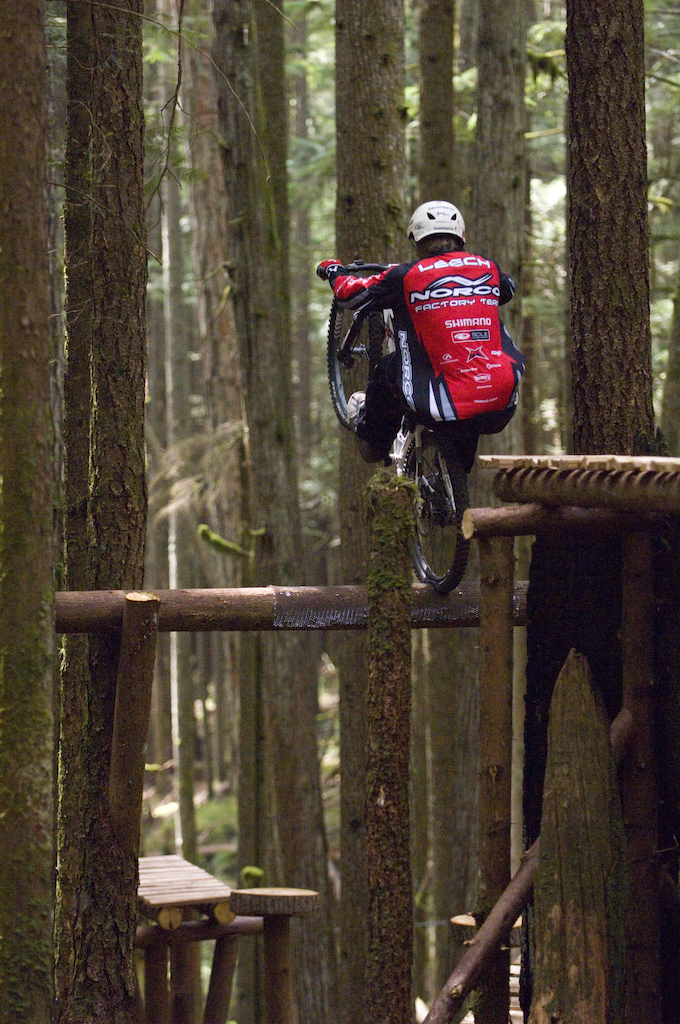 Was the competition part of trials riding a big focus for you?
It wasn't very big for me, I just dabbled in it early in my career as a teenager; trials is so small. I started cross-country racing before trials. I was racing cross-country and downhill and then started to get more into trials. With cross-country I would train, and train, and train, and not really notice an improvement but then I would practice trials and I would learn a new trick and it was so cool. I got kind of hooked on that. It was around seventeen that trials kind of took over and I started to get noticed. I went through a few comps and stuff and got noticed, but it was the trials shows that really got things going because then I started making money. Then I started getting better and then I got into what really launched my career, in terms of getting my name into the mainstream mountain biking scene, Kranked 1. And then I was in a whole bunch of other films including, Collective, Roam and Kranked 1, 3 - 6.

Tell me about the stunt you rode in Kranked 6 on the Sunshine Coast.
That was the most terrifying thing ever, I am really glad I don't have to do that kind of stuff any more. One of the most challenging things about being sponsored because you do crazy, cool things on bikes is that it perpetuates the 'okay I'm showing up to film a video, I've got to take the risk and get the cool shot' mentality. I'm so glad I don't have to do that anymore!

Did you ever have any injuries from riding?
My back is probably the worst; I'll probably be dealing with a few back issues for a long time. I blew my knee, nothing major though. It could have been worse.

What is the difference in the level of risk between what you did in Kranked 6 and your show that you perform now?
There's little danger with the trials shows – from my perspective. It's a very controlled circumstance for me at a trials show, everything is practiced, it's a routine, and there are no variables.
So as long as I'm physically in shape, then I can do a show safely. As long as I want to do a show, I can do a show safely. If I don't want to do a show, then that starts to get into sort of dodgy territory. That's sort of the next area I really have to stay conscious of. I took a year and half off of doing trials shows because I was burnt out from them. I have done so many shows and I wasn't having fun doing them, it's a lot of physical and mental energy.

You have a reputation for being very approachable, how much of that came from your trials shows where your personality is as much on display as your riding? Do you put a lot of who you are into your performance?
I do. And again, it has evolved; I've been doing it for so long; 20 years of trials shows. When I have a good show I really am being myself, I really am being authentic. It's a show and my goal, and my mission, is to create a positive experience, to get people thinking about bikes, and to show some fun riding tricks. And then I talk to people afterwards, sign some posters, and answer questions, and I like that. I enjoy that part of my job. But there is an evolution, when I first started doing shows all I was doing was showing off; I wanted to do the coolest tricks in front of the audience. Gradually things evolved and then I started to get into announcing and talking, and all of a sudden I needed to build a different relationship with the audience. It forced me to grow and forced me to acknowledge them in a different way. And so it was a learning process.

At the point that your back was bothering you the most, how long had you been riding?
I had been riding professionally at that point for about 4 years, mostly pain from repetitive impact and going too big. Since that point I've been dealing with it, and I'm now at 19 years riding professionally, so I've figured a few things out about sustainability!
I guess my riding started changing initially because of yoga. Yoga allowed me to get more in touch with my body. I wasn't sacrificing my body to do really cool and crazy tricks, so I started to choose my lines a little more wisely for some of the videos I was doing at the time.

At that point were you considering the long-term impact of riding on your body and the longevity of you career?
Yes, it was coming into play, that sort of long term thinking – 'oh, man, I still want to do trials for quite a long time and of course mountain bike for a long time.' Yoga came into play just because I had some injuries. It was about thirteen years ago or so that I started doing yoga.

So it was out of necessity?
Yes, a lot of people get into yoga for injury prevention or even recovery, so I was one of those.

And you've done your teacher training as well?
Yes, that was a number of years later. I've been teaching for six years now.

How do you balance your time between your performances on the road, teaching yoga, life coaching, and your online resources?
The current make-up is performing shows, sponsorship is another component, then there's teaching yoga, and life coaching; so working with clients one on one. And [life coaching] has been a pretty active part of my life for the three years that I've been certified. That was another one of the long-term career plans.

Did you have this career path mapped out ahead of time?
No, it has just sort of been one thing that iterates into the next. There's something about a combination of skill sets and them coming together to create a unique value. So for my membership site, it's just about my own experience; these things worked for me so maybe it's going to work for some other people. I share yoga classes and tips and posture strategies that are useful for cyclists. Then teaching riding skills, it's something I've been doing my whole career, I have a certain interest in thinking about skills and breaking them down, and trying to think about different ways to teach them. It's pretty natural and a pretty common thing for riders to get into. The big part for me, and that's kind of where all the coaching stuff comes into play, is getting into the ego. Getting into the mental side of riding. It's really diving into the inner workings because I think that is a huge part riding performance. When someone looks at you and sees what skill level you're at, that's just one component, but the experience of riding is massive, that's what I'm interested in more than anything.
I spent so much of my career just focused on the performance and, for me, I missed out on a lot of really cool experiences of being in the scene because I didn't nurture the inner side. I didn't grow in some of my weaker areas, such as relationally; I was always a solo rider and didn't ride in groups. Part of that was the ego thing, I was travelling to all these cool places as a trials rider and I was doing these shows, and there was so much cool mountain biking everywhere, I could have gone on so many great mountain bike rides. I could have ridden with all these other great, really cool, mountain biker and trials riders but I didn't'. I was always scared to just go on a casual ride because I put on myself this expectation that I had to ride like I did in the videos and I didn't want to tarnish my reputation by showing up and having someone else ride better than me. And that was part of the learning process for me to grow, but it would have been nice to work on that or have some way to identify that or work through some of those challenges then. So the experience part of riding is definitely a passion of mine right now.

When you say Life Coach, are you encompassing all areas of someone's life? Is you client base primarily athletes?
[My clients] are typically recreational riders who work full time, they ride as much as they can, they're busy, and are trying to fit everything in. Maybe they've got some sort of stress, or something they are trying to work through, and so I'm someone to listen, to ask questions, to open up different perspectives, and design practices for them. We will have a topic, a focus that we work on, and really actively practice different skills.

Is this riding focused?
No, the riding is a nice commonality, but even if the topic – like, I've worked with a few pros too – even if the topic is riding related, chances are there a lot of other things going on in their lives that are affecting what they are trying to accomplish. So my job is to poke around in these other areas and work with them to understand how things are relating and find what area needs to be addressed.

In addition to your in-studio yoga instruction, one-on-one Life Coaching, and your trials shows, there is your 30-day wheelie challenge, so let's talk about that.
I had the idea in August and I've been working on it ever since.

Is this for people who don't have the 'wheelie gene'?
I don't believe in the wheelie gene, I don't believe that at all. I don't buy it. The translation is, 'if I don't have the wheelie gene, then wheelies are terrifying." Right? Because you are going to flip over backwards and land on your tailbone, so there's that, but with the progression that I've really been working hard to design it is a safe progression. All of a sudden the most terrifying thing in the world becomes the most incredible, beautiful, blissful feeling in the world, because that's what they are! I've tried teaching wheelies over the course of a weekend or in a workshop. I barf out everything I know about wheelies and everyone tries to work on them, but it's not that successful. So that's when I thought 'I need to spread it out.' And there's such cool technology online to deliver this kind of stuff so I decided to use it and @wakidesigns did a whole bunch of drawings for the program, but it's mostly video based.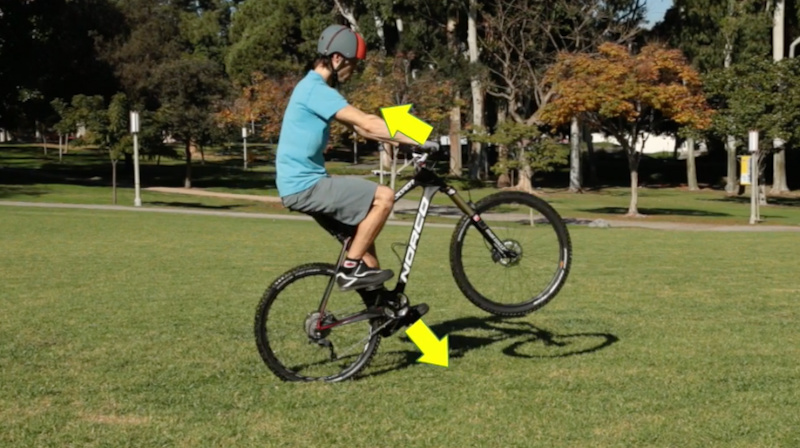 So are these set 30-day sessions or does the thirty days start for someone when they sign up?
When someone signs up, they have unlimited access to the entire program.
30-Day Wheelie Challenge

How much time does it take someone each day to do their incremental lessons?
It takes 3-4 minutes to watch the video and another few minutes to read the text, then they have got to get to their practice location, hopefully there is something close by to where they live, usually there is. And the practice time requirement is 15 minutes at a minimum.

Have you already had people complete the program and was everyone wheeling?
I ran a number of volunteers through the program during development and they had great success, I've optimized the program from that feedback and since launch there have been some awesome results. It has been really fun watching students progress, especially as they post videos of their progress. Of course everyone starts the program with different levels of experience and determination, so the length and consistency of wheelies vary at the end, but they are all unquestionably doing wheelies!

Are you the nicest guy in the world?
No, no, no, certainly not. Just talk to my wife. No, I'm pretty nice to my wife. Part of that links back to the ego thing, I am nice, maybe not nice, but humble. I've always been portrayed or thought of as very humble. That wasn't really the case, I was definitely thinking 'I deserved this' and 'I deserved that' in certain parts of my career. It's one of these things where the surface reputation doesn't say much.
And also, through some of the coaching and self-work I've done, that nice attitude stopped working in a lot of ways. It worked well and it served me well to be that person, but that stopped being the case in a lot of the other areas of my life where being nice was not the most moral way to be. If you work with me as a client, I will probably be a little mean sometimes; change is tough so working that into personal life can be challenging but also really rewarding and necessary.
Ryan is sponsored by: Shimano Components & Shoes, Norco Bicycles, Nutcase Helmets, Ryders Eyewear, Marzocchi Suspension, Lululemon, Lizard Skins, and Yakima Racks.
---
MENTIONS
@norcobicycles
@shimano
@RyanLeech
@MarzocchiMTB
@LizardSkins
---