It's an ever-shifting balance working within the bike industry and at the same time maintaining that internal spark which brought you into the sport in the first place.
Sometimes the cloud of external pressures or roadblocks can begin to obscure the vision of what you once thought of as a passion but now see as a job. It's a common phenomenon across a wide demographic and often comes and goes in waves.
One individual who has yet to find that spark extinguished is a local bearded kid from Kamloops by the name of Dylan Sherrard. Years ago, a 36-hour bus ride to the famous dust bowl of interior British Columbia by the then-sixteen year-old from Whitehorse, Yukon ignited something that six years later hasn't subsided. No it wasn't a bothersome rash, but rather a lifestyle built around riding on two wheels.
I guess I haven't known Dylan for the better part of those six years and I am borderline copying and pasting from one of his earlier "Life in the Loops" writing pieces, but I had previously been a fan of his from his extensively awesome work with Silvia, his introspective Pinkbike articles, his time as a featured athlete on Team Robot as well as numerous incredible photo pieces reinforcing the notion that yes- you are allowed to do tricks on downhill bikes.
He also came accessorized with a beard, an add-on which we both had in common so I figured "What the hell let's see if he wants to shoot a bit of a mini-project?"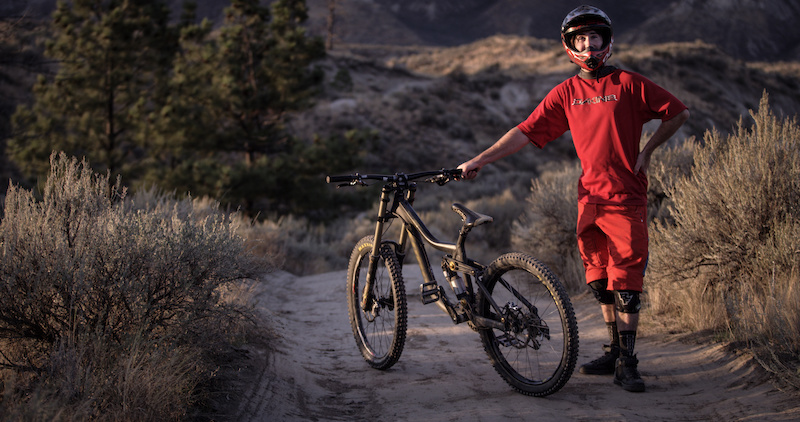 The man. The machine. The beard.
After meeting with Dylan, it became immediately clear that he is a genuinely all-around friendly character, fierce owl buff and one heck of a hell of a rider. I'm thinking about it now actually, and during the entire shoot I'm pretty sure Dylan struck up a friendly conversation with every single person that came remotely near us on a bike- that is except for the sketchy drunk guy who decided to take it upon himself to claim possession of Dylan's blacked out Kona Operator which we had hid in some long grass for safe-keeping while shooting nearby. It was only then, when we saw a distant figure making off with his bike did I see the easygoing, positive enthusiasm drain from his eyes to be replaced by ravenous adrenaline fuelled rage which catapulted Dylan down the trail faster than a 2013 Stevie Smith World Cup run. After a few very calm words pointing out the man's confusion in property ownership, Dylan was once again in possession of his shred sled and we could continue what we had started.
What we put together was a short film taking a step back and sharing Dylan's humble view of how he see's his current lifestyle and an abstract vision of where he sees himself in the future. Also, he rides the hell out of a mountain bike...
Words, images and video by Liam Mullany
Check out previous episodes in the "Over the Edge" series here
:
Kirk McDowall
Mike Hopkins
Bas van Steenbergen