TESTED
Magura
TS8 R150 FORK

Magura took the DNA of its Thor all-mountain fork and reinvented what may be its best suspension product ever. Meet the TS8 R150 - a lightweight, 150-millimeter trail shredder.
Magura's TS8 R150 fork
is a lightweight, 5.9-inch-travel slider that slots nicely into the all-mountain and enduro categories. 'TS' stands for Team Suspension and the TS8's DNA comes from the German manufacturer's Thor slider that it replaces. Externally, the chassis is essentially unchanged, but this is a good thing because, at 3.61 pounds (1.64 kg), the TS8 R150 is among the lightest forks in the mid-travel single-crown class. And it's not wimpy either - its dual-arch system and 15-millimeter through-axle make the fork surprisingly rigid. What the new TS8 R150 brings to the table that the Thor lacked, however, is compression damping.
Across the lineup, our lingering complaint about Magura forks was wimpy compression damping that caused the front of the bike to ride low and dive under braking. Well, enter the new world of Magura suspension, because the TS8 R150 has one of the sweetest compression damping and spring curves that we have ridden on a mid-travel fork. The TS8 R150 is sold in three configurations: with adjustable travel; with remote damping and lockout controls; and as the bare-bones, R150 FIX model in the following review. Magura's TS8 series forks range in price from $600 to $850 USD depending upon the bells and whistles.

(From left) Magura employs a 15-millimeter Maxle Lite to keep the TS8 R150 stiff and stable. The plastic rebound dial is paired with a plastic cap on the right slider to protect the lowers from abrasion. The gold-anodized clicker on the right crown adjusts the low-speed compression platform levels when the blue-anodized Albert Select dial is switched on. Magura altered its air spring to produce a spot-on progressive rate.
TS8 R150 FIX Features:
Construction:
Magura offers the TS8 for both 26 inch and 650b wheel sizes (a 29er variation is also made). Both share the same chassis, as the larger wheel format can handily fit inside the dual-arches atop the magnesium slider. The TS8 R150 inherits the Thor sliders, so it also features a 15-millimeter RockShox Maxle Lite through-axle (one we consider to be the best in the business). Its post-mount brake caliper bosses are dedicated for mid-diameter 180-millimeter rotors (7 inches) and while we are in that vicinity of the fork, Magura printed setup instructions on the left slider to assist new customers with air pressure values for various rider weights. Thoughtful and useful are its plastic bumpers on the bottom of the sliders to prevent damage while the rider is fussing with the front wheel and the bike is resting on the fork lowers. The red rebound knob doubles as the right-hand bumper.
Damping:
High-speed compression damping for all TS8 forks is set internally. The TS8 R150 FIX features external adjustments for low-speed rebound and compression. Rebound is tuned with the red dial below the right slider. 'Low speed compression' is technically adjustable when the blue 'Albert Select' dial is turned counter clockwise. This engages the pedaling platform function. The gold-anodized dial above the Albert Select dial is then used to increase or reduce low-speed compression from locked out to nearly wide open. When blue Albert Select dial is switched off, the fork reverts to its preset compression setting - which is beautifully tuned for high-speed, technical trails.
Settings:
We set the gold clicker to deliver a firm pedaling platform, but to deliver a supple enough ride to keep the bike's suspension in the fun zone when we didn't have the time to switch it off for the descents. Curiously, turning one dial tends to rotate the other, so one must hold the blue dial in place in order to turn the gold one. Magura says that once the gold low-speed compression adjustment is set, that it is designed to rotate concentric with the blue, Albert Select dial as it is opened and closed and that this will not change the platform adjustment.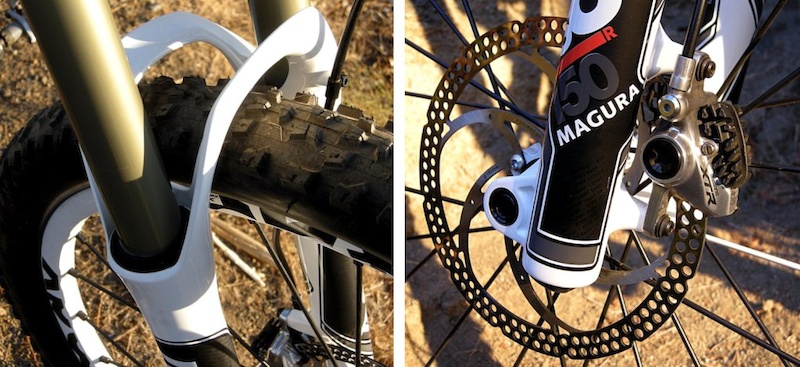 Like it or hate it, Magura's double arch turns out to be an awfully lightweight solution to add lateral stiffness to a fork. The only glitch is that the two buttresses converge in a pocket that can accumulate dirt and grime around the dust wiper.
Riding Magura's TS8 R150 Fork
Magura intended to make its 2012 forks as simple as possible to dial in and if you are searching for a lightweight fork that kicks butt on technical trails, all you need to do is follow Magura's setup guidelines and go. Magura suggests seven clicks of rebound and three turns of the gold platform dial to make the Albert Select palatable for pedaling. The default settings work pretty good. Ultimately, we used eight to nine clicks of rebound and two and a half turns of platform with the spring pressure set in between Magura's suggested ranges. This gave us about 30-percent sag and a good balance between high-speed control over chatter and low-speed smoothness down rocky steps and drops.
As mentioned, Magura's more progressive spring rate and ample compression damping feels just right, with no noticeable tendency to dive while braking down sketchy steps and steep chutes. The travel feels smooth and seamless and it's easy to forget that the fork is there once flow is achieved. Magura's new damping comes into its own at full-compression events, like abrupt transitions from steeps to flat where, assisted by its progressive spring curve, the fork recovers smoothly and in control. The TS8 R150 replaced a 140-millimeter Fox 32 Float Kashima fork and, while this is by no means a side-by-side comparison, the Magura slider did a better job of remaining at its ride height at softer spring pressures, which translated into a more versatile performance. In fact, once dialed in, the R150 is a set-and-forget fork. We rarely utilized the Albert Select platform feature unless we were climbing high on dirt roads for a long downhill run.
While the TS8 R150 chassis is way stiffer feeling than any fork we have ridden with 32-millimeter stanchion tubes, it won't compete with the likes of the almighty Fox 36 when pressed to its limit. Most riders will be surprised, though, to find that the dual-arch and through-axle combination can go shoulder to shoulder around the berms and through the rocks with 34 and 35-millimeter stanchion forks. We tested the TS8 R150 on a Pivot 5.7 that put the head angle at 67 degrees, which is pretty standard for trailbikes, and had no issues with vertical or lateral flex. Although we did not test the theory, we would expect Magura's smaller stanchion tubes to flex vertically to a degree if we bolted one up to a bike with a much slacker head angle.
Technical Report:
• 530-millimeter crown-to-axle is 10 millimeters taller than a Fox 32 CTD 150 fork (521mm)
• Light weight - 0.13 pounds (0.06 kg) lighter than the most popular 32mm stanchion, 150mm fork)
• Dual arch adds significant lateral stiffness, but can trap dirt around dust wipers..
• 180mm or 203mm rotors only
• 26-inch or 650b compatible chassis
• Albert Select pedaling platform is quite useful, but not easy to operate on the fly.
• Maxle Lite is a plus.
• Can be updated with handlebar-remote lockout/platform system
Pinkbike's take:
| | |
| --- | --- |
| | Magura's new 150-millimeter fork is staying put. The only reason we'd switch out the TS8 R150 is for a back-to-back comparison test with its 34 and 35-millimeter single-crown rivals. Even then, the thought of adding significant weight for a slight increase in rigidity.... well, that may take some convincing now that Magura has found the damping performance we have been waiting for. Those who are searching for a mid-travel fork that can climb with the XC contingent hold its own at a bike park and shred a Super D or an Enduro should ride Magura's TS8 R150. It is refreshingly simple, smooth-riding and very precise in the steering department. Its only possible negative is that you'll have to explain Magura's dual arch to everyone you happen ride a chairlift with.- RC |