Whether you're bored, looking for practice, or just want to show the world where you've been, self-portrait photography is a productive way to play with yourself while creating some meaningful keepsake images. Within we review methods for consistent, reliable timing for self-shot action photography.
It's quiet. Smells of the forest trigger fond memories of times past. You've forgotten about your breathing as you unwind all of life's problems into the repetition of each pedalstroke. All focus is on you now.

PB user rylon gets some soul-glow on a solo mission
Riding solo is what attracts many people to biking. It's one of the few sports that can be appreciated equally as much by yourself as it can with others. "To boldly go where no one has gone before," or at least, it seems that way when you're by yourself.

PB's jerryhazard is no stranger to the self-portrait. Here Jerry affords an often overlooked low angle of himself.
Imagination can run wild in times of solitude, and it's in this state that we truly find ourselves, what we value in life, what goals and aspirations we hold as important, and when we think the most of others dear to us. It can be a place to find solace in times of pain, a place for curious exploration of one's inner self, or refuge from the outside world. Unlike a walk in the park, riding solo involves vigorous exertion, but you are the only winner in this race. You can go anywhere, with time as your only ally, or foe for that matter. To find such clarity in conquering a stiff climb or an entangled web of root wads where you remain as the only one to celebrate your own victories is robbing the rest of the world of every moment of tranquility.

There's nothing more hair-raising than roots, rocks, and exposure, on a hardtail. Unless you're by yourself. Jinya getting gnarly.
When you return, your spirit rejuvenated, your patience restored, demons conquered, you are ready to tell of your experience, to share your enlightenment with others. But there's no way to show where you've been, no explanation for your absence.
If a picture of the solo ride saves you a thousand words of attempted explanation, enter the realm of self-portrait photography.

Paris Gore shows that action isn't always required to show yourself amongst supernatural surroundings.
The Self Portrait
Self-portrait art is far from a new concept. There are many reasons why you'll want to take your own photos, but I can't think of any better reason than because you can! The challenge of self-portrait photography can open up new doors to your creativity. Have a look at any of the user galleries in this article and you'll find that self-portrait photography can be addictive. I started out taking photos of myself to remind me of where I had been. Once I got more serious about photography, I used self-portrait technique to get more practice behind the lens. Professional quality photos take quite some time to get set up, especially when lighting with external flash. There is no better time to learn photographic technique than when you are by yourself at the mercy of your own patience.

Jeremy captures some beautiful Digger-built trail with a nicely timed capture of himself using a handlebar-mounted remote.
Triggering Methods
For as long as there have been cameras, there have been photographers taking pictures of themselves by one method or another. It has always been, and always will be, more effort than making the same photograph of another subject. 'Pressing the button' is usually the biggest hurdle to overcome, but to qualify as a self-portrait, you'll need to find a work-around for this minor inconvenience. If the photograph could not be made while you are by yourself, it's not a self-portrait. Many photographers struggle with wanting to be in quality pictures, but also spend too much time setting up their equipment to give someone else the photo credit just for pressing the button. In this circumstance it's important to remember that if your buddy wasn't there, you wouldn't have a photo, so it's not a self-portrait. Your buddy is in control of the camera, which makes them the photographer. Give your buddy credit for their impeccable, or totally garbage, timing.
There are many other considerations besides triggering for self-photos, but these are all aspects that should be practiced in all photos. Focus and composition require some imagination since the photographer can't see themself in the frame before the photo is taken. Another obstacle is changing light conditions since most self-portraits involve a fair amount of setup time or waiting for timer delays. Consider also that your camera's meter will change the exposure once you enter the frame if your clothing is very light or very dark opposed to the background. If you are able to utilize manual control of your camera, you will achieve the most consistent results.

Drew Hurst soaks it all in with a still frame from his GoPro video camera.
Video Still
Now that we use memory cards rather than film, self-shot video is a breeze. There is no worry about wasted film, and most video cameras these days offer in-camera editing to trim your clips trailside so that you can delete all that frantic running about to capture yourself riding in your own shot. Video stills are the simplest means to achieving perfect timing in a self-portrait photo, and can offer good results for web use. Many video cameras offer superb resolution for motion pictures, but even HD's 1920x1080 pixel format isn't going to get you any large-scale wall hangers if you choose to take a still from video. Different aspect ratios between video capture and photographs will force you to crop your already small video still image to an even lower resolution for print. Not only that, but most video cameras shoot at a non-variable 1/30 or 1/60 of a second shutter speed. That's great for smooth frame blending when played back as video, but one single frame isn't going to be very crisp. The newer dSLR cameras that shoot video can shoot at nearly any shutter speed, which would offer a very crisp frame, but still at a lower resolution than an actual photograph.

Still image from a Canon 60d, HD 720p60 video, 1/125s. While the video itself looks pretty good, raising levels slightly in Photoshop exhibits grain and loss of sharpness in this still image due to digital noise in a small-scale image at ISO 3200.
Obviously the best quality images are going to come from a photo camera. Likewise, the best motion picture results are made with a video camera. These days, both types of cameras can do both things well, but are specifically designed to excel at one or the other. While this is largely another topic altogether, there is no doubt that for online viewing both can achieve great results for self-portraits. There isn't much of an option for external lighting with self-shot video stills. Photographic speedlights and even some studio strobes are relatively portable because they utilize capacitors to discharge a very high output for a very short duration. On the contrary, lighting for video is large and heavy because it requires generating long durations of light at constant output, making it pretty much out of the question for use in self-shot video. Video stills win for capturing the timing of that perfect moment, but lose for overall image quality.

The author, utilizing external flash and the camera's self-timer. Riding slowly for the camera eliminates the need for multiple takes.
The Self-Timer
With photography, timing is everything. Miss the moment and there was no point in taking out the camera. The simplest of solutions begin with the good old fashioned self-timer. Every digital camera has one, most are adjustable from 2-30 seconds. With a cheap tripod or even a rock to put the camera on, you can nail down a crisp image of yourself doing most anything. Without a stopwatch or some pretty accurate counting abilities though, you're going to be trying twice, or a hundred times to get the timing you desire. Some get lucky. Others ride slowly for the self-timer.

Even when not alone Erik Holperl still bags self-portraits using his camera's self-timer. One can only imagine how many takes to get this.
The Intervalometer
Another version of the self-timer is the intervalometer. Many cameras feature a built-in interval timer that can take a photo every X seconds for a duration of X photos, and to get even more precise, intervalometers have the ability to start and end shooting at specified times. Most useful for time-lapse photography, the intervalometer is also a great option for action photos. Most manufacturer's high-end dSLR cameras are able to take a photo every second via intervalometer. This gives you many chances to pin down the moment you want to capture.

Cheating death captured using the intervalometer timer for a self-shot.
For the above intervalometer-timed example, I rigged two flashes, one at each end of the logride to highlight the log and rider. I then set the camera on a tripod far away and set the timer to start shooting 5 minutes from that moment, and to shoot 20 frames, 2 seconds apart. I had a cell phone in my pocket that was synchronized to my camera, and once it neared my specified time, I prepared to ride. It was obvious when the camera was taking pictures because the flashes started firing. Two things went wrong in this photo: 1) I forgot to switch to manual focus, so the camera chose to focus on something nearer, resulting in an image with a slightly out of focus rider, and 2) I didn't consider that one of the flashes would be firing directly into my face, which made it very difficult to focus on riding across the very high log. My nerves were so wrecked that I didn't feel like doing it again. I hoped to get a more crisp shot of it later, but no one, including myself, will ride it.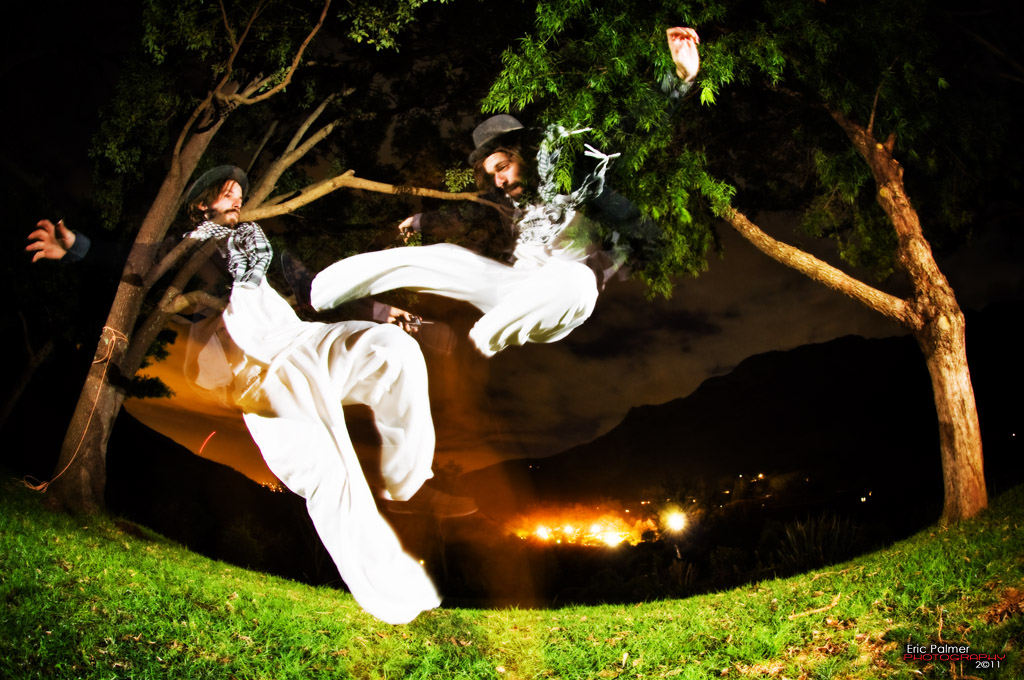 Eric Palmer kicks himself in this 30-second exposure by allowing external flash to freeze his motion.
Long Exposure and Flash
Flash is used extensively in action photography not only to highlight the subject, but because it can freeze motion resulting in a more crisp image. In the above image by Eric Palmer, the camera sits atop a tripod at night with the shutter set to 30 seconds. While the camera absorbs every bit of light it can in that long exposure, the flash's ultra-fast 1/8000 of a second discharge imprints an instant of whatever the flash hits. You can see in both Erics there is a radio remote in hand that only controls the flash. Eric presses the shutter button on camera, then twice during the 30-second exposure he triggers the flash with his remote.

Using the same method as Eric Palmer above, a remote in hand controls flashes to freeze the rider.

Russell rigged his own bar-mounted trigger and used external flashes for this self-shot. Click for details.
Radio Remote
Available for around $50 on
eBay
, a simple radio remote transmitter will trigger your camera at the push a button. Careful though, as preoccupying your fingers with something other than the brakes could leave you in the hurt locker moments after your sweet shot is acquired. In addition, take two isn't going to happen at the exact moment previously captured. The range on these cheap remotes isn't real great, and some require an antenna to be extended. They are, however, easily modified with some basic understanding of electronics to be retrofitted to a more ergonomic handlebar-mount solution.
Observe below how the 3 wires lead to 3 metal plates. When the first plate touches the second plate, it focuses the camera. When the second plate touches the third plate, the camera shutter actuates. The first plate isn't really necessary since we manual focus for self-portraits, so just think about how easy it would be to rig up a simple way of making two wires touch while you're riding your bike.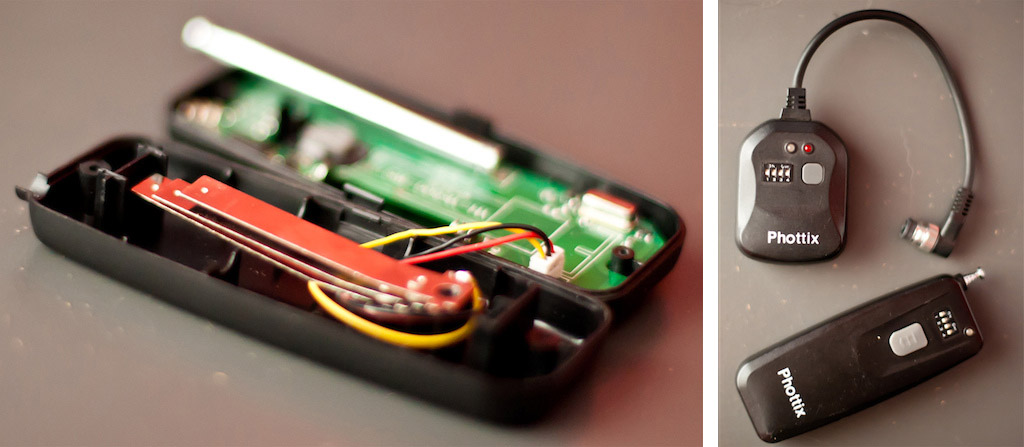 The 3-wire configuration of this cheap eBay remote is easy to modify for better ergonomics to trigger the camera while riding.
Remotes, just like everything else in the world, can be extremely high-end as well. Pocket Wizard transmitters, most commonly used for off-camera flash, can also be used to trigger a camera up to 1600 feet away. While Pocket Wizards are the king of reliability when it comes to remotes, they are a bit bulky to actuate while riding and you won't want to modify something this expensive.

Click to read the description for Jonathan's frustration with, and solution for, this self-pic.
The Bite Trigger
Yet another innovation for good timing that leaves you less than focused on the trail is the bite-trigger. Held between the teeth, this is most useful for chest-mounted cams or shots taken from behind, as you're going to look funny with that thing in your mouth. There are also sound triggers if you feel like yelling mid-air, but you'll have the same facial expression as with the bite valve, only there won't be that thing in your mouth.

Mason Mashon captures his perspective on the Sunshine Coast.
Laser Beams
The only surefire way you're going to consistently nail down precise placement of yourself in the frame is by crossing a line at the point at which you want the camera to trigger. Using lasers or infrared beams, we can do this invisibly to the camera. This is no doubt the most complex of methods, but it is the only consistent, reliable way to achieve perfect timing every time.

Perfect timing, repeatable every time using laser beams
The prod for writing this article was the huge influx of viewers wanting to know how I did some of the self-shot work for my
2012 Cove STD Review
. After lots of research in 2008, I landed on Brian Mumford's
Time Machine
. Sure, it looks pre-Atari, but it's the most high-tech piece of equipment I could find that might be able to do the job. The Time Machine is used for ballistics purposes because it's so accurate and fast that it can freeze a bullet in a single photographic frame. It's also used for hummingbird photography, as photographers struggle to get close enough to these evasive creatures to get a solid shot. I figured if it could stop a bullet or capture a little bird, my bike would be no problem.

The Time Machine, surrounded by radio transceivers and the infrared beam with reflector.
The Time Machine's Infrared Beam uses a reflector to redirect the beam back to the sensor's eye, creating an invisible path. Anything breaking the path of the beam can trigger a connected SLR camera. It works every time, precise to 1/1000 second. The Time Machine also features a trigger delay that will delay the exposure a certain amount of time after the beam is interrupted. This is especially useful when hitting jumps that put the rider high into the air, out of reach for placing the beam. The beam is placed at the lip of the jump, with a delay as precise as 1/1000 of a second added to catch the rider mid-air. It takes some trial and error, but once the delay is nailed down, the rider is captured at the exact same location in the photo every take. For those wondering, a Time Machine costs about $500.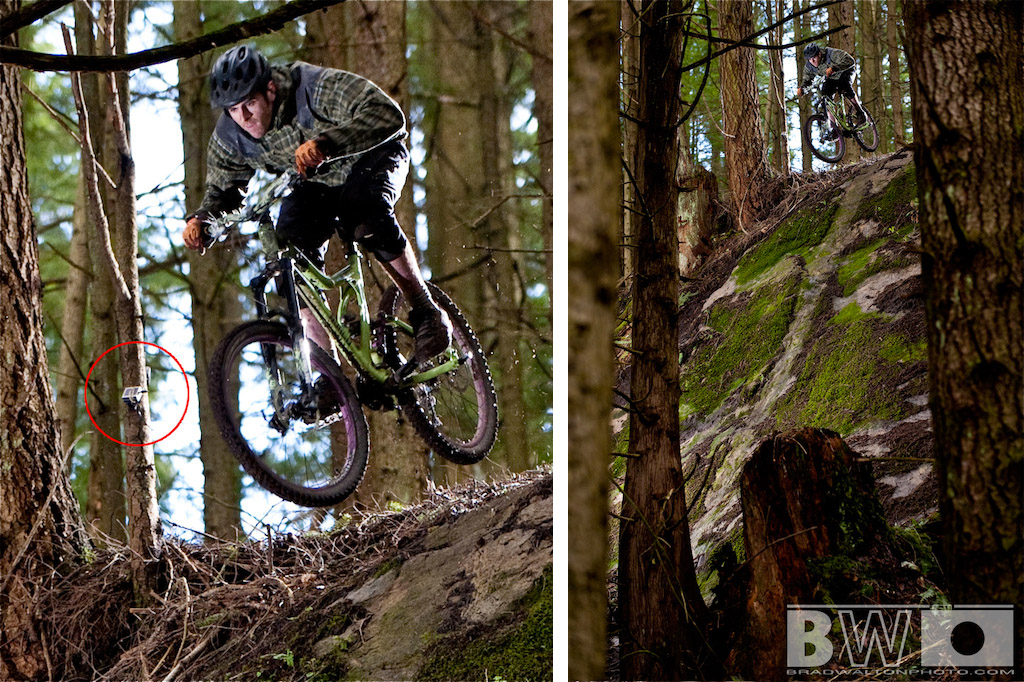 Infrared beam sensor is spotted in a close-up of this photo. Equipment could have been concealed utilizing the delay feature.
Below is a self-shot video of making a self-portrait photo with the Time Machine's infrared beam trigger. I filmed this in April 2008 and I just got around to editing it, so I apologize for the lack of video quality.

The resulting self-portrait image from the above shoot with the Time Machine.
A more basic laser trigger system has just been released, but I have no experience with it. For a little over a hundred bucks, the
Trigger Trap
promises instant exposures by breaking a laser path. However, it requires an external laser, such as a laser pointer, to be aimed into it's eye (do not ever point lasers into your own eye, duh). Like I said, no experience with the Trigger Trap, but it would be great to get more people into a laser system by offering it for around $100.

I would have never thought of putting the camera in the stump had I been taking the photo of someone else.
Lasers aren't for everyone. There is an intense amount of patience required as even with experience most shoots do not go very smoothly. With so many electronic variables involved in the setup, any number of things can and do go wrong. But lasers aren't the only intensive setup. Ask any self-portrait photographer how much effort it took to make their photo and they'll probably laugh at you. The frustration in failed attempts is what makes acquiring a great image so rewarding. And since it's YOUR image of YOU, the image is just that- great!

With self-shooting, you no longer have to convince your buddies to stay out past dinner time!
All of the above methods are applicable not only for self-photos, but can also be beneficial for other photographic work. I have a laser trigger for self-portraits, but more frequently I will use a remote or intervalometer for their simplicity. A self-timer is simple, reliable, and quick to implement. With a little forethought, imagination, and persistence, you can get great action shots of yourself using any of the above methods. But don't settle for what I have to say, think outside the box and develop your own method! There is no right way to make a photograph. About the only limitation to self-portrait photography for now is the lack of ability to move the camera during the exposure. Currently pan-blur shots are out of the question for self-portraits, but the maker of the Time Machine does have a rotary table for time-lapse imaging that perhaps could be modified for faster action tracking.
Remember to always tell someone where you're going when you ride solo, be safe out there, and have fun!
Check out some of the user galleries from the article. Some have tips included in their self-portraits as to how it was done:
rylon
jerryhazard
jin0824
p-gorephoto
drdiggler
chaseanthems
airik
ericpalmer
rusty77
jonathancarre
mmashon
bradwalton
For more info on laser beams, check out
The Time Machine
Do you take photos of yourself in action? Tell us about your self-portrait experiences.
*DISCLAIMER:
Riding by yourself leaves you potentially at risk for not receiving help should you become injured. Always tell someone where you are going and when you plan to be back. Neither Pinkbike.com or bradwaltonphoto.com are responsible for your actions.