Mike Montgomery rolled up to The Camp of Champions to learn new tricks, ride with campers in the Whistler Bike Park and "The Compound" at The Camp of Champions - home to the private COC dirt jumps, 365 Sports Big Air Bag and mulch pit. Mike was also stoked to pass on some knowledge to campers. The knowledge to pass on just got a little crazier today. If you wanted to learn new tricks and stay current, it's time to come to camp.
The California Roll is here
.
Mike Montgomery started trying the nothing combined with a body varial yesterday into the 365 Sports Big Air Bag. He sent it probably 15 times, coming close on quite a few. The bag makes for a quick turn around time for lap to lap. It's definitely the new standard for learning/figuring out new and old tricks safely.
Once he nailed a couple into the 365 Sports Big Air Bag, it was time to take it to the mulch pit and throw it down for real.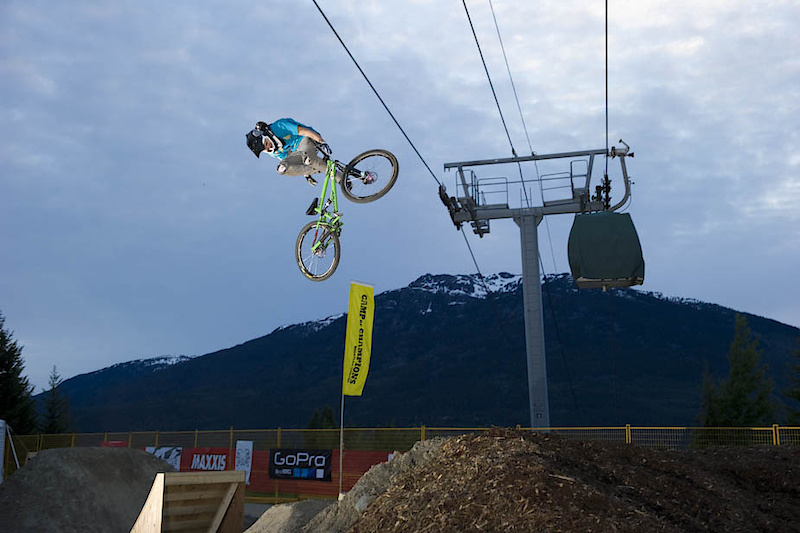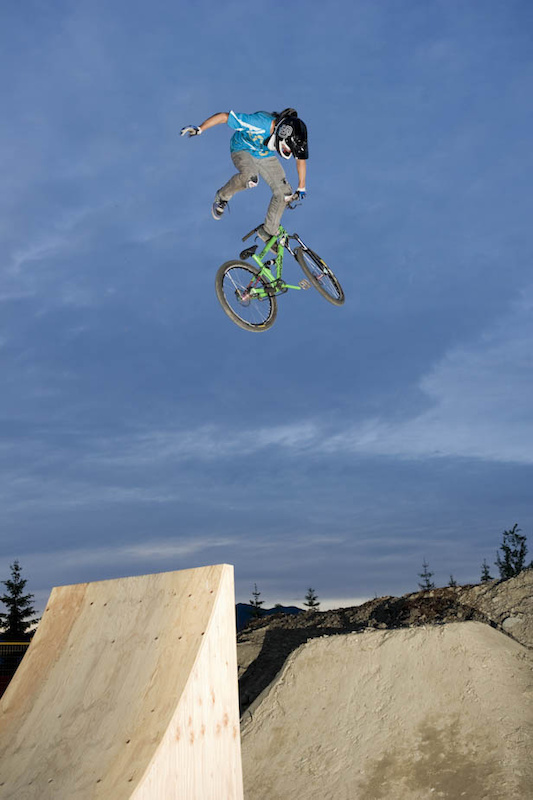 He took a few beat downs, rolling out in the mulch and at the end of the evening almost nailing couple but got bucked on one landing and then sliding out on another. At the end of the day the San Diego native cruised by me and with a confident tone said... "Getting It Tomorrow".
Snowboarders, skiers and mountain bike campers watched the show as Jack Fogelquist, Gareth Dyer and Alan Hepburn and a few campers sessioned the mulch pit after Andrew Taylor and Greg Watts left to get something eat, having had an amazing session earlier in the evening. Greg's double back is off the hook. The progression that is going down because of the 365 Sports Big Air Bag and the mulch pit placed right beside, is amazing.
As the sun dropped behind the mountains and the clouds lit up, Mike rolled in off "The Compound" roll in ramp and sent it. After a couple of close misses, he banged two off, one after another. A slight dab sent him back up the ramp to nail it clean. He "Got it Tomorrow" to the cheers of The Camp of Champions campers, coaches, filmers and photographers. An epic night. The California Roll has been served up fresh to the bike world.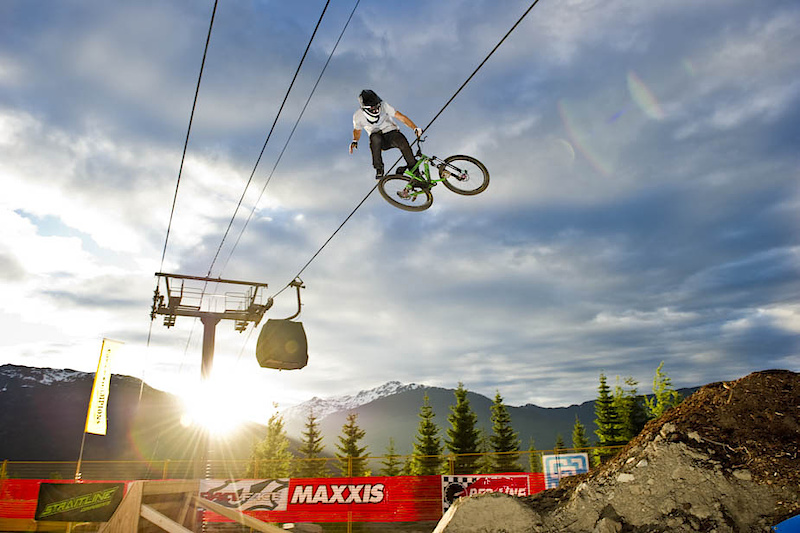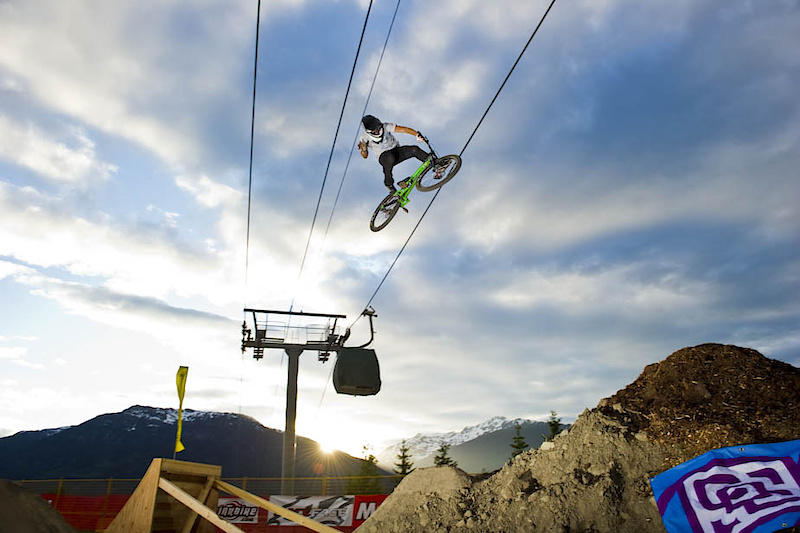 Speaking not just for myself, but for everyone at The Camp of Champions - campers, staff and coaches,
CONGRATULATIONS!
It was amazing to watch and we're really happy that you made history at "The Compound". I know when we first thought of having an air bag and mulch pit combined with the dirt jumps we were hoping that something like this would happen. Crankworx is going to be crazy. You'd better book your plane tickets and hotel room at The Aava Hotel now and get ready to watch Greg Watts defend his Monster Energy Slopestyle title while Mike Montgomery as well as our other coaches such as Andrew Taylor, Kelly McGarry, Alan Hepburn and others try to unseat him.
The Camp of Champions still has a few spots remaining it their last two camps for this summer. Book your spot and come experience what Whistler and progressing your riding in Whistler with top pros from 10 AM to 10PM is all about.
Bike Check with Mike from Goldman's house, put together by Trigger Media

:
Congratulations again Mike
,
Ken and everyone at COC.