Scott's Genius 700 SL: 650B trailbike sports an HMX carbon front-section
Scott Sports' Carbon Process Revealed
Scott Sports assembled a video-pictorial documentary of its carbon fiber manufacturing that gives much insight to the process. Many of the steps that Scott uses to produce its carbon frames are similar to those used by other top frame makers, but everything you'll see in the advertorial is pretty much as good as it gets. Scott speaks of two high-modulus carbon fiber materials, HMF and HMX, and both are its trade names. The actual brands of the high-strength carbon that Scott uses to build its elite frames may remain secret, but their improbable weights and successes in World Cup competition cannot be denied. Photos in the following editorial are excerpts from the Scott story - it's well worth a look. - RC
---
Scott begins like all good bike makers: with a goal, a team of experienced engineers, an expensive computer composite modeling program and perhaps most valuable, a history of elite-level composite bicycle construction. Once the frame has been designed in digital form and each of the many carbon layers and fiber orientation has been worked out, over 200 shapes are sliced from rolls of pre-impregnated uni-directional carbon on a computerized cutting machine. Some are as small as postage stamps, others, large enough to wrap around the entire length of a tube.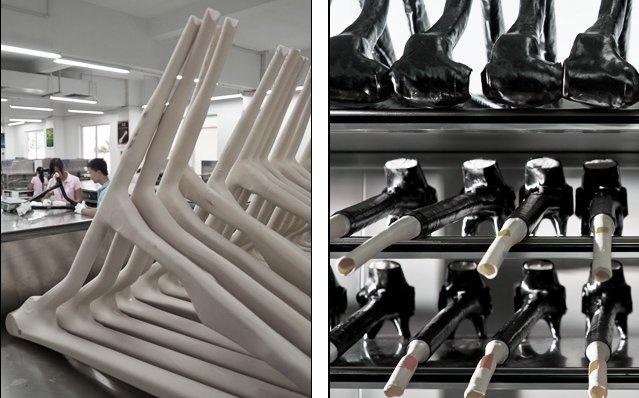 Molded 'bladders' maintain the shape of the frame-to-be. Assemblers will cover the bladder with carbon swatches in a precise 'layup schedule.' The impregnated resin causes the carbon to stick to itself. Later, when the layup is placed in a mold, the bladder will be inflated to compress the layers evenly together while the resin becomes liquid as it is heated and cured.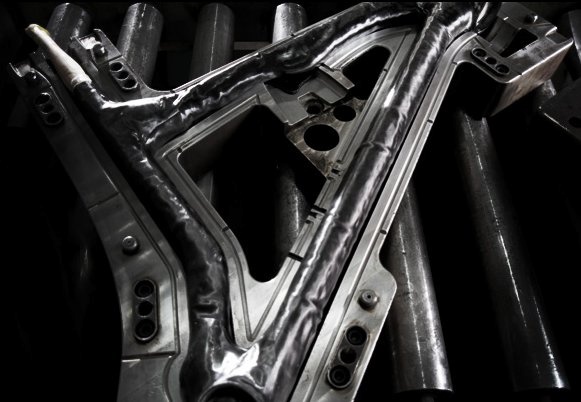 The frame layup is placed into a steel mold. Once the mold halves are joined, the bladder is inflated and the mold is squeezed between two heated plates for a specific curing cycle. The rate that the mold is heated and cooled, and the exact temperature is critical. While some carbon frames can be molded in one piece, the lightest ones are usually molded in smaller sections and then mated together in a final curing process.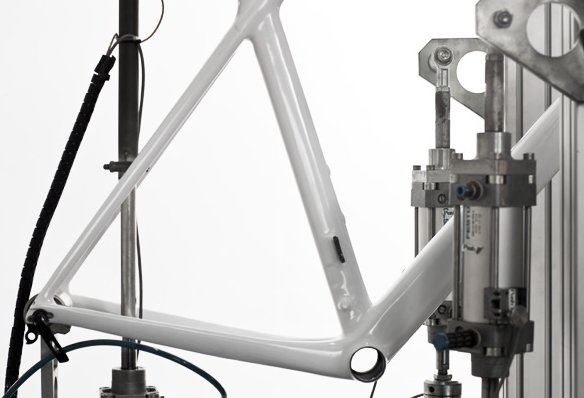 Before the design is finalized and periodically during production, finished frames are tested to rigorous international standards for fatigue and ultimate strength. Scott tests its frames to a higher standard to ensure a generous safety margin.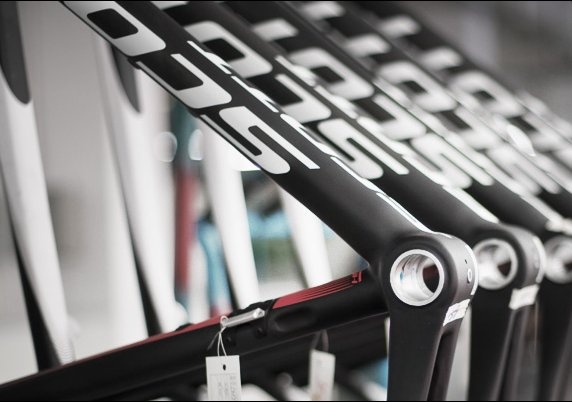 Frames may require minor machining at the bottom brackets, axles and pivot bosses, and all need some sanding and prep work, but for the most part they emerge from the mold in a semi-finished state, perfectly aligned and at full strength.
Watch the video and read full story about Scott's remarkable carbon fiber manufacturing process.