TESTED
SCOTT
Genius
720

WORDS:
Mike Kazimer
PHOTOS:
Ian Hylands
Scott has been at the forefront of the recent push for 650B wheels, with Scott Swisspower athlete Nino Schurter racking up World Cup wins aboard a hardtail running the in-between wheel size. While race results can help prove the viability of a product, Scott's engineers performed further tests to determine if 650B wheels were worth pursuing. Through their testing, they found that 650B wheels weighed only 5% more than 26" wheels, compared to 29" wheels, which weighed 11% more than 26" wheels. Plus, the 650B wheel size could be used on longer travel bikes, such as Scott's Genius line of trail bikes, and could more easily fit smaller riders. Lab tests and the race results of super-fit cross-country racers are one thing, but how a bike handles in the real world is another. We managed to get our hands on a Genius 720 to see if its trail performance matched up with Scott's lab results.
Details
The Genius lineup has undergone numerous refinements since its introduction ten years ago, and for 2013 the Genius is available in 650B or 29" wheels sizes. The 650B wheeled bikes, which Scott calls their 700 series, have 150mm of travel, while the 29ers (
the 900 series
) have 130mm of travel. The Genius 720 has a carbon front triangle, a Shimano XT/SLX gruppo, and weighs in at 30.03lbs (
size large
) without pedals. MSRP is $4729.99 USD.
SCOTT Sports
.
• Purpose: all-mountain/trail bike

• Carbon IMP/HMF front triangle

• Rear wheel travel: 150mm (

5.9 inches

)

• Tapered head tube

• FOX 34 Talas 650B Evolution CTD Air


• DT Nude2 rear shock / 3 modes: Lockout-TC-D
• Shimano XT/SLX 3x10 drivetrain
• Shimano SLX brakes w/ 180mm rotors
• Weight: 30.03 pounds (w/o pedals)
• Sizes: S, M, L (tested), XL
---
Scott Genius 720 Geometry
---
Frame Design
Scott is no stranger to making bikes out of carbon fiber, with over twenty-one years of experience, beginning with the Endorphin model that was unveiled in 1992. The Genius 720 features a carbon front triangle constructed using Scott's proprietary Integrated Molding Process (
IMP
), which involves using high modulus fibers oriented and layered to achieve the optimum strength-to-weight ratio. The bottom bracket area, which uses the PF92 standard, is visually impressive, looking like something from a stealth fighter, a shapely mass of carbon designed to be laterally stiff so that pedaling input is translated into forward motion, not wasted on side-to-side flex. The shift cables and rear shock control are internally routed, disappearing into the frame just behind the tapered headtube before reemerging at the rear shock and bottom bracket area.

At first glance, the jumble of cables and housing coming off the front end of the Genius 720 looks overwhelming. With a dropper post installed (the 720 build kit doesn't include one, but does have routing for running a stealth post), there are a total of 7 lengths of housing originating at the handlebars. This includes the front and rear brake, front and rear derailleur, front and rear shock (which are both controlled by Scott's TwinLoc lever), and the aforementioned dropper post. Everything has a purpose, but it does take some time to get used to all the gadgetry in one place.


The rear dropouts of the Genius are interchangeable, allowing wheels of 142x12, 135x12 or 135x10 spacing to be used. Big fans of creative acronyms, Scott calls this system IDS-SL, or Interchangeable Dropout System – Super Light. The Genius 720 comes with a 135x5mm DT Swiss RWS quick release, which threads into the drive side dropout.
Suspension Design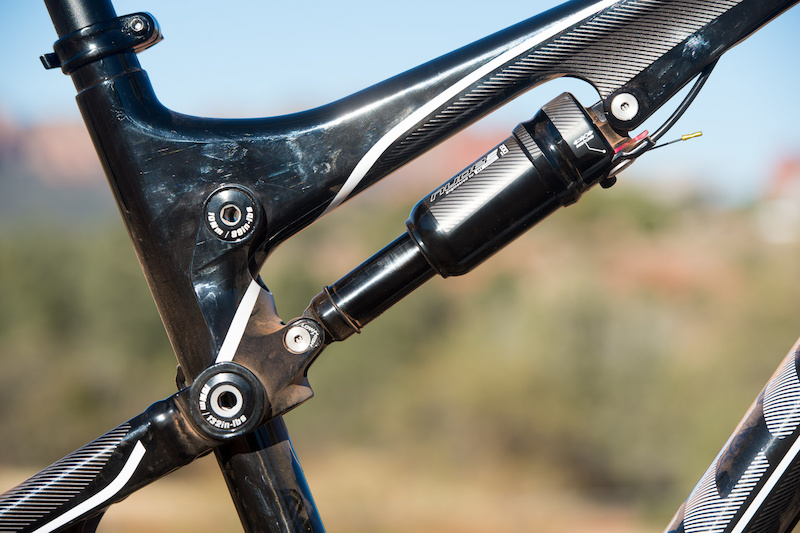 The Scott Genius 720 uses a link driven single pivot suspension design, with a forged link activating the DT Swiss Nude2 rear shock. The linkage has a chip that can be flipped to alter the bike's geometry, changing the bottom bracket height by 6mm and the head angle by .4 degrees depending on the chip's position. One touch that mechanics will appreciate is the bolt torque specs printed on the bearing caps, eliminating the need for greasy fingered internet searches.

While the Genius' suspension design is relatively basic, Scott takes it a step further with their patented TwinLoc system, which is controlled by the handlebar mounted lever. The three modes for the Nude2 rear shock are Lock, Traction, and Descend, which correspond with the Fox 34 front fork's Climb, Trail and Descend modes. When the lever is pushed to switch the Nude2 shock to Lock mode, the front fork is simultaneously put into Climb mode. Switching to Traction mode limits the rear shock's travel to 100 millimeters and puts the front fork into Trail mode. Compared to
how travel adjustable front forks work, which ride lower in their travel when they're put into short travel mode, putting the rear shock into Traction mode doesn't make it ride lower in its travel. Instead, the shock canister's air volume is reduced, creating less sag, which in turn raises the bike's ride height, and slightly steepens the head angle.
Component Check
The Genius is decked out with a mixture of Shimano XT and SLX components, along with a variety of Syncros products, which isn't surprising considering Scott purchased the company early last year. Front suspension duties are handled by an Evolution Series Fox 34 TALAS with CTD that can be run at 150 or 120mm of travel, while the DT Swiss Nude2 rear shock provides up to 150mm of rear travel. It was nice to see a pair of proper pedals (
Shimano M520
) included with the bike. While not everyone rides Shimano (
or even clipless
) pedals, it's better to have them included than needing to tack on another $80 or more to the final price of the bike. We would have preferred a double ring setup in the front versus the triple that the Genius is equipped with - less shifting equals more time to focus on the trail. Shimano SLX brakes keep the Genius' speed under control, and Schwalbe's 2.25" Nobby Nic tires are seated on Syncros branded rims and hubs (
although the hubs are made by DT Swiss
).
Specifications
Release Date
2013
Price
$4729.99
Travel
150mm
Rear Shock
SCOTT DT Nude2 / 3 modes Lockout-TC-D
Fork
FOX 34 Talas 650b Evolution CTD Air
Headset
Ritchey Comp Plus Tapered 1.5" - 1 1/8"
Cassette
Shimano XT CS-M771-10 11-36 T
Crankarms
Shimano XT FC-M780
Bottom Bracket
Shimano SM-BB71-41A / shell 41x92mm
Pedals
Shimano PD-M520 Clipless pedal
Rear Derailleur
Shimano XT RD-M786 SGS Shadow Plus
Chain
Shimano CN-HG74
Front Derailleur
Shimano SLX FD-M670-E / DM
Shifter Pods
Shimano SLX SL-M670-I
Handlebar
Syncros FL1.5 Tbar Alloy 7050 D.B. / T shape Flat / 9° / 700mm
Stem
Syncros TR1.5
Grips
Syncros Pro lockon grips
Brakes
Shimano SLX BR-M676 Disc 180/F and 180/R mm SM-RT66 IT Rotor
Hubs
Syncros TR 2.5 650b CL made by DT Swiss
Spokes
DT Swiss Super Comp black
Rim
Syncros / DT Swiss TR 2.5 27.5''/650b 28 H
Tires
Schwalbe Nobby Nic EVO Snake Skin 27.5 (650b) x 2.25
Seat
Syncros TR2.0 / CROM rails
Seatpost
Syncros FL1.5 / 31.6mm
---
Riding the Genius 720

On level and rolling terrain, the Genius' geometry put us in a relaxed and upright position that could be maintained for hours on end, with the sloping toptube providing enough clearance for maneuvering the bike when the trails turned technical. We did end up installing a RockShox Reverb dropper post and a slightly shorter stem on the Genius to make our time on Sedona's rolling terrain even more fun.



Climbing
Finding the perfect climbing position on the Genius 720 proved to be more of a challenge than expected. The sweet spot, that point of optimum traction, could be elusive at times, causing us to spin out or lose forward momentum on more than one occasion. It was most noticeable when climbing out of the saddle – if we switched the TwinLoc remote into Traction mode and stayed seated the climbing performance improved. The geometry numbers of the Genius 720 are very similar to other bikes in this class: a 67.7 degree head angle, 17.3 inch chain stays, and a 73.8 degree seat tube angle, but there was some combination of elements that were working together to make the ideal climbing position hard to find.
It's worth mentioning the weight of the Genius at this time. With pedals and the RockShox Reverb dropper post installed, the bike weighed in at 31.6 pounds, which was more than we expected, especially considering the Genius 720 has a carbon front triangle and a fairly light build kit. A few years ago a 150mm trail bike at this weight would have been heralded as 'the next big thing', but the trail bike category has become extremely competitive, with a number of companies offering bikes with similar amounts of travel at lower weights.
After the initial learning curve, we came to terms with the Genius' climbing manners, and began spending more time seated when climbing rather than our preferred out of the saddle climbing position. This worked, and we were able to make our way up several technical rock sections that had stymied us on other rides. The 650B wheels didn't seem to climb any better than their 26" counterparts – there wasn't that feeling of the tires spanning the distance between obstacles that 29" wheels provide.
Descending
The Genius 720 was well-mannered and predictable when descending in both travel modes, although we never felt like we were getting the full amount of travel, despite the o-ring on the rear shock telling us otherwise This was particularly noticeable when riding through extended sections of rough terrain. We experimented with different air pressures, but were never able to make the Nude2 rear shock feel as plush as we'd have liked. Towards the end of our time aboard the Genius, the shock started to make a horrendous squeaking noise when it was switched into Traction mode. The noise would go away after cycling the shock a few times, but it would return the next time we switched from Descend to Traction mode. We spoke with Scott, and they attributed this issue to incorrect cable tension between the TwinLoc remote and the shock. There are marks on the pulley which assist in dialing in the proper tension to ensure the shock functions properly - adjusting the bike's cable tension would likely have remedied the noise we experienced.
It was easy to forget to switch the TwinLoc lever into long travel mode, but luckily the bike handled well in both settings. The shorter travel setting actually felt better in some instances – the stiffer suspension and higher ride height made the bike feel snappier and quicker in the turns. While some bikes have a playful quality to them, encouraging the rider to pop off every possible trail feature, the Genius 720 has a serious feel to it. It gets the job done, but it didn't inspire us to get sideways or to double up trailside features. The Genius will get airborne, and handles well in the air, but it does take some coaxing to get the wheels to leave the ground. At higher speeds the bike shook off some of its serious demeanor, and felt more nimble and easier to whip around. One of our test tracks had a section of sweeping, bermed corners that dove in and out of small gullies. This was where the Genius felt most at home, traveling at high speeds on terrain that wasn't overly technical, but that required a lot of bike movement – quick uphills, followed by equally quick downhills.
Ride Notes
• The Fox 34 was a smooth operator from the start, and the extra stiffness of the larger diameter stanchions was appreciated when cornering through rocky terrain. We rarely used the TALAS feature, preferring how the bike felt in the longer travel mode.
• We mention it in nearly every review, but that's because bikes are still being spec'd with narrow handlebars, like the 700mm bars on the Genius 720. It's easy enough to shorten a handlebar, but lengthening one? Not so easy. A pair of wide bars would be an excellent addition to the Genius.
• Shimano's SLX brakes worked flawlessly throughout the test. Even after a hard crash that had the brake levers dragging over solid rock, they continued operate perfectly.
• Schwalbe's Nobby Nic tires weren't the best choice for the Sedona slickrock. The tall side knobs had a tendency to buckle, especially on off-camber terrain, causing the wheel to slide. On softer terrain it seems like they would be a decent performer, with plenty of room between the knobs to shed mud, but they had a bit too much side knob for the desert rock riding.
Pinkbike's Take:
| | |
| --- | --- |
| | Scott has packed a veritable Swiss Army knife's worth of features into the Genius 720. We're not sure where the little toothpick is, but we have no doubt it's mounted somewhere on the handlebars. All joking aside, the Genius 720 is a versatile bike that can go from 150mm of travel to 100 with the push of a lever. Technically savvy riders that aren't daunted by the array of controls on the Genius will find themselves switching travel modes multiple times throughout a ride, dialing in the right setting to match the terrain. While we appreciate the time and effort that has gone into developing the TwinLoc system, in reality it seems the bike would perform better with a Fox CTD rear shock. Plus, for those who love their levers, Fox makes a remote lever that works in a manner similar to the TwinLoc lever. Better rear suspension and a bit of a diet could wake the Genius from its slumber, turning it into the trail-slaying bike we wanted it to be. As it is, the Genius 720 never came alive for us, remaining a capable, yet subdued trail bike whose mild manners left us wanting a more lively ride. - Mike Kazimer |
Must Read This Week