When Shimano developed its low-profile Shadow derailleur, its engineers needed to move the main derailleur pivot about 25 millimeters to the rear of its conventional location. In order to fit a standard derailleur hanger, this required the B2 link - a short span of aluminum that bolted to the bike's derailleur hanger and provided the new upper pivot location. In short, the B2 link was a temporary patch that Shimano hoped to replace in the future with a more sturdy interface between the frame and the rear derailleur. This was the seed for its direct-mount system which was introduced officially at the Sea Otter Classic as an option for its SLX, XT XTR, ZEE and Saint Shadow-type derailleurs..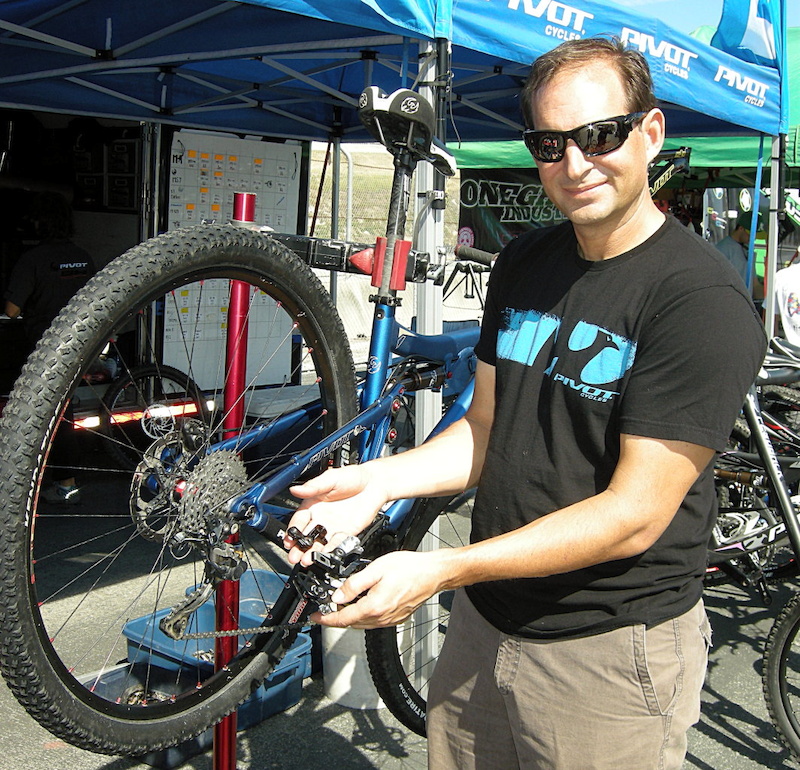 Chris Cocalis, founder and designer of Pivot Cycles was on hand at Shimano's 2013 product launch to answer questions about the Direct Mount rear derailleur interface.
Direct mount did not need a push from Shimano to initiate. Much of the impetus for a stronger derailleur interface came from frame designers who had begun to move away from the open rear dropout and towards through axles, or grown tired of compromising the drive-side dropout by machining it thin to accept a flimsy replaceable derailleur hanger. The Direct Mount concept simply encourages frame makers to design a link that connects the frame with the upper derailleur pivot. Shimano will not make the link, that is a development left to the individual frame makers.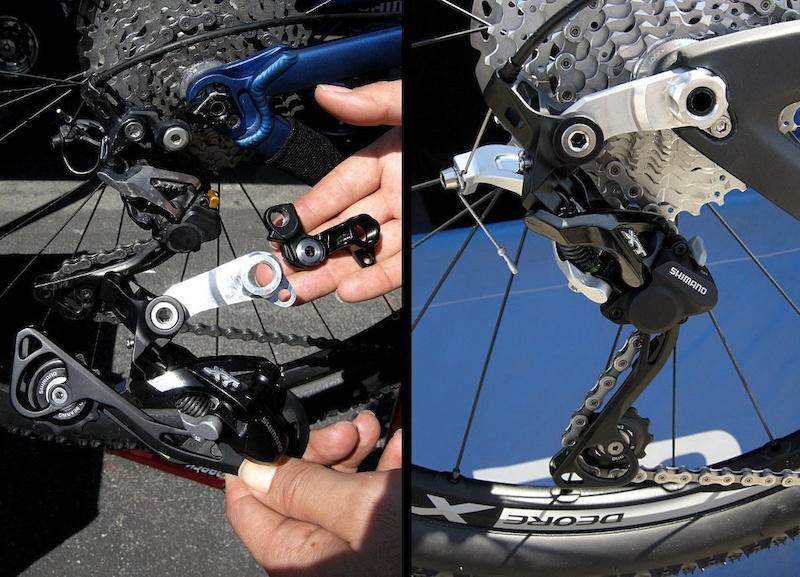 Direct Mount replaces the B2 link and its mounting hardware, as well as the need for the old-school replaceable hanger. Cocalis says his standard-type integrated derailleur hanger is engineered to take a pounding, but the direct-mount (right) makes a more rigid platform for shifting, incorporates the through-axle better, and weighs about 17 grams less.
To help the press get its head around Direct Mount, Shimano invited some early adopters to attend the press launch at Sea Otter. Among the notable bike brands on hand were samples from Santa Cruz, Felt, Ibis, and Pivot Cycles. We asked Pivot designer and founder Chris Cocalis to walk Pinkbike though the bits that make up Direct Mount and to give us a pitch on the concept. Chris says that most of his frames use a 12 x 142 -millimeter rear axle now. Because the drive-side dropout already requires some sort of a threaded insert to accept the through axle, extending that part to adapt a derailleur mount makes good sense.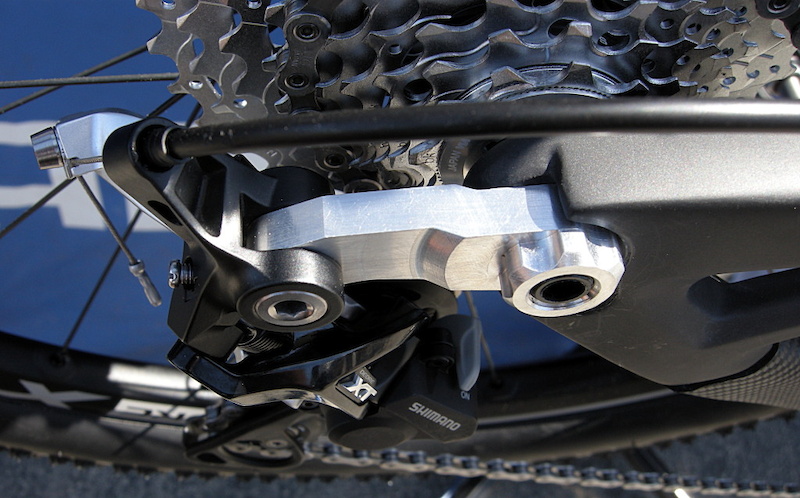 The finished product looks far more integrated into both the derailleur and the frame design.
Will Direct Mount Gain Traction?
Although the sport's top brands are planning to adopt Direct Mount, Shimano knows that there will be some pushback from customers who may believe that it is shoving yet another 'standard' into an already technically confused marketplace. Direct Mount is an option, not a dictum. Those who feel that they truly need a conventional hanger or a different brand of derailleur can install a conventional hanger (providing that the bike maker makes one available) and by simply unclipping a C-ring, replace the Direct Mount with the B2 link that is supplied with the derailleur. It is interesting that the flimsy replaceable derailleur hanger was invented when frames were one welded piece and a broken dropout could mean that the whole frame had to be repaired or replaced. Suspension made the rear of the frame a replaceable part and eventually the hanger became the frame and drivetrain's weak link - easily bent and rarely stiff enough to provide optimal shifting or a rigid axle interface. Shimano states that the present standard has been unchallenged since it was invented 60 years ago and it's about time we search for a more intelligent option. I agree.
-RC