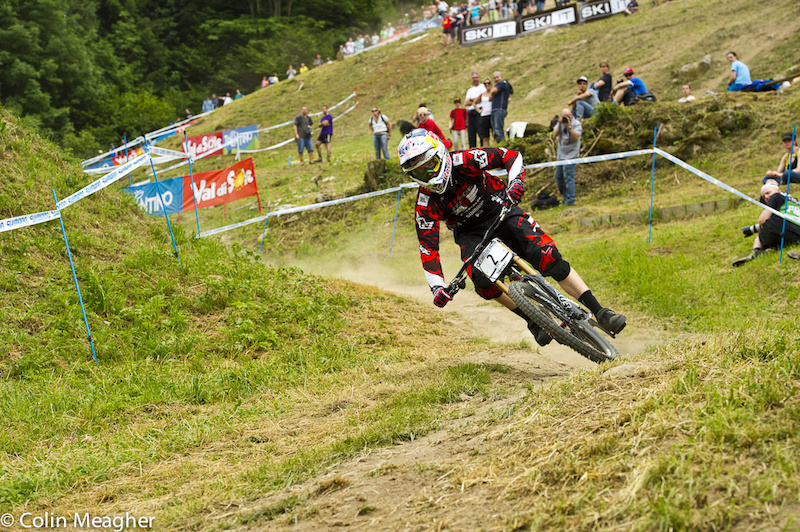 Aaron Gwin, absolutely pinned and on his way to winning this race by an insane 7 seconds...
Men's Top 5
1. Aaron Gwin
2. Greg Minnaar
3. Gee Atherton
4. Marc Beaumont
5. Cam Cole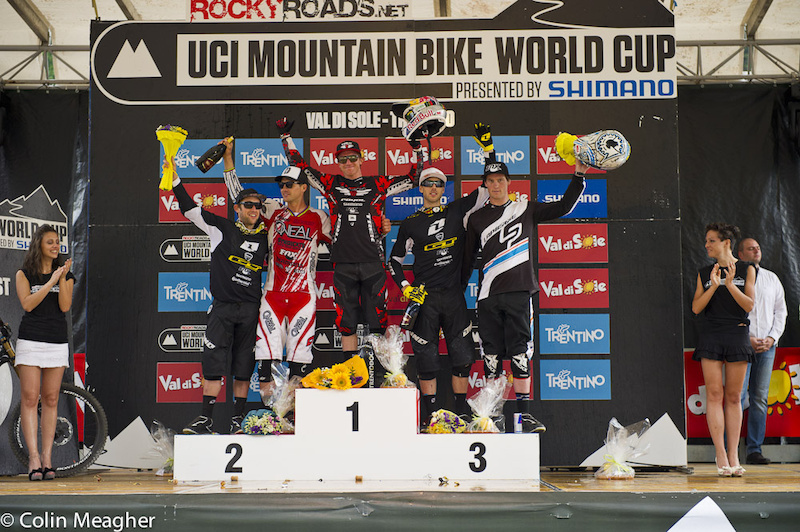 Complete Results at bottom...
Junior rider Loic Bruni put down a fast run with a time that would have put him near the top of qualifying. Fairclough, Bryn, Cous Cous, and Camellini couldn't beat him, and while Nick Beer looked fast in practice he came down slower and ended up 3.8 seconds back. A big surprise Andrew Neethling was about 10 seconds back at the first split and couldn't make it up. Jared Graves up next and while he's been looking fast this season he ended up 12 seconds back of Bruni. Then it was Steve Smith's turn. After breaking his hand in practice and missing qualifying Stevie was fastest through the first two splits and finished half a second up to take the hot seat from Loic Bruni. Way to go Stevie, riding with a broken hand to take the hot seat! Then it was Mick Hannah's turn but he was back at the first split and after making a few solid mistakes he ended up 7 seconds back and into 14 spot. Peaty had a good run, but couldn't do it, 1.2 seconds back and into 3rd spot on the hot seat, Stevie Smith still in first spot. Josh Button looked really fast on the top part of the course but ended up 5 seconds back. Stevie's teammate George Brannigan up next, back a bit at split number one and 2.5 back at the finish, not enough to get on the hot seat. Justin Leov started off a bit back and looked smooth moving into 5th place at the second split and then finished 2.5 back to stay in 5th spot. Next up the Bulldog, Brook MacDonald was half a second back at the split and 1.3 back at the line, not enough to move into the top 3. Damian Spagnolo had a quick run, fastest enough to move into 3rd and bump Peaty off the hot seat. Then it was Bernard Kerr's time but he couldn't do it, then Richie Rude, another Junior to look out for. He qualified 11th here in his second ever World Cup, but had a few bobbles on course and finished 4.9 seconds back, 10 riders to go.
With 10 riders left it was still Stevie Smith in the hot seat and Loic Bruni in second. Sam Blenkinsop up next, he was back a little bit at the splits, but absolutely hammered the bottom section to beat Stevie by 0.08 and take the hot seat. Sam's teammate Cam Cole went next and was fastest at split number one, fastest by 1.9 seconds at split number two, huge drift through the last corner, and 1.5 up at the finish to take the hot seat. Danny Hart, he did well here last year, and was fastest through the splits. Could this be his first World Cup win? Two wheel drift through the last corner but not fast enough, half a second behind Cole with 7 riders to go. Josh Bryceland slipped a pedal and went down early on, then it was Sam Hill's turn. A lot of pressure on Sam to do well here, how would he do? Getting crazy loose he was fastest at the first split, .15 up at the second split, but .75 back at the line. Such a crazy ride, dabs and drifts everywhere, so stoked to see him back in form.
Five riders to go, Remi Thirion on course, but slow on the top part of the course, 1.5 back at the finish. With only 4 riders to go it's Cam Cole still in the hot seat, Danny Hart in second, and Sam Hill in 3rd. Gee Atherton took to the track on fire. Recovering from a broken leg Gee was fastest by a fair bit at the first split, 1.35 ahead at the finish to bump Cam Cole from the top of the hot seat. Gee's teammate Marc Beaumont won here in 2010 and he loves this course. Fourth at the first split, 1.8 back of Gee at the second split, but Gee was slow at the bottom. He was looking fast at the bottom, but he couldn't do it, 0.5 back to move into second behind Gee. Greg Minnaar and Aaron Gwin left at the top. Minnaar was first in South Africa, and first last weekend in Leogang, a tiny bit back at the first split and 1 second back at the second split, could he make it up? Yes, a super fast bottom half to put him half a second up at the finish and into the hot seat with only Aaron Gwin left to go.
Aaron Gwin, last rider on the course, fastest by a lot at the first split, 6 seconds up at the second split, is he unstoppable, only a full on crash could take the win away from him now. What an amazing run by Gwin, 7.85 seconds ahead of the rest of the world at the finish, no idea how he does it, he's in a class by himself!
A huge round of healing thoughts to Cedric Gracia and Troy Brosnan who are out and in the hospital. Troy injured himself in Leogang last weekend and will be out for a bit, and Cedric had a horrific crash in practice a couple of days ago. Out of control CG went over the bars and into a tree, fracturing his femur and shattering his hip. Heal up fast guys!
After the first two races Gwin and Minnaar are now tied for first place in the World Cup circuit, complete standings after Val di Sole are
here
42220 DHI ME Results