GT's Force platform has been in production long enough for its designer to optimize every aspect of its chassis. The attention to detail is extraordinary. The swingarm pivot rides on bearings and a shaft that are equivalent in diameter to those in a bottom bracket assembly and the anodized aluminum pivot hardware is beautifully CNC-machined. Cable routing is all external for ease of service at the races and with grime-proof, full-run housings throughout. Molded plastic carry-through guides on either side of the shock route the rear brake hose and derailleur housing clear of the crankset area. Well-designed bolt-on rear dropouts facilitate a 142/12-millimeter through axle and the left side dropout doubles as the brake caliper mount. There is ample tire clearance in the swingarm for tires up to 2.4 inches, but a full-sized 2.5-inch DH tire might be a bit of a squeeze. Oddly, the Force frame features an interrupted seat tube that would be perfect for the internally routed hose of a RockShox Reverb Stealth seat post, but the GT design predates the Stealth, so its external dropper hose guides are located beneath the top tube, well out of range of the opening below the frame's seat tube.
Stand-out Components
GT chose a two-ring RaceFace Turbine crankset, outfitted with a bash ring and backed up by an e*thirteen Heim-2 chaingiude. The two-by crankset and its 36 by 24 tooth gearing is a great match for the technical terrain that the Force LE is intended to thrive in. The Turbine cranks power a Shimano Deore XT drivetrain, capped by a clutch-equipped Shadow Plus rear derailleur. Brakes are Formula's elegant looking and powerful stopping 'The One' models, upgraded with in-line engagement-point adjusters and its top-range 180-millimeter rotors with aluminum spiders. Suspension is all Fox, with a 160-millimeter 34 Float CTD fork and a matching Float CTD shock. GT picked all-mountain-width Easton Haven wheels, mounted to Maxxis Ardent tires
(2.4 front and 2.25-inch rear)
and up top, the star of the show has to be the RockShox Reverb dropper seatpost. If you've read this far, you'll probably agree that the Force LE is one of the best outfitted AM/Enduro bikes around.
---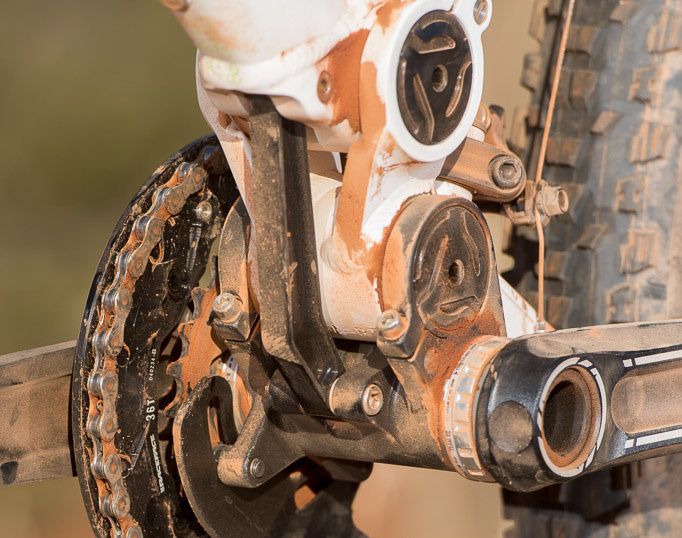 About Independent Drivetrain Suspension
GT's Independent Drivetrain rear suspension takes advantage of the superior responsiveness that a high-pivot swingarm enjoys when rolling over high-amplitude impacts like square-edged bumps or large exposed roots. To negate the extreme chain growth associated with a single-pivot swingarm suspension that has such a high hinge point, the GT's bottom bracket pivots beneath the swingarm on a sturdy rocker that is connected to the frame via a compact, four-bar linkage. The linkage causes the bottom bracket to track the rear axle as the swingarm moves through its travel. Independent Drivetrain's unusual configuration eliminates chain growth and to a great degree, any negative forces that would normally be fed into the suspension because of chain tension. The slight fore-aft movement of the bottom bracket link is not noticeable and it does not alter the distance between the crankset and the saddle. The benefit of the system is that the suspension is free to track the ground in both climbing and descending situations.
---
Specifications
Release Date
2013
Price
$5550
Travel
150 R, 160 F
Rear Shock
Fox Racing Shox Float CTD
Fork
Fox Racing Shox 34 Float 160 RLC FIT, 15mm axle
Headset
Cane Creek Angle Set (1mm adjustment)
Cassette
Shimano 11 x 36, ten speed
Crankarms
RaceFace Turbine, 36/24T w/ Bashguard
Chainguide
e*thirteen Heim-2
Bottom Bracket
RaceFace X-Type
Pedals
None
Rear Derailleur
Shimano XT Shadow Plus
Chain
KMC X10
Front Derailleur
Shimano XT
Shifter Pods
Shimano XT
Handlebar
Kore OCD-TR, aluminum, 740mm Width
Stem
Easton Haven 50mm
Grips
FR clamp-on
Brakes
Formula, The One, 180mm rotors, alloy spiders
Wheelset
Easton Haven
Hubs
Easton Haven
Spokes
Sapim 2.0/ 1.7/ 2.0
Rim
Easton Haven
Tires
Maxxis Ardent 2.4" F, Ardent 2.25" R
Seat
WTB Silverado Race SL
Seatpost
RockShox Reverb, dropper-type, 31.6mm
---
GT Force LE
Riding Impressions
| | |
| --- | --- |
| | First impressions of GT's premier all-mountain/Enduro bike brought mixed reactions, as it takes a few rides to unlock its secrets. |
From the outset, the Force LE's steering feels stable enough to handle rough terrain at high-speed and its suspension feels well balanced front-to rear. The bike feels tall, like an old-school all-mountain bike, probably due to in part to its 14.25-inch-high bottom bracket
(measured)
. GT's attention to detail, especially in choosing capable components, gives the Force LE a decisive pro-bike feel, both in the cockpit and in the bike's handling traits. That said, however, the bike requires a particular style of riding to bring out its best performance. As testing progressed, it became clear that the Force LE favored an aggressive technique and that the word, 'finesse' was not to be found in its dictionary.
Setting it up:
The Force LE's rear suspension is a bit tricky, as the shock pressure needed to maintain its ride height at the recommended 25-percent sag is much higher than a typical push-on-the-saddle parking lot test suggests. More than one test rider remarked at how stiffly the rear suspension was sprung before riding the bike – and all were surprised that the suspension felt quite soft under saddle. Fox makes it simple to dial in its Float CTD fork and shock. Set the spring pressure to 25-percent sag and then dial in the rebound to suit. The CTD's Black 'Trail' adjustment is handy, as it controls low-speed compression when the fork is set in Trail mode, so if you don't agree with Fox's pre-set compression levels in 'Descend' mode, you can use the black dial to find your preferred compression damping in Trail mode and then leave the blue selector lever there for the duration of your ride. Pinkbike has consistently hammered on Fox CTD forks for blowing through their travel in the Descend option. Happily, the GT favored the Descend modes on both fork and shock, and its pedaling felt efficient enough with the suspension wide-open to retain the Trail and Climb options for their intended purpose, to further enhance pedaling firmness on demand.
Climbing/acceleration:
Weighing over 30 pounds, the Force LE takes a few pedal strokes to get moving and its Independent Drivetrain suspension feels a bit dim under power while on paved surfaces. Once the tires come in contact with dirt, though, the GT wakes right up. The suspension keeps the bike sailing effortlessly over minor trail chatter, so the rider can pedal and maintain momentum more effectively. Much of our testing was done in Sedona, Arizona, where many climbs are stepped with small stone ledges. Experimenting with the suspension's three settings quickly determined that the bike's rough-ground climbing was at its best when the fork and shock were set to the open, Descend option. The GT could then suck up square-edged hits without slowing, bumps that would arrest the upward travel of most bikes. Ascending smoother trails allowed us to make use of the firmer-feeling Trail option for the shock, but we always left the fork open. We did not like the feel of the GT in Climb mode because it caused the bike to ride higher up in the suspension travel, which tended to destabilize its low-speed balance and steering.
Technical riding:
The Force LE feels best at speed. The Force can get around corners quite well. It is easy to get from hard left to hard right in a series of corners, but it will skip and slide around on uneven surfaces unless its rider plants the bike firmly in the turn and holds it there. This is not an agile steering bike, so don't bother hunting for the perfect line on the trail – it does not tolerate a rider who is light at the controls and who constantly bobs and weaves in search of perfect patches of dirt. The key to riding the Force LE is to point it at the next corner and take the straightest line. The GT will bash through and jump over almost anything in its path and the harder you charge, the more obedient the Force LE will be. It has the braking power and the suspension to back it up bold moves, but it will not tolerate indecision. Slow the bike to a crawl and start picking your way down a steep chute and you will discover the dark side of the Force – its tall bottom bracket and firm suspension will most likely push you out of your comfort zone, skidding and bouncing your way to the bottom.
Same goes for technical climbs. The GT has plenty of weight transfer to the rear tire, so loss of traction is rarely an excuse for failure. Keep a good pace or attack the climb out of the saddle and you could scratch your way up some tough sections, but the Force LE's tallish feel, combined with suspension that is firm in its mid-stroke, make for an unwieldy bike at slow speeds. We got bounced off line in the boulders and caught flailing when rounding tight switchbacks on trail sections that seemed relatively easy aboard other bikes.
Downhill:
The Force LE's shining moments come at speed on downhill tracks, where it is an easy jumper and takes well to fast successions of bermed corners. The Force lands to flat or transitions with equal ease, which gives its pilot the choice to roll rock sections or to choose a big one at the lead-in and jump clear of the boulders. The bike stays at its ride height under braking, which is a good thing, but the rear suspension will feel choppy if the rear brake is dragged into a rough section. Downhill tracks are where the Force LE's straight-line stability plays well, because as long as there is a decent run-out at the bottom, the GT can be trusted to survive a fairly nasty drop. The chassis feels quite stiff, which is a good thing, because its 66-degree head angle (65-degrees with the Cane Creek Angle Set) puts a lot of torque into the frame when threading the front wheel through boulders or shoving the bike around a tight corner. As a result, the minimal tread of its 2.25-inch Maxxis Ardent rear tire is easily overwhelmed and will break loose easily around flat turns. An edgier tire would be helpful. As fun as it is drifting around on the Force, it's only a pleasure when the track surface is consistent. When cornering on imbedded rocks, ruts or gravel, the rear of the bike is constantly being upset. The front wheel, however, sticks firmly to the soil - shod with a larger, 2.4-inch Ardent that is more aggressively trimmed with meaty edging blocks and a flatter tread profile.
Component Report:
•
Cane Creek Angle Set:
Good - the Force LE arrived with its one-degree Angle Set adjusted full slack, which technically results in a 65-degree head angle. We never tried the bike with the steeper option because it would have raised the bottom bracket slightly and it was a little high. Bad – the headset gave off an alarming screech every time we pounded G-outs. Grease and a re-fit of the headset eventually solved the problem.
•
RaceFace two-by crankset:
Good – the 36/24-tooth gearing paired with an 11 x 36 cassette was low enough to move the 30-pound monster uphill at a good pace and tall enough to keep up a good head of steam on downhill tracks.
•
RockShox Reverb dropper post:
Good – a good dropper post is a must-have on the Force because you need to get low to push the bike around corners.
•
Easton Haven wheelset:
Good – tough, relatively lightweight and with slightly wider rims that open up the tire's tread profile. Bad – difficult to convert to tubeless due to a deep rim well. Three wraps of Gorilla tape were needed to get the job done.
•
Maxxis Ardent tires:
Good – 2.4-inch front tire gave excellent braking, rolling and cornering performance, and it mounted up tubeless with little effort. Bad – wimpy 2.25-inch Ardent rear tire was an unreliable pain to convert to tubeless and lacked cornering traction.
•
E*thirteen Heim-2 chainguide:
Good – keeps the chain on when back-pedaling and it runs relatively quiet on its clever, two-step roller. Bad – we dropped the chain to the inside of the crankset, occasionally, but enough to wish we had a better chainguide.
Pinkbike's take:
GT's Force LE has a distinct personality that plays well to a hard-charging rider who has no problem throwing a bike around to obtain immediate results. Dan Atherton proves that in the hands of the right rider, the Force LE can be a screaming fast bike - but you have to be that special person to take full advantage of its attributes. The Force LE is well appointed for high-performance Enduro and all-mountain use, so outside of tuning the suspension to your liking and ditching the rear tire for something like a Minion, there are few, if any modifications that will significantly alter its performance or its personality. If you are light on the controls and prefer an intuitive-feeling bike with a good flow, search elsewhere. If you are a point-and-shoot rider who makes motorcycle noises while smashing corners, GT's Force LE could be perfect for the job.

- RC