POC's Crane Pure
dirt jump lid looks very much like the higher-end Crane that it's modelled after, but the Swedish brand has managed to bring it in at a lower $70 USD price by forgoing the size adjustable harness for a more standard strap layout. They two models are visually identical from the outside, though, with a thin in-molded shell that gives the helmet a lower profile shape than most similarly styled helmets, and they are both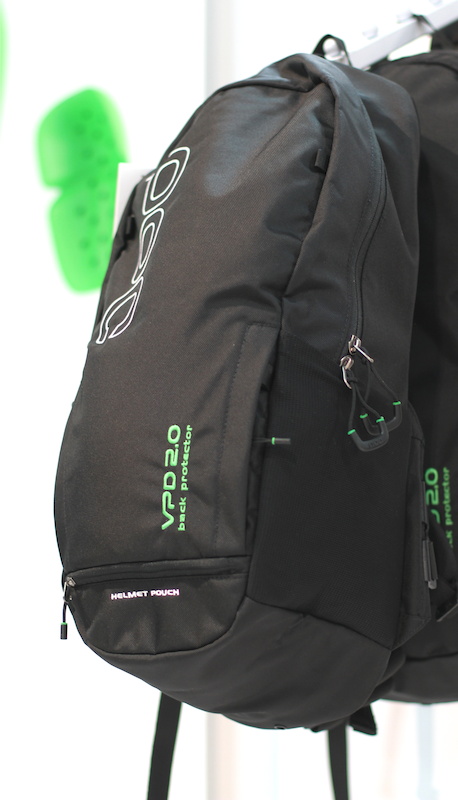 constructed from the same dual density EPS foam. POC says that the dual density make-up allows for a sort of progressive impact resistance, with a stiffer outer layer that absorbs high energy impacts, and softer inner foam to handle low energy strikes. The Crane Pure is available in seven standard colours, as well as the Martin Söderström pro model pictured above that sports a caricature of his dog.
We move from head protection to back protection with a look at POC's VPD 2.0 Spine Pack 15, a backpack that features integrated back protection via POC's shock absorbing VPD 2.0 foam. The smartly integrated VPD section slips into a channel pocket inside the bag, and it can be easily slipped out from the top if you are wanting to use the Spine Pack as a regular bag. As its name suggests, there is 15L of storage capacity, as well as an expanding helmet pouch that can be stuffed up and out of sight into a small zippered pocket at the bottom of the bag, and while POC has built-in both a bladder sleeve and hanger, you'll have to pick one up separately as the bag does not come stock with one. MSRP $175 USD.
VPD 2.0 Spine Pack 15 Details
• POC's VPD 2.0 back protection
• 15L of storage
• Height adjustable, heavy duty waist band
• Helmet pouch (
fits full face helmet
)
• Heat molded back with mud shedding top fabric
• Separate compartments for back protector, hydration pouch, tool kit, tubes, pump
• MSRP: $175 USD
www.pocsports.com
---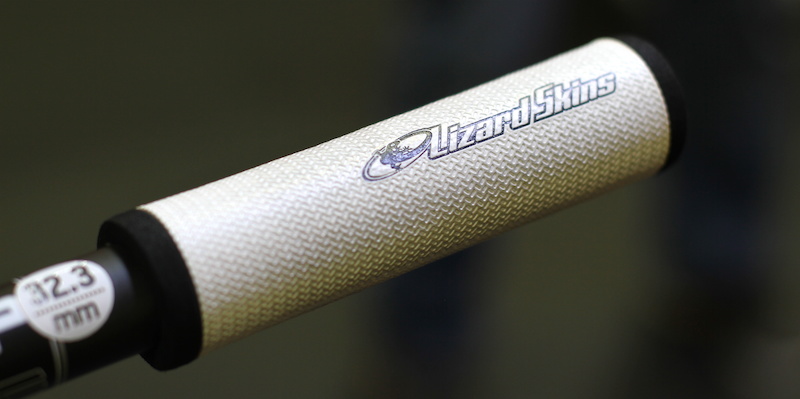 Lizard Skins
recently released their new DSP non-locking grips, a product that certainly confused some people given that lock-on grips are so convenient and obviously rule the roost right now. Why would you ever run a non-locking grip? Lizard Skins says that comfort and durability set the DSP grips apart, especially considering that many of the current ultra-thin locking grips are nothing more than a wispy coating of rubber over a hard plastic barrel, a combo that can sometimes feel a bit unforgiving during a long day in the saddle. Their DSP grips are made from two different components, with a foam base layer that acts to absorb vibrations, and their grippy DuraSoft Polymer (
that's the DSP bit
) as an outer contact layer. In order to prevent the dreaded throttle grip from occurring, a tacky "feather-lite lock tape" is used, although that does mean that you'll have to cut the grips off when the time comes to make a change. Is that such a big deal now that the large majority of our controls attach to the handlebar by way of split or hinged clamps? That's for you to decide, but Lizard Skins believes that some riders are ready to put comfort and durability ahead of convenience now that grips don't have to be removed when changing brakes or shifters.
Lizard Skins offers their DSP grips in two different diameters - 30.3mm and 32.3mm - and both measure in at 130mm long. Weight weenies take note: the thinner diameter weighs just 27 grams per set, and the thicker only 30 grams, with those weights including plugs and the double sided mounting tape. Eight different colours are available, so you shouldn't have trouble finding something that either matches or clashes, depending on what you want. While Lizard Skins is putting a lot of emphasis on these new DSP grips, they also want you to know that they still offer a number of standard lock-on grips as well for those who don't want to give up the ability to easily slide their grips on and off.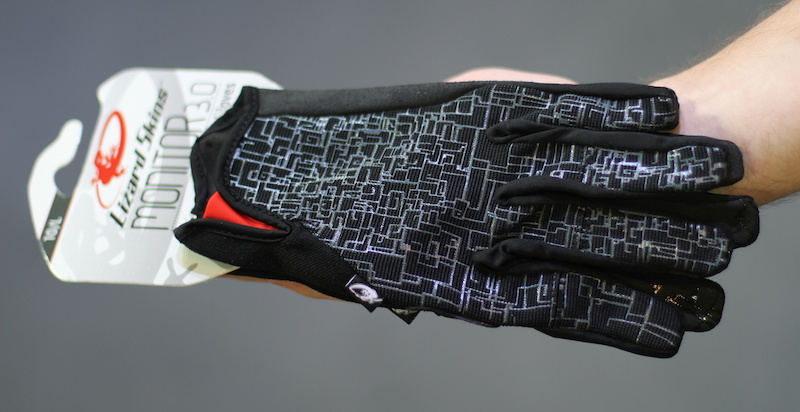 Lizard Skins is all about contact points, so it makes sense that they would offer a wide range of gloves. We liked the look of their rather basic Monitor 3.0, a stripped down glove that isn't adorned with anything that isn't required. That means a single-layer palm, no knuckle or hand protection to be found on their tops, and a simple pull-on elastic cuff design that doesn't employ a hook and loop strap. Their fingers come pre-articulated, though, and reinforcements at the thumb/hand junction should make for a durable design.
www.lizardskins.com
---

FSA's
$289 USD Afterburner brakes are a less expensive alternative to their high-end,
$369 USD K-Force stoppers that we showed you while at Crankworx
, but don't let the lower price fool you, as they utilize the exact same technology but forgo the carbon fiber lever blades and titanium hardware for aluminum and steel. Adjustments include both reach and and free-stroke, with both dials being positioned out of harms way to limit the chance of damaging them in crash, and they mount via handy split perches. Anyone who has had trouble figuring out an ergonomic setup when mixing shifters, brakes, and a dropper post lever from different brands will also appreciate the lengths FSA has gone to in order to create a compact master cylinder, with the whole setup looking remarkably small compared to a lot of other options on the market. At the other end, the two piston, post mount caliper features top loading pads of FSA's own design.
There are also a few details that aren't as obvious to the eye, including the slightly stiffer hose used for the rear brake line that FSA says helps to create a more even brake feel when comparing front and rear modulation. This is done by employing a slightly stiffer plastic inner liner, as well as a different sheath layup for the middle layer in contrast to the front brake line. A look inside the lever body also reveals that FSA has placed the brake's timing ports closer to the primary seal than the norm, a setup that makes for less dead-band compared to other brakes on the market.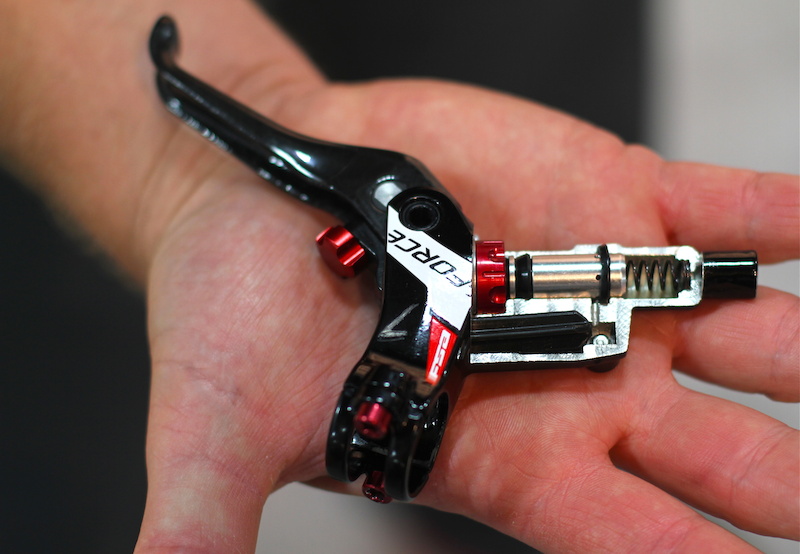 FSA is well aware that Shimano and Avid have the lion's share of the brake marketplace, but the company is adamant that there is not only room for another manufacturer, but also that they are approaching the situation from a different angle than the competition from the get-go. Despite the new Afterburner and K-Force brakes not even being in consumer's hands yet, they are already a number of tech how-to videos to watch, and testers have had the brakes in their hands for evaluation for quite some time now. FSA's plan is to lay down the groundwork before they release the brakes to consumers, meaning that mechanics will be well versed in maintenance, and distributors will already be fully stocked with spare parts. We're hoping to get on a set of Afterburner test brakes soon, and you'll be able to read a review of them once we've spent some proper trail time putting them to the test.
www.fullspeedahead.com