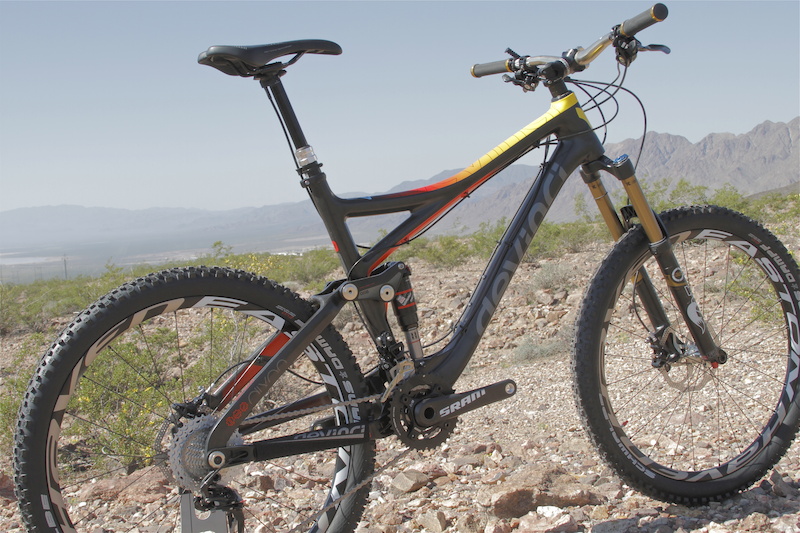 Devinci Dixon Carbon
Steve Smith's World Cup winning Wilson Carbon has garnered most of the attention in the Devinci booth, and rightfully so, but there are other bikes that deserve a more than a mere mention. One of them is the 145mm travel Dixon Carbon shown here, an entirely new model for 2013 that uses Weagle's Split Pivot suspension combined with a carbon fiber front triangle and seat stay assembly. The adjustable geometry remains the same as found on the aluminum Dixon - a 67°/67.5° head angle and a 13.7"/13.9" bottom bracket height - but Devinci claims that the front triangle alone weighs in at 1207 grams, compared to 1411 grams for the aluminum model. Factor in the bike's carbon seat stay assembly that tips the scales at 295 grams, 145 less than the aluminum stays, and you get a total weight savings of 395 grams (
0.7lb
). While the weight reduction over the aluminum model isn't drastic, the frame's lifetime warranty is likely to score it major points with potential Dixon Carbon owners.

As any well-sorted bike in this travel bracket should have, the Dixon Carbon sports ISCG-05 chain guide tabs that make going to a single ring, or mounting a dual ring guide, easy as pie. A closer look reveals more detail, though, with Devinci designing-in a wily system of replaceable barrel inserts at each guide-mounting point that will keep ham fisted mechanics from causing irreparable damage. A slot machined into the outer face of each one allows you to align them correctly during installation.

www.devinci.com
---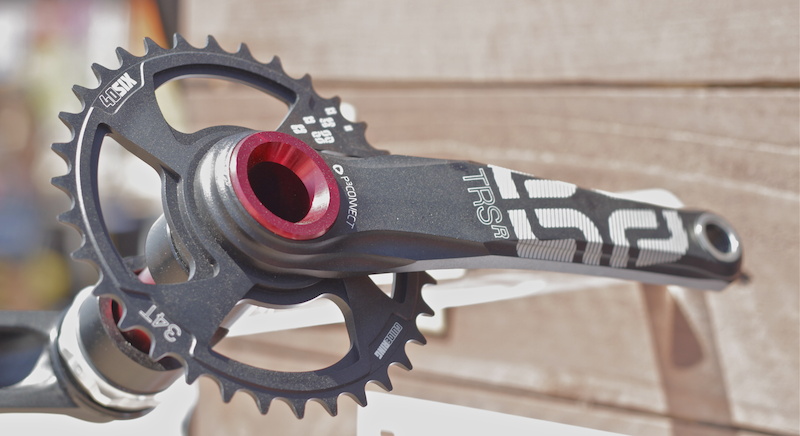 TRSr cranks
e*thirteen's TRS+ lineup is aimed at hard charging trail riders and enduro racers who need relatively light components that will stand up to some serious abuse when bolted to a mid-travel bike. The new TRSr crankset pictured here falls under that umbrella, and features some truly interesting design points that make it a standout to us. Their most obvious feature is the bolt-less spider that attaches directly at the base of the arm via a lockring. The design saves some serious weight, allowing the arms and spindle alone to come in at just 501 grams (
claimed
). We don't have a figure for the single ring pictured above, but it's safe to assume that it is far lighter than a spider/ring/bolt combination that is the norm. e*thirteen plans to offer enough ring sizes to keep everyone happy, as well as an XX1-compatible series (
minus the X-Sync tooth profile
). The TRSr cranks can be fitted with an optional spider that allows you to run standard rings as well.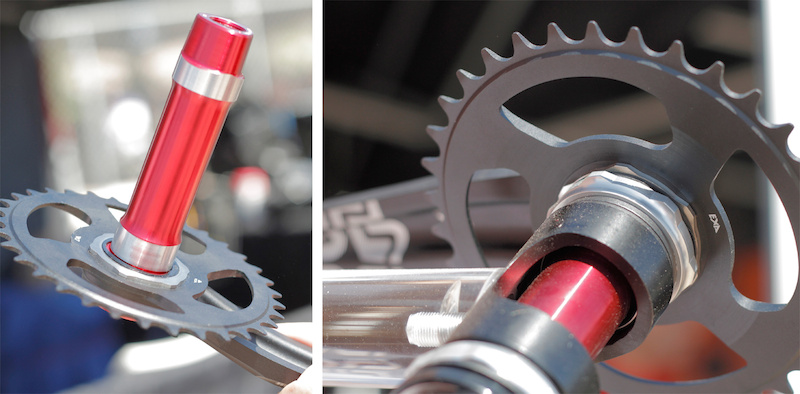 All of e*thirteen's cranksets, including the TRS+ series, use their 'P3 Connect Interface'; a polygon shaped spindle and arm interface that is said to provide an extremely stiff junction that won't creak or deform over time. Bearing tension adjustment has been much improved for 2013, with a threaded adjustable ring on the non-drive side that replaces the series of washers required by the previous version. The 'Adaptive Preload System' allows you to tune bearing tension without removing the left crank arm, sans tools, by simply turning the preload ring with your fingers. A locking spring clip automatically keeps the collar from backing off as you ride.
www.e13components.com
---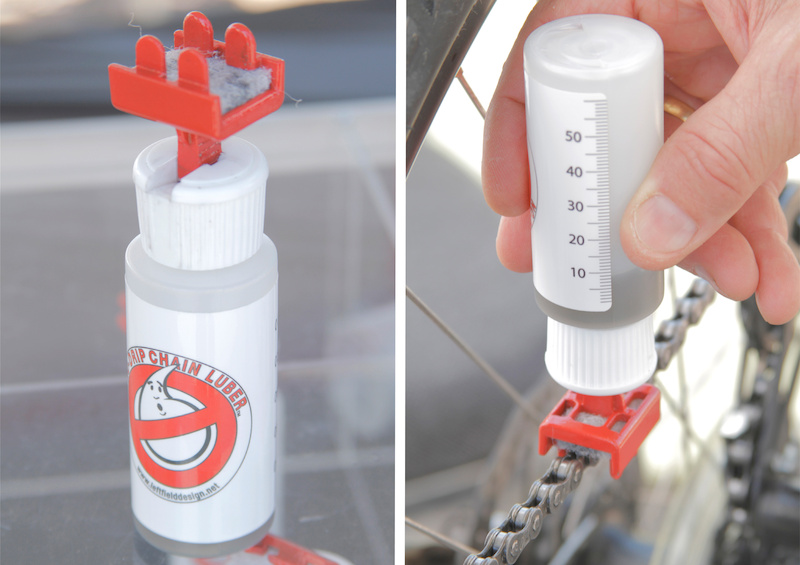 No-Drip Chain Luber
New bikes and components are great, but sometimes it's the little things that are the most interesting, especially when you wish that you had thought of it yourself. This is the case with Left Field Designs' No-Drip Chain Luber, a clever little unit that could be one of the more practical items at the show.
The idea is simple enough: a standard squeeze bottle has been fitted with a special nozzle that allows you to lube your chain without over-doing it. The red-coloured unit atop the bottle is shaped to fit directly over the chain, acting as a guide to keep you from spreading lube where it isn't required - on the side plates. A thin, spun polypropene pad is positioned between the nozzle tip and the chain, diffusing chain lube over top the chain and allowing it to be applied directly where it is needed - on the rollers. Five pads are included with the system, but we expect each one to last quite awhile.
At just $10 - $12 USD it's inexpensive enough that, if it works as advertised, it makes sense to have in the tool box, especially considering that an overly-lubed chain will cause premature drivetrain wear. We've snagged a test unit from the show and you'll be able to read about how it performs in an upcoming Product Picks article.
www.leftfielddesign.net
---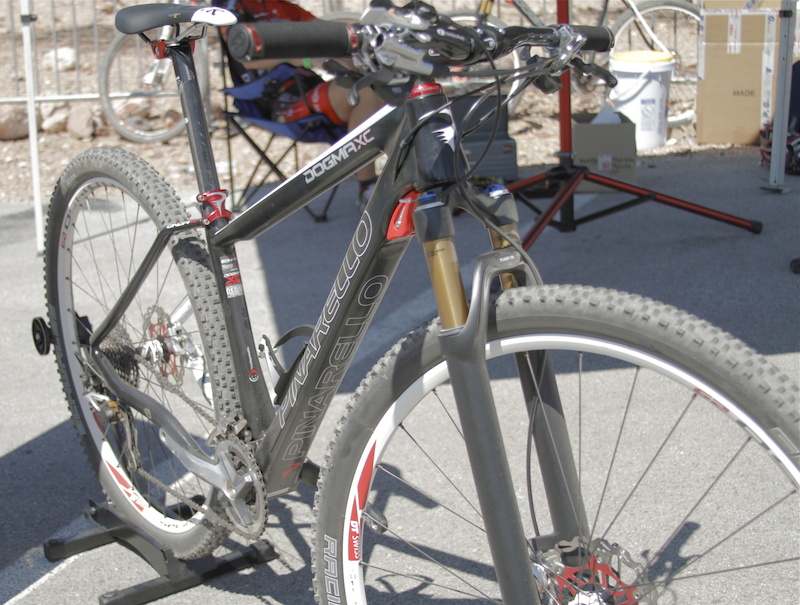 Pinarello Dogma XC
And now for something completely different... Pinarello is a name widely known in road circles, and saying that there is quite a bit of history behind the brand would be an understatement, but the Italian company may be new to many mountain bikers. Their 1050 gram (
medium size, claimed
) carbon fiber Dogma XC frame features a few interesting elements that had us getting out the camera, including its rather strange looking rear triangle. What exactly is going on back there?
Pinarello calls the design (
deep breath required here
) 'ONDA XC Asymmetric Twin Arms', which is basically a fancy way of saying that the left and ride side seat stays are not aligned. The idea is that the separation between the two allows the frame to better dissipate vibrations over a larger area, thereby making for a slightly smoother ride. It isn't a new theory - there have been many variations on this thought over the years - but Pinarello's is likely the most unique. We have no idea if the system works, but it sure does look interesting. The design also employs a seat post clamp that is worth a second look, with a faceplate that clamps down on the post with four bolts. The large surface area of the faceplate, along with the four bolts, should spread out clamping forces and require far less pressure to hold the post in postion.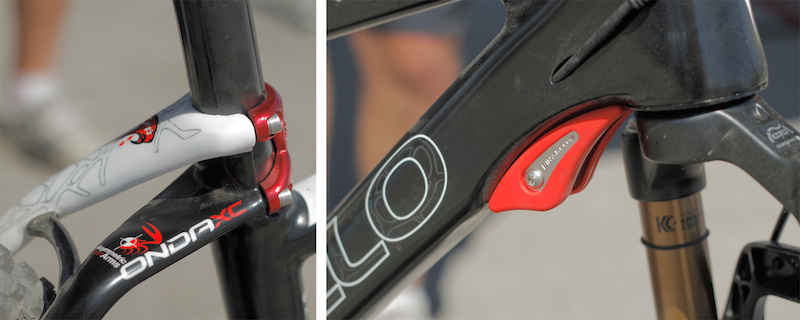 There is yet more to this Italian flyer, though, with a rather strange looking red fin protruding from the down tube just aft of the fork. Pinarello wanted to position their down tube lower relative to the head tube and bottom bracket, but ran into an issue with the fork crown making contact with the tube in the event of a crash, an issue that could have dire consequences to the frame if it hits hard enough. To prevent this, Pinarello designed a bolt-on unit, called the 'ForkStopper' that protects the down tube from damage. The piece is replaceable if damaged.
www.pinarello.com
---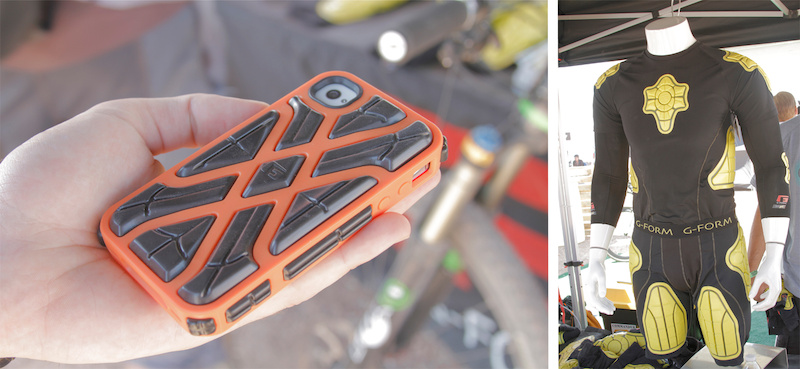 G-Form protection
G-Form padding utilizes 'RPT-Reactive Protection Technology' that allows the padding to remain soft and flexible during use, but instantly harden upon an impact. While there are other pads out there that function in a similar fashion, G-Form takes a lightweight and slim approach with their offerings that makes them popular with trail riders who don't feel the need for heavy and hot padding intended for pure downhill use. G-Form offers a number of different products for mountain biking, including knee, shin, and elbow pads, shorts that integrate side and tailbone protection, and an upper body suit with built in shoulder, side and chest protection. They are also working on hard shell padding that integrates with their RPT-Reactive material, but expect the finished product to continue with the slim and lightweight design ethos of their current offerings. Looking to protect your iPhone? The new X-Protect case (
pictured above
) uses the same padding, and is available in a number of different colour options for $39.99 USD.
g-form.com
---
Park Tool
We have to give a shout out to the folks at Park Tool for keeping the crowds hydrated during the Outdoor Demo. Being in the Nevada desert, the event is always a warm affair, but the consensus seems to be that this year's furnace-like temperatures had everyone feeling as if they were on the surface of the sun. Park Tool's blue tent is located right before passing through the entry gate, allowing attendees to have a sit-down in the shade, slam some water, and cool off a bit before checking out the new bikes and components on display. Water has never tasted as good as it does when standing in the blue-tinted shade.
www.parktool.com
---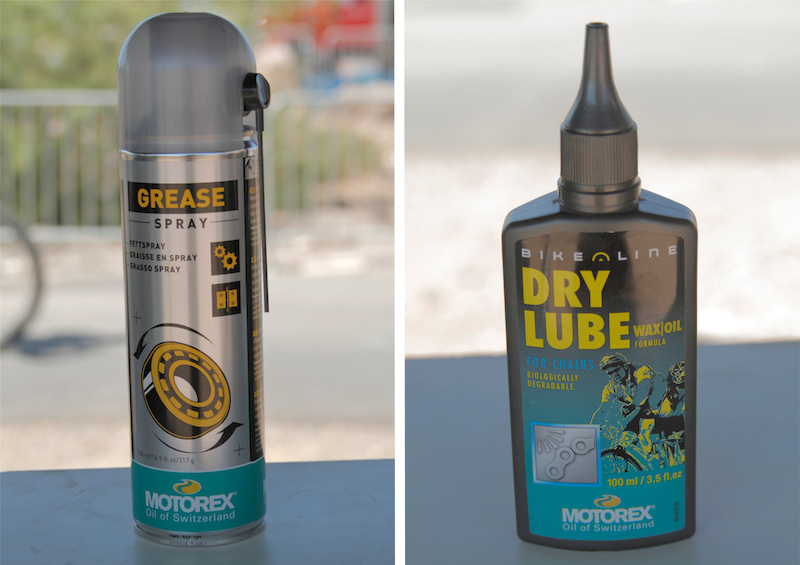 Motorex grease and oil
The Swiss company's Grease Spray (
above, left
) is usually thought of for motorized applications, but it also makes a lot of sense for use on certain parts of a mountain bike. The aerosol can and needle applicator allows you to get in to hard to reach places, with the grease being discharged as a thin solution that can creep into areas where tight tolerances would otherwise make application either difficult or impossible. Once in, the grease congeals to a thicker consistency. As pictured on the can, the ideal use for Moterex's Spray Grease is likely the sealed pivot bearings of a full suspension bike, allowing you to give them some love without having to press them out of the frame. Simply remove the pivot hardware, carefully pry off the outer seal, clean the bearing, and then give it a blast of Spray Grease. We're eager to give it a go, so stay tuned to find out if the spray is effective. In other, somewhat less interesting news, their chain lube bottles (
above, right
) now use a finer point that allows for more precise application.
www.motorexusa.com
---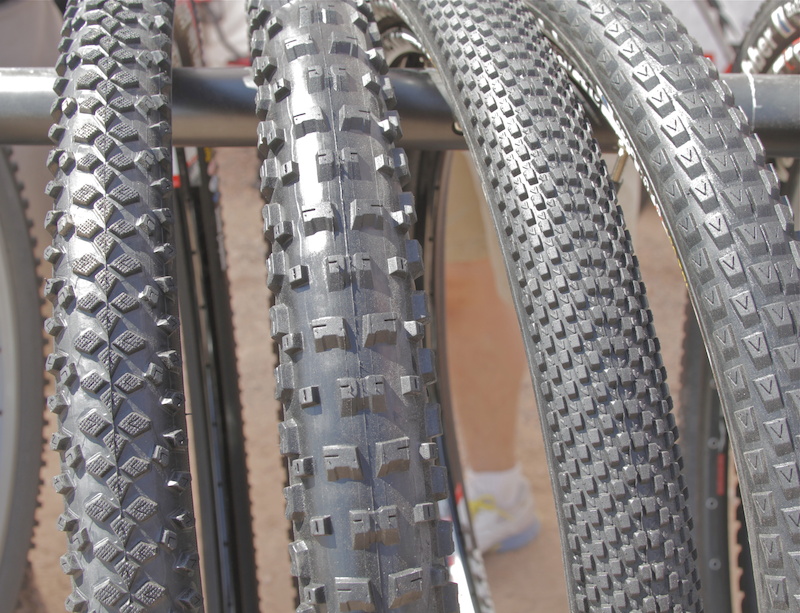 Vee Rubber
With the onslaught of 27.5"-wheeled bikes, it seems as if tire manufacturers are debuting new 'tweener-sized tires every other day. Vee Rubber is right there as well, with a number of different tread options available to suit most people's needs. From left, the Master Blaster is intended for all-around use, while the 2.4" wide Trail Taker next to it is clearly designed for more aggressive riders and softer terrain. Intended for the exact opposite sort of surfaces, the dual compound 12 looks like a very fast rolling tire choice for hard conditions. Finally, we have the 8, with its wide and low knobs that strike a balance between the previous two tires.
veerubber.co.th