Syntace

may revolutionize the cross-country/all-mountain wheel with its super-wide W-Series rims and wheelsets. The German component maker's brain-trust has developed a lightweight aluminum rim profile that challenges the status quo with four widths, beginning at a paltry, 25-millimeters and ending with a whopping, 40-millimeter-wide rim. In this review, we put the flame to Syntace's 35-millimeter-wide W35 MX wheelset, which could be a trail rider's dream come true, as it promises the precise cornering and stability of downhill wheels at a weight which is competitive with many elite cross-country/trailbike hoops.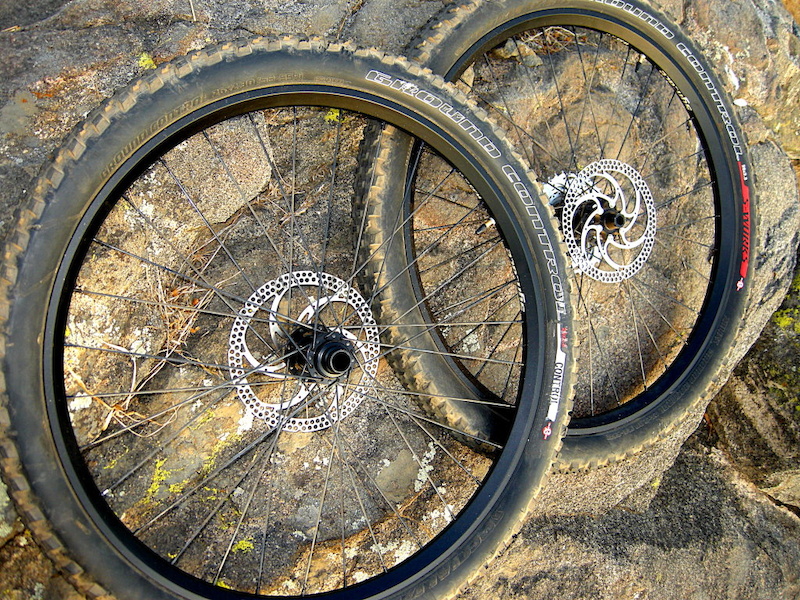 As wide as DH wheels and as lightweight as a top-drawer XC/trail hoops, Syntace's W35 MX wheelset is destined to be a game changer.
Impossible? We threw the W35 MX wheels on the scale and verified Syntace's claimed weight of 1680 grams for the pair. You won't have to Google too far to discover that weight figure is impressive.Syntace sells all the wheels in the W-series for the same price - about $1200 USD and you can mix and match rim widths, choose between 28 or 32-spoke wheels, and pick your favorite axle strategy for no extra charge. Syntace sells the W-series wheels in all three diameters (26-inch, 650b and 29-inch), offers a three-year replacement warranty and extends that cushion with a seven-year, 50-percent price reduction.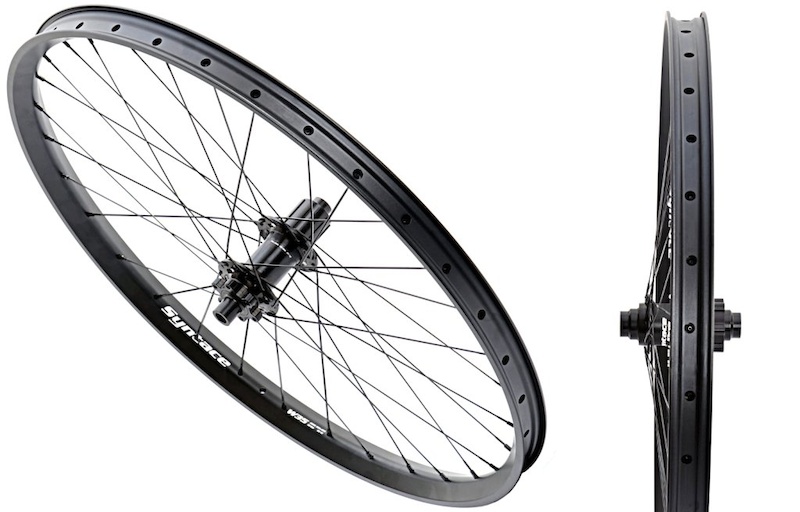 Syntace W35 MX Specs:
• Rim width (outer): 35 mm
• Rim width (inner): 28,5 mm
• Disc standard: 6 hole
• Spokes: 28 or 32 x Sapim CX-Ray, black
• Nipples: Sapim Alu double square, black
• Spoke pattern: 3 cross
• Rim material: Custom Alu
• Max. rider weight: 120 kg
• Hub material: 7075 alloy, custom heat treatment
• Color: Raceblack with laser logo
• MSRP: 1200 USD
---
Why Wider Rims?
Syntace claims that substantially wider rims better support the tire and help the carcass to maintain its shape while cornering, braking and accelerating. The wider rim is also credited for preventing the tire from collapsing or burping air, in the case of tubeless tires, as high volume tires often do when mounted on conventional-width rims. This news should come as no surprise to downhillers and free riders who have long been enjoying the stability and precise cornering which results from the added support of 35 to 40-millimeter-wide rims. Why that news did not reach the ears of cross-country wheel designers until now is not known, but you can bet that Syntace's W-Series wheels have caught their attention.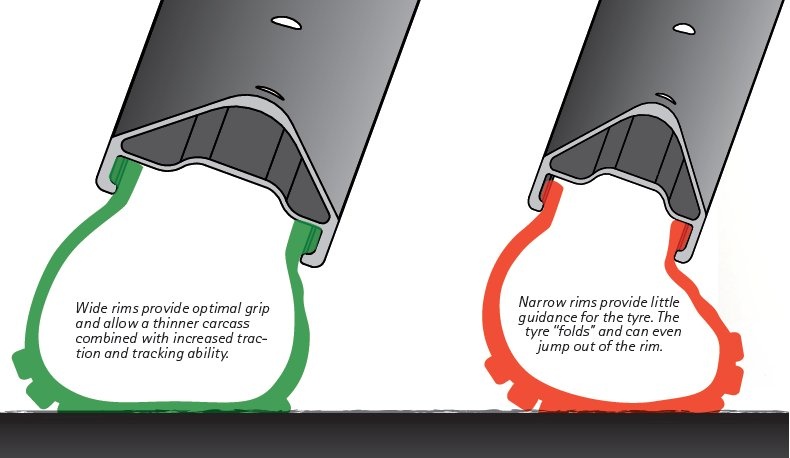 This Syntace graphic depicts the drawbacks of using modern tires with high-volume casings, mounted to narrow rims. Is wider better? Initial testing indicates a resounding yes.
Syntace could not find a wheel maker who would listen to their wider-is-better logic - so they developed the wheels on their own. The W-Series is a wheel system that is keyed into the availability of tires with lighter weight casings. The idea is that by combining a lighter weight tire on a slightly heavier wheel which offers more support and stability, that the combination will perform better than, and in the most optimum combinations, weigh less than a lightweight tire on a wheel with a typical narrow XC rim. How much lighter? Syntace claims up to 600 grams can be saved, which is impressive. It is important to note that the tire is heavier than the rim and even the slightest efforts to enhance the stability of a tire by adding rubber and a stiffer casing results in a massive weight penalty. By contrast, Syntace managed to generously expand the width of its W-Series rims with a minimal weight penalty. The W35 MX rim weighs 500 grams in 26 inch, 530 grams in 650b and 560 grams in the 29er size. The bottom line is that at a given pressure, a wider rim makes a tire more stable, corner better, puts more tread on the ground for climbing and braking, and presents more of the tire's cornering edge to the ground when leaned over in a turn.
W35 MX Construction
Syntace gives no hint about the alloy with which the W35 rim profile is extruded from beyond that it is a 'custom alloy.' The design is a low 20.5-millimeter triangulated profile with short flanges like Stan's No-Tubes ZTR rims. The welded rim's inside width is 28.4-millimeters and they are available with either 28 or 32-spoke drilling. The idea is that a higher number of spokes will offer more support to the rim and give the wheel some survive-ability should a spoke break. Spokes are bladed Sapim CX-Ray laced three-cross for durability. For those who run tubeless, Syntace says that the W-Series rims are tubeless ready with most tape sealing systems. We proved that true when we converted the W35 MX wheels with tape and inflated the tires with a hand pump.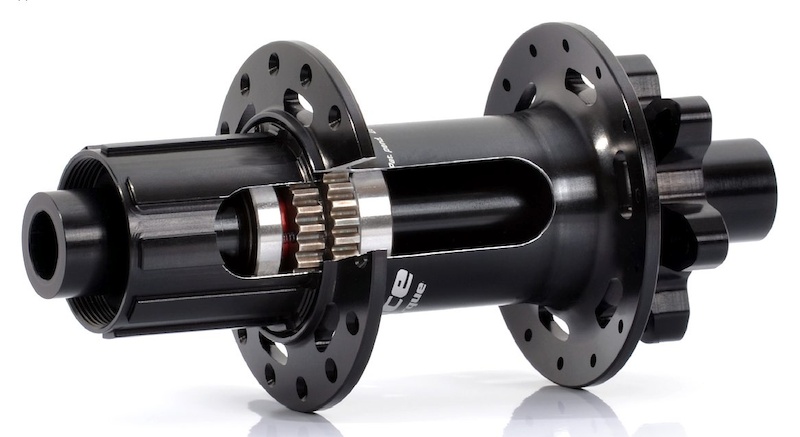 A cutaway Syntace HiTorque rear hub shows the Spur-Gear ratchet mechanism. One of the four coil springs can be seen left and center of the spur gear.
Syntace offers a larger front hub which can be converted to all axle standards (like our test wheels), as well as a lighter weight design which only accommodates quick-release or 15QR through-axles. HiTorque hubs are machined from 7075 aluminum and made in Germany.
The W-Series HiTorque hubs were also designed by Syntace - with pull-off endcaps to make it easy to convert from through-axle to quick-release. Two front hubs are offered: a 99-gram, 28-spoke model that accepts only quick-release or 15QR through-axles; and a 32-spoke 150-gram hub that can be switched out from quick release to 15QR, or to a 20-millimeter axle. The rear hub uses a 'Spur-gear' ratchet system, much similar to the DT Swiss 'Star Ratchet' design, but instead of a single coil spring, Syntace employs four small coil springs around the circumference of the spur-gear ring, which seem to impart more force on the ratchet mech. Syntace claims that the 36-point ratchet has out-performed the best made in both cross-country and observed trials competition. Syntace sweats the deatails, with angled hub flanges to reduce stress on the spokes and offset rim profiles to ensure that the angle of the spokes is as symmetrical as possible.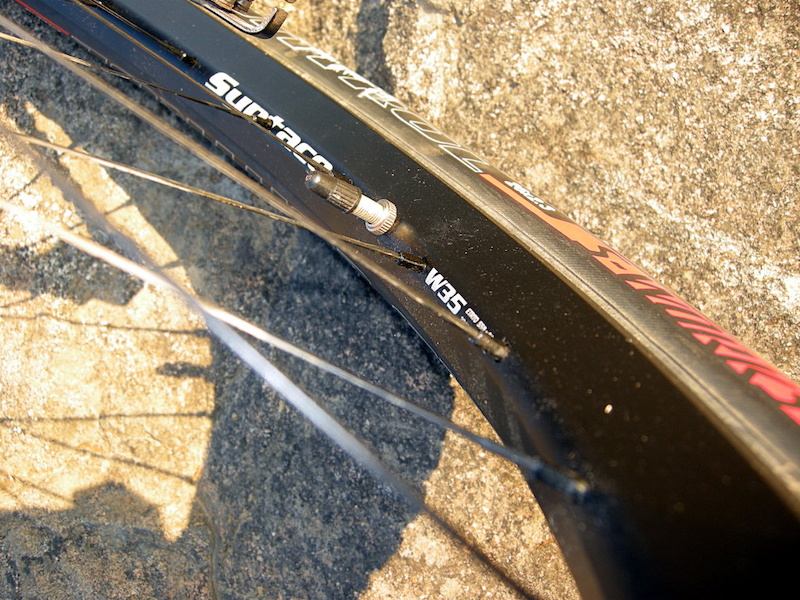 W-Series rims are offset to eliminate as much spoke dish as possible to compensate for the lateral displacement of the front brake rotor and of the rear hub's cassette.
Riding Syntace's W35 MX wheels
We set the W35 MX wheels up on an Ibis Mojo HD that we were previously running 28-millimeter Stans ZTR Flow rims with Specialized 2.3-inch Ground Control tires. The Ibis wheels weighed 1830 grams a pair, compared to 1680 for the Syntace pair. ZTR Flow rims measure 22.6 millimeters inside to inside, while the W35s measured 28.4 - a difference of only 5.8 millimeters, but the same tires seemed monster sized when mounted to the wider rims (they measured six millimeters wider). After experimenting with various air pressures, the magic number for the high-volume combination of a 2.3-inch tire and the 35-millimeter rim seemed to hover around 20 psi. for fast-paced all-mountain riding and slightly lower, in the range of 18 psi on trail.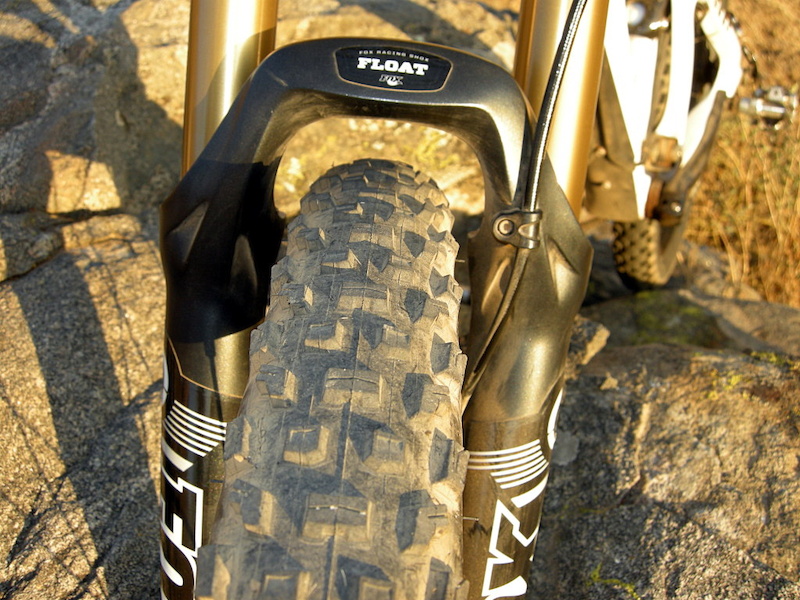 Syntace's 35-millimeter rim expands the volume of the 2.3-inch Specialized Ground Control tire to fill most of the space in the Fox 36 fork. We liked the wider arc of the tread's profile for cornering.
The first surprise was how fast the larger-profile rolled on pavement and hard pack. The expectation was that, with more of the crown of the Ground Control tires exposed to the surface, that rolling resistance would be greater. The reverse seemed true, although the tracks left by the tires were distinctly wider than the stock setup, the Ibis carried its speed and felt easy at the pedals. Where the fun began, however, was technical climbing. With soft air pressure, a big tire and the laterally-stable feel under power, the Ibis crawled up rocks and railroad ties on climbs that normally reduced us to pushing. The feel under power was firm, but the tires deflected enough to ease the bike over the edges of rocks and water bars. At first, we passed off the feeling of efficiency to 'new parts syndrome,' but as time and testing went on there was no question that the wheels were working magic on the technical sections.

Conservative wheel design and substantial spoke counts keep the Syntace W-Series wheels serviceable and reliable. Both front and rear hubs feature quick-change, tool-less axle ends and internal components.
Descending, or anywhere we were carrying a lot of speed became a lot more enjoyable as well. Braking distances were shorter, as the front tire could be trusted to stick better, but rear braking was enhanced as well. The tail end was harder to lock up and more trustworthy in sketchy traction. The Ground Control tire is a pretty consistent tread design as it is being leaned into a turn, but the modified profile - a more gradual arch with more of the tread facing the crown of the tire - made the transition to the tire's edging tread feel absolutely seamless. It was as if the Ground Control was a different tire in many ways - and the bike responded by feeling smoother and more decisive when cornering and executing a line through the rocks.
Technical Report
Prepare for a little noise, as the Syntace Spur Gear ratchet is loud - made louder still by the fact that Syntace uses oil, not grease, to lubricate the ratchet mech. The lighter lubricant ensures faster, smoother engagement, and better cold-weather performance, but the byproduct is a noticeable clatter when coasting. While we never suffered a pinch flat or sidewall puncture, we did manage to get the rear wheel slightly out of true. A quick tune up brought the wheel back to true and it has remained so to date. Syntace recommends a touch up after the first few hours of riding, which is relatively unheard of now, but was common practice when rims were lighter and spoke-counts were higher.
Pinkbike's take:
| | |
| --- | --- |
| | Syntace's W35 MX wheelset made a noticeable improvement in the performance of an already great performing bike. Switching back to wheels that are considered to be all-mountain-width, like the WTB i-23 or Stans ZTR Flow, felt like we were riding skinny XC-racing hoops. Time will tell, but all who rode the Syntace W35s had only good things to say about the predictable feel and how the tires felt so securely attached to the ground by comparison. That, and the fact that the Syntace wheels carry a lot of speed, gave us the distinct impression that wider is better - and had us wondering how great the even wider, W40 MX wheels would be. The plan now is trying the W35 MX wheels back to back with narrow rims and with smaller-casing tires like the 2.0 Specialized Purgatory Control and Schwalbe Nobby Nic to see if we can beat the performance of a big tire on a narrow rim with a smaller tire on a wider rim. So far, the results of Syntace's bold experiment with super-wide-rim XC/trail wheels are golden. - RC |
Find out more about Syntace W-Series Wheels
---
---