TESTED
Nukeproof
Pulse Pro

WORDS
Mike Levy
PHOTOS
Bryce Piwek
Nukeproof made headlines when they signed Sam Hill to ride their new Pulse downhill bike alongside Matt Simmonds and Joe Smith, both being very fast riders in their own right. Many wondered how Hill would get on with the 210mm travel, single pivot design, especially considering that the Australian has spent his most successful years aboard more complex machinery. And while Hill has proved that both he and the Pulse have the speed to play at the sharp end of the field, the bigger question is how the Pulse performs under the average downhiller out there. Can the aluminum bike hold a candle to machines with proven race pedigrees, some of them many pounds lighter? We're here to find out.


• Intended use: downhill racing
• Rear wheel travel: 210mm/8.26''
• T6 6061 aluminum frame
• Adjustable chain stay length (10mm)
• 1.5" head tube
• ISCG 05 chain guide mount
• 12 x 150mm thru-axle
• Sizes: sm, med, lrg (tested)
• Weight: 41.2 lb
• MSRP: $6299.99 USD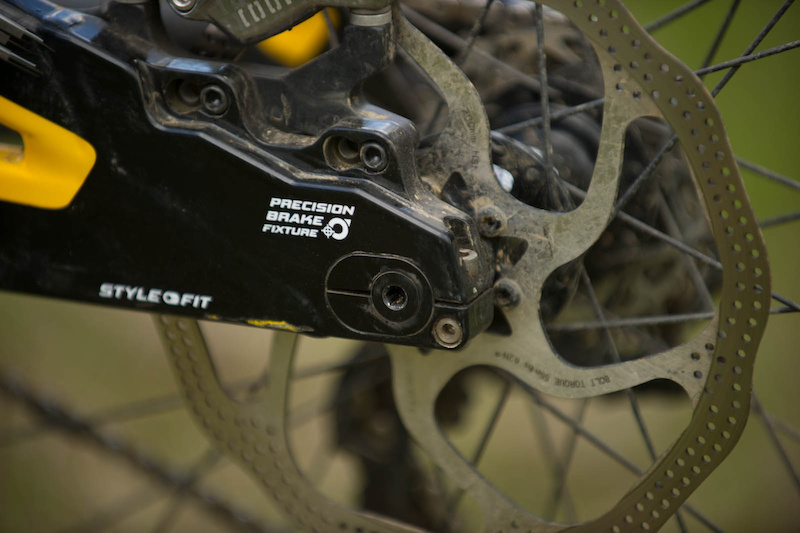 Frame Details
With the look of Mike Tyson in his prime standing next to a 90lb Muay Thai fighter, the Pulse strikes an imposing figure against the current trend of minimalist looking downhill bike design. Its massive diameter aluminum tubing is heavily shaped, with a box-section down tube that sports a gentle curve to it in order to also serve as home to the forward shock mount that sits countersunk into its top side, and an equally square top tube drops down slightly to improve stand over clearance. A one-piece forged central unit is home to the bottom bracket shell and main pivot, with a wide aluminum section taking the place of where one might expect to see a seat tube, while also acting as a mud guard to keep debris off of the shock. While we are used to seeing an added protective element glued or strapped to the bottom portion of the down tubes on many carbon bikes, it was interesting to see that the Pulse comes stock with one of its own as well - regardless of its obviously burly construction, Nukeproof isn't taking any chances.
The Pulse's stout looking swingarm leaves no doubt that its well-built theme also continues on to the back of the bike. Again, Nukeproof uses rectangular aluminum tubing throughout, and while there is no seat stay bridge connecting the left and right sides, a welded together, two-piece forged section ties each side together while leaving plenty of room for the largest tires on the muddiest of days. The bike's 12 x 150mm thru-axle rear end employs clean looking inserts that can be flipped to allow the rider to adjust the chain stay length by 10mm, from 435 to 445mm on our large sized test bike, and there are two brake mounting positions that correspond to each option. We're always fans of replaceable steel inserts that prevent permanent damage during a rushed mechanical, and Nukeproof uses two steel barrels to act as anchor points for the bike's thru-axle clamps.
The Pulse's Suspension Explained
While the Pulse is an entirely new bike compared to its predecessor, the Scalp, it does employ the same basic suspension layout, albeit with some important tweaks. It is still a linkage activated single pivot design, with its massive main pivot sitting just about inline with the top of its 36 tooth chain ring, and it also utilizes a pull-style linkage that is similar to what can be seen on the Scalp (
different than the push-style linkage on Transition's TR450, a bike the Pulse is often compared to
). While no one ever accused the Scalp of being under built, its suspension looks downright spindly when viewing both side by side, with the Pulse's burly looking rocker arm sitting captured within frame. The 210mm travel layout looks quite clean when viewed from a few meters back, with most of the bike's inner workings being hidden from view.
The bike's compact and nearly hidden linkage appears to be quite well thought out, with reliability and rigidity rating higher than light weight or designer looks. The two short, stout links that connect the swing arm to the rocker arm are home to four angular contact bearings, two on each side, as well as C-clips that act to keep the bearings from shifting in their bores over time, and steel and aluminum hardware holds everything together. The one-piece rocker arm rotates from above on a captive pivot, and the bike's shock mounts via a steel bolt and an easily replaceable nut on the non-drive side.
Specifications
Release Date
2013
Price
$6299.99
Travel
210
Rear Shock
Cane Creek Double Barrel
Fork
RockShox Boxxer R2C2
Headset
Nukeproof 49IISS
Cassette
SRAM PG-1030, 11/26, 10-speed
Crankarms
Truvativ Descendant 1.1 GXP; 165mm, 36t
Chainguide
SRAM X0
Chain
SRAM PC-1031, 10-speed
Rear Derailleur
SRAM X0 Type2
Shifter Pods
SRAM X9
Handlebar
Nukeproof Warhead 760
Stem
Nukeproof Direct Mount; 45mm, 30-degree rise
Grips
Nukeproof Element lock-on
Brakes
Avid Code hydraulic disc; 200mm front & rear
Hubs
Nukeproof Generator Disc; 110mm x 20mm front, 150mm x 12mm rear
Rim
Nukeproof Generator DH
Tires
Maxxis High Roller II DH, 26"x2.4" ST/42a
Seat
Nukeproof Race Pulse
Seatpost
Nukeproof Warhead In-Line
---
| | |
| --- | --- |
| | The bike's inherent stability and composure means that you can cross over some seriously rough ground at a speed that will upset a lot of other bikes. |
Handling:
Don't think of the Pulse as a slim runway model of a downhill bike that so many other race rigs are trying to be these days, but rather a buxom sort of girl who parties hard and isn't afraid to throw some punches in a drunken cat fight. Solid and dependable, and with a planted feel through corners that doesn't have that sometimes skittery personality of a bike that is too light for its own good. Tip the bike into a corner with confidence and you'll find that it responds with confidence, but ride the 'Nuke off the back with a hesitant approach and you'll likely feel over-gunned and under-muscled. Stay on top of the bike, though, and you'll get through the bends in a hurry, which is a good thing because the key to getting down a track quickly aboard the Pulse is to carry speed rather than to work for it.
It is the search for momentum that allows the Nukeproof to really stretch its legs, with its implausibly supple suspension keeping its rear tire connected to the ground in a way that traction control in a high-end sports car must feel like. The grip is there if you have the huevos to search for it, with the key being to remember to ride the bike with a slightly forward weight bias compared to other machines. That is true of most downhill bikes, but it is an especially important facet of the Pulse - let your weight hang off the back of the bike coming into or going through a corner and you'll find that it is suddenly slacker and lower than you were expecting. But stay up over the front, thereby keeping the weight distribution more or less even, and the 'Nuke will follow any and every line through any and every corner. Quick back to back direction changes - picture tight 'S' berms - do reveal the bike's relative heft, but we don't see this holding the bike back, especially if the rider has his pro or expert racing license. The more timid out there might pay a price in these sort of sections, but those same riders could benefit from the bike's ability to carry tremendous speed straight through chunder of massive proportions. Picture the rocky open sections of the Fort William World Cup track, Val di Sole's rough fall line stretches, or your local bombed-out run and you'll know where the Pulse is in its element. The bike's inherent stability and composure means that you can cross over some seriously rough ground at a speed that will upset a lot of other bikes.
While the Pulse's strengths clearly lie in straight lining it into rough sections that wouldn't look out of place on a outdoor motocross track after a day's motos, the black and yellow bike is far from being an all-arounder that can shine on all types of terrain. And while that can obviously be said of any downhill race bike on the market, including the lightweight carbon fiber rigs whose price tags are five digits long instead of the readily accepted four digits, the Pulse seems to give up more ground in this regard. We're talking about any time a track levels out, becomes smooth, or requires some solid sprinting effort, all occasions when the big Nukeproof felt uninspiring, even downright tedious after a full day's riding. The bike's 41.2lb weight certainly factors in, although we're of the mind that it is its ultra-active suspension that bears most of the blame here, with it readily plunging into its travel like an obese twelve year old jumping into the pool on a hot summer's day. Adding copious amounts of low-speed compression damping via the Cane Creek Double Barrel's gold LSC dial does help, but not enough to bring the Pulse to a level of pedalling performance where we wouldn't feel obliged to harp on about it.
Suspension:
Throwing the Pulse into the kind of toothy, rocky terrain that gives cross-country riders nightmares does little to upset the bike, with it having an air of defiance that we imagine an Unlimited-class Baja 1000 truck has to a section a washboard gravel road under its wheels. The bike's 210mm of travel takes away sharp edges and deep holes that goes beyond just simply absorbing them, but rather erases them in a way that is rare even among the most well known big-terrain bikes. It simply
swallows
impacts that would likely throw other bikes off line. It is moments like this when we weren't left wanting for anything aboard the Pulse; when we cared about the bike's heft and poor pedalling capability about as much as we were stressing about which contestant is going to win this season's Big Brother reality television show. To be clear, that is a big, fat zero.
The combination of the Pulse's Fallout suspension linkage and its Cane Creek shock results in an ultra-sensitive rear end that takes in the smallest trail chatter. This supple feel surely plays a part in the bike's ability to track impressively well on loose ground, especially when tracking along a root-strewn sidehill that would throw lesser bikes back down where they belong, and also gives it a properly confident attitude in wet conditions. Look where you want to go, then let the Pulse have at it and you'll be rewarded by coming out the other side on-track and with speed. Don't expect to be breaking the laws of physics aboard the 'Nuke, but do expect to get away with more than you might when riding certain pricey, carbon fiber bikes with highly regarded suspension layouts. We did come up to the end of the bike's suspension rather abruptly on a few occasions, with the hard bottoming moment felt through the soles of our feet, but these were likely well earned thanks to the Pulse's indifference at being chucked down, over, and into the worst of the worst. While the bike itself shrugged these moments off without much concern, we noted that our weight and body positioning could feel as if it was a touch too far forward, enough so that we were worried for our well being on one or two occasions. Rider error, or down to the bike? Let's just say that we didn't come across the same sensation while testing other bikes of the same class on the same trails.
While we have only rarely come across rear suspension that can erase the ground like the Pulse is able to, the flip side is the bike's inclination to stay grounded more so than many other full-fledged downhill bikes that we have spent time aboard. Low is fast, you say, and there is no traction when in the air, but there are always going to be occasions when lifting the bike over a section of nastiness is going to save time. It is these moments that had us feeling as if we were just now learning how to bunny hop a bike, with it lacking that ability to easily pop it up a few feet in the air without any real lip to help in the matter. Again, tinkering with the Double Barrel's settings, both low-speed compression and rebound, greatly helped the cause, but the Pulse is never going to be a bike with 'pop'.
Component Report
• The bike's Cane Creek Double Barrel coil-sprung shock plays a huge role in how well the Pulse can handle fast, rough terrain, with it muting that sharpest of impacts in a way that no air shock could ever manage. Its wide tuning range also allows the rider to tinker until they find the ride they are looking for, with its effective adjustments being key to improving on the Pulse's jumping and pedalling abilities.
• It is always a bit of a toss-up between the two best known DH brakes out there, the Avid Codes on the Pulse or Shimano's Saint stoppers, with the choice coming down to personal preference more than either one lacking in any regard. Yes, Saint brakes have a touch more stopping power, but all of the Codes we have used can lay claim to a much more useable, modulated feel in light to medium braking moments. We did experience a bit of inconsistency in lever feel with the bike's Code brakes, though, a sign that there was likely a spot of air somewhere in the system.
• Maxxis' 2.4'' wide High Roller II tires proved to be a good all around choice for the bike, offering some serious rolling speed without feeling under-gunned on wet or loose ground, although they didn't feel quite as forgiving as some higher volume rubber choices out there. Regardless, we didn't suffer any flats during our time on the bike.
Pinkbike's take:
It is a tough time to judge a downhill bike, with so many of them offering supernatural performance that borders on being a bit unrealistic for the majority of expert-level riders to ever be asking more of, and it is for this reason that we have had to look at them with an increasingly critical eye over the last few seasons. The Pulse is one hell of a bike, especially when on a race course of monster proportions, but it gives up ground to the competition when talking about its showing on everyday backyard-style tracks that most of us spend our time on. There are bikes that pedal better and offer a more involved ride, and the truth is that for most riders, on most trails, the big 'Nuke is going to feel a bit like driving a Veyron around the local go-kart circuit. Having said that, we would likely choose the Pulse before any other rig if we were told to go for a personal best time down a track like Fort William's rocky minefield, and that really says something about the potent combination of the Pulse's linkage and Cane Creek shock. Although far from being the best all-arounder, the Nukeproof might be one of the better bikes in this regard.

- Mike Levy
www.nukeproof.com