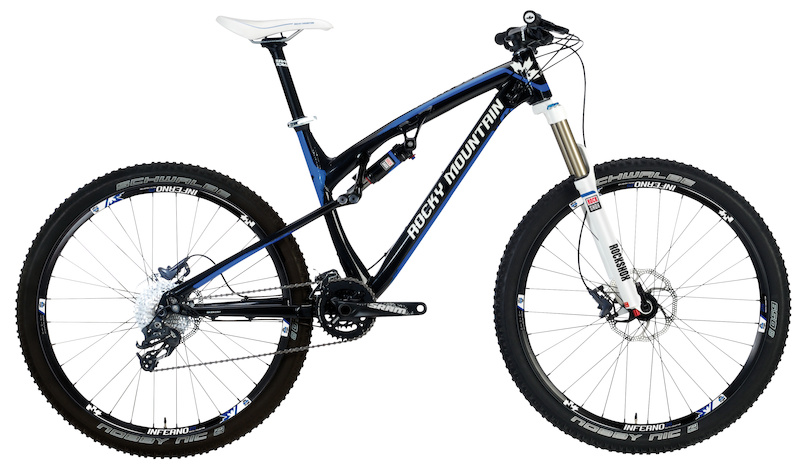 2013 Rocky Mountain Altitude Details
• C13 Hi Mod carbon frame (aluminum frame on the 750 and 730)
• 27.5 wheel size only
• Rear wheel travel: 150mm
• Uses Rocky Mountain's SmoothlLink suspension design
• Ride - 9 geometry and suspension adjustment
• ABC (Angular Bushing Concept ) pivots
• Tapered head tube
• E-Thru 12 x 142mm rear axle
• Internal routing for rear brake, shifting, dropper post, shock control
• BB-92 bottom bracket shell
• Sizing: XS - XL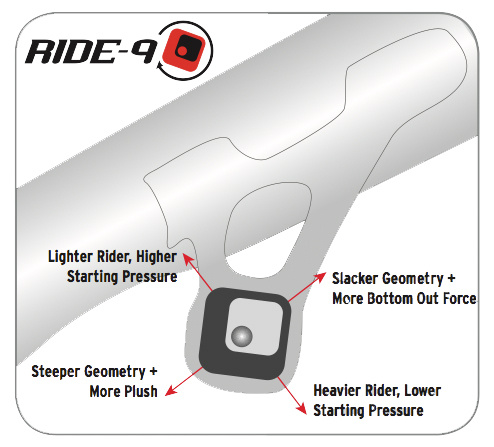 Ride - 9
In a time when many companies seem to be scaling back on the adjustment front, an Altitude rider can pick from nine different geometry and suspension settings in order to tune the ride to their liking. This is accomplished at the forward shock mount via a dual insert arrangement. The offset inserts can be positioned to tweak both the suspension ramp up and the geometry, allowing for 2° of head angle and 20mm of bottom bracket height alteration.
One neat point about this layout is that it allows a rider to generally preserve the bike's geometry while still being able to alter the suspension rate, or vice versa. Like your head angle and bottom bracket height, but looking for more ramp-up at the end of the travel? No problem, just orientate the insert to the forward position and you're set. Rocky Mountain plans on releasing an app shortly that will make tuning easy, although doing it for ourselves made it clear to us that this isn't a trail-side adjustment, but rather one that riders will tinker with a few times in the garage before settling on and leaving it in a postion that makes the most sense for them.
SmoothLink Suspension
The Altitude's 'SmoothLink' suspension layout places the rear pivot above the axle, which is a slightly different location than you may have seen on similar designs. Small changes can have drastic effects on performance, though, with Rocky Mountain claiming that the ''
lower linkage member is virtually parallel to the Average Chain Torque Line (ACTL), at all points of travel. THIS is the key to bob-free suspension, since the two are parallel, the chain tension cannot act on the suspension.
''. All brands seem to go on about how great their designs pedal, but our time on SmoothLink-equipped bikes seems to mostly corroborate Rocky Mountain's claims.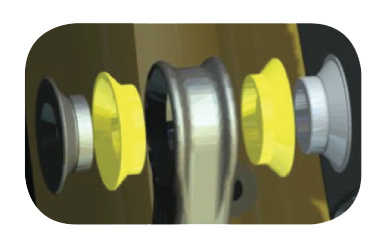 Bushings Are Back
Rocky Mountain first utilized their angular bushing concept (
ABC
) pivots on the 2011 Element series, and it has spread to other models in their lineup. Made up of two angled contact surface polymer bushings and tapered aluminum hardware, the ABC pivots are said to provide a much more rigid interface than what a sealed bearing could ever dream of, not to mention Rocky claiming that they save 120 grams per bike over a standard setup. But what about wear? Some riders will likely recall, many years ago when bushings were commonly used in pivots, going through them at an alarming rate. We sure do but, after having done many miles on an ABC-equipped RSL 29 BC Edition 29er and experiencing no issues, we're inclined to believe that longterm performance shouldn't be a concern. ABC pivots are employed at the dropout and both rocker arm pivots, but traditional bearings are still used the the main pivot location.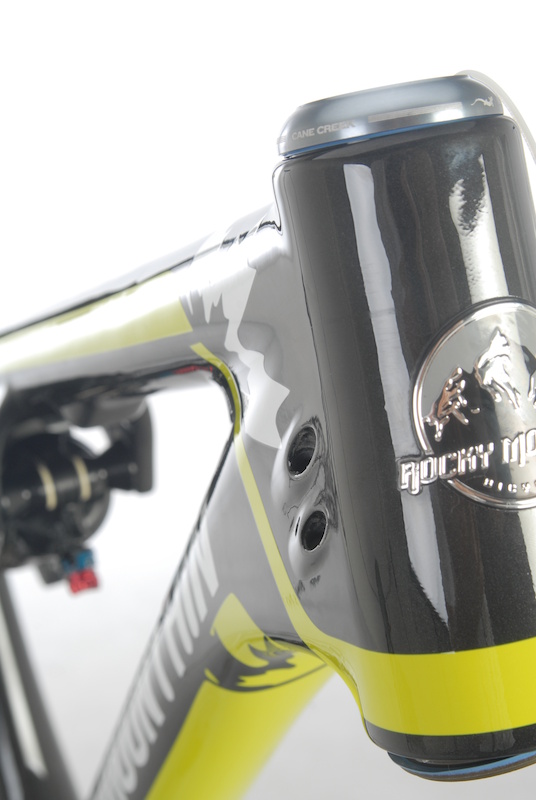 Concealed Cables
Cable entry ports just aft of the head tube make for a smooth look, but internal guides mean that there is no fussing about while trying to feed the cable through a tiny exit hole at the opposite end. The cables - both the front and rear derailleur - exit from a good-sized removable port hidden under the bottom bracket shell. We performed a cable change on our Element RSL 29 BC Edition and found it to be a pain-free process.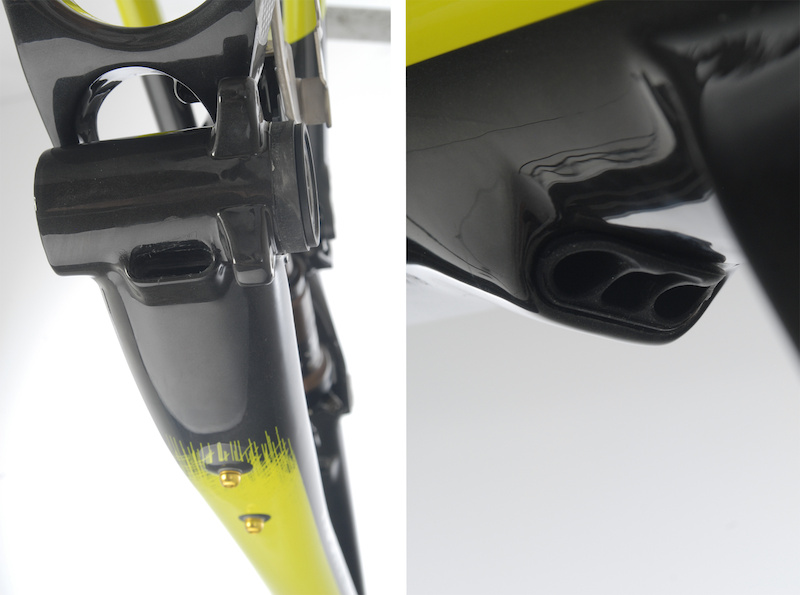 The bike also includes internal routing for a Reverb Stealth dropper post, with the cable exit port located on the rear of the seat tube, just above the bottom bracket shell. The three carbon models - 790 MSL, 770 MSL, and the 750 MSL - all come stock with a FOX CTD rear shock that offers three levels of compression adjustment via a bar-mounted remote. Rocky Mountain has taken the extra cable into consideration, though, with a tidy route through the top tube and exiting just in front of the forward shock mount. The result is a nearly hidden CTD remote cable.
Chain Guide Friendly
Rocky Mountain knew that the Altitude is going to be different bikes for different riders; many will keep the stock dual-ring crankset in place, some might even jump up to a triple, and many others will want to fit a chain guide, be it a single or dual-ring version. With that in mind, both the carbon and aluminum Altitude frames feature ISCG-05 chain guide tabs around their BB92 bottom bracket shells. No fussing about with funky clamp-on or direct-mount guides required
The carbon Altitude frames also employ a bit of protection in a sensitive area, with a molded-in stainless steel plate to protect the drive-side chain stay from a wayward chain.
---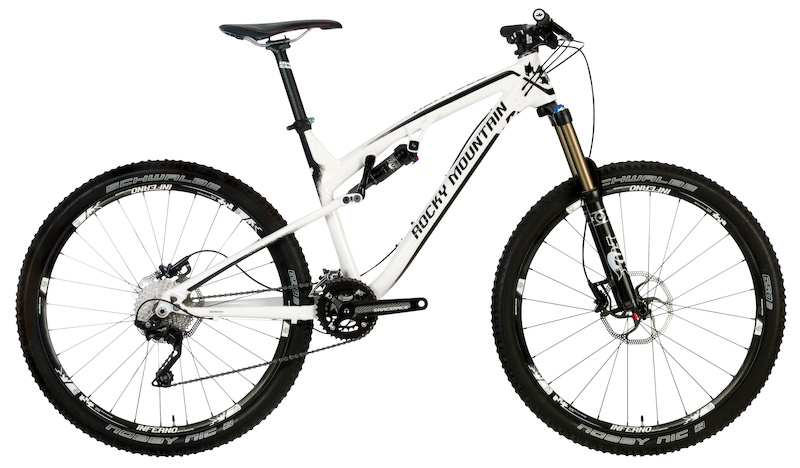 Rocky's 27.5 Altitude On The trail
We spent a solid day aboard an Altitude, and while we always add the disclaimer that a single day aboard a bike doesn't add up to a proper test, our time on the 27.5 Altitude was spent on some very Whistler-esque terrain that certainly gave us some insight into how the bike behaves. Not only did we point the Altitude down some seriously hairball sections of singletrack, we also spent time climbing up both steep access roads and hard, technical pitches.
Our bike for the day was the Altitude 750 (
pictured at right
), the more expensive of the two aluminum framed Altitudes, and assembled with a mix of Shimano SLX, XT, and Race Face Evolve cranks. The one add-on to make life easier on the challenging terrain was the RockShox Reverb dropper post, a component that is not included in the stock
build. Rocky Mountain does make a smart selection when it comes to the stem, though, fitting the Altitude lineup with short 60 - 70mm stems all around. This gives the 150mm travel bike a decidedly pinner-friendly cockpit from the get-go, a personality that many potential Altitude owners will likely appreciate. B.C. born and raised, clearly.
After a stiff climb to the top of Whistler's Pura Vida trail, we dropped in on some rowdy singletrack that was full of rock steps, roots splaying out every which way, and steep chutes that had us steering more with the back of the bike than the front - in other words, a proper trail that has yet to be molested by those well-intending trail buffers who seem hell bent on filling trails with berms and glass-smooth dirt. The choice of trail turned out to be just the ticket for the Altitude, with its slack-but-still-reasonable angles feeling just right when it mattered most. We never found ourselves asking the bike to step beyond its limits, meaning that the admittedly difficult trail wasn't taxing the bike past what it was intended for. The rear suspension in particular seemed well adjusted, with its forgiving ride on the downs surprising us after giving a very firm and efficient impression during the climb up; for a sporty feeling rig on the climbs, the Altitude did well at muting both small chatter and hard hits on the downhills. The best of both worlds? We're confident that we'd find something to nitpick about if we had the bike for a longterm review, but our first impressions of the Altitude's 150mm travel, SmoothLink suspension, are very positive.
And what do we make of Rocky Mountain's Ride - 9, chip-in-a-chip geometry and suspension adjustment? In truth, we only made one change during our time on the bike, preserving the Altitude's slackest head angle while increasing the suspension's ramp up. To compliment this move, we also dropped 10psi from the FOX Float rear shock, going from body weight plus 10psi to 170psi on the nose. The result was a shade more active ride, but still no hard bottoming to be felt. We suspect many riders will take the set-and-forget route with the Ride - 9 system, but it is a tidy way to build-in an über-adjustable layout.
We came away from our time on the Altitude with one overwhelming thought: it is quite simply a fun bike to ride. The bike's sporty-feeling, yet still forgiving travel irrefutably plays a role in us coming to this conclusion, but there is more to it than that. Sitting at 16.8''/428mm, the Altitude's chain stay length is actually shorter than what is used on many 26'' wheeled bikes. This figure puts the rear wheel well under the rider, meaning that the bike motors up loose climbs instead of feeling like it needs to grope up them blindly. The fun part is that it also made lifting the front of the bike easy as pie, a trait that will allow more advanced riders to to exploit the trail for all it's worth.
Pinkbike's Take:
| | |
| --- | --- |
| | At this point, it is becoming clear that the 130 - 160mm travel bracket is going to be populated with a high percentage of 27.5 -wheeled bikes. Rocky Mountain's Altitude is easily the most sorted of the small group of test bikes we've ridden that employ the 'tweener wheel size. 27.5 bikes are coming whether you want them to or not, and we are, admittedly, still feeling a touch resistant about it, however we'll be more likely to embrace the old-is-now-new wheel standard if the bulk of them are as dialled as the Altitude. - Mike Levy |
www.bikes.com
altitude.bikes.com
ride9.bikes.com/
Action photos by Margus Riga