TESTED
Diamondback
Mason FS

WORDS
Mike Levy
PHOTOS
Ian Hylands
While the words 'long-travel' and 'twenty niner' are not often married together in the same sentence, with the 5.5''/140mm travel Mason FS, Diamondback is looking to shake up our perception of where and how we see the big-wheelers being ridden. Yes, there are a handful of other 29ers out there that can match the Mason FS in the suspension department, but for the time being at least, the category is limited to only a few other major players. And those other options have received enthusiastic nods of approval from testers, which is why we were so keen to see Diamondback's take on the same breed of bike. There is also more to the Mason FS than just how much travel it has, though, with important updates to their Knuckle Box bell-crank rear suspension layout, and relaxed geometry figures that let potential owners know that this is a bike for the brave. If you are finding yourself a bit worked up at this point, cool your jets because the Mason FS is slated as a 2014 production bike, although you can expect it to ship well before we close down our current year.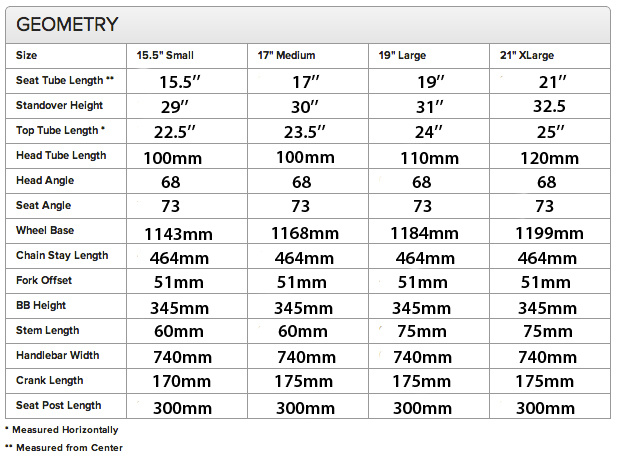 Diamondback Mason FS Details

• Intended use: trail/all-mountain
• Rear wheel travel: 5.5''/140mm
• 'Knuckle Box' rear suspension
• Tapered head tube
• ISCG-05 chain guide tabs
• 12 x 142mm rear E-Thru-axle
• Dropper post cable routing
• FOX Float CTD shock, Kashima
• FOX 34 140 CTD, Kashima
• Weight: 31.8lb
• Sizes: sm, med (tested), lrg, xlrg
• Frame only MSRP: TBA
• MSRP: TBA

Squeezing 5.5'' of rear wheel travel into a chassis designed for 29'' wheels takes a bit of doing, and you can see by looking at the Mason FS that Diamondback has gone to great lengths to create a package that allows this to happen. A stubby 4'' tall head tube fitted with an integrated headset helps
to keep the cockpit relatively low given the 5.5'' of fork travel, and the bike's top tube drops away sharply to allow for some crotch-level safety room. Interestingly, rather than the common junction up front, the head tube itself is mated nearly entirely to the massive front section of the down tube, with the top tube being attached to the top of down tube with a massively long weld. The same sturdy looking theme runs through the front triangle, with the shock mounting taking place at a welded-on bridge that spans the top and seat tubes. In order to make room for the rear wheel as it comes to the later stages of its travel, an exceedingly curved seat tube is positioned far forward from where one would expect to see it, although this ties saddle height together with cockpit length due to it changing more than usual depending on height. Bolt-on aluminum cable guides hold the bike's lines in place, including the routing for a dropper post that is tucked in under the top tube, and a set of ISCG-05 chain guide tabs make it possible to add a single or dual ring guide.
Out back, long 18.2'' chain stays (
also to allow for rear wheel clearance
) sport a 12 x 142mm E-Thru axle, as well an extremely beefy looking clevis-style pivot arrangement that appears to be lifted from a downhill bike. The Mason FS also sees a bridge tying the left and right seat stays together, an update to the layout that is permitted thanks to the clearance-adding curved seat tube. In case you haven't picked it up yet, the story line at the rear of the Mason FS is all about adding rigidity, no doubt a goal due to the added forces being applied by the larger diameter 29'' rear wheel and long chain stays.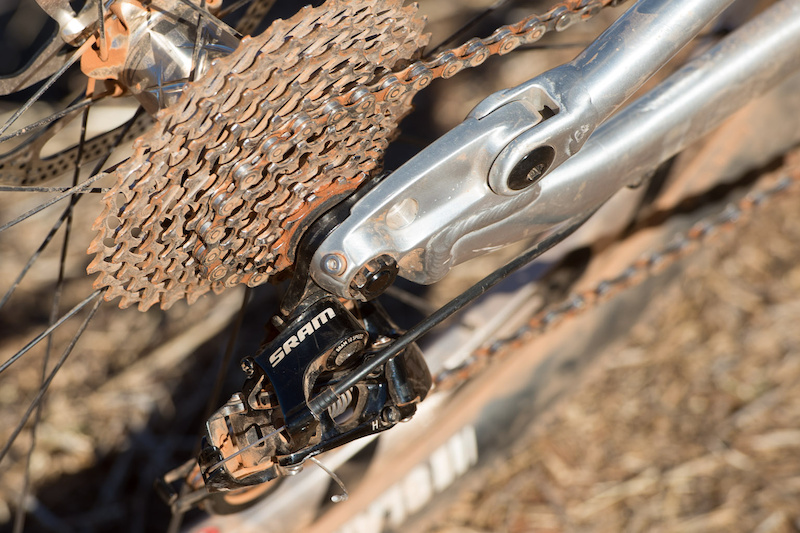 Clevis pivots are used out back, and the dropouts are extremely beefy.
Knucklebox Suspension Explained
We've explained exactly how Diamondback's bell crank 'Knuckle Box' suspension layout functions in previous looks at both the Mason FS and their 6'' travel Mission platform, but evolutions in the design makes it well worth taking another run through. With the rear axle attached to the main element (
the chain stays
), the system is essentially a single pivot layout that employs a linkage to activate the shock and control the leverage ratio. Just like with any other linkage bike, this allows the Mason FS's designers to tune the system to their requirements, which is a supple top end for small bump compliance that transitions into a slightly progressive curve that works well with the air shock that the Mason FS is fitted with. While Diamondback has admittedly taken some heat in the comments for sticking with their Knuckle Box system while competitors debut flashier designs, we applaud them for choosing to refine the system into what we have to say has become an impressive performer. Pure function over fashion with this one.
The evolution of the Knuckle Box design focuses in on the bell crank itself, with it now being located directly on the down tube instead of sitting above the tube on a welded-on extension as still seen on their other models. The bell crank's aluminum main pivot axle passes directly through the down tube and, just like elsewhere on the bike, aluminum hardware holds it in place. This change in location has allowed Diamondback to widen the bell crank unit, an update that, along with the new seat stay bridge, should add even more lateral stiffness to the rear of the bike.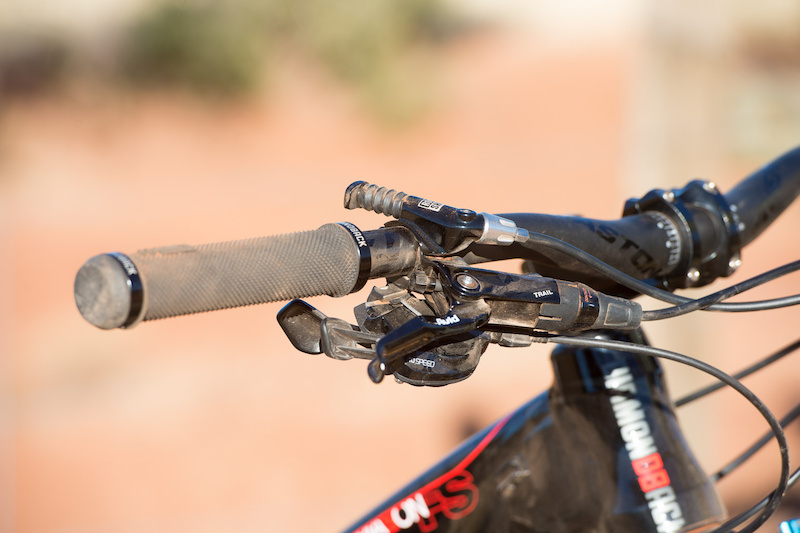 Avid's powerful four piston X0 Trail brakes slow the Mason FS down.
Component Spec
Our Mason FS test bike is expected to be a 2014 model year bike (
although availability should happen in late 2013
), so although we don't expect the production bike's spec to change drastically, it may differ from what you see here. Having said that, we hope it doesn't change too much. Diamondback has fitted a set of Race Face's spectacular SIXC carbon cranks, complete with a dual ring and bash guard setup that suits the bike's intentions well, and a clutch-equipped SRAM Type 2 X0 derailleur to keep noise and dropped chains to an absolute minimum. Easton's high-end Haven lineup figures in proudly, with their tubeless compatible wheels and stealth bar/stem combo present. A bike like this demands a dropper post as stock equipment, and we fully expect (
and hope
) to see the production Mason FS come with the RockShox Reverb that our test bike was fitted with. FOX's top tier Kashima-treated Float CTD shock is coupled with an equally deluxe FOX 34 CTD Talas fork, making for an all air sprung suspension package.
Specifications
Release Date
2014
Price
Travel
5.5''/140mm
Rear Shock
Fox Float CTD
Fork
FOX 34 140 CTD w/ Talas
Cassette
SRAM PG-1070 10spd 11-36
Crankarms
Race Face SIXC
Bottom Bracket
Race Face
Rear Derailleur
SRAM X0 Type 2 10spd
Chain
SRAM 10spd
Front Derailleur
SRAM
Shifter Pods
SRAM X0 10spd
Handlebar
Easton Haven
Stem
Easton
Grips
DB4L Lock-on
Brakes
Avid X0 Trail
Wheelset
Easton Haven
Tires
Kenda
Seat
Diamondback
Seatpost
RockShox Reverb
---
Riding the Mason FS
Climbing
Having spent time on Diamondback's 152mm travel, 26''-wheeled Mission Pro last season, we expected the Mason FS, which uses the same Knuckle Box suspension layout, to be a relatively efficient climber from the the get-go. The big Mason FS not only met those expectations but easily surpassed them, surprising us with how the bike quietly went about ascending without fuss. Regardless of gear choice, the rear end simply refused to be upset by pedalling influences, remaining remarkably calm and level, even with the FOX Float's CTD lever flipped to the wide open 'Descend' setting. This was the case regardless of what chain ring we were using, allowing us to put our focus on getting to the top of the climb rather than reaching down to flick the CTD switch to a firmer setting. There is, of course, no getting around the fact that the Mason FS is no flyweight fighter, but we have to say that when faced with a long grinder of a climb we'd likely pick the Mason FS before any number of boutique trail bikes that weigh in at five and six pounds less. How's that for surprising?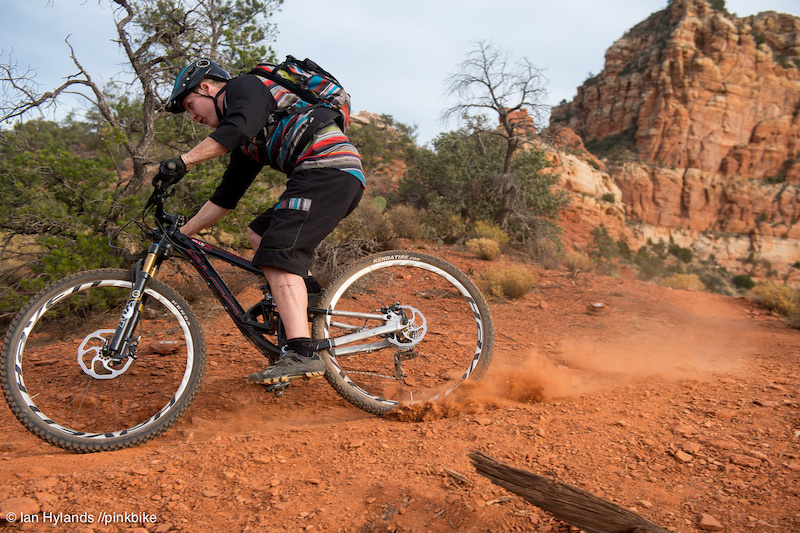 The key to getting the most from the Mason FS is to commit to the corners.
Handling
Solid and predictable are two words that come to mind when trying to summarize the Mason FS's personality, although, on the other side of the coin, the bike lacks that stimulating personality that some riders thrive on. Chunky, stepped terrain is swallowed up in a way that had us continually getting faster on the bike as we grew more confident in its abilities, no doubt a trait that can be traced back to its long-ish wheelbase and forgiving suspension, and we quickly learned that the Mason FS rewards a bit of a 'monster truck' approach to getting through the worst of the worst. Naturally, a playful rider will be able to jump on the Mason FS and have a lot of fun, but the Diamondback certainly has a more subdued ride quality to it than some other options. That sort of observation could easily be taken as a negative mark on the bike's report card, but it also made for a very self-assured ride in situations where other bikes may not be so sure-footed.
We rode the Mason FS back-to-back on the same trails as a number of other 29ers, a few 650B-wheeled bikes, and even a few 26" (
gasp!
) trail bikes, all of which have handling qualities all their own. Of the bunch, the Diamondback certainly asks its rider for a bit more input when it comes to cornering. Much like when approaching a technical
climb, we found that we had to initiate the corner a bit earlier on the Mason FS, and with a touch more body English, in order to feel the bike want to open up and carry more speed. This is to be somewhat expected given that the Mason FS is heavier, longer, and has a slightly slacker head angle than the others. It is for this reason the bike really starts to come into its own as the speeds pick up and the ground gets rougher, and this is also where we really took notice of just how stiff the new Mason FS chassis really is. We often found ourselves with the front end in the air as we chose to manual into the chunder and let the rear end deal with it, although the bike's long rear-to-center length meant that it could take a serious pull to get the front up.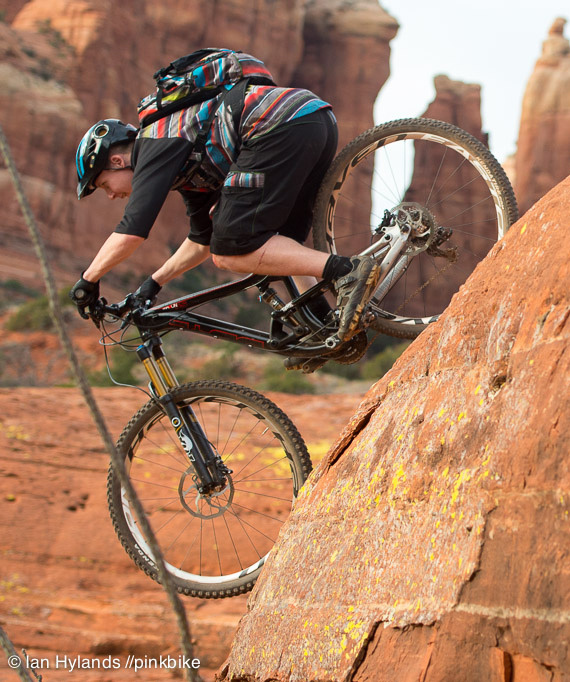 Suspension
With its 140mm of rear wheel travel mated to a 140mm stroke FOX 34 fork, the Mason could certainly be considered a long-travel 29er, and it offers a ride that challenges the notion of what 29ers are capable of. Much like when we tested the Mission Pro last year, the Knuckle Box suspension and FOX Float rear shock seem to be tailor made for each other, offering a ride that literally had us neglecting to be take note of exactly what the rear of the bike was doing under us. It has been said that suspension you forget about in use is well set up, and that is certainly true when it comes to the Mason FS. As mentioned previously, the back of the bike remained peaceful and undisturbed under pedalling load, but it also brushed off anything we could throw at it on the downs. Hard and sharp impacts were well muted without much of the expected jarring being fed through to us, and we didn't feel a single hard bottom despite running 35% sag out back.
While the immensely forgiving suspension was certainly a benefit when riding the bike aggressively, it was also likely an attributing factor in the Diamondback's desire to stay planted to the ground. It is for this reason that we found ourselves running the Mason FS with a touch less rebound damping than we usually would, giving a bit more spring to the life of the bike. Up front, we preferred a firmer setting for the FOX 34 fork, along with a quicker rebound speed that matched the back of the bike.
While we admit that we were mightily impressed with how well Diamondback's Knuckle Box worked in conjunction with the FOX Float CTD shock fitted to the bike, our final day on the Mason FS ended with a blown shock and no damping near the end of a ride. We literally can't recall the last time a FOX shock failed on us, and Diamondback has assured us that the bike's leverage ratios are very close to their other Knuckle Box-equipped bikes, meaning that we are putting the issue down as an aberration.
Other Ride Notes
• While the spec on our test bike isn't exactly what will be on the production Mason FS, it was pretty close. We're hoping that the bike's lightweight Race Face SIXC cranks are on that list - light, stiff, and with bearings that spin and spin, they are among our high-end favorites.
• As we've mentioned before, clutch-equipped derailleurs make for a massive improvement when it comes to noise and dropped chains. The Mason FS was very quiet, which the SRAM Type-2 derailleur plays a major role in.
• The Easton Haven wheels on our test bike employ a sealed rim bed that makes tubeless conversions a cinch, although they will likely ship with tubes from the factory. Do yourself a favour and pour some Stan's fluid into each tire to prevent the majority of flat tire issues that may arrise by using tubes.
• We've now spent quite a bit of time on Avid's X0 Trail brakes (
expect a review soon
), mid-weight stoppers that use four pistons and large pads to increase power, and many riders will compare them directly to Shimano's four piston, DH-oriented Saint brakes. Our thoughts? Saints are still the outright king when it comes to power, but we have to say that the X0 Trail package has more a more useable feel in light to medium force scenarios. That is the large majority of braking moments, which means less accidental skidding and more control.
Pinkbike's take:
| | |
| --- | --- |
| | The ideal Mason FS owner would be a rider who takes charge of their bike on the downs and isn't afraid to hang it all out there in the name of speed. The bike is deceivingly effective on hard terrain, so much so that it is a bit of a sleeper; many well-to-do riders partial to boutique brands will likely underestimate just how capable it is. That is their loss, though, because those aggressive riders who are in the know will be able to get the most from this bike. Sure, it probably wouldn't be our first choice if all of our climbing took place on technical singletrack, or if we spent most of our time descending on ultra-smooth terrain, but the big Diamondback is a great choice for rough and challenging trails that might make a fly-weight 29er cower. - Mike Levy |
www.diamondback.com