Lapierre DH-720 details:
• Rear wheel travel: 200mm
• Adjustable head angle: 63/64 degrees
• Unidirectional carbon fiber swingarm
• Uses Lapierre's Pendbox suspension system
• Internal cable routing
• Built in fork bumpers
• Weight: 39lbs 11oz (
w/o pedals
)
• MSRP $5199 USD
Lapierre caused a stir last season when there debuted their new downhill bike, forgoing the virtual pivot design of the previous model for a single pivot, linkage activated layout that incorporates their interesting Pendbox floating bottom bracket system. The new bike not only looks drastically different, but it also proved to be quite capable under Cam Cole, Sam Blenkinsop and the rest of the Lapierre International DH Team, taking some impressive podium placings in its maiden season. But you don't have to be a World Cup threat to get your paws on the French flier, with Lapierre offering two complete builds to us mere mortals,
the DH Team
that resembles the spec used by the Cole and Blenki, and the less expensive
DH-720
that we test here. If you want to go custom you can purchase the
frame by itself
and build it up to suit your style and local tracks.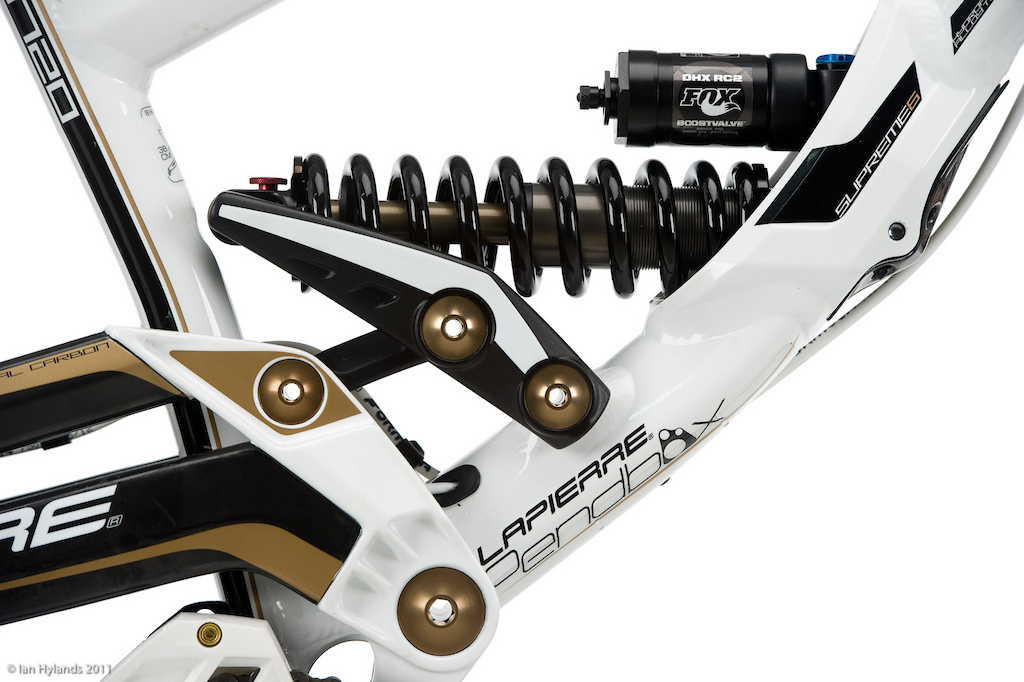 The DH-720's high pivot sits just slightly above the top of the bike's 38 tooth ring, and the Fox DHX RC2 damper is controlled via a linkage that allows Lapierre to attain the suspension leverage that they are looking for. The design looks quite different than what can be found on other bikes, but it is executed cleanly and functions in a similar manner, but the interesting bits have to be viewed from the non-drive side...
Pendbox explained:
Viewed from the drive side the Lapierre looks to use a fairly standard single pivot swingarm and linkage driven shock arrangement, but what you can't see from that angle is the heart of the beast, its Pendbox suspension system. In a nutshell, Pendbox consists of a floating bottom bracket that is attached to the front triangle and swingarm via a series of sealed bearing pivots and a compact link. As the bike goes through its travel past the sag point, the bottom bracket shell actually shifts forward slightly, Lapierre says that it moves about 5mm, to increase the distance between the rear axle and itself. There have been a number of floating BB bikes available in the past, yet all of them have worked in the opposite manner in an effort to limit the chain's effect on the suspension - so, the question that you're likely asking yourself is why would Lapierre design a system that increases chain tension, even if it is ever so slightly, as the bike goes into its travel? This is an interesting question given the common train of thought that says you generally want your suspension to be independent of chain torque, especially if that action may look like it keeps the suspension from doing its job.
The answer, according to Lapierre, is that you want just the right amount of chain torque to help the bike pedal well. Too much and the suspension won't be able to properly absorb the bumps, too little and you'll find that it will pedal like a slug. In fact, many well known designs have a certain amount of chain growth designed into them for this exact purpose. The Lapierre DH bike has been engineered with World Cup racing in mind, a place where ultimate suspension performance can't be sacrificed for pedaling behavior, or vise versa. A tall order indeed...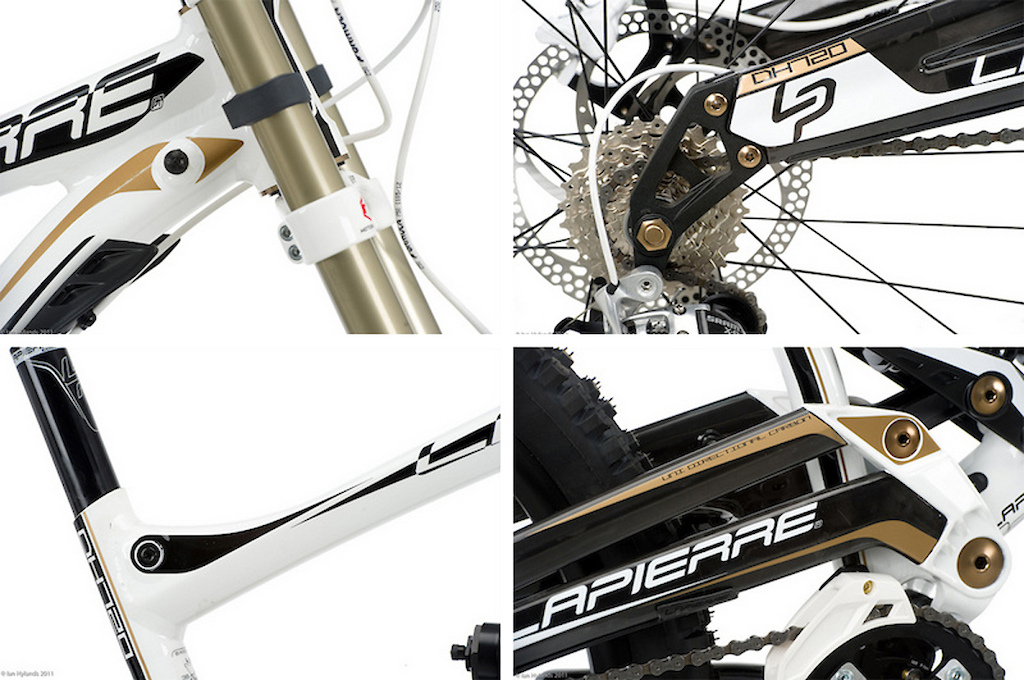 The DH-720 uses the same frame as the Team model and Lapierre has incorporated a number of interesting details. clockwise from top left: Fork bumpers are integrated into the frame to ensure that they are always in the correct position in the event of a crash, and a small fender is bolted to the underside of the down tube to help keep the spray off the pilot's goggles. Replaceable dropouts bolt to the bike's carbon swingarm, and it is nice to see that the bike comes with a proper aluminum axle out back. The long center section of the swingarm is constructed from unidirectional carbon and lacks the cosmetic weave finish that would only add weight. The seat binder bolt is integrated directly into the frame, something that has been seen on BMX and road bikes for many years, and makes for a clean look.
Sturdy, not flashy, spec:
The DH-720 is the more affordable of the two complete downhill bikes that they offer, coming off the shelf with a mix of competent components that are designed to last, if not be overly flashy. An adjustable RockShox BoXXer RC fork is fitted up front, mated to a Fox DHX RC2 shock that should go about its job without a fuss. Both units are coil sprung and feature basic compression and rebound adjustments that offer a wide range of tuning on hand.
The drivetrain is a bit of a mix, including parts from SRAM, Shimano, e.13 and FSA in the form of their burly Gravity Moto X DH cranks. Funn looks after the cockpit with their solid looking RSX MKII direct mount stem and Fatboy DH bar, although its 750mm width may not appease those who are used to some of the more current, massively bars that are out there. While the bike's component selection is eclectic, it all looks to be chosen wisely without any unnecessarily expensive items to raise the bike's $5199 USD asking price.
Specifications
Release Date
2011
Price
$5199
Travel
200mm
Rear Shock
Fox DHX RC2 240x76mm
Fork
RockShox BoXXer RC
Headset
Alu S-Integrated Cartridge
Cassette
Shimano HG61 11x28 9speed
Crankarms
FSA Gravity Moto X DH (170mm) w/ 38T ring
Chainguide
e.13
Bottom Bracket
Integrated BB
Rear Derailleur
SRAM X9 mid cage 9speed
Shifter Pods
SRAM X9 9speed
Handlebar
FUNN Fatboy DH 15x750 Black
Stem
FUNN RSX MKII Bolt On
Brakes
Formula RX w/ 203mm rotors
Wheelset
Alex FR32 w/ Lapierre hubs
Tires
Hutchinson Cougar 2.6 Barracuda 2.5 UST
Seat
Syncros FL Black CroMo
Seatpost
Lapierre Light 31.6x250
Tailored handling:
Lapierre has included a built-in head angle adjustment via an internal sleeve that allows a full degree of change, from 64° to 63°, if the conditions demand it. While they certainly are not the first or last to use this type of system, it is nice because it isolates the steering adjustments from other factors, especially changes in suspension dynamics that could take place if the adjustment had been incorporated into the linkage.
---
Putting the power down:
Any downhill bike worth its salt has to not only tame the terrain, but also pedal extremely well. The Lapierre doesn't disappoint when the time comes to put down the power. In fact, I would argue that the French race rig stands head and shoulders above the competition in this regard - the bike simply accelerates bang on, no fuss and no wasted effort. Swapping back and forth between other machines that are themselves known to pedal quite well, doing short sprints on both rough and smooth ground, it was easy to feel that the DH-720 simply had more jump to it than the others. A lot of song and dance is made about how certain bikes corner well (
or don't
), and this is no doubt a huge factor in a bike's performance, but it is easy to forget that a potent pedaling bike can be just as much of an advantage given the right course, especially on those short tracks that make you pay for the smallest of mistakes.
As impressive as the pedaling was, and it was truly stunning, the Lapierre never felt harsh when sprinting over rough ground as you might expect. The rear end seemed to be free to do its thing, track the terrain, and didn't feel the least bit upset about it all. It only took a few minutes aboard the DH-720 to see that there certainly is something to the Pendbox design.
What about that moving BB?
The question that I was asked the most when on the Lapierre is if I could feel the bottom bracket move as the bike went through its travel. The short answer is no, I most certainly could not. The total movement adds up to just 5mm at full travel, an insignificant amount when you include all of the other factors in the picture: tire pressure, suspension movement, flex, not to mention the fact that the bike will be at full travel when the bottom bracket has moved to its most forward position, meaning that you'll be most likely concentrating on the trail ahead and whatever hit just bottomed the bike out. While I never once felt the slight change in bottom bracket position (
and even I'll admit that I can be notoriously sensitive
), another tester swore that he could. At the risk of offending him, I am going to go ahead and say that it must have been a bit of a placebo effect. In other words, if he wasn't aware of the 5mm change, he wouldn't have '"felt" it either.
But isn't it complicated?
Not counting the shock mounting, there are seven pivot points on the Lapierre, each one using sealed bearings, which is certainly more than many other designs out there. Is that a bad thing? Certainly not if the bike can stand up to the abuse without an excess amount of maintenance required. Sure, all bikes need some love and care, but who wants to be rushing about after practice or before a race run to sort out their bike? Thankfully, that won't be an issue with the Lapierre - we never once had to tighten or look after any of the bike's suspension hardware from new.
In the corners:
The DH-720, while gobbling up rough terrain with ease, took a different approach when it came to carving corners. There are some bikes that simply
want
to turn, but the Lapierre takes a bit more effort to get around bends. While we can't say for sure why, we suspect the bike's somewhat tall bar height, combined with the Fox shock's position high in the frame, played a part in this. Did it slow the bike down? Not likely, especially once we became familiar with what it took to get the most out of the DH-720. It isn't a bike that rewards a neutral and relaxed position, but rather it wants you to get over the front and throw your weight around and lean into corners more than you might at first. The rear of the bike doesn't rate too highly in the stiffness category, flexing a noticeable amount in the rough, but seemed happy to follow the front around when using this technique.
You'd be mistaken for thinking that I'm taking the DH-720 to task for its corner working skills, that isn't the case. Just like any other expensive toy, be it a pair of running shoes or an expensive sports car, different downhill bikes will respond differently when pushed to the limit. The Lapierre can get through those corners just as fast as any other top tier race bike, just ask Blenkinsop or Cam Cole, but this isn't a machine that will perform at its best under a timid rider. Jump aboard the DH-720, grab the bike by its horns and throw it around a bit. You'll discover a fun, fast bike that rewards aggressive riding.
Suspension for the people:
The DH-720 is the less expensive option of Lapierre's two complete bikes (
there is a frame only option as well
), and as such it comes with suspension units there are a few steps down from what you'll find had you spent more money. But don't worry too much, they don't hold the bike back in the slightest. Up front is the RockShox BoXXer RC, a coil sprung slider with easy to understand compression and rebound controls. The 8" travel RC uses the same chassis as its lighter and more expensive brothers, but comes fitted with a simpler Motion Control IS damper that lets you dial in both low speed compression and rebound. The RC fork came to life after a short break-in period that saw it go from out-of-the-box to slippery smooth within a few rides. While this may be RockShox's 'budget' BoXXer, it didn't flinch when it was time to get rowdy on the Lapierre and didn't have any issues keeping up to the terrain. The adjustments, particularly the low speed compression, are so effective that care has to be taken to not go overboard on the settings. Make your damping changes one click at a time and you'll arrive at a setting that is sure to work well for you.
The Fox DHX RC2 shock felt well matched to the Lapierre's rear end, which tracked rough ground in a controlled manner. Although the rear of the bike occasionally felt as if it wanted to snag on large holes more than I would have expected, a trait that no amount of shock tuning seemed to remedy, it was wonderful at simply going about its job. Because the bike pedals so well, not requiring any band-aid shock tuning, the rear end could be left as active as possible to deal with the roots, rocks and chatter. The bike was supple enough on top as to surely help traction when conditions were lose and marbly, but stiffened up gradually enough throughout its stroke to prevent a harsh bottom.
The Lapierre's suspension, while looking complicated, uses dampers that certainly don't require a Ph.D in tuning to get the most out of it, a plus for those who are more interested in going fast than talking compression and rebound settings in the lift lineup.
What about those parts?
• The SRAM shifter and rear derailleur, once again, moved the chain through the gears absolutely flawlessly. The bike's X9 running gear may be two steps down from their premier group, but you won't know it by how it performs.
• The Hutchinson Cougar and Barracuda tires were a near unknown to me prior to riding the DH-720, but I was never let down. No flats, no tears and awesome traction all around. As is always the tradeoff, they were showing more wear than I would have expected after just a few weeks of solid riding.
• The Formula RX brakes have power to spare and were silent during my time on the bike, but the feel at the lever was a bit indefinite for my liking. The bite point was firm, but more modulation would be appreciated.
• The Fox DHX RC2 damper certainly isn't going to get people too excited, which is too bad given its excellent and consistent feel. Yes, it is short a few dials compared to the RC4. No, you likely won't be missing them. Sort out your spring rate, the sole rebound and compression dials and get on with it.
• The DH-720 sits differently than the current crop of 'lower is better' thinkers. The Funn bars (
which have a very comfortable bend and sweep to them
) sit relatively high, and are attached to the bike via a sturdy looking Funn RSX MKII bolt-on stem, both of which put the controls a bit taller than I have come to expect. The tall position is ideal if you are a taller rider or spend your saddle time on steep tracks, but I can see others wanting the grips a bit lower.
Pinkbike's take:
| | |
| --- | --- |
| | While some bikes can be ridden in a neutral manner, allowing anyone to feel at home quickly, the Lapierre is a different animal. The 8" travel bike can no doubt be ridden well by most anyone, but it will do best under a pilot who is willing to hang it out a bit, spray some dirt and not be afraid to show the bike where to go. Pedaling is the bike's specialty, and it does it with an eagerness that we've never seen from a downhill bike, let alone something with an inch or two less travel - mind blowing, really. The DH-720 is an ideal choice if you race on tracks that feature a solid amount of pedaling, although any assertive rider will have a blast aboard the Lapierre. - Mike Levy |
---
Have you ridden Lapierre's downhill bike? Share your thoughts on the French flier below!
Visit the
Lapierre website
to see their entire lineup.