A New Horsethief

Salsa's original Horsethief debuted as a 120mm travel bike that employed a relatively simple flex-pivot at the rear axle, and while the design certainly didn't have the panache of some of the more marketing friendly layouts available, it did have a solid following of riders who were fans of the trouble-free bike. Evolution moves along quickly when it comes to suspension design, though, and it wasn't long before Pete Koski, Product Design Engineer at the Minnesota brand, knew that he wanted more performance from the bike. Salsa reached out to esteemed suspension mastermind, Dave Weagle, about two years ago and the early plans were hatched for an evolved Horsethief that would make use of Weagle's Split Pivot suspension without losing the handling and dependability of its predecessor.

• New design for 2014
• Wheel size: 29''
• Rear wheel travel: 120mm
• Split Pivot rear suspension
• Aluminum frame
• ISCG-05 chain guide tabs
• BB92 bottom bracket
• 12 x 142mm axle
• External or internal dropper post routing
• Three models: $5,700, $4,600, $3,300 USD
• Frame only MSRP: $1,699USD
| | |
| --- | --- |
| | I really enjoy being able to work with them to help them to see their vision for a new bike come to life, and with Salsa, using Split Pivot was a big part of that. I think that as long as the unique personalities behind each brand continue to drive them, then the bikes will continue to be really different from others in the marketplace. No one bike can be everything to everybody, just like everyone has their personal favourite flavour of ice cream, choice is a good thing! - Dave Weagle |
Split Pivot Salsa
The obvious question is why Salsa chose Weagle's Split Pivot system over his highly regarded dw-link. While there are likely a few reasons for the decision, the main point boils down to the absolute exacting tolerances required by the dw-link design to have it function as intended - Weagle told us that having a pivot location only slightly out of place (we're talking millimeters) can have an adverse effect on its performance. This is less of an issue when producing carbon frames that are created using an expensive mold, thereby ensuring relative perfection for every one manufactured, but much more of a challenge when welding up a completely new frame design. Koski also told us that the bike's single pivot/Split Pivot layout ticked all the boxes in regards to what they were aiming to achieve with the new bike, while also allowing the new Horsethief's lines to follow the original bike's shape, with a rather traditional silhouette that can accept a large-sized water bottle.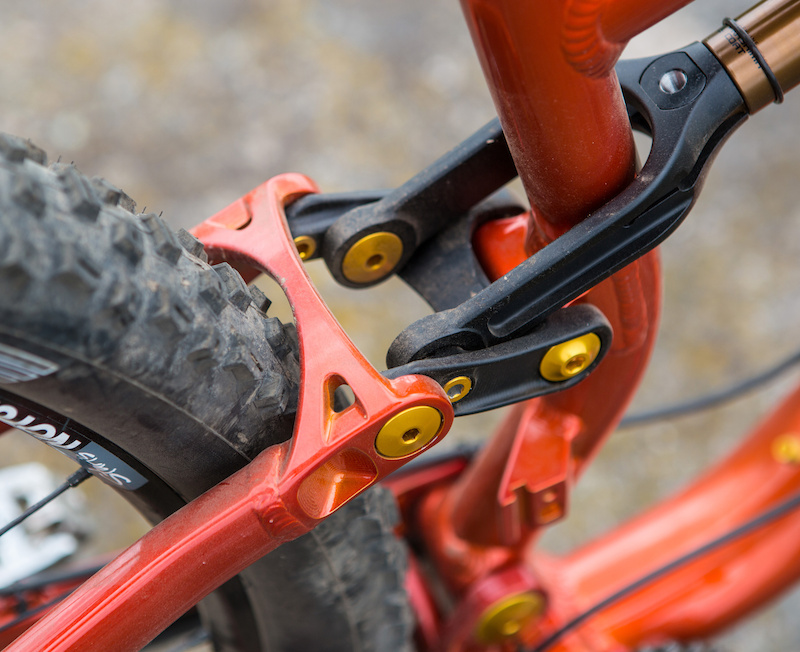 The Split Pivot moniker refers to the bike's rear dropout pivot that rotates concentrically around the axle, with the brake caliper mounted close to the pivot in order to limit its effect on the suspension when the rider is on the binders. Weagle also says that the layout allows him to separate different performance elements during the design process, with the active nature letting him place the bike's main pivot in a location that makes the most sense for acceleration and efficiency purposes, an important note on a 120mm travel bike that has been designed to take riders out on all-day escapades that are true to Salsa's ''Adventure by bike'' motto.

One of the main design goals that Weagle and Koski kept in mind during the revised Horsethief's development was the desire to improve square edge suspension performance, a vital component to creating a bike that not only descends well but that can also maintain traction on tricky climbs, while also not sacrificing cornering performance with a rear end that wants to gobble its travel when compressed mid-corner. That last point is important in order to preserve a bike's handling, with unwanted suspension compression both slacking out a bike's steering angle and also bringing the pedals dangerously close to the ground. The Horsethief's
FOX shock features less low-speed compression damping that what you'd find on other designs, but this is coupled with a higher leverage ratio in the early stages of the bike's travel that helps to hold it up in its stroke. While the original Horsethief did make use of a small link that added rigidity, the new model uses a much more robust looking linkage arrangement that makes for a sturdier looking rear end. The split shock yoke that encircles the bike's seat tube accepts a standard FOX shock eyelet, with no special fitment required.
Riding the Horsethief
We've been fans of Weagle's previous Split Pivot creations that we've spent time on in the past, with their peppy nature and active braking offering a fun level that makes them a joy to attack trails aboard. It is for this reason that we weren't surprised by the Horsethief's energetic personality. While bikes with less travel than the Horsethief are often satisfactorily efficient simply because of their firm suspension, the 120mm travel bracket can see some real variances in this aspect of performance, with some bikes requiring ample use of their shock's pedal assist feature if the rider is looking to really attack. The new Horsethief doesn't fall into that category, though, with us never feeling the need to flip the bike's FOX CTD shock out of its comparatively supple 'Descend' mode.
We spent time on the bike while covering some natural, rocky terrain, as well as on Spirit Mountain's berm-filled Candyland trail, with the bike offering a great sense of its capabilities at both locations. It obviously excelled and felt more at home while on Duluth's cross-country loops, but we were surprised at how easily it carved the tight bermed corners at Spirit Mountain, feeling very unlike some other big-wheelers that we've thrown around on the jump lines.
While we were impressed with how the 120mm travel Salsa pedalled, it was the bike's lack of required setup time that really had us smiling. Sampling different machines on a never ending basis means that we can be ultra-sensitive when it comes to suspension setup, and this can often leave us tinkering non-stop during a ride while we look for that ever elusive "ideal feel" from the bike. The Horsethief asked nothing in this regard, with our setup time beginning and ending with quick sag and rebound adjustments that we ended up being happy with, save a small on-trail air pressure tweak - the fact that we felt so comfortable so quickly on the Horsethief speaks volumes for its adeptness in our minds. And even though we admit to enjoying tuning an unfamiliar bike into a package that feels like home, a machine that the average consumer can jump aboard and benefit from without having to do just that is worth its weight in gold.