Murray Washburn started out racing BMX when he was five. He went to college in Colorado, where they issue you a mountain bike when you hit the state line, at the time when mountain biking was in its infancy. He worked as a shop guy in Colorado for many years, in sales and service, working with racers and wrenching for racers. In 1997 he started working for Cannondale and has held a number of roles since then, including sales representative, race mechanic and product manager technical representative. Today he is the Global Director of Product Marketing, which is the link between Cannondale's Engineering dept and the outside world. He describes himself as a "supremely unqualified engineer, but someone who loves knowing how stuff works."

What is a fork-offset?
When you're talking about geometry and handling, there are three things that are interrelated.
First there's head-angle, which is the angle of the head tube. If you a draw line right through the head
tube and steerer tube and take that all the way down to the ground, that's your head angle. Then there's
fork rake, which is the amount the front axle sits off that centre line.For mountain bikes, it can also be
referred to as fork offset. It's been hovering around 45-50mm of offset.you can gain fork rake either through
angling the stanchion tubes at the crown, or offsetting the dropouts, but the net result is the same Rake
and offset together create a measurement which is called trail. This is a measurement where you take
that head angle line extended to the ground and then you find where the axle is and you draw a line
vertically down to the line. The difference between where the first line and the second line intersect the
ground is called trail.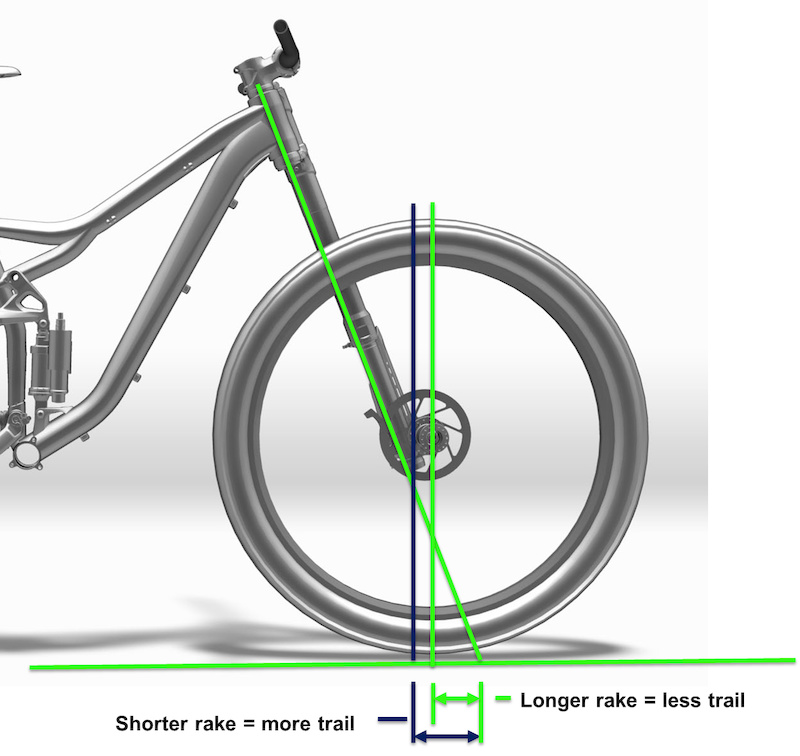 Why should people care about this?
There is no easy way to think about rake and trail, because if you go too far one way, or too far
the other, the affect flip-flops. From a mountain biking standpoint, the easiest way to think about
is that head-angle controls and affects high-speed and low-speed stability. Meaning, the more you
rake it out, the more floppy to one side the bike gets at low-speeds, the more of a handful it is on the
climbs. But,when you're travelling at high speeds, it not only aligns your suspension with the oncoming
impacts, but gives it a really planted, solid feel that makes it hard to maneuver it off line. When people talk
about slack head-angles, they generally refer to it in relation to 45 to 50mm fork offsets. If you think
about what the demands are for all-mountain riding, you want a bike that's really stable at speed,
but you also want it to be maneuverable when it gets slow. You look at enduro riding, where they've
got massive high-speed sections, but they've also got tight hairpin sections, quick little uphills,
you've got all these different things. The idea would be that you've got a bike that has really nimble
handling at low speeds, but is rock-solid at high speeds. We've been playing around with different
head-angles and different fork offsets to achieve that.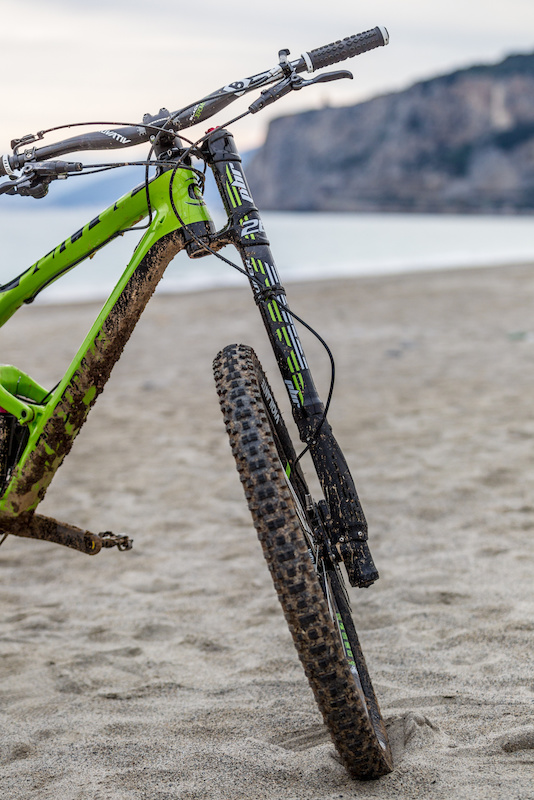 How do you apply this to your bikes than?
The most obvious example is the Trigger 29. We took what is normally 45 to 50mm of offset, and we push it out to 60mm of offset. If you look at the SuperMax axle, you can see that there is a big offset of the dropout there. What that does is allows us to kick the head angle back to a relatively slack, 69 degrees, which if you kept that with a 45-50mmmm rake on a 29er, you would have the most sluggish handling bike in the world. It would be great at high speed, but the second it slowed down it would just be a pig. By kicking the head-angle out and kicking the fork rake out, it does the counter-intuitive thing of reducing the trail.

If this is so vital, why isn't this something we hear more about?
Most bike manufacturers design around industry standards and creating change within that world is slow and difficult. Suspension manufacturers build forks that are consistent to each other based upon OEM stuff and, like everything in mountain bikes, people accept things as standards and rarely think about them in a different way. Cannondale is a frame and suspension company first and foremost and we have the unique ability to change angles where we see performance improvements.

Doesn't a slack head-angle just mean poor low-speed handling?
If the head-angle was the only factor, the answer would be yes. Thankfully though, this stereotype
is just that. Handling is one of the things that, up until now, has been holding back longer travel 29'ers. 
At low speed, there is a natural tendency for the big wheels to be sluggish. Frame designers have been
using steeper head angles to help, but it was at the expense of high-speed stability. That is not a lot
of fun for a bike that naturally wants to go fast. By adjusting both head angle and trail, you can get a
bike that handles just as incredibly well at high speed as it does at low speed.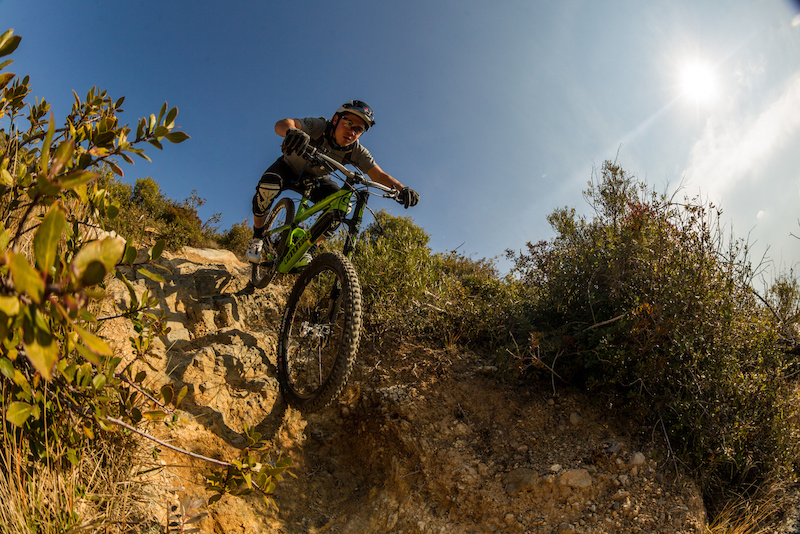 Ben Cruz aboard a Cannondale Jekyll with a prototype SuperMax.

Why don't you just eliminate the trail then to make slack bikes that handle incredibly quickly?
You need trail to offer some stability to the bike. Without it, the front wheel would behave like the wheels on a shopping cart. It is the balance of these subtle ingredients that separates great handling bikes from the rest.
Cannondale