Along with airing up your tires, applying chain lube is probably one of the most commonly performed bike maintenance tasks. The sound of a dry, squeaky chain will drive even the most neglectful bike owner a little crazy after listening to it for an entire ride. But besides keeping your bike quiet, what exactly is the point of lubing a chain? To find out more about this basic, yet often-overlooked topic, we contacted DumondeTech, a manufacturer of lubricants for bicycle and motorsport usage.

Let's start with the basics. What is the purpose of lubing a chain?
Chain lube has three main purposes: reducing wear, reducing friction and providing
protection from corrosion. The ideal lubricant provides a low friction coating, prevents
metal to metal contact and protects the chain from the environment.

What are the main ingredients in chain lube?
Bicycle chain lubes are made from many different lubricants. Here is a list of some of the
possible ingredients: petroleum oils, synthetic oils, plant oils, paraffin wax, PTFE (Teflon)
and/or polymers.

How often should you lube a chain?
This depends on the kind of riding, the weather and what lube you are using. Many companies
suggest re-applying based on chain appearance, riding conditions, distance ridden, time
since last application and/or after the chain has been cleaned.Here at Dumonde Tech,
we recommend using the sound of the chain. Sound is always a good indicator of whether
a chain lube is doing its job. A clean, quiet chain, which shifts smoothly, is well lubricated.
We recommend re-applying when you begin to hear your chain.

What's the best way to clean a chain?
Using an ultrasonic cleaning tank is probably the most thorough method for cleaning
a chain. Unfortunately, most people don't have access to an ultrasonic tank. Some
lube companies suggest applying their lube generously and wiping off the chain.
Others recommend using a cleaner or degreaser before reapplication; this can be
messy. At Dumonde Tech we do not recommend deep cleaning your chain between
applications. We simply suggest cleaning with water, mild soap and, if necessary, a brush.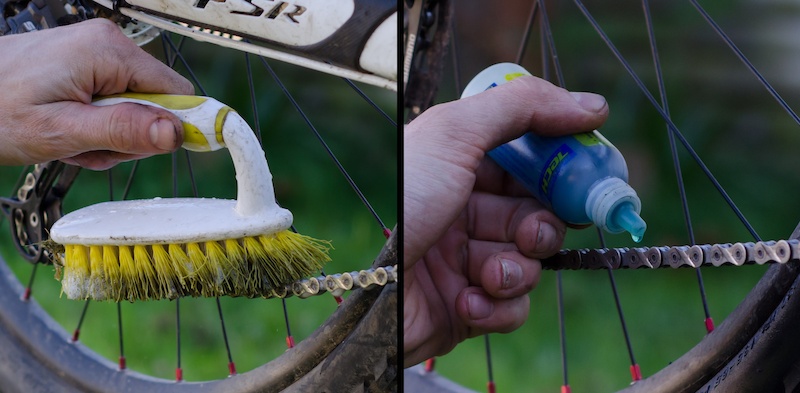 A little time with a brush and some soapy water will leave your chain clean and ready to apply lube. One drop per link is typically all that is necessary.

What happens if you apply chain lube to a chain that hasn't been cleaned?
The new application of lube will carry dirt into the pins and rollers, the bearing surfaces
of your chain, where this mix of chain lube and dirt creates an abrasive slurry. If you
ride with this abrasive slurry it will increase friction and accelerate the wear of your
chain, cogs and rings.

The terms "wet" and "dry" are often used when referring to chain lube. What's the difference? Is one better than another?
It's not that one is necessarily better, just that each works best when used in the correct
conditions."Wet" chain lubes are recommended for wet riding conditions. They are generally
made from oils and are not easily washed off by water. They attract significantly more
dirt and grime than "dry" lubes, requiring a thorough cleaning between applications.

"Dry" chain lubes are recommended for dry riding conditions. They are commonly
made by mixing a dry lubricant with a carrier solvent. For "dry" lubes to work properly,
their makers recommend applying them generously and letting the carrier evaporate
for 2 hours or more before riding. This leaves a "dry" film to lubricate the chain.
When used correctly "dry" lubes attract little dirt. The trade off is loss of durability,
especially in wet conditions. "Dry" lubes often wash off in a light rain or a single
stream crossing.

Polymer based lubricants are different; they offer excellent performance in both "wet"
and "dry" conditions. Our polymer based technology applies like a lightweight oil.
When you ride, the pressure and motion of pedaling causes the polymer to transform
from a liquid into a hard dry plastic plating. The resultant plating is a dry lubricant.
Plating means it is bonded to the pins and rollers of the chain and can't be washed
out with water. At the same time, it is a dry lubricant so it does not attract and hold dirt.

There are a number of companies, Dumonde Tech included, that offer "eco-friendly" chain lubes. What makes a lubricant "eco-friendly"?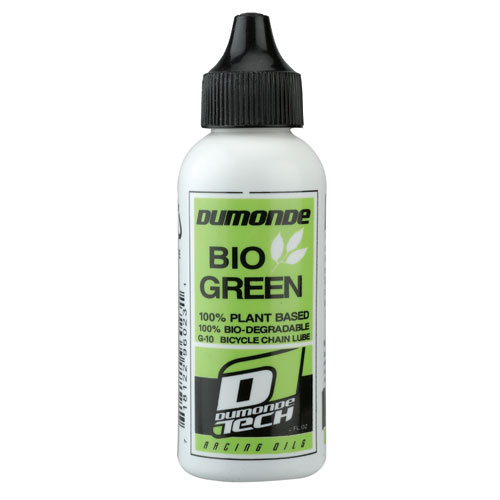 This is a challenging question. There are little if any standards with regards to this subject. Which frankly leave us all to ponder, what makes anything "eco-friendly"? Here at Dumonde Tech we believe that all of our products are "eco-friendly." We base this on the following: Our products are designed to be used very sparingly, less fluid per application, and they offer superior protection to the parts being lubricated.

All of these result in consumers using less of our products while at the same time helping the parts that are being lubricated last longer. We believe this is the essence of "eco-friendly." That being said, many lube companies make plant based and/or bio-degradable chain lubes, Dumonde Tech included. We have a 100% plant based, 100% bio-degradable chain lube, which provides a clean and durable lubricant.

Most new chains come with a factory lubricant on them. What's the best technique here? Should this be removed and replaced with something different?
Chain manufacturers do not recommend stripping their factory lubricant. Their lubricant
is incorporated into the chain during the manufacturing process and as a result they
know it has penetrated the pins and rollers assuring proper performance. If the chain
is completely stripped of this lubricant, there is then the question of whether or not the
replacement lube will penetrate the pins and rollers completely. This is quite reasonable
as some replacement lubes penetrate better than others.
www.dumondetech.com