Giro Jacket Shoes
Giro's answer to the super-popular Five Ten flat-sole dirt jumping and DH shoe is called the 'Jacket,' and it is built on a sticky Vibram sole with two different tread patterns - on forward and one aft - that reportedly form a better grip on flat pedals. While the Jacket is styled as a casual skate shoe, its materials and construction are much more durable, with double stitching throughout the uppers and a much stiffer sole design. Giro's nod to a better fit is its removable 'Ageis' insole that features a 'Poron' cushioned heel for softer landing when you have an 'eject-button moment.' For those who use orthotics, this means that there is ample room inside for your custom inserts. Giro offers the Jacket in half sizes from
European 39 to 48
and states that the weight of a solo size 42
(8, US)
is 416 grams - a claim that closely matched our size 43 pair, which weighed 820 grams. Colorways are gray/green, black/white and white/gray. MSRP is $120 USD.
Giro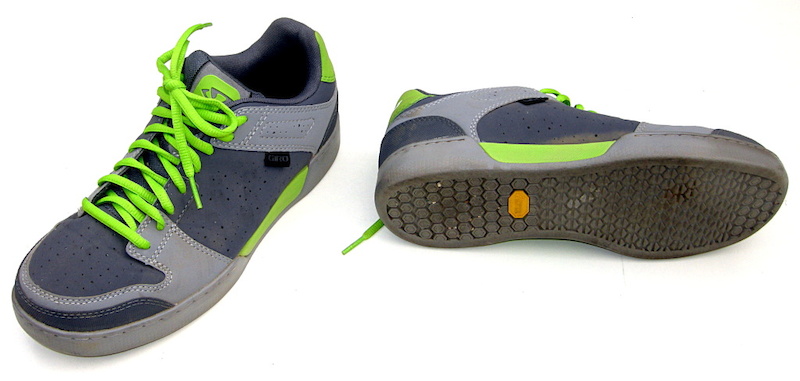 Giro's Jacket DH/jumping shoes are styled to look casual, but their construction and feel is all business.
Pinkbike's take:
I ride flat pedals on occasion, and Giro's Jacket feels like a racing flat should - with just enough flex in the soles to wrap around the pedals when descending steep chutes, yet stiff enough that pedaling the cranks in circles doesn't feel foolishly squishy. Vibram delivers a sole that feels remarkably sticky and, like Five Ten's Stealth Rubber soles, sometimes I needed to lift and re-center a foot when I placed it at a bad angle on the pedals. The molded insole is a performance plus, as it helps to form a snug heel cup for pedaling. Slim, but effective padding under the tongue and around the ankle makes for just-right comfort. Inside the shoe are elastic bands, similar to Ghetto-style faux sport shoes that are designed to be worn unlaced, and while I am sure that Giro placed them there for a reason, they can be felt rubbing inside the Jacket's otherwise ultra-comfortable inners. Those with feet that fall between popular sizes should know that Giro's sizing is a bit small. I normally ride 42.5 shoes and the Giro 43 was a good fit for me. If the Day-Glow green and gray is a bit much for you, don't let that be a deal breaker. Giro's other two colorways are more in keeping with traditional DH footwear. Tough enough to bang around the boulders on a DH sled and stylish enough to session with the size-six double stretch jeans crowd, the Jacket should become a popular flat-pedal shoe. The asking price is right up there with the dominant DH shoe, but so is the construction and performance. Giro is definitely swinging for the fence. The only thing missing is a mid-ankle Jacket.

- RC
---
Kenda Honey Badger Pro 27.5 Tire
By far, the number one question among those who either own or plan to buy a 650B bike is, 'will I be able to find an adequate selection of tires?' Kenda's Honey Badger Pro joins its iconic Nevegal in its 650B range. The new tire is built over a fast-rolling, high-volume casing that shares the angled crown-block concept of the Nevegal. but with a more widely-spaced tread pattern. Mounted to an American Classic AM rim
(24mm ID)
, the 2.2-inch Honey Badger measures 2.37 inches at the edging blocks. Compare that to the 2.35-inch Nevegal
(also in 650B)
, which measures exactly 2.35 inches, and the Badger's higher-volume casing becomes evident. Honey Badger Pros are sold in 29, and 26-inch versions as well and all in the same 2.2-inch, 120 TPI
(thread-per-inch)
casing and with a folding bead. Kenda adds life to the sparse tread blocks with a dual-density rubber compound, and while Kenda does not condone it on the tire's hot-patch, Honey Badgers will handily mount up tubeless a long as sealant is used to keep the air on the right side of the casings. Our 27.5-inch Badgers weighed 760 grams each and the MSRP is $59.95 USD.
Kenda Bicycle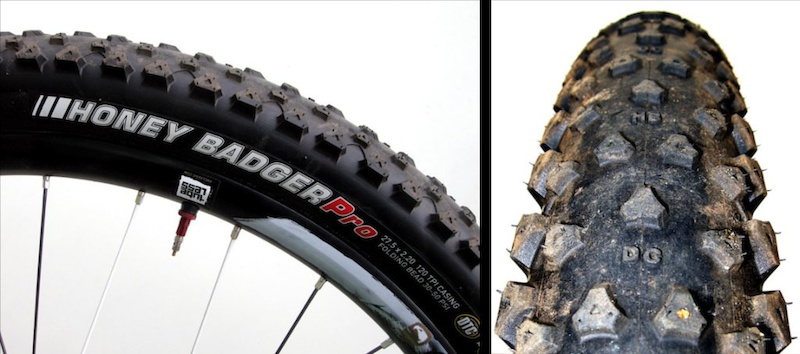 Widely spaced tread blocks on a flexible casing is a proven recipe for a fast-rolling tire that can find grip on almost any surface. Kenda's Honey Badger does exactly that.
Pinkbike's take:
| | |
| --- | --- |
| | Kenda's Honey Badger tires feels supple at pressures that would turn its Nevegal cousin into a rock-hard wheel of pain, but it seems to perform best around 30psi. At this pressure, the supple casing will absorb and roll over edgy rock and root hits without self destruction in the form of a bruised side-wall. Climbing or braking traction is abundant in straight-line situations and the breakaway point when rolling hard into a turn is smooth and predictable. The Badger's reinforced edging blocks will carve a sharp line, but you'll need to lean the bike over a bit more to reach them compared to a Nevegal or a Minion in the same turn. Once you've found the sweet spot of its edging blocks, the Honey Badger becomes a predictable tire at speed. The suppleness of the Badger is its best and worst trait. It can find traction around corners and on steeps when the surface is gravelly and uneven - which makes it a superior trail tire, because it is trustworthy in almost every situation you'd come across in natural terrain. Without the stiff, unyielding casing and pronounced edging blocks of a Minion or Nevegal type design, however, the Badger gives up some high-speed cornering grip on prepared surfaces like berms and buffed out DH turns. Where it kills all but a few competitors, however, is its fast roll in rowdy dirt, a gear higher in every situation than the aforementioned greats, and the tires that do compare are similar designs, like Schwalbe Rocket Rons and the Specialized Purgatory. Durability should be good in spite of the minimal tread rubber. I have had no flats or cuts (yet) and after skidding down the boulders of the Southern California Batholith region two or three times a week, the blocks are looking pretty strong. Those interested in 650B should put Kenda's Honey Badgers on their short list of trail tires.- RC |
---
Madison Flux 88 Baggies
I was attending a new Michelin tire release in Morzine, France, and was gifted a pair of Madison Flux 88 shorts. The long, 24-inch inseam and loose cut seemed to be more of a DH design, so I didn't take them out on longer trail rides until later. Turns out, Madison's shorts are quite comfortable. Flux 88 shorts are sewn with a number of odd-angled panels that give the garment a good fit without any one place bunching up. The material used is a lightweight, two-way stretch fabric. The fabric breathes well and a pair of zip-open vents in the legs keep the air flowing should you be wearing knee pads - which fit quite well under the legs. A pair of elastic tension straps fixed by hook-and-loop panels keep the shorts riding up and a removable padded liner is included. Two industrial-sized snaps at the waistband ensure that the Flux 88s stay put, and comfortable mesh lines all the pockets and sensitive areas inside the short. Flux 88 shorts are available in regular or 3/4 lengths and in small, medium, large, X-large and XX-large sizes. MSRP is £59.99 in the UK and $74.99 USD on the other side of the Atlantic.
Madison UK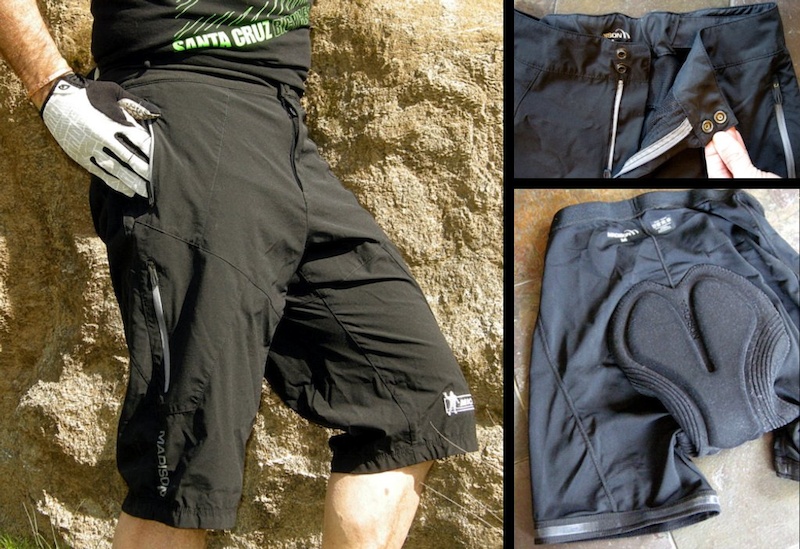 Multiple panels and lightweight stretch material ensure Madison's Flux 88 short fits well on and off the bike. Massive snaps are a welcome sight for anyone who has dealt with the wimpy ones that adorn most shorts. Madison's padded liner is adequate and not uncomfortable, but there are better choices out there.
Pinkbike's take:
Madison's Flux 88 short is priced competitively, especially considering the complexity of its design and its excellent performance. So many baggies swish-swish-swish along as the material flaps against bike and body for hours in the saddle, but not so with the 88s. Trail rides are quiet and the stretchy fabric returns to the right place after transitioning from a steep descent back to an XC pedaling position. The side pockets are not trustworthy because they use vertical zippers, but they are deep enough to house a smart phone and then pedal unhindered. Zipper pulls at all locations are handy in the cold and with gloved fingers. A great liner is never sensed while it is being worn. To its credit, the Flux 88's liner has grippers on the leg seams - a major plus - and a modern molded moisture-wicking pad design, but it takes a while for the liner to 'find' its proper place around the nether parts. Once the handshake is over, though, the two shorts become one and the ride becomes comfortable. The possible downside of Madison's Flux 8 short is that, while it is actually well suited to DH and Freeride use, it does not seem to be made from strong enough material to survive a yard-sale magnitude crash. To its credit, my Flux 88s have survived three seasons without a rip and they are billed for trail use - but such a versatile short is hard to find, so I yield to the temptation and use them for everything.

- RC
---
---