Shimano XTR Trail Disc Brake
Shimano's decision to produce a stronger-stopping XTR-level brake for trail riders was long in coming. The Trail version has a comfortable shorty lever with servo-wave action that moves the caliper piston faster and then clamps it harder. Separate engagement and reach adjustments are standard and the mineral-oil-pumping master cylinder is redesigned to be in-line for a better hose routing. The one-piece forged XTR caliper is post-mount only and features top-loading semi-metallic pads with aluminum backing plates and finned aluminum radiator appendages to assist in cooling. A ceramic piston insulates the mineral-oil in the system from the brake-pad barbecue fest outside. The cooling treatment is called ICE technology and it extends to the novel rotors - two thin stainless steel plates with a heat-dissipating aluminum filler sandwiched in between. The rotors are sold in all diameters from 140 to 203 millimeters and feature an aluminum spider that can be had with either a Centerlock or a six-bolt interface. XTR Trail brakes weigh 369 grams per side, depending on hose length, with 160-millimeter Centerlock rotors. Expect to pay $370 USD per side.
Shimano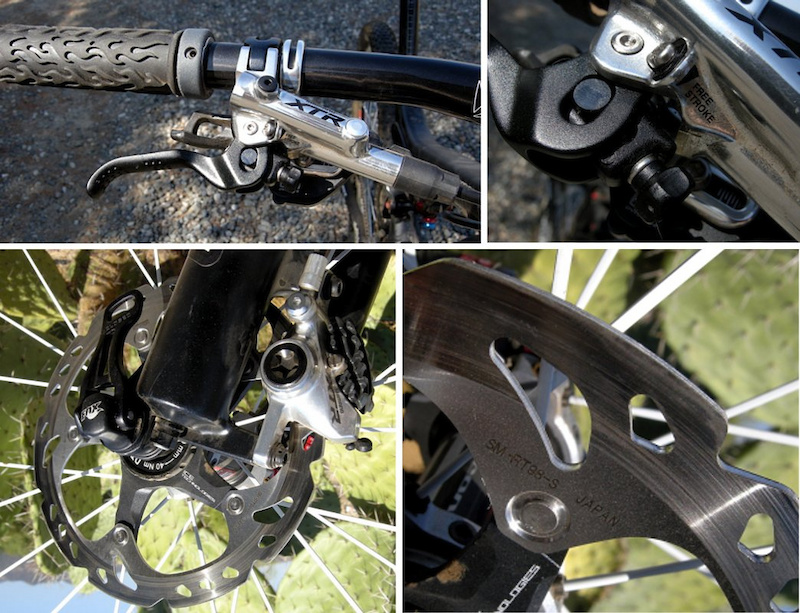 Clockwise: Shimano's shorty lever stops hard with single finger thanks to the compounding force generated by its Servo-Wave mech . The tool free dial adjusts lever reach, while the tiny screw above is used to set the engagement point. A closer look at the ICE rotor reveals the aluminum core between stainless steel braking surfaces. With a claimed 125-percent increase in stopping power and better cooling, six-inch rotors can now do the work of seven-inch discs.
Pinkbike's Take:
| | |
| --- | --- |
| | Good news for Shimano lovers is that XTR Trail brakes live up to its claim of 125-percent more stopping power compared to its 2010 disc stoppers. Better still, is that all the crazy ICE treatments which are intended to reduce (hopefully eliminate) heat fade on extended downhills, also live up to Shimano's claims. What this means is that the Servo-Wave levers feel comfortable and stop the bike dead in its tracks with one-finger and that one can continue braking hard at will for miles without affecting the feel or stopping performance of the new XTR system. The tool-free lever-reach adjustment can be done with gloved hands on the fly and we never needed to use the engagement function because the Servo-Wave mechanism gets the pads to the rotor so quickly that the brakes seem to feel right anywhere the lever blade is set to rest. Those afraid of powerful brakes should rest easy, as XTR Trail brakes come on smoothly and modulate well without the surprise front wheel push that ham-handed brakers fear. If there is a downside to Shimano's star stoppers, it is that they still drag now and then - just a tiny bit - but considering all the technology stuffed into the latest and best XTR brakes, ya gotta wonder. That said; this is the XTR we've been waiting for - great brakes for real trail riders. - RC |
---
Morningstar Rim 'Rench
Pinkbike riders bend rims - that's a fact, so we are happy to show you the Morningstar Rim 'Rench. Laser-cut from aluminum and profiled to catch the rim bead, Rim 'Rench easily works out bends in the rim flanges. It can't lift crushed flanges, however, because the tool works the rim from the inside out. Rim 'Rench costs $16.00 usd and can be purchased at
Morningstar Tools on line
.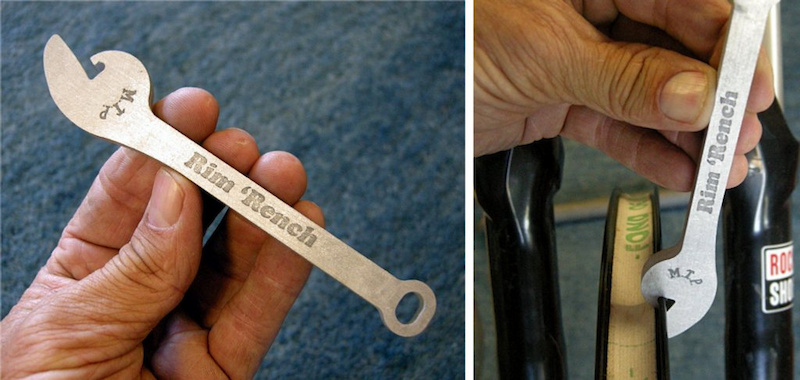 Rim 'Rench in action: The tool's curved working edge and bead hook function well.
Pinkbike's Take:
| | |
| --- | --- |
| | Rim 'Rench works out minor bends in the rim flange so easily and quickly that it made me want to grab a hammer and bang up some old wheels just to play with the tool some more. Serious rim straighteners should invest in a soft hammer to work the areas where the rim flange is bent outwards, and then use Rim 'Rench to work damaged flanges from the inside out. Sure, you could yank on your wheels with a crescent wrench, but you won't get the sweet results and minimal scratching that Rim 'Rench users enjoy. - RC |
---
American Classic All Mountain 29 Tubeless Wheelset
American Classic is best known for its lightweight road and cross-country wheels, so we were surprised that designer Bill Shook could hit a home run in the all-mountain ballpark with his first swing. American Classic's AM 29er wheels are built on a full-width 28-millimeter ID rim that is 23-millimeters deep. That is wide for the 29er set, but American Classic says (and rightly so) that wider is stiffer and rims are lighter than rubber. A 29er rider who needs a larger volume tire can benefit directly by fitting a slightly wider tire on a wider rim to achieve the lightest possible wheel - instead of throwing the biggest tire he or she can find on a skinny XC-width rim.
American Classic has developed its own rim-sealing tape system. The AM 29 Tubeless wheelset comes pre-taped and with valve stems installed for no extra charge.The AM 29 Tubeless wheelset is laced with 32 AC stainless butted spokes, 3-cross on both front and rear. Almost every hub configuration is available: standard QR cross-country, 20-millimeter or QR15 through-axle front, 142/12 through-axle rear, 9 or ten speed, and even 150-millimeter downhill hubs are all available for the same, $850 usd price tag for the wheelset. Two colorways are available: 'Buzzsaw' with white rims and red hubs, or Rawtype, with black rims against white hubs. Our QR15 front and standard-QR rear wheelset weighed so close to American Classic's numbers that we'll just print theirs: Front- 788 grams, Rear- 892 grams, Pair-1680 grams.
American Classic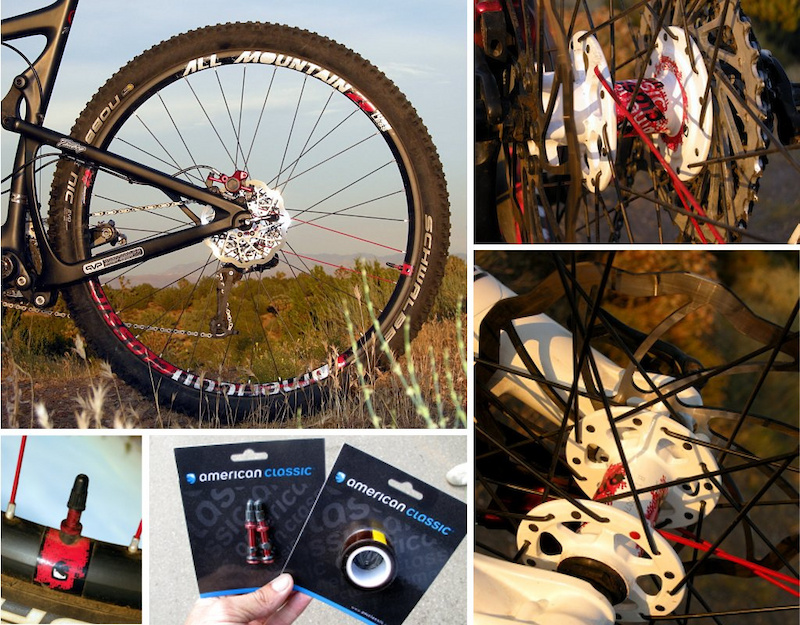 Clockwise from top-left: We tested American Classic's all-mountain 29er wheelset on a Santa Cruz Tallboy. The AM rear hub design uses close-spaced flanges to produce even spoke tension on the non-drive-side of the wheel. The front hub also uses large spoke flanges for extra lateral stiffness. American Classic sells the same tubeless kit it uses in its AM wheelset - $14.00 for the tape and 12.50 for the valve stem kit (two wheels). The AM valve stem has a countoured washer to better fit the rim.
Pinkbike's Take:
| | |
| --- | --- |
| | We put our test wheels under Big-Ring Eddie, a 200-pound monster climber who rides the boulders and moto trails around Southern California's high desert. Having broken a few American Classic wheels in the distant past, Eddie was more than happy to take his aggression out on a new set. Bottom line was that he returned after three months of thrashing with a request for another set for is backup 29er. The All Mountain 29 Tubeless wheelset is still running straight and true. The smooth, full-width tape and American Classic's built-into-the-rim bead lock made it possible to mount tires with a hand pump. The reason Eddie likes them though, is for the lateral stability that the wider rim gives a tubeless tire. The man is sold on wide rims, saying that the improvement in both cornering and straight-line handling was 'dramatic' from the first ride. So, there ya have it. - RC |
---
Fox Racing Shox Kashima Coating
Kashima coating is a patented process which is applied to anodized-aluminum stanchion tubes and shock shafts of selected Fox Racing Shox 'Factory' suspension products. The super-slick coating makes a new fork feel like it has been run in and re-lubricated like mechanics often do to prep a race fork. The coating is expensive, however, so the question in the back of everyone's mind is: If I maintain and lube my standard Fox suspension, will it perform as well as the Kashima item? To find out, I rode a Kashima fork for five months without any form of servicing. If it ran smoothly after that, I figured that the Kashima coating might be worth the price - which, working from Fox's MSRP list, is close to 90 dollars retail. The test fork was a 32 Float TALAS 140 RLC that retails for $885 usd. One has to imagine that anyone who can lay down that kind of change for front suspension really isn't going to sweat a hundred bucks, but I still wanted to know.
Get the Kashima story from Fox Racing Shox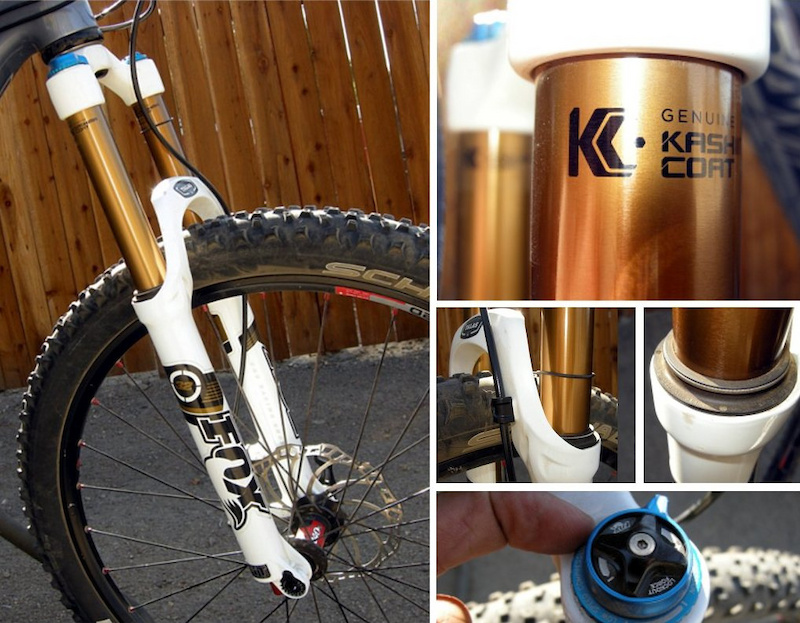 Clockwise from top-left: Our test fork, a TALAS 140 RLC was fitted to a Santa Cruz Blur LTC for five months. The Kashima logo is unmistakable on the Fox fork stanchions. Fork sag remained consistent throughout the test period. We never lubricated the dust seals and yet the fork runs smoothly. Somewhere along the line I backed off the low speed compression three clicks, presumably to compensate for increased friction.
Pinkbike's Take:
| | |
| --- | --- |
| | First of all, there is a noticeable difference in the bump sensitivity of the Kashima fork from the get go, This is evident with sag settings, which required about five psi more to get the fork to settle at an inch and a half, where I like it. On day one, with my pack and a little more breakfast than I need, I used 150 psi in the fork, with three clicks of low-speed compression and eight clicks out from full slow on the rebound. Usually as a fork drys up and gets filled with micro-dust, it begins to ride higher, so most riders unconsciously respond by lowering the spring pressure to return to the proper sag level. Same with rebound settings. I checked my settings and all but the low-speed compression were the same after five months. I must have noticed some harshness, because the low-speed compression ring was backed completely out. Was there any extra stiction in the Kashima fork? Yes, if I let it sit for a week, but it took only two or three cycles to make it feel perfect again. My control was a standard Fox 32 Float 140 RLC which I had used for the same duration in the same conditions as a test mule for products. Although I had serviced the seals and kept it clean, the standard RLC, which I once believed to be a smooth-running fork, felt notchy by comparison. So, is Kashima worth a hundred bucks? Ultimately, you have to decide that, but the value of being able to pull your bike off the wall and have its suspension feel consistent every ride is kind of like having a free race mechanic. - RC |
If you have used any of the products featured in Pinkbike's Product Picks, please share your impressions below.