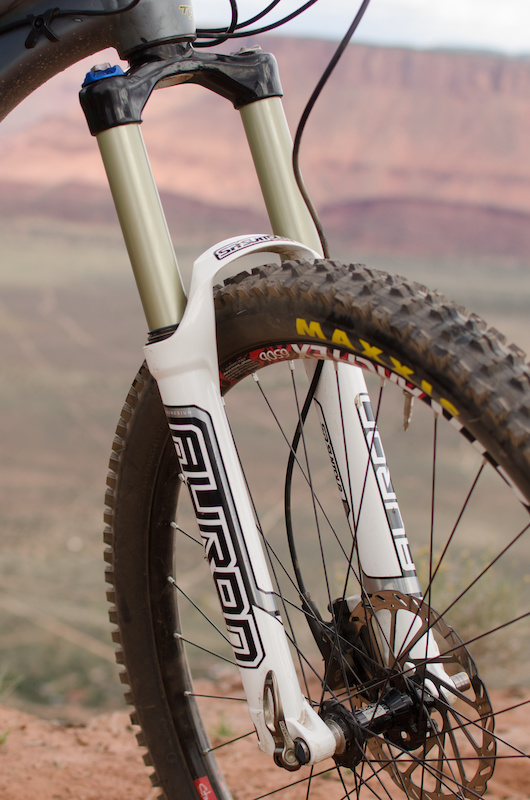 SR Suntour's New All-Mountain Fork
SR Suntour is currently the world's largest suspension fork manufacturer, producing over 11 million forks last year alone. However, despite those massive numbers, the company hasn't had as strong of a presence in the realm of higher end aftermarket forks. They're looking to change that, and the 2014 Auron is their 27.5" wheel-specific entry into the all-mountain fork market. We were able to take the fork for a first ride on Moab's Whole Enchilada trail, a 7000 vertical foot descent full of countless square edged bumps and harsh landings, the perfect location to get acquainted with the Auron.
SR Suntour Auron Specs
• Intended use: all-mountain/enduro
• Wheel size: 27.5"
• Travel: 150 or 160mm (ships in 160mm setting)
• Air sprung, cartridge damping
• Adjustments: high and low speed compression, rebound, air pressure
• 34mm stanchion tubes
• Hollow aluminum crown, magnesium lowers
• Tapered steerer tube only
• 15mm Q LOC 2 thru axle
• Weight (RC2): 1940 grams (claimed)
• Available: early November
• MSRP: $700 USD (RC2)
Details
The Auron's construction falls in line with what would be expected from a fork meant for all-mountain riding. The fork's 34mm stanchions are intended to provide enough stiffness and strength for the hard charger, but without adding too much extra weight. Weight saving is also accomplished through the use of magnesium lowers and a hollow aluminum crown. There will be several different configurations of the Auron available, including the RC2 we rode, a travel adjust version that can externally be lowered to 140mm of travel, and an RC version that has rebound and low speed compression damping adjustments, but forgoes the high speed damping found on the RC2.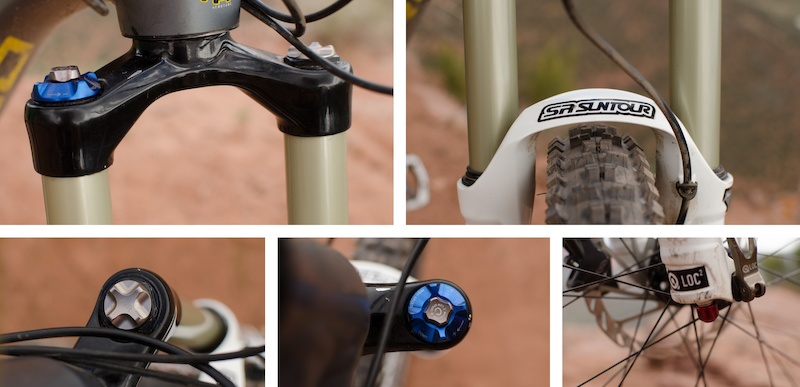 A hollow forged crown and magnesium lowers help keep the Auron's weight down. Air pressure is adjusted on the left of the fork, and high and low speed compression plus rebound damping can be dialed in on the right side.
Adjustments
SR Suntour has been producing cartridge style dampers for the last 12 years, and the new fork draws from these years of accumulated knowledge. The Auron's damper has externally adjustable rebound along with low and high speed compression. Compression settings are controlled with two individual dials found atop the right leg, with a positive click at each position. 14 clicks of high speed and 10 clicks of low speed compression damping ensure that there is a wide range of adjustment. The fork's rebound is adjusted via a knob at the bottom of the right leg. The air spring is in the left leg, and uses an elastomer volume reducer that can be trimmed to change how progressive the fork feels.

Wheel installation and removal with the Q LOC 2 thru axle is quick and hassle-free.
Q LOC 2 Thru Axle
The Auron uses SR Suntour's patented thru axle quick release system called the Q LOC 2. Instead of threading into one side of the drop outs, the axle has a portion that expands once it's through the dropout, and then the quick release lever is closed to secure the wheel. Wheel removal is as simple as opening the QR lever, pushing in and turning the nut on the thru axle, and then sliding the axle out. Reading these words likely takes longer than removing the axles does - it's that fast. Suntour's instructional video makes it a little easier to see how the Q LOC 2 actually works, and can be seen
here
.
Riding SR Suntour's
Auron Fork

The Whole Enchilada trail begins in thick forest and ends in a red rock desert, with 7000 vertical and almost thirty miles of trail in between.
After setting up the Auron's air pressure to our liking (
around 50psi for a 160 pound rider
) along with adjusting the compression and rebound, we headed out to see how it handled Moab's unforgiving desert terrain. The trail provided plenty of opportunities to see how the fork handled long rock gardens full of serrated sandstone outcroppings and not-so smooth landings, terrain features that left the Auron unfazed. The fork absorbed repeated hard impacts in a row without any packing up or loss of performance, allowing us to keep on track without being jarred off line. Larger drops were sucked up without issue - the fork's ramp up at the end of the stroke worked well to prevent any harsh bottom outs. Small bump absorption was adequate, although perhaps not quite as supple as other forks on the market, but we'd need further trail time to definitively make that call. We did notice that the fork is louder when rebounding than what we've come to expect, a noise likely caused by the oil passing through an orifice in the cartridge on the return stroke, although it didn't seem to affect the performance or handling. Besides these small details, the fork performed as hoped, without any odd quirks or mannerisms that would have affected our enjoyment of the ride.
Pinkbike's Take:
| | |
| --- | --- |
| | We have an Auron on the way for a long term test, but our initial impressions are favorable. At no point during the ride did we wish we were on a different fork, which is saying something, since the Auron comes in at a few hundred dollars less than the top tier offerings we're lucky enough to regularly ride. For riders searching for an upgrade from the stock, bare bones fork that many mid-level bikes come with, the Auron could be worth a look. - Mike Kazimer |
www.srsuntour-cycling.com