TESTED
Ibis Ripley


WORDS
Mike Levy
PHOTOS
Mike Kazimer
Ibis' Ripley two-niner has a difficult act to follow given that their Mojo platform has been such a roaring success for the California brand, with all four variations of the bike (
the HD, HD 140, SL-R and SL
) receiving critical acclaim from reviewers around the world. The new Ripley is a very different machine from the Mojo, though, and we aren't only talking about the wheel size. The 120mm travel trail bike employs a novel dual eccentric pivot layout, an iteration of Dave Weagle's dw-link suspension design that mimics how a linkage would perform, but in a more compact, and reportedly laterally stiffer, package. Our Ripley was adorned with a mostly Shimano XT 10 speed drivetrain, save for the great looking E*thirteen TRS+ dual ring crankset, and came with a smartly spec'd set of wheels that use Stan's ZTR Arch 29er rims and the always great KS Lev dropper post. With a sticker price on our test bike of $6186.49 USD this is not an inexpensive ride, but the same frame can be assembled with Shimano's SLX group for $4699.99 USD.

• Intended use: trail/cross-country
• Rear wheel travel: 120mm
• Eccentric pivot dw-link suspension
• BB92/Press GXP bottom bracket
• 12 x 142mm Maxle rear axle
• 160mm post mount rear disc
• FOX Float CTD Kashima shock
• Two bottle mounts
• MSRP: $5820.80 USD as tested
• Frame only MSRP: $2899.99 USD
Ripley Construction Details
The carbon fiber Ripley has a swoopy appearance and clean lines, a look that is heightened by its hidden eccentric linkage arrangement that tricked many onlookers into thinking the bike employed a single pivot suspension layout. The usual design elements that we rattle on about are present on the Ripley: a tapered head tube, a BB92 bottom bracket shell, routing for a dropper post, and a 12 x 142mm rear end that employs a Maxle axle, but there are also some truly neat talking points that deserve to be pointed out. One of those is the carbon link that is driven by the rear triangle and is attached to the rearward shock mount, with it working off the triangle by way of clean looking clevis pivots that are hidden by reverse mounted hardware. The whole arrangement is decidedly clutter free, with a sophisticated look to it.
Moving further back on the swingarm, Ibis has used aluminum inserts on each side of the 12 x 142mm dropouts, as well as a stout direct mount derailleur hanger (
a standard hanger is available for SRAM derailleurs
) and a 160mm post disc brake attachment point. The front derailleur hangs from a direct mount on the swingarm, allowing it to track the chain as the bike goes through its travel, and an aluminum panel has been bonded in place on the underside of the chain stay in order to protect the carbon from any chain suck action. There are no ISCG tabs on the Ripley, and the BB92 bottom bracket shell is obviously not threaded, meaning that those who want to run a single ring setup will have to use a upper slider-only as a guide, although this shouldn't be an issue given the newer style clutch-type derailleurs that help keep the chain in place. Kudos have to be given to Ibis for the inclusion of two water bottle mounting locations on the Ripley, one on top of and one underneath the bike's down tube, although it is best to use a medium sized bottle and side entry cage for the upper location.
The Ripley's dw-link Suspension Explained
One could be forgiven for assuming that the sleek looking Ripley uses a single pivot suspension design, and not even only when viewed from afar. This is especially the case when admiring the bike from the drive side, as the two pivot bolts are nearly hidden from view by the drivetrain. The suspension's covert appearance is a bit of a shame, really, given the impressive engineering behind its dual eccentric design that replaces the linkage layout we are so used to seeing when talking about bikes that feature the dw-link label. The bike's 'dw-2XC' dual eccentrics have been a long time in the making, with Dave Weagle working on the system as early as 2005, two years prior to collaborating with Ibis on what was originally supposed to be 100mm travel bike. ''
Over that period of time a good deal of effort was spent completely re-imagining how pivot assemblies were going to be built,''
Weagle explained to us. ''
As compared to the then state-of-the-art there were major engineering challenges that Ibis solved to make this all work.
'' Thankfully, Ibis decided to bump the travel up an extra 20mm to a more trail-friendly figure and, after testing some prototypes that employed tapered bushings, Ibis and Weagle went with large diameter sealed bearings (
the same size as used in BB30 bottom bracket shells
) that proved more up to the task.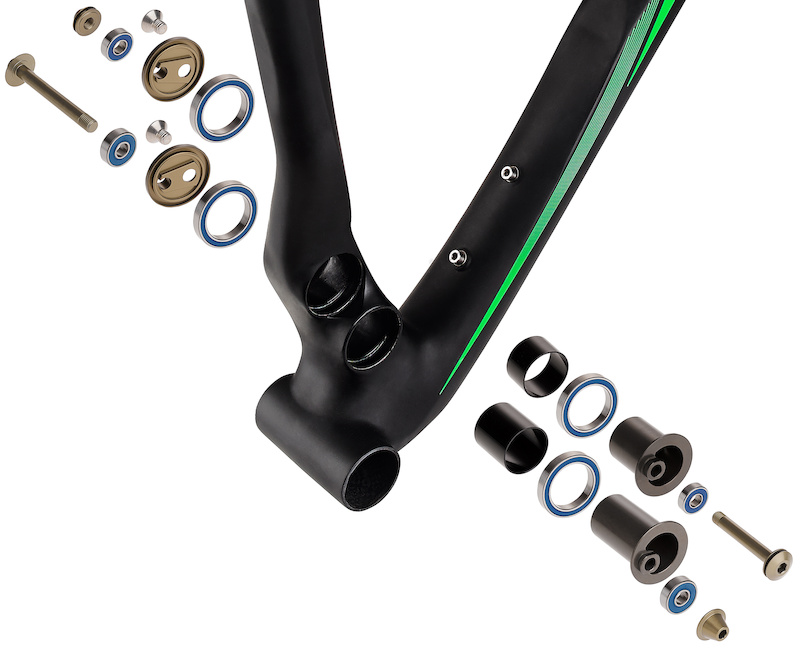 How exactly does the dw-2XC dual eccentric design function? The twin eccentrics, which take the place of the two links, rotate to mimic how a dw-link design would function, with Weagle tweaking the system to have the desired attributes that Ibis was looking for. In the case of the Ripley it was to have the bike accelerate like a 1000cc street bike, a trait that called for a touch more anti-squat than found on some other Weagle designed bikes.

The exploded view at right shows the system in its entirety, with the four large diameter sealed bearings that are pressed into the frame easy to spot. Aluminum sleeves are used to ensure perfect bearing preload, and the CNC machined aluminum eccentrics themselves (the pieces that look like top hats) slide through from the drive side to ride on the bearings' inner races. Caps are then fitted over the opposite side, followed by four smaller diameter sealed bearings, with one mounted outboard on each side of the two eccentrics. Everything is held together with sealing aluminum hardware, and despite what it may first look like, the system actually uses fewer bearings and parts than many other designs on the market. The compact layout has benefits that go beyond simply looking clean, says Weagle: ''The micro-eccentrics on the Ripley are absolutely tiny compared to anything that I've seen, less than half the size, and that all translates to less weight and improved specific stiffness.''
Specifications
Release Date
2013
Price
$5700
Travel
120
Rear Shock
Fox Float CTD Adjust Factory Series with Kashima Coat
Fork
Fox Float 32 CTD 120mm travel, FIT, Kashima, 15QR thru-axle, tapered steerer, black, custom decals
Headset
Cane Creek 40: ZS44 1 1/8" top/EC49/40 Traditional 1.5" bottom
Cassette
CS-M771-10, DEORE XT, 10-SPD 11-13-15-17-19-21-24-28-32-36T
Crankarms
RaceFace Turbine Cinch 36/24 175mm
Rear Derailleur
RD-M786, DEORE XT SGS 10-SPD TOP-NORMAL SHADOW+
Front Derailleur
FD-M781D-T-L, DEORE XT DOWN-SWING, TOP-PULL, DIRECT MOUNT
Shifter Pods
SL-M780, Direct attach
Handlebar
Ibis Hi-Fi or Lo-Fi Carbon bar 740mm wide
Stem
Ibis 3D Forged 31.8 Bar/28.6 Steerer 7075
Brakes
Shimano Deore XT BR-M785 180mm Front Rotor, 160mm Rear Rotor
Wheelset
Stan's ZTR Arch 29er Rim 32H Black
Tires
Schwalbe Nobby Nick 2.25" Snake Skin tubeless front, Racing Ralph 2.25" Snake Skin tubeless rear
Seat
Ibis custom saddle, CrMo rails
Seatpost
Ibis 31.6 x 350 L, 7075
---
| | |
| --- | --- |
| | While our first impression of the black and green Ibis was that it had a big-ish feel to it, and that the bike would be more monster truck than sports car, the opposite proved to be true. Hunting for different lines on the trail was a pleasure, a trait no doubt helped by the bike's willingness to leave the ground at the slightest hint of possible fun, and we often found ourselves with either the front or rear wheels up in a manual or nose wheelie in places where we'd usually just be hanging on to bikes of a similar ilk. |
Climbing/acceleration:
The feeling of a bike that jumps forward with a sense of urgency usually reserved for a machine requiring high-octane fuel is a special thing, especially when said bike isn't a purebred cross-country whippet, but rather a 120mm travel trail bike like the Ripley. To be fair, any bike in this travel bracket should be more than competent when it comes to laying down some tracks, but the Ripley manages to make us feel like we've been doing squats and dead lifts all winter (
we weren't
) and that every corner deserves a thirty foot long power wheelie on exit (
they do
). Oh, and that is with the FOX shock's CTD lever set to the most forgiving 'Descend' setting - we simply never felt the need to reach down and flick the blue lever, even when faced with a long, smooth climb. That near instantaneous acceleration might have played a roll in the bike's tallish feeling front end wanting to lift a bit earlier than on similar travel bikes, though, and it required a constant and firm touch on the bar to keep it on course when giving the bike some gas up a steep face - setting the bike's handlebar height is an important step towards dialling in the Ripley. It is for this reason that we would have loved to have a go on the bike with the 120mm travel FOX Float 32 CTD that Ibis offers as an option instead of the 140mm 34 Float CTD (
timing didn't permit the change, unfortunately
). That's right, we suspect that "down forking" the Ripley would unleash the bike's inner climbing beast without sacrificing too much in the way of descending, and Ibis did confirm that sales numbers do lean slightly more towards bikes with the 120mm slider up front.
The bike is far from a bad technical climber, though, and we should mention that we actually scaled two sections of trail aboard the Ripley that we have never managed while on any other bike, as well as setting a personal best time on a local singletrack climb that always tests us. Were we just having a strong day? Was it the protein Booster Juice shake that we downed on the way to the mountain? Who knows, but the carbon Ibis seemed to be able to carry a good head of steam in situations where other bikes have felt a little deflated, and that steam had the Ripley clawing its way up and over some hairy bits of trail despite the feeling that we were being handicapped slightly by the bike's low volume rear tire that required higher than optimal pressure.
Technical riding:
While our first impression of the black and green Ibis was that it had a big-ish feel to it, and that the bike would be more monster truck than sports car, the opposite proved to be true. Hunting for different lines on the trail was a pleasure, a trait no doubt helped by the bike's willingness to leave the ground at the slightest hint of possible fun, and we often found ourselves with either the front or rear wheels up in a manual or nose wheelie in places where we'd usually just be hanging on to bikes of a similar ilk. And that really sums up the Ripley's personality: yes, it can be ridden as more of a traditional cross-country bike, but that would be selling the bike a bit short in our opinion. Sign up for that long point to point race with 7,000ft of climbing, but you better enjoy pulling some long manuals and backing it through some corners if you're doing it aboard the Ripley.
The Ripley hold its ground well when things get serious - picture steep chutes where you might give yourself a 50/50 chance of riding away, or tight, slow-speed moves that hinge on your commitment - but it is key to keep in mind the bike's travel and intentions. Ask the bike to plow across an off-camber section plastered with equally off-angle roots and you'll quickly be reminded that you are on a 120mm travel bike that has been designed to excel in a number of scenarios, just not those that might ask for knee pads and a full face helmet.
Downhill:
The Ripley really stretches its legs on grades that require some horsepower in order to get the most out of the terrain, and those are the sort of situations where the bike's eagerness to move forward are most apparent - picture a downhill that a 7'' bike would feel sluggish on and you'll know exactly where the Ibis shines, which doesn't exactly come as a surprise. It was easy to find a lot of flow on the Ripley when presented with mildly taxing terrain, i.e., the sort of stuff where the very large majority of everyone's riding takes place, and the bike's rear suspension really does shine in the 120mm category. Those coming off of a 150mm bike might expect the Ripley to feel a touch harsh, but there is quite a bit of suppleness to the top of the FOX shock's stroke, more than expected given its excellent pedalling abilities, and we felt like the bike could be ridden quite aggressively without the rear end blowing through its travel. We were tempted to firm up the rear of the bike via the shock's CTD lever, mainly for those times when pumping brought more speed to the table than pedalling, but doing so seemed to add little too nothing to an already potent package so we settled on leaving it wide open.
| | |
| --- | --- |
| | There is often talk of that elusive 'sit in' feeling that often accompanies a bike that handles well, and the Ripley can boast about having exactly that. The bike offers a great feeling of stability without sacrificing the all important playfulness that a proper bike must have, and it made for a feeling of traction that you wanted to quantify with high-fives and huge grins at the bottom of every loose downhill section of trail. |
Ibis spec'd our test bike with the optional 140mm travel FOX Float 34 CTD fork instead of the 120mm 32 that some riders choose, a decision that no doubt allows for a bit more of an aggro approach to rough trails, but also one that we feel had the bike feeling a touch unbalanced. Ibis did let slip that some of their guys have been running FOX 34 forks set to 120mm of travel in order to reap the benefits of the stouter chassis and slightly longer axle to crown than a 32 of equal stroke, and that FOX will be producing a special 120/140 Talas version (
the standard Talas setup is 110/140
) of their revised 2014 CTD offerings. This upcoming 120/140 Talas fork, which Ibis' Scot Nicol says will be available this coming June, makes a lot of sense on the bike, and we would almost certainly lean that way if we were to purchase Ripley for ourselves.
Component Report:
•
Specialized Ground Control tires:
Good - ultra reliable rubber, especially when set up tubeless, meant that we never worried about cutting a sidewall or pulling a bead off in a hard corner. The traction was there as well, and there weren't any moments of dread when the front or rear went away unexpectedly. Bad - while the Specialized rubber offered more than acceptable bite, they were limited by their relatively small 2.1'' and 2.0'' widths that required us to inflate them slightly harder than if they had more volume. If the Ripley was our personal bike we'd splurge on a set of 2.3'' S-WORKS Purgatory tires and call it done.
•
KS Lev seat post:
Good - the KS post's fixed actuator cable makes for simple routing and no chance of it rubbing on the rear tire, and no amount of rain, mud, and pressure washing degraded the post's smooth action. KS' tiny thumb button that butts up against the grip is also the best remote in the game, bar none.
•
E*thirteen TRS+ cranks:
Good - The sub-800 gram crankset looks great, and shifting across the two rings was lightening fast. Their APS bottom bracket employs a nifty adjustable preload collar that can be tightened or loosened by hand, a great system that allows for simple fine tuning and optimal bearing preload for smooth rotation. Bad - a slightly undersized BB sleeve on our early sample allowed the setup to lose its preload every other ride. The result was a the crank's 30mm spindle being allowed to shift left and right within the bottom bracket shell by a few millimeters. It was a simple fix that took about ten seconds - simply turn the collar with your fingers - but it was annoying. E*thirteen told us that the issue has long been resolved on current production cranks, so it shouldn't be an issue in the future.
•
The wheels:
Good - given that Ibis chose to use Stan's ZTR Arch 29er rims, you know that the bike has some relatively light wheels. The rims themselves held up fine, though, with no touchups required despite burying them hard on a few sideways landings and corners gone awry. Bad - the rear hub suffered a massive freehub failure that left us stranded mid-way through a 70km ride. Once we got the wheel into the workshop we discovered that an entire shoulder that was home to one of the freehub's three pawls had sheared clean off from the rest of the freehub body, effectively jamming up the works and creating a fixed gear bike. Our replacement wheel, complete with the same 'Speed Hub' rear hub, proved to be trouble free for many, many miles.
•
Shimano XT brakes and drivetrain:
Good - power in spades, great modulation, and a firm lever feel make these brakes a no brainer in our books. Shifting was spot on as well, without any issues to report. Bad - that useless bite point adjustment screw on each brake lever still does diddly squat. Shimano, why is it even on there? An effective adjustable bite point system would allow for further fine tuning, allowing riders to set them up to their preference without having to advance the brake's pistons to accomplish the task.
Pinkbike's take:
If the Ripley was to place its own ad in the personals section it would likely read something like this: ''Fun loving bike seeking like-minded partner. Willing to work hard if that's what is called for, but has to know when to loosen up and let it all hang out. Doesn't mind it rough, but needs to be treated right.'' Ibis, with the help of Dave Weagle and his dw-link suspension, has managed to create one of the more useable 120mm travel bikes that we've ever spent time on. What we mean is that the Ripley is happy to be ridden as a very adept trail bike, especially when fitted with a 140mm fork, but it also feels more than efficient enough to do double duty as a bike that its owner could take to a weekend cross-country race without feeling like he or she is being held back at all. In other words, a great package for how a lot of us like to ride.

- Mike Levy
www.ibiscycles.com
Must Read This Week