Bushings are an oft-overlooked component of modern mountain bikes, and can be found everywhere from derailleur pulleys wheels to suspension pivots. We asked Matt Floyd, igus' Bicycle Industry Specialist, to explain more about the role that bushings play, as well as the potential benefits they can offer.

Let's go over some terminology first. What exactly is a bushing?
A bushing is generally considered a friction reducing part that does not consist of any moving components. In other words, it relies on a sliding versus a rolling element. Much like a bearing, its role is to not only reduce friction but to reduce the amount of wear between the two mating materials.At igus, we often interchange bearings and bushings as the wear and friction results often can be superior to that of ball bearings, but igus® iglide® plastic bearings have the advantages of a bushing as a sliding element, making them maintenance-free.

What are the advantages of using a bushing versus a sealed cartridge bearing? Any disadvantages?
Here are some advantages based on years of testing results at the igus Test Laboratory:

• Weight – All igus iglide parts are plastics and offer a considerable weight reduction vs. sealed cartridge bearings (SCB).

• Vibration dampening – The polymers in iglide plastic bushings can absorb vibrations and help shock loads, increasing comfort as well as reducing fatigue and wear of other biking materials.

• Low and consistent coefficient of friction – The coefficient of friction over time will remain the same without the use of lubrication. iglide bushings work well with external grease and oils, however they do not require any external lubricants to maintain a consistent and low coefficient of friction. Sealed cartridge bearings often require lubrication over time in order to maintain the same coefficient of friction.

• Corrosion – Regardless of harsh conditions, iglide bushings will not corrode from the elements, UV light, or from exposure to chemicals typically found on streets and trails. Additionally, they will not rust, galvanize, or anyway oxidize.

• Resistant to contamination – iglide bushings can work well in dirty and contaminated environments without compromising the integrity of the bearing or need for a seal. Due to the bushing dry-lubricating function, dirt, sand and other particulate will have little impact on the bushings performance. With sealed cartridge bushings, the seals can be compromised leading to failures, increased friction or accelerated wear.

• No minimum travel and high acceleration – Ball bearings usually have a minimum travel distance in order for the balls to begin rotating inside of the bearing. If there is a high acceleration with a short pivot, the ball will fail to rotate and rely on the oil or grease to skid over the shaft or race. This can cause scoring or flattening of the balls leading to a higher coefficient of friction and higher wear. iglide® bushings are sliding elements and can handle very high levels of acceleration with no minimal travel required.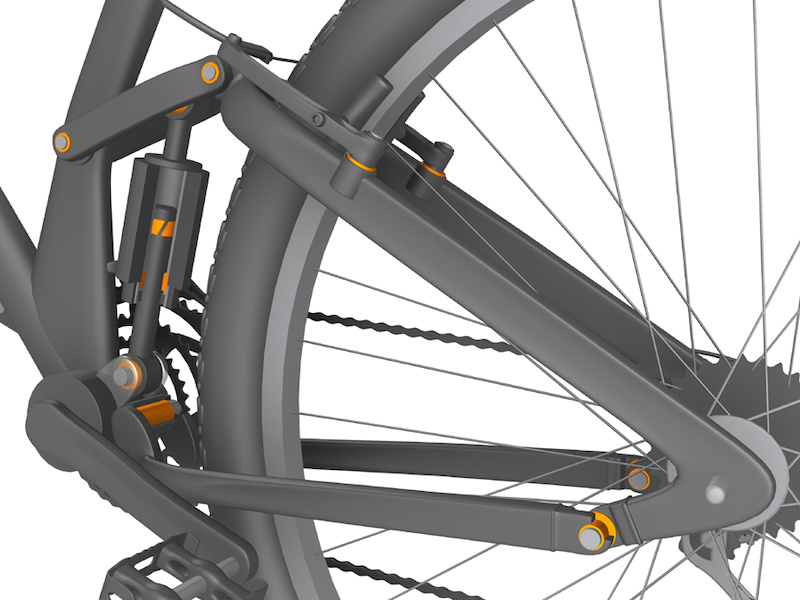 What type of mountain bike applications are bushings best suited for?
Bushings are a great design element for suspensions, brakes, drive trains, derailleurs and seat posts. igus bushings have been used in many mountain bike applications. We know how critical the feel and fit can be for riders and we take pride in our attention to detail in designing and testing tolerances for fit and performance are met for each application.

The term 'self-lubricating' is often used regarding bushings. How exactly is this accomplished?
Self-lubricating effects can be accomplished in a number of ways as this implies that the lubricant is released over time or at once. Some bushings offer a very thin preliminary layer of lubrication such as Teflon that makes contact onto a shaft and will lubricate until the layer is gone Other bushings have a lubricant sintered into their pores that require frictional heat from motion to release the lubricants.

All of our bearings contain three primary components; base polymers, which are responsible for the resistance to wear, reinforcing fibers and filaments, which make the bearings ideal for high forces and edge loads, and solid lubricants, which are blended into each material. By homogenously blending the components, there is no doubt that the part will create an optimal gliding surface for a plastic bearing. This also eliminates any need for external wet lubricants. The elimination of these wet lubricants makes iglide bearings completely free from maintenance requirements and also helps to keep the environment clean.

Many bushing are made of plastic, but there are different types of plastic. What are bushings intended for bicycle usage typically constructed from? Can you give us a brief description of the manufacturing process?
igus offers 6 (six) main materials for use in the bicycle industry, however each application is reviewed thoroughly before a material is specified. These materials are composed of different polymers, strengthening fibers, and sold lubricants. Each material will give different wear characteristics for different applications. This is dependent on the application motion, speed and mating materials.

All igus products are injection molded in Germany and held to tight tolerances. The process of injection molding is not new but to obtain the tight tolerances we do, takes years of application testing and patience. Typically in the biking industry we choose materials that have the lowest coefficient of friction and which can handle very high shock loads.

Previously, metal-backed bushings were commonly used in the eyelets of rear shocks, but recently full plastic bushings have become more prevalent. What caused this change?
From our understanding in working with those in the bicycle world, the primary reasons for change include weight, cost and most importantly empirical data, as well as an actual review of customer's needs for achieving a better ride.


In a weight comparison, an iglide plastic bushing weighs approximately 80% less than a PTFE-lined bushing. As an example, an iglide G300 plastic bushing weighs 0.0144 pounds per piece, while a PTFE-lined bushing weighs 0.0750 pounds per piece. Our engineers have worked very closely with those in the industry to find a bushing that would increase the life of the product, decrease weight, offer a lower coefficient of friction, save costs, and give the desired fit and feel. Field testing has shown that in these rear eyelet applications the wear of the bushing was decreased significantly allowing the riders to change out the bushing less frequently. Also there is a noticeable reduction in friction and increase in performance. Weight in the shocks was reduced as reviews from riders have indicated a better feel and ride.

Wear surface is another important factor, meaning the actual amount of wear surface that a homogenously blended bearing offers in comparison to a bearing with a thin lining. A PTFE-lined bushing is comprised of a metal shell and a very thin polymer coating (PTFE) applied to the inside. These types of bushings typically have a maximum wear surface of 0.06 millimeters (0.002 inches), but as the PTFE coating is stripped off during operation, the metal shell becomes exposed. This creates a metal-on-metal effect between the bushing and the shaft and can cause serious damage. This problem is common when high edge loads or oscillating movements are present.

During operation with plastic bushings, lubricants are transferred onto the shaft to help lower the coefficient of friction and wear, and unlike PTFE-lined bushings, plastic bushings eliminate the danger of metal-on-metal contact. This is huge benefit since the acceptable amount of wear can be determined by the type of application (unlike the PTFE-lined bushing, which will fail if the wear rate surpasses 0.06 millimeters).

For example, igus' lifetime calculator uses a preset wear rate of 0.25 millimeters (0.01 inches), but the user can easily increase or decrease this number to meet the wear limit acceptable for the particular application.