Colorado's MRP (
short for Mountain Racing Products
) has a longer history in the sport than many are aware of, having manufactured chain guides for over seventeen years. Those who have been around long enough may remember their original System 1 guide that featured two plates bolted to the crank spider and twin rollers on a boomerang, or their System 2 that used a stationary inner plate that could be adjusted left to right via a set-screw design. Those two guides were game-changers at a time when many riders struggled with strange setups that were more of an afterthought than anything, not to forget the funky proprietary guides that often did more harm than good. MRP's lineup has evolved greatly since then, and it only made sense to talk to MRP's Noah Sears about how and why things have changed in the world of chain guides over the years.

What does ISCG stand for and why are there two ISCG standards (ISCG and ISCG 05)?
Before there were any "standards" you basically had three options for mounting a guide to your bike - and
all of them usually involved the use of power tools and a lot of swearing! You could use a back plate
that clamped around your bottom bracket shell using a pinch design or a series of set screws, you
could pinch a back plate between your drive-side bottom bracket cup and shell face, or you had a
proprietary system unique to your frame. None of these solutions produced a system that was durable,
consistent, and could be easily installed.
In 1999, MRP got together with Mr. Dirt and created the International Standard Chain Guide mount
(
ISCG
). ISCG consists of three threaded holes arranged around the drive-side bottom bracket shell
face. The ISCG standard eliminated the durability and setup problems associated with previous mounting
systems, and allowed manufacturers to easily accommodate the needs of their consumers. All of our guides
were ISCG compatible as of December 2000.
Around five years later, there was a push by a few in the industry for a new, larger bottom bracket standard.
The larger bottom bracket would not work with the ISCG standard (
due to the bolt circle diameter not being
large enough
), so a new mounting "standard" was born - ISCG-05. It also consists of three mounting
holes, but the BCD of the three holes is larger. Although the larger bottom bracket standard never materialized
in the market, several manufacturers had adopted the ISCG-05 standard, so it survived. Around this time
people began calling the original standard ISCG-old or ISCG-03, both of which don't make sense since the original
standard is still used by many bike manufacturers today (
not old
) and it was developed in 1999-2000
(
not 2003
). At MRP, we refer to the two standards as they were developed: ISCG and ISCG-05.
Today we make guides for both standards and also make most of our guides in a bottom bracket mount format if your bike does not have ISCG or ISCG-05 tabs. If your bike does not have ISCG/ISCG-05 tabs, it is best to use the BB mount system to maintain the proper chain line, rather than using an adapter which may push out the chainline. Once you can identify the difference between the two standards, it is pretty simple to get the right guide for the mounts on your frame.

What was wrong with the old fashioned mounting where the guide's backplate was clamped under the drive side bottom bracket shell?
That system was pretty limited in terms if alignment and durability. Working with ISCG tabs and the
assortment of spacers that we provide with current guides makes alignment pretty simple - you
can accurately adjust the inboard/outboard position of the guide in very fine increments. As for
durability, the three threaded tabs make for a solid mount to the frame - one that isn't going to
move every time it gets bumped or bashed by a rock or log.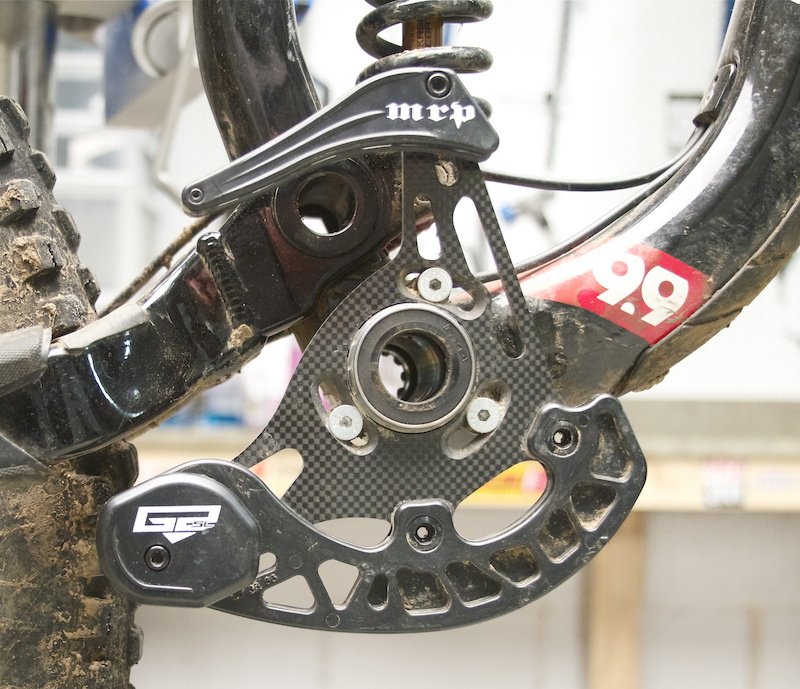 MRP's G2 SL Carbon bolted to a Trek Session 9.9's ISCG-05 chain guide tabs.

There seems to be so many different types of guides to pick from - dual roller, sliders only, taco or no taco ect - how does a rider know which one to choose?
The mountain bike market today is pretty segmented. Whereas ten years ago you were either riding
a cross-country bike or a gravity rig, today you've got dozens of genres and subgenres of bikes
available that are specifically tailored to a particular style of riding or terrain. Today's guides are
a reflection of that, with one for every application. Selecting the right model may seem like a
daunting task, but it's really no different than shopping for any other bike part. On our website we
have a helpful "Guide Chooser" that asks a series of questions and eventually leads the user to
the suitable guide. To narrow down your choices you only need to know three key things:
1) How many chainrings are you hoping to use (1 or 2)?
2) Does your bike have ISCG or ISCG-05 tabs? If not, does your bike have a traditional threaded
bottom bracket shell or does it use press-in bottom bracket bearings?
3) What style of bike and what kinds of terrain will you be riding?

There are other factors that influence which guide is best matched to a rider. For instance, new
derailleur technologies like Shimano's Shadow+ and SRAM's Type 2 are allowing single-ring trail
riders that previously required full-featured guides (those with both top and bottom retention
features as well as chainring protection) like the S4 and G3 to reliably use lighter, simpler
guides like the 1x and our new AMg. In cases like that it's ultimately up to the consumer to decide
how much chain-retention they're comfortable with.

The minimalistic 1x guide offers upper chain management without a lower roller or chain ring protection - not suitable for a DH bike but great on some trail bikes depending on the terrain.

Anyone who has had to set up and live with a guide from years past knows that they have come a long ways. What would you say has been the most important advancement?
There have been so many great advancements to mountain bike drive trains that have eased chain
guide installation that it's hard to pick just one! The biggie for me, though, is that bike manufacturers
are finally putting ISCG tabs on so many models. Mounting a guide using the bottom bracket is still
a viable option (and made much easier by external bearing bottom brackets), but having tabs
on a frame and being able to space the guide inboard and outboard as needed really makes finding
that perfect guide setup simple and painless.

For a consumer, the biggest hurtle to setting up a guide is in cases where their frames lack ISCG tabs
and a feature a press-in bottom bracket system. For those folks the guide options are limited - in most
cases we've got something that'll work, but your options are scarce.

Many older guides used a solid roller for the chain to run on, but now most use some type of channeled pulley wheel. Is there a performance difference between the two?
We still employ a roller element in a few of our guides. The decision to use a pulley or roller really
comes down to the architecture of the guide. In most guide systems the various parts are there for
three functions: containment, tensioning, and protection. For our guides that employ a traditional crank-
mounted bashguard for protection and partially for containment, we use a roller. You can shape a roller
to provide tensioning as well as assist in the containment function of the guide. Giving the part two
duties reduces total part count, which keeps weight and complexity down.

Without a bashguard to provide protection and assist in containment, on guides that feature our patented
integrated skid, we must in many cases provide all of the functions of a guide into that singular part.
The smaller footprint of the pulley allows us to do that more freely. Another benefit of the pulley is that
its teeth keep the chain located in a very specific space, which is key when dealing with tight tolerances.
As for performance, the pulley provides slightly less friction than a roller, as there is less contact between
it and the chain. However, the larger size of the roller allows us to use a softer durometer material that
can be a touch quieter in use than that of the pulley. One is not really noticeably more efficient or quiet
than the other in the real world, so it's hard to declare an outright performance winner.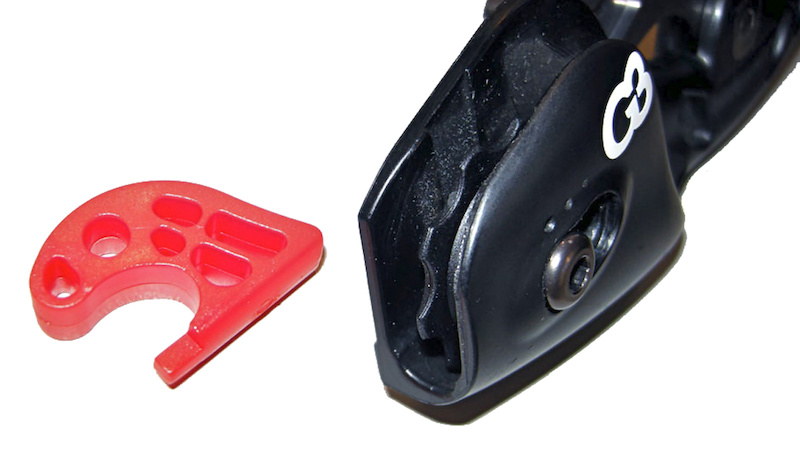 The new G3's lower pulley can be swapped out for a slider block that is designed to be trouble-free in grimy conditions.

And what about guides that use a stationary lower slider in place of a pulley wheel... it looks like a step back, but is it?
Sliders and pulleys both have their merits for chain retention. Our G3 comes with both our slick, long-
wearing G-slide and a traditional pulley - and we leave it up to the user to choose which to use. The idea
to incorporate the slider block came from feedback from riders in extremely wet climates, like the Pacific
Northwest and UK, who reported experiencing shorter than normal bearing life out of their pulleys and a
degradation of performance caused by the buildup of mud and debris within the lower guide. We're based in
the bone-dry desert where rain and mud are rare (and you certainly don't ride here in those conditions)
so we're not accustomed to those issues - I can't say that I've ever worn out a pulley wheel! Nonetheless, we
decided to include both options.
www.mountainracingproducts.com