TESTED
Yeti
SB95

WORDS
Mike Levy
PHOTOS
Ian Hylands
With the SB95, Yeti takes their Switch suspension technology from the popular 26"-wheeled SB66 platform to the world of big-wheelers. The 5'' travel aluminum 29er has been pegged as one of those ever elusive 'do it all' trail bikes that can be ridden as an all-day sort of rig, or fitted with a chain guide and longer stroke fork to appease a rider who might want to take his 29er to new heights. Our test bike is assembled with Yeti's 'Pro' build kit that, while leaving nearly no place left to upgrade (
save for a dropper post
), makes for an undeniably pricey MSRP of $6,500 USD. While that is admittedly more than most of us will spend on our next bike, Yeti does offer three other packages, the most wallet-conscious being their 'Enduro Rock' build that allows riders to throw a leg over their own SB95 for $3,500 USD.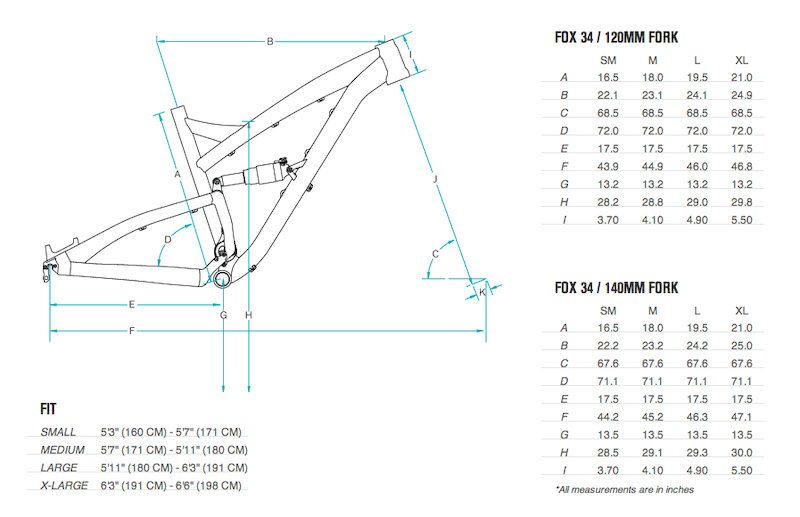 • Intended use: trail/all-mountain
• Rear wheel travel: 5''/127mm
• 'Switch' eccentric rear suspension design
• Tapered head tube
• Splined BB shell w/ ISCG-03/05 adapter
• 135 QR or 12 x 142mm dropouts
• Dropper post cable routing
• FOX Float CTD shock
• FOX 34 120 CTD w/ 15mm thru-axle
• Full Shimano XTR drivetrain
• Colours: black or silver
• Weight: 28.14lb (w/o pedals )
• Sizes: sm, med (tested), lrg, xlrg
• Frame only MSRP: $2,250 USD
• MSRP: $6,500 USD
The SB95's aluminum frame is a departure from Yeti's previous mid-travel offerings in that it features relatively slack geometry and low-slung
suspension elements, and while we've always been a fan of Yeti's similar travel 575 and ASR 5 platforms, the SB66 and SB95 look to offer a personality that will better suit an aggressive approach to trail riding. To that end, the SB95 features a drastically sloping top tube, as well as a reasonably short seat tower for plenty of crotch and knee clearance for when you need to hang it out there. A compulsory tapered head tube meets up with a hydroformed top and down tube, creating a massive amount of surface area to weld together - the front of the SB95 looks ready for anything. Cable routing isn't as graceful as we've seen on some other bikes, but with three cable attachment points on the underside of the down tube, Yeti does make a concession for a dropper post.
The eccentric Switch suspension design makes for a compact layout that sits low on the bike, but it also means that the sole water bottle location is found on the underside of the down tube in a less than ideal location for anyone who likes to head out without a pack on their back every now and then. All told, the frames come in at a claimed weight of 7.5lb, not a lightweight by 5'' travel trail bike standards but it does have an aura of sturdiness to it that many others lack.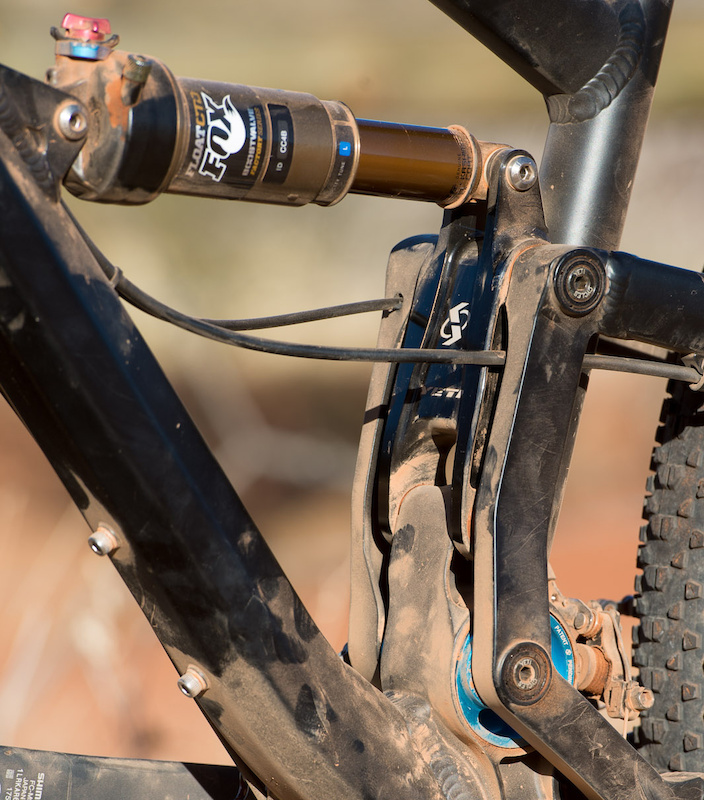 Switch Technology Explained
Just as found on the 26''-wheeled SB66 and SB66 Carbon, the SB95 uses Yeti's 'Switch' suspension design. While it may appear to be a simple single pivot system from a distance, the main swingarm pivot is actually mounted on an eccentric (
the anodized blue unit in the photo at right
) that transitions from rotating counter-clockwise at the beginning of the bike's travel to clockwise as it gets deeper into the shock stroke, hence the Switch moniker. The eccentric unit unquestionably adds both weight and complication compared to a simpler single pivot design, which is one of the reasons why the SB95 frame weighs in a relatively portly 7.5lb (
claimed
), so we're guessing that Yeti is very confident in the benefits of the layout.
Trail bikes like the SB95 are held to high standards: not only must they pedal well for long days in the saddle, many riders also expect them to descend like much longer travel machines. In order to address the pedalling part of the equation, the SB95's eccentric rotates counter-clockwise in the early stages of the bike's travel, which, because the swingarm pivot is mounted off-center on the eccentric, effectively lengthens the chain stays. This lengthening, combined with the slightly rearward axle path, creates chain tension that is said to provide a firming effect on the suspension. Deeper into the travel, the eccentric switches direction and starts to rotate clockwise. This largely uncouples chain forces from the suspension, allowing the rear end to work at its best when pushed hard. While all of that may sound complicated, the same basic principles are employed in other designs on the market, although usually by the way of multiple links - the eccentric unit of the Switch design is in effect just that, a type of link. Yeti's Switch design is a rather cunning way to go about it, though.
The Switch layout may sound involved, but it is relatively simple in practice and laid out in a sturdy-looking way. The aluminum eccentric itself is sealed against the elements, and sits within a single forged frame member that is also home to the bottom bracket shell and rocker link mounting point. The main swingarm pivot rotates on sealed cartridge bearings that are pressed into the eccentric unit, and large diameter aluminum pivot axles tie everything together. The shock itself is not attached to the swingarm but rather driven by a rocker link that allows Yeti to tune the leverage ratio through the bike's travel. Both the eccentric unit and the rocker link are nearly completely hidden from view when facing the drive-side of the bike, giving the SB95 a very clean appearance.
Specifications
Release Date
2013
Price
$6500
Travel
5''/127mm
Rear Shock
FOX CTD
Fork
FOX 34 120 CTD w/ 15mm thru-axle
Headset
Cane Creek
Cassette
Shimano XTR 10spd
Crankarms
Shimano XTR w/ 26/38 rings
Bottom Bracket
Shimano XTR
Rear Derailleur
Shimano XTR 10spd
Chain
Shimano XTR 10spd
Front Derailleur
Shimano XTR
Shifter Pods
Shimano XTR 10spd
Handlebar
Easton Haven Carbon
Stem
Thomson X4
Grips
Yeti Lock-On
Brakes
Shimano XTR Trail
Wheelset
DT Swiss 350/XR400
Tires
Maxxis
Seat
WTB
Seatpost
Thomson Elite
---
Riding the SB-95
Our medium SB95 came equipped with a very nice Thomson stem that, at 90mm, is likely going to be spot-on for many riders. We were looking for a little more of a rearward position on the bike for when things got rowdy, so we swapped it out for a 60mm unit that did just that. The cockpit feel went from having the air of an all-around disposition to making us feel like we were in the driver's seat of the party bus. As if we didn't feel guilty enough about removing one of Thomson's smartly constructed components, we also swapped the Thomson Elite post out for a RockShox Reverb dropper - a near essential item for our Sedona, Arizona, testing grounds. The black bike felt totally trail-worthy with the saddle up, ready for a long or technical climb to access the fruits of our labour, but dropping the seat transformed the SB95 to a bike that we knew we'd feel comfortable on from the get-go.
Climbing
The SB95 would be our on-trail introduction to Yeti's Switch suspension layout, so we weren't sure what to expect when heading out from the trailhead, and were surprised at just how much the rear end cycled under load. Calm and seated pedalling resulted in the rear suspension matching the rhythm when the FOX shock was set to full-open, and we found ourselves flicking the CTD lever to the firmer 'Trail' or 'Climb' settings for any extended smooth sections in order to add some sportiness to the bike. This made a demonstrable difference in the SB95's climbing performance, and our outlook on long, grinding climbs went from dread to acceptance. Clearly, all credit here goes out to FOX's compression-adjustable Float CTD shock, but there is much more to explaining a bike's climbing mannerisms than how it covers ground on a smooth access road climb.
While we admit that we were surprised at how active the bike's Switch suspension was in an pedalling situation, we have to concede that the bike motored up tricky sections like a treed raccoon. Staying seated and powering up loose pitches allowed the relatively short chain stays to keep weight over the rear wheel, with the result being immense amounts of traction. We repeatedly and easily cleaned loose pitches that stymied other bikes, and the 68.5° head angle worked well despite our concerns that it would make for a too-relaxed front end for the tricky Sedona singletrack. Front-end lift was non-existent, even with the shorter 60mm stem fitted, although we'd anticipate this to deteriorate if one was to spec the bike with a 140mm travel fork (
effectively slackening the bike by a degree and changing the weight bias
) instead of the stock 120mm FOX unit - we don't feel that a longer stroke fork would add to the SB95's abilities on the downs, so why sacrifice on the ups? Those who prefer to sit and spin up climbs may prefer a slightly steeper seat angle than the 72° figure Yeti has gone with, something that we would like to see after spending time on bikes with a more upright seat to crank relation than would seem obvious at first.
As it sits, the SB95 is one hell of a technical climber. Good enough, in fact, that we'd happily look past us needing to reach for the shock's CTD lever to eke out more perceived efficiency from the bike's Switch suspension. So, maybe not the best choice for crushing those gravel road Strava climbs, but the SB95 is great when it really counts. Mountain biking, that is.
Handling
The SB95 may be a 29er but it has the soul of a frisky 26''-wheeled bike. The black Yeti is full of life, and while it's content to plod along at whatever pace you put out, it really shines when you crack the throttle open and think outside of the box. It does exactly what you ask of it without an excessive amount of body English, a trait that is not all that common among big-wheelers, but one that we wish every bike possessed. The front end comes up easily enough that manuals were simply a matter of just thinking about doing one and it happening, resulting in some great fun on the trail. Corners were dealt with in an easygoing manner as well, with an intuitive feel that had us feeling at home from the first thirty feet of singletrack on the Yeti. The bike's relatively short rear end and sensible head angle made short work of corners that had longer bikes pausing for that split second in order to re-align themselves before getting on the gas, but fast sweepers still felt stable enough to not have us second guessing our chosen line.
All too often a bike manages to be able to excel at two, or maybe three traits, only to fall short in other areas. It's a funny thing when a bike's elements come together to form a package that works well in just about any scenario that you can come upon, and it is something that doesn't happen on a regular basis. The SB95 is one of those rare beasts that does just that.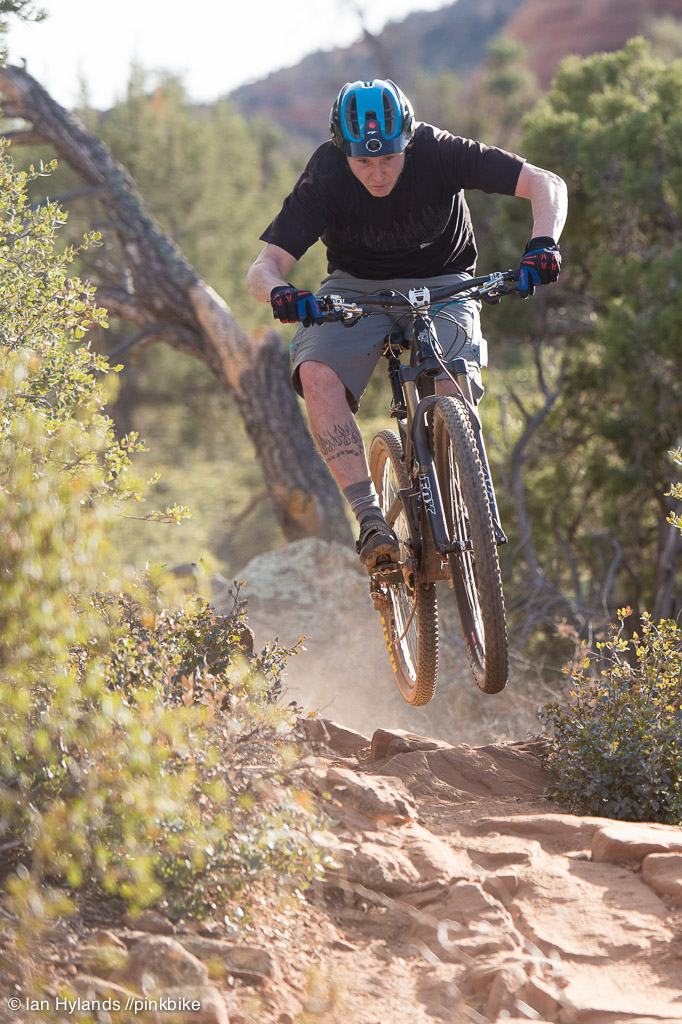 Suspension
Given the active rear end, we were anticipating a ground-hugging ride (
as much as a 5'' travel 29er could be considered ''ground-hugging'' anyways
) from the SB95 but that wasn't the case. There is a balance between the FOX Float shock and Yeti's Switch suspension that adds up to a bike that, without trying to sound too enamored, simply does exactly what you want it to do. Toothy straightaways that had the bike's single-ply Maxxis tires cringing over what was to come were dealt with in an incredibly smooth way. So much so, in fact, that it reminded us of some 6'' travel 26''-wheeled bikes that we've had the chance to point down a hill. This wasn't always the case given that no matter how good the bike performed, it still has 5'' of travel, 29'' wheels, and a 2.2'' wide rear tire, but what Yeti has been able to do with those ingredients is massively impressive.
The 'pop' that all good trail bikes have is also there, allowing us to get the Yeti airborne anytime that turned out to be the faster or safer approach to the ground under us. So, we have a bike that is active enough to have us reaching for the shock's CTD lever to firm it up for long climbs, effective enough to ride like a longer-travel rig when it gets rough but, in a very contrasting way, also provides enough of a 'platform' to push against when preloading the bike for a jump or to easily hop over a rock outcropping. Talk about multi-dimensional.
While we've aired our concerns over the lack of low-speed compression damping inherent in FOX's CTD-equipped forks, the extended trail-time that we've now spent on them has allowed us to come to a quick setup that gets the most from the design. Depending on the terrain and rider, adding at least 10 to 15psi over FOX's recommended pressure settings for the SB95's 34 fork, along with rotating the CTD Trail Adjust dial to the firmer middle selection, allows an aggressive rider to use both the 'Descend' and 'Trail' settings of the fork. With that done, the 120mm travel 34 makes a lot of sense for SB95 despite it sporting slightly more travel out back. We can see many prospective SB95 owners jumping up to a 140mm travel fork in order to slacken the bike out by a degree and add some capability, but we never felt under-gunned with the 120mm slider and the bike handled like it was an extension of our hands and feet.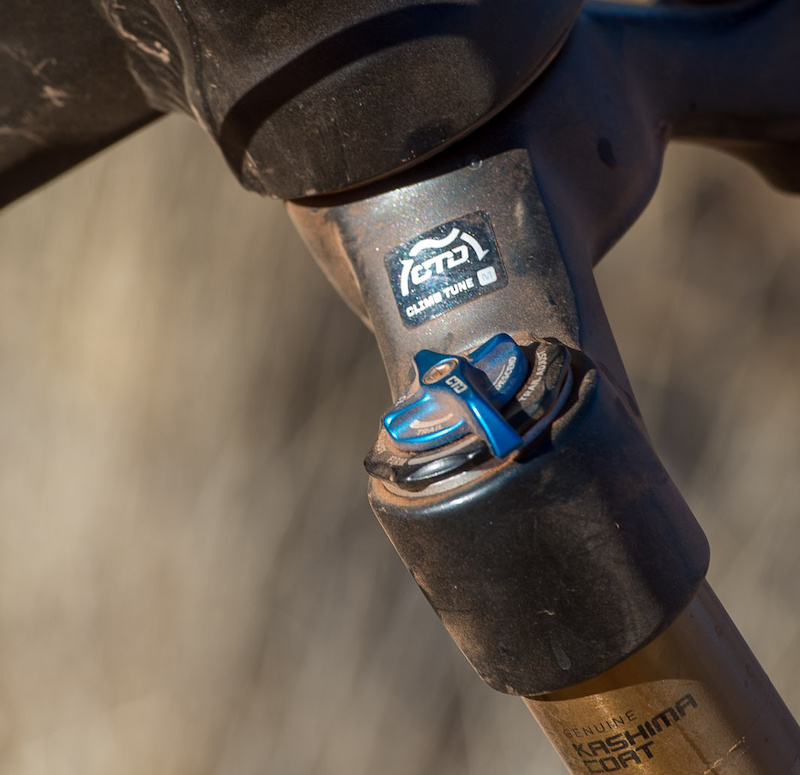 Proper setup is key to getting the most from FOX's CTD suspension.
Other Ride Notes
• The bike's Thomson Elite seatpost is one of those proven components that you move from bike to bike as your stable changes. But, as nice as it is, it isn't a dropper post. When one spends $6,500 on an off the shelf super-bike, there should really be no need to spend another $300+ in order to unlock all of the bike's potential. Yeti, the SB95 should come with a dropper post as stock equipment.
• While the lack of a dropper post left us shaking our heads, no expense was spared on the rest of the build, with XTR all around. The XTR Trail brakes in particular are, as we've already mentioned in the past, absolutely stunning. Power for days and a great feel at the lever. Why isn't that do-nothing bite point adjustment screw sorted out, though?
• The XTR shifting was spot on, only requiring the slightest adjustment as the housing settled in. The clutch-equipped rear derailleur nearly eliminated chain slap noise, and we also never suffered a dropped chain thanks to the extra tension.
• We knocked the rear wheel out of true badly after only one day aboard the bike. To be fair, we were pushing the bike quite hard on Sedona's rocky terrain, but we were still surprised at how bad the wobble was. We reigned it in a bit with a spoke wrench, but the DT Swiss XR400 rim is never to be straight again.
Pinkbike's take:
| | |
| --- | --- |
| | Labeling the SB95 as a 29er trail bike doesn't really paint a clear picture of just what the black Yeti is capable of - it doesn't ride like a 29er, and it certainly feels a touch more capable than your average trail bike - yet that is exactly what it is. We could harp on about negligible details like the lack of a dropper post as stock equipment, or the sole bottle cage location in the pain in the ass location under the down tube, but when it comes down to how the bike rides, it might just be one of the best mid-travel designs that we've ridden. How many of us are going to spend $6,500 USD on our next bike? Probably not a lot, which is why the $3,500 'Enduro Rock' version may be just the ticket. The less expensive build hangs off of the very same frame, giving riders the chance to get aboard this great performing platform for a more acceptable price. - Mike Levy |
www.yeticycles.com