As 2011 bikes start to show up there's been some noise made about the new
12 x 142 mm rear axle spacing
that many seem to be sporting, even the short travel XC bikes! There has been some confusion as to how we ended up with those numbers, as well as if the system makes any sense at all. Inside we take a closer look at the 'in between' standard and separate the wheat from the chaff to figure out if it makes any sense.
Watch the video, read the facts, and then decide for yourself.
Read on...
The new 12 x 142 mm axle size that has been popping up on the back of more and more bikes lately has been causing quite a furor among riders. Although the forum chatter hasn't quite reached the levels that the release of 15 mm fork thru-axles caused (
and still does, but we won't even go there
), it is clear that many of you are a bit tired of new "standards", many with funny sounding acronyms, that seem to be thrust upon us. I've heard of all sorts of theories, ranging from some people claiming that it is obviously a conspiracy to force you to buy new and expensive parts for your bike, or even that the engineers responsible for all these new features that improve our bikes genuinely wanting to make their brand of bike better than the competition - GASP! It's all about progress, and these days our bikes are quite far along from an evolutionary standpoint, meaning that the performance gains that we see now will usually be far smaller than what we were getting excited about years ago.
Watch the video to learn about 12 x 142
So, is the new 12 x 142 axle size massively stiffer than a 12 x 135 thru-axle setup? Nope. Surely it must be lighter then, right? Doubtful. Is it easier to use? It sure seems like it. What it looks to be is a combination of a standard quick release's convenience and hub locating abilities with the stiffness and security of a 12 mm thru-axle. How ever you feel about it, there is a chance that the next cross-country or all-mountain bike that you buy down the road will be sporting the new standard. Trek, Lapierre, Rocky Mountain, Yeti, and many more manufacturers all offering 12 x 142 mm rear ends for the upcoming 2011 season.
12 x 142 mm Axle Details
The goal of a 12 x 142 mm axle standard is to make thru-axles as quick and easy to use as a quick release system


Stiffness of a 12 mm thru-axle, but with a quick release's wheel self centering feature


12 mm is the axle diameter, 142 mm refers to overall shoulder to shoulder width of hub (end cap to end cap)


Cassette and disc rotor are in the exact same relation to the hub's centerline as a standard 135 mm QR hub


Wheel dish remains the same as a 135 mm quick release wheel


Frame dropout's have 3.5 mm of inset per side that hub endcaps fit into - just as with a 10 x 135 mm QR wheel


There is not enough room on the driveside of a 12 x 135 mm thru-axle hub to build in the same hub locating ability, the extra 7 mm of overall width was required for the system to work


Whereas 150 mm rear hub spacing requires the use of an 83 mm bottom bracket shell for proper chainline, 12 x 142 mm produces the same chainline as a standard QR rear wheel and works perfectly with any variation of B.B. that you'll find on modern XC or AM bikes


Most hub manufacturers will simply make slightly different hub end caps to work with the new 12 x 142 mm spacing - no need to panic about having to buy a new rear hub or wheel
Certain designs should lend themselves to using 12 x 142 easier than others. The 2011 Trek lineup that you've been reading about over the last few days all use their ABP system that already requires the use of a long quick release skewer that needs to be completely removed in order for the wheel to be removed from the frame. Adapting ABP to accept a 12 x 142 mm Maxle was a relatively simple job that only requires Trek to use slightly different shaped ABP pivot hardware. It's worth noting that all of their bikes will also ship with the necessary hardware in order to use a standard 135 mm quick release wheel as well. Likewise, I can see most hub manufacturers keeping it very simple by making only different and interchangeable hub end caps that won't require you to buy a new hub or rear wheel.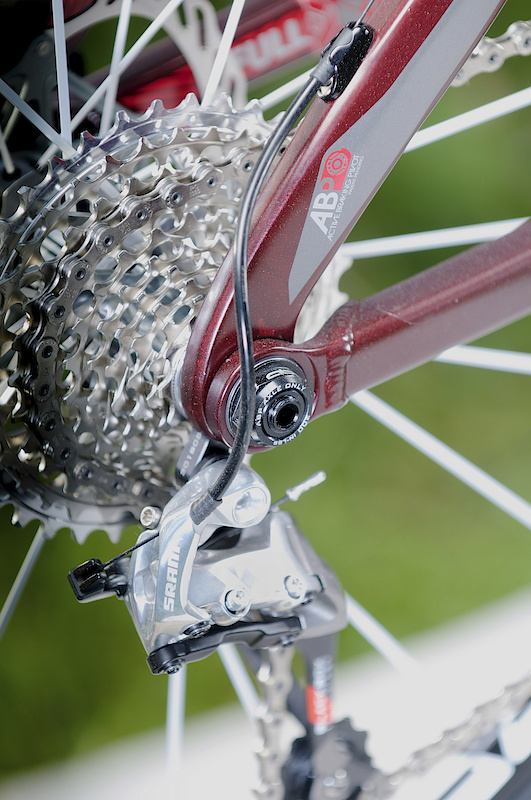 Trek's bikes can accept both a standard 135 QR wheel and the new 12 x 142 mm size
- but how many other companies will be as flexible?
The goal of the 12 x 142 is
not to make a stiffer rear end
, although it will be inherently stiffer than the equally convenient 135 quick release system that we're all used to, but to combine the best of both a quick release and a thru-axle design. Yes, we can all manage to install a thru-axle rear wheel on our current bikes without much hassle, but after playing with the new 12 x 142 layout I can honestly admit that it was even more effortless to use. The system's auto wheel centering feature meant that I didn't have to flip the bike over or struggle to line up the hub opening with the axle before pushing it through - just drop the wheel in and slid the axle home. I'm not saying that I'm all for it, but I think it's important to remember that a bike is the sum of it's parts and that if bikes never evolved, even if only in small steps that we're seeing now, we'd still all be using threaded loose ball headsets and cup and cone bottom brackets on our bikes. When it comes down to it, no one
needs
the new 12 x 142 axle size, but there are benefits to it that are worth looking at.
Now that you know the facts tell us how what you think about 12 x 142 mm below!