TESTED
Banshee
Rune

WORDS
Mike Levy
PHOTOS
Ian Hylands
The Rune isn't a new name in Banshee's lineup, but the 2013 version has seen enough updates and changes that it is essentially an entirely new platform. The bike's KS Link suspension design - the original Rune used Banshee's VF4B system - offers 160mm of travel, bumped up from the previous iteration's 150mm, and geometry revisions include a slacker head angle and lower bottom bracket height that better match how aggressive riders are using modern all-mountain bikes. Earning turns has not been put by the wayside, though, with a steeper seat angle that should work well with the seated climbing position a bike like the Rune responds best to. Factor in the Rune's ability to run either a 26'' or 650B wheelset, and this B.C.-inspired bike begins to look like a sturdy multi-purpose machine. A Rune frame can be had for $1999 USD with a Fox Float CTD shock, or $2199.99 USD with the Cane Creek DBair shock that our Rune was tested with.


• Intended use: all-mountain
• Rear wheel travel: 160mm/6.3''
• Aluminum frame
• Tapered head tube
• KS Link rear suspension
• Interchangeable dropouts: 26" w/ 135mm,
12x142mm, 12x150mm or 650B w/ 12x142mm
• Three-position geometry
• ISCG-05 chain guide tabs
• Dropper post cable routing
• Internally ribbed seat and chain stays
• Shock options: FOX Float CTD custom, Cane Creek DBair (tested )
• Weight: 31.8lb (as tested ), 6.5lb (frame, claimed )
• Colors: blue, black anodized and raw
• MSRP: $2199.99 USD ( frame only, w/ DBair shock as tested )


The Rune is available with either a FOX Float CTD or the mightily impressive Cane Creek DBair that our test bike came spec'd with. The FOX shock's CTD feature will make more sense for those who will benefit from the ride firming CTD lever, and the DBair's range of adjustability will appease riders who like to dial-in their ideal suspension settings.
Adaptability
Banshee has gone to great lengths to create a versatile yet sturdy package with the Rune, and it shows in the final product. According to Banshee's Keith Scott, the bike "
has the performance to make exploring new terrain easy and enjoyable, and allows the rider to explore the limits of their ability, and to help them progress in confidence and ability.
" That adaptability is highlighted by the bike's capacity to accept both 26'' wheels and the 650B wheels that we ran it with for the duration of our time on it, simply by swapping out the bolt-on rear dropouts that alter the axle position relative to the frame. This route, while not the lightest given the aluminum and steel hardware required to make it possible, allowed Keith to incorporate a three position geometry adjustment via altering the height of the dropouts on the rear triangle. Riders can make half degree jumps between 65°, 65.5°, and 66° head angle settings, with the bottom bracket height and seat angle changing accordingly (
all with a 545mm axle to crown fork which most 160mm forks measure close to
). Those numbers, which are certainly partial to trails that slope downwards in a rowdy way, are the same regardless of if the Rune is fitted with the 650B or the 26'' wheel dropouts.
Banshee knows full well that the Rune will be built up as anything from a sturdy all-mountain machine to a nimble park bike and everything in between, and that the many rear axle sizes are often the bane of any rider who is looking to assemble a frame from scratch, especially if they already have a favorite wheelset they want to carry over. Dropouts to fit 135 QR, 12 x 142mm, and even 12 x 150mm rear axles are available for the Rune with this in mind. A de rigueur tapered head tube at the opposite end of the frame can be fitted with any fork between 150 and 180mm of travel, or an angle adjusting headset if you are looking for steeper or even slacker geometry.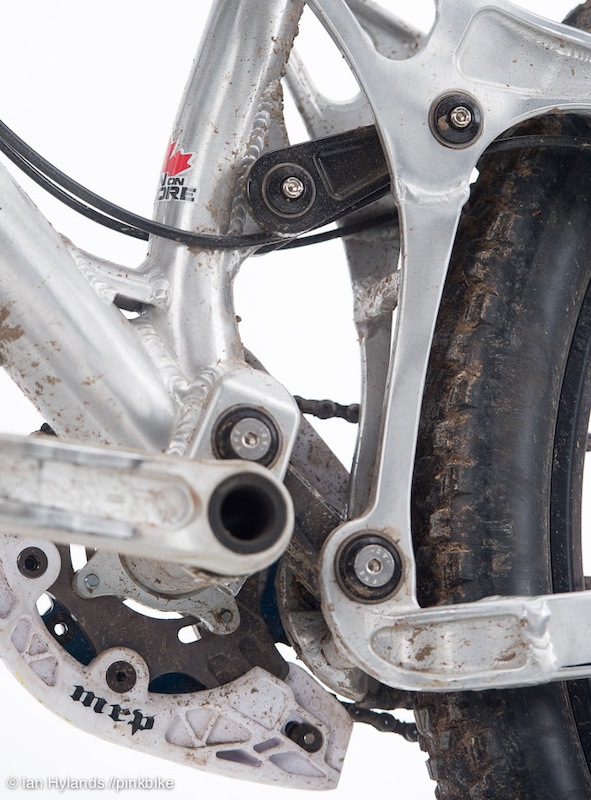 KS Link Suspension Explained
The 160mm travel Rune employs Banshee's KS Link suspension design, which is the third suspension iteration in Banshee's eleven year history. While their original linkage-driven single pivot layout may be long forgotten, their dual link VF4B design is still utilized on Banshee's highly rated Legend downhill bike. So why does the new Rune use the KS Link system instead of the VF4B, and how is it different?
Keith Scott, the man who pens each and every Banshee, and from where the KS Link takes its name, has always placed chassis rigidity high on his list of priorities. To that end, the KS Link design consists of two short forged links, shorter than those required of the VF4B system. These shorter links limit the opportunity for flex between the front and rear triangles, which also means that there should be less stress on each pivot bearing, and therefore less trouble in the long run. Further helping matters is how Keith has captured three of the four link pivots within the frame, sandwiching them between both the main triangle and the twin uprights of the rear end.
While both the KS Link and VF4B are short link, four-bar designs, one major difference between the two is how the shock is activated. Take a close look at the VF4B system on the Legend and note that the shock is actually being driven by the lower link. Compare this to the Rune's shock (
as well as Banshee's Prime that also uses the KS Link
) that is attached directly to the rear triangle. Banshee says that the benefit to the latter is less bushing rotation at the shock, thereby lessening friction in the design and improving small bump compliance. We have to admit that we're wondering just how much that actually factors in given that FOX's new low-friction bushing and mounting hardware has proven to go a long way to accomplish the exact same goal, and Cane Creek DBair rear shock offers near coil-like sensitivity at top of its stroke. It is safe to say that we are expecting a back end of the Rune to be very active.
Specifications
Release Date
2013
Price
Travel
6''
Rear Shock
Cane Creek DBair
Fork
X-Fusion Vengeance HLR Air
Cassette
SRAM PG-1070 10spd 11-36
Crankarms
Race Face Atlas
Chainguide
MRP G3
Bottom Bracket
Race Face
Rear Derailleur
SRAM X9 medium cage
Chain
SRAM 10spd
Shifter Pods
SRAM X0 10spd
Handlebar
Chromag
Stem
Chromag Ranger
Grips
Chromag
Brakes
Avid X0 Trail
Hubs
Stan's 3.1 DH
Rim
Stan's Flow EX 650B
Tires
Maxxis Ardent
Seat
Chromag Moon
Seatpost
RockShox Reverb
---
Riding the Rune
Climbing
If one was to only judge the Rune by its talking points - 160mm of travel and a shock with no pedal-assist lever, a run of the mill 31.8lb fighting weight, and a fork that lacks any sort of complicated lockout or travel adjust feature - they would probably come to the conclusion that the big Banshee is likely a handful on all but the most mellow of ascending grades. That sort of reasoning would be understandable, and we have to confess that we were guilty of the same. Then we rode the bike. Compared to machines with similar travel, the Rune offers an efficient ride that, we have to admit, surprised us. The bike's weight is certainly noticeable as the grade increases, but the crisp feel of the KS Link suspension transfers power with very little grumbling. That fact went a long way to making a grinder of a climb a bit more bearable, just for the mental advantage alone. The snappy feel, along with the single 32 tooth chain ring, definitely had us chugging up climbs quicker than we thought we would. Of course, our speed slowed relative to how steep the hill became, which then exposed the bike's tendency to wander back and forth like the town drunk if some serious body English wasn't applied to the front of the bike. Stay on top of things, literally, and you'll be rewarded with a bike that manages to out-climb your expectations.

Taking a step back before we bury the Rune in praise, it needs to be said that although the bike's impressive pedalling abilities go a long way to making the Rune an excellent climber, it is still a relatively portly and slack bike that requires a strong set of legs and lungs to get to the top of any serious mountain. Our test bike's single 32 tooth chain ring forced us to ramp up the power and attack steep trail rather than sit and let it come to us, an approach that favors the firm pedalling Rune Chassis (although not the very active Vengeance fork). And potential Rune owners should note that the bike's 65.5° head angle (in the middle setting ) means that the steering requires constant attention while climbing any sort of technical singletrack, but that is a trait that nearly all other bikes in the Rune's class share, and also one that we can see the average knee pad wearing, flat pedal using Rune rider to be accepting of.

Is the Rune another case of a bike that can't be judged by its numbers? In a way, yes, mainly because of the KS Link design's first-rate ability to get the power down in a snappy manner. Swapping out the otherwise superb X-Fusion Vengeance HLR Coil for the travel-adjustable Vengeance HLR DLA would go a long way to creating a more manageable package for riders who climb singletrack rather than gravel access roads, and the addition of a front derailleur would also have the same effect for the average weekend rider who prefer to take the weight penalty in trade for the Rune's descending prowess.


Handling
Banshee has put a lot of effort into creating a burly bike that doesn't shy away from anything on the mountain, a tactic that often produces a machine that feels more akin to a lightweight downhill bike than anything you'd want to spend five straight hours on. The Rune surprised us in this regard by not feeling overly ponderous on trails that required some serious traversing, doing well to hide both its weight and relatively slack angles while outperforming nearly every competitor in the same category on the downs. There is no getting around the 65.5° head angle - you have to be firm with the bike at slow speeds to avoid understeering - but it just didn't feel as lumbering as other bikes with similar angles, a trait we're putting down to the bike's great pedalling abilities.
As expected, the Rune really shines as the speeds pick up and the trail offers some real challenges. Sure, it's forgiving enough to allow you to pinball your way through the worst of it, more so than most other 160mm travel bikes, but it also lets you slice your way through technical sections without feeling as if you are fighting the bike. While some bikes in this same travel bracket are many pounds lighter and a degree or two steeper, often resulting in a bit of a Jekyll and Hyde personality while giving up ground when it comes time to enjoy the rewards of your hard work, we have to say that we felt more at home with the Rune's clear cut temperament. It doesn't sacrifice any boldness on the descents for ability on the climbs, but still manages to hold its own when faced with less challenging trails or a solid climb.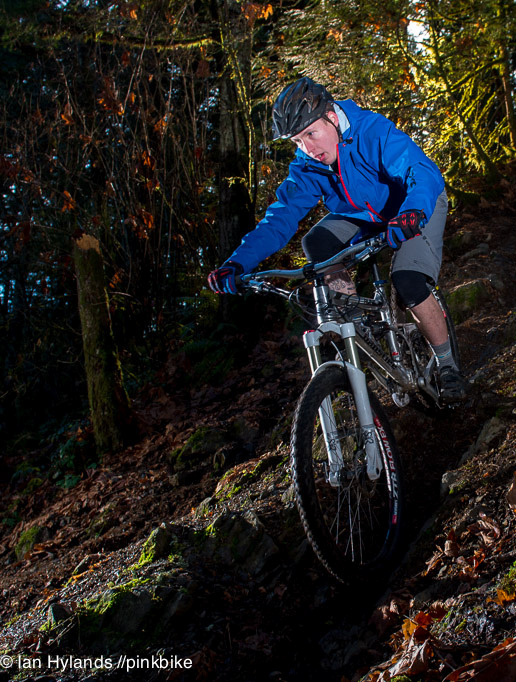 Fitted with the DBair, the Rune feels almost like a downhill bike in the rough.
Suspension
While a downhill bike will always feel relatively forgiving, and a true cross-country bike will consistently offer an unforgiving and sporty ride, a mid-travel machine like the 160mm Rune is a bit more up in the air when it comes to ride quality. There are certainly a few out there that favor efficiency over outright downhill performance, but the very large majority aim to strike a middle ground between the two, which makes complete sense given most of the bikes' intentions. Then there is the Rune, which, judging by its geometry, sturdy looking frame, and outstanding Cane Creek DBair shock, certainly appears to lean towards pointing it down serious terrain rather than up any serious climb. This much became fact for us within the first ride on the Rune, with it quickly making itself known as being ready for anything and everything. The rear end is supremely supple, more so than any other air-sprung bike of the same travel that we can recall riding, which is a result of the active nature of the DBair shock and Banshee's switch to using sealed bearings at each pivot (
the previous iteration of the Rune employed bushings instead
). It felt as if the rear wheel wanted to move out of the way of the smallest root or rock, no matter how minor the impact, but at the same time the bike was able to stamp out a large, high-speed compression like a bike with at least another inch of travel.
The incredibly tuneable DBair shock allowed us to dial in the exact feel we were looking for in each element of the shock's damping, with us making small adjustments to both the recommended low-speed compression and rebound ranges while leaving the high-speed dials at their factory settings. Our changes included adding a touch more compression damping in order to give the Rune a bit more life when it when it was faster (
or more fun
) to go airborne, as well as more rebound control that improved stability. Our only change of two extra clicks to both the low-speed compression and rebound circuits show that Banshee and Cane Creek certainly did their homework when it came to dialing in the recommended base settings for the bike.
In the tough world of aggressive mid-travel bikes, Specialized's latest Enduro was the only machine we've ridden that comes close to approaching a downhill bike in terrain leveling abilities, but Banshee's 2013 Rune proved to be its equal - an impressive feat. The Rune didn't waffle when pushed hard, and makes most other mid-travel bikes feel a touch spindly anytime commitment on serious ground was required. A lot of the bike's abilities are surely down to the stunning performance of the DBair shock, but much credit must also be given to the solid Rune frame that never feels taxed, as well as geometry that only feels better and better as your speed increases. The Rune's qualities add up to a bike that, while likely not our first choice if we spent all of our time on polished trails, would be at the top of our list for proper, toothy trails.
The 650B Factor

We've been testing a number of 29'' and 650B-wheeled bikes recently, as well as some 'old fashioned' 26''-wheeled rigs, and it has been interesting to compare the different sized wheels back-to-back on our familiar testing loops that we've been lapping for over fifteen years. One thing is clear as day to us: the differences between 29'' wheels and 26'' wheels is much, much more distinct than what is noticeable between 26'' and 650B. This isn't unexpected, though, as the latter size is actually not an exact mid-point between 26'' and 29'' but rather much closer to the smaller diameter wheel. So, what effect do the 650B wheels have on the Banshee Rune? Truth be told, we would be hard pressed to tell the difference in capabilities during a blind test as to if the bike actually performed

better

than a 26'' equipped version. But here's the thing: physics, along with a decade of 29ers, have proven that the larger diameter wheels' higher angle of attack do roll better over rough trail. That means that, given equal tires and tire pressure, 650B wheels carry more speed and can offer more traction over 26'' wheels in certain scenarios simply because of their larger diameter. We didn't pick up on this fact while testing the Rune, but it is there regardless of how subtle it is in the real world.

| | |
| --- | --- |
| | No one is stipulating that your next bike absolutely has to have 650B wheels on it, and 26'' bikes and components will continue to be available for a very long time, so I don't see the sense in an anti-650B rant. The choices are there and we are all free to choose what makes the most sense for us. - Mike Levy |

Given the very slight yet very real advantage stated above, why would one bother with 650B at all? The honest truth is that the 'tweener wheels offer a ride so close to 26'' wheels that the very large majority of riders on the very large majority of 650B bikes won't be able to tell the difference, yet they will be gaining a

slight

advantage in some instances. Take into consideration that 650B-wheeled bikes are, in every practical sense, as maneuverable and "lively" as 26'' wheels, and the fog of hostility should begin to lift. To be completely frank about it all, we don't want 650B to usurp 26'' wheels anytime soon but given that they are as playful as 26'' wheels (

the biggest on-trail downfall of a 29er, besides their unwillingness to squeeze onto bikes with more than 150mm of travel

) yet offer more traction and better rolling abilities, we can feel our resistance crumbling with every new 650B bike that we review, Rune included.

Other Ride Notes

• There are no water bottle cage mounts to be found on the Rune, which is shame because we enjoy being on the trail without a pack for short rides. There just isn't enough room within the front triangle, and a down tube-mounted cage doesn't make sense on a bike like the Rune.

• Our Rune's 650B compatible X-Fusion Vengeance HLR Coil fork impressed us, but this wasn't a surprise given our previous time on their Vengeance offerings. Supremely supple without any gimmicky stanchion coating, and with effective adjustments, the Vengeance is a great alternative to the major players. The fork's stock spring does feel a touch under-sprung, though, and we can see many riders dropping in a stiffer coil.

• We found Chromag's Moon saddle to be acceptable, but the flat-ish profile will not agree with everyone's behind. If you prefer a more rounded profile, be sure to give the Moon a try before pulling the trigger.

• Maxxis' 650B Ardent tires seemed to perform better than their 26'' size, although this could be due to the profile of the Stan's Flow rims that match the Ardent nicely. They still wouldn't be our first choice, with a bit of a vague feeling popping up too often.

• We've always had great luck with Stan's Flow rims, and the bike's 650B Flow EX hoops matched those expectations. Relatively light, they can be built up into a smart wheelset that can stand up to some serious abuse without weighing a ton. The wheels were assembled around Stan's 3.30 HD hubset which spun with less resistance than any other sealed bearing-type hubs that we can recall. Our single complaint comes down to the front hub's tendency to allow its 20mm axle caps to fall out a bit too easily - tighter fitting O-rings would help.
Pinkbike's take:
| | |
| --- | --- |
| | While many other companies are busy trying to shave grams from their all-mountain platforms, Banshee has managed to produce an incredibly sturdy and capable 160mm travel bike that offers enough versatility to keep any tinkerer happy. Interestingly, the pedalling performance of the Rune's KS Link suspension design is worth many points in our book, with this fact saving the Rune from being labeled as a one-dimensional bike best suited for only the burliest of pedal accessible trails. Regardless of how you find your way to the top, the Rune offers a staggering amount of sure-footedness on the way back down. - Mike Levy |
www.bansheebikes.com
Must Read This Week