---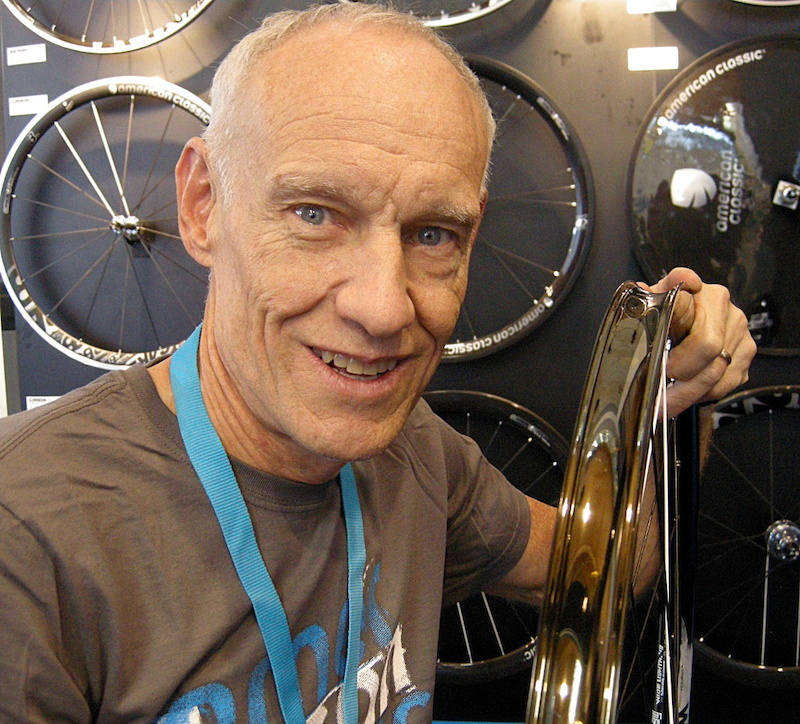 American Classic founder and component designer Bill Shook poses
with his tubeless Wide Lightning wheel.
TO THE POINT: Bill Shook Talks About Wheels
BY: Richard Cunningham
Pinkbike has been pushing for wider rims to enhance the performance of both cross-country and all-mountain trailbike wheels for some time. The trend is starting to take off, with a number of key players offering lightweight wheels laced to rims ranging from 30 to 40-millimeters wide. American Classic's Bill Shook has been experimenting for a number of years with incrementally wider rims, using a variety of tire combinations to discover where in the witch's brew of stainless steel, aluminum and rubber lies the optimum mixture of light weight, lower rolling resistance, better cornering, and overall wheel strength. We asked Bill to give Pinkbike a heads up on some of the issues involved in the quest for a better performing mountain bike wheel, and why wider may be better.

Where do you imagine the width of mountain bike rims and tires will end up, once tire makers join up with the concept?
First off and most obvious, the tires need to fit through the frame. I don't think there is one ideal size for all applications. For cross-country racing, the ideal size is a 32-millimeter-wide rim like my Wide Lightning. I chose 32 millimeters after watching our pro riders in the US and Europe over the years. I started these riders with rim widths at 24 millimeters wide, then 26 millimeters, each with reductions in tire casing size and weight, Then I tried 28 millimeters with a subsequent reduction of tire casing size and weight. In watching this progression, I saw that the profile of the tire on the rim
(as a unit)
was going more and more towards a half-circle shape
(hemispherical tire profile)
. I took it to its conclusion and the sweet spot is at 32 millimeters wide, as it is the maximum lightest casing with the best tire profile. If you go beyond that to, say, 36 millimeters wide, you get negative returns, because the shape of the tire on the rim exceeds the optimum hemispherical shape.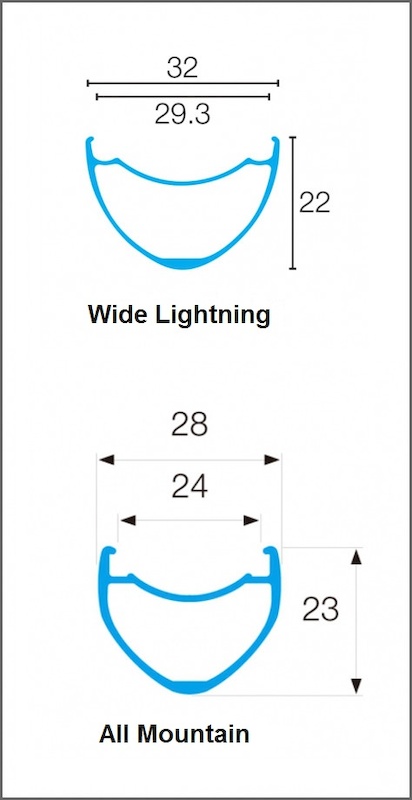 Bill designed his cross-country/trail rim
(top)
to be wider
than his all-mountain/freeride rim
(bottom)
. Note the
short flanges and the grooves used to seal the beads.

Do you think that there are different design requirements for cross-country and all-mountain wheels?
For all-mountain/freeride use, there is a need for increased air volume over cross-country racing use. Freeriders need more air volume in their tires to survive bigger hits from rocks, jumps and other obstacles at high speeds. The rims must also be thicker to survive these conditions. If the rims get too wide, they will get too heavy, decreasing overall bike performance and making them harder to ride uphill. Freeriders often ride uphill, unlike true DH riding, and observing our athlete's performance, I concluded and designed the American Classic All Mountain wheels to what I believe to be the sweet spot for all-mountain/freeride use. I carefully engineered the All Mountain rims to 28 millimeters wide and made them slightly stouter to survive the big hits. Combined with a reduced tire casing size and weight, the All Mountain wheels are the right balance of strength, width and weight for freeride. At greater widths, such as 36 or 40 millimeters, the rims are just too heavy and there's no real weight saving from using a reduced tire casing size.

What kind of weights are we talking about?
My Wide Lightning 29 tubeless wheels weigh 1569 grams a pair and the Wide Lightning 27.5 tubeless are 1512 grams per pair. Compare those weights with my All Mountain 29 Tubeless at 1725 grams and the AM 27.5 Tubeless at 1673 grams per pair.

You designed your newest AM and Wide Lightning rim profiles with very short, thin flanges. Is there a compromise in strength there?
My sidewall hook height is designed to be that way. A shorter sidewall has reduced leverage and lower bending force, which means it can be thin and strong. A longer sidewall has the increased bending force and leverage, so it must be thicker or it will bend. Do not be deceived by looks on this one!

Explain the importance of the tubeless-specific profile you designed in the rim wells
All of our American Classic mountain and road tubeless rims have a bead barb to lock the tire bead in position once the tire pops into place
(seats).
Tubeless tires seal on the circumference of the rim, not against the side wall. The bead-seat shape goes all around the rim and it helps seal and hold tubeless ready tires on the rim. The tire well (bottom center of the rim) has a smooth curve and yet it is deep enough to allow easy installation of the tire.
American Classic's Wide Lightning wheels come prep'ed for tubeless with AC's tape installed. High-flange hubs provide a more optimum angle for the spokes.

Why aluminum as your material of choice for rims?
Aluminum and carbon fiber are good rim choices. I like aluminum for mountain bike applications because aluminum is "ductile," meaning it will bend without breaking. This is great for MTB because you hit things when you ride and sometimes you hit things very hard that can cause rim damage. Aluminum is forgiving and it is better priced for riders to replace them when they have a mishap. Carbon fiber is a relatively new material for mountain bikes and I have one on the drawing board for the future. Carbon can be very light, but if there is a mishap, it's not forgiving and a carbon rim is expensive to replace. It will be interesting to see if the carbon MTB rim trend will stay or not.

You designed and patented a novel-looking freehub ratchet - can you walk us through the design?
I designed a six-pawl, cam-actuated engagement system. All six oversized pawls engage in unison whenever drive torque is applied. A cam plate powers the pawls into engagement simultaneously. There are cupped engagement pockets in the cam plate for improved contact. The cassette body has 24 ratchet teeth for quick engagement with the pawls. Each pawl is made from super strong tool steel and has double tips for 12 points of engagement to work in conjunction with the 24 ratchet teeth. The secondary ratchet system does the coasting quietly and forces engagement of the large pawls only for drive torque transfer. The one-piece, forged 7075-aluminum cassette body is hard anodized and is protected with my steel-face body design.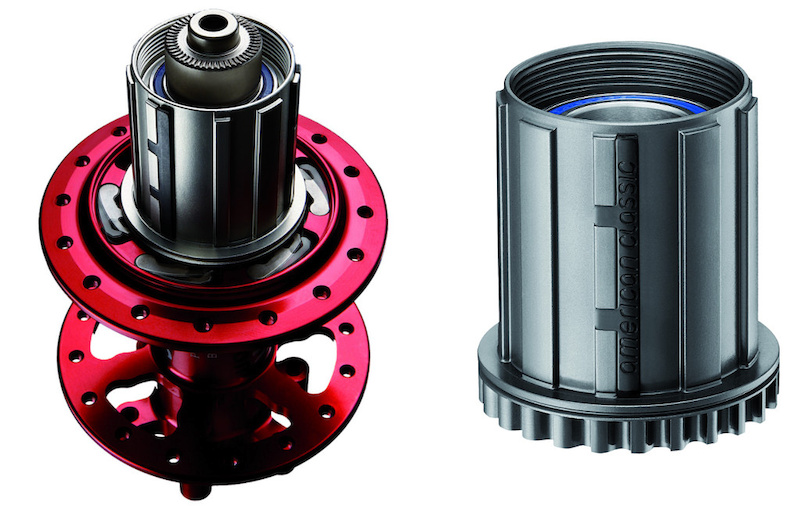 Shook's six-pawl freehub ratchet drives the pawls into the specially shaped tooth profiles under power. A steel 'plate' attached to the aluminum freehub splines prevents damage from Shimano-style cassette cogs.

Insiders say that Shimano has yet to embrace one-by-eleven drivetrains, primarily because the torque generated by a 42-tooth cog creates too much stress on a conventional freehub body. Can you comment?
Aluminum cassette bodies are damaged by the individual cassette cogs, and from loose fitting Shimano cassettes. Our Shimano-type cassette bodies are equipped with a steel face on the splines so that the body will not be damaged by the cassette. Steel is harder than aluminum which protects the softer aluminum from being gouged by the cogs. You get the best of both worlds, a light weight aluminum body with the protection of a steel surface.

Can there be such thing as too much spoke tension?
Yes! If you have a really heavy rim, you can crank up that spoke tension if you want. But if you have lighter performance rims, extremely high tension can cause the rim to become unstable. We have specific spoke tension for all our MTB and road wheels because we want our customers to keep them in the sweet spot and have the best performance and durability.

Is there a downhill wheelset in American Classic's future?
We just discontinued our downhill wheels and hubs, and all 26-inch wheels. We weren't getting traction in the DH market.

Do you envision a time when nearly all bicycle tires will be tubeless?
Yes, and soon.
Must Read This Week