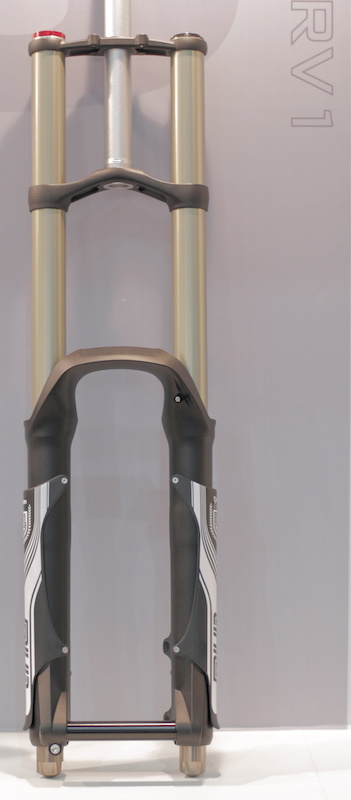 X-Fusion RV1
X-Fusion is well aware of the demand for a downhill fork in their lineup - the comment section of every X-Fusion article on Pinkbike has been filled with readers asking for it - and that anticipation was heightened with the February announcement that they will be working with the Pivot Factory DH Team on the World Cup circuit, with further confirmation coming in the form of
POV footage
of X-Fusion's John Hauer testing the prototype fork in California. We all knew it was on the way, and this coming July will see the release of their 200mm travel RV1 that is pictured here.
RV1 Details
• Intended use: DH racing
• Travel: 200mm (
internally adjustable to 180mm via a push-pin system
)
• 36mm diameter stanchions
• Coil sprung
• 26'' and 650B versions (
same lowers, different crown offset
)
• External adjustments: separate low and high-speed compression, low-speed rebound
• Uses X-Fusions twin-tube HLR damper
• New 'Nvolve' fork seals
• Pressure release valves
• Direct mount stem compatible
• Uni-directional carbon fiber leg guards
• 20mm thru-axle
• Production fork weight: 6.3lb (
w/ uncut steerer
)
• Availability: July, 2013
• MSRP $1299 USD
Twin-Tube HLR Damper
The RV1 will make use of X-Fusion's proven twin-tube HLR damper that we've become very familiar with from their Vengeance platform, although it will see some important internal refinements to better suit the fork's 200mm of travel (
the Vengeance offers up to 170mm
) in the form of a higher oil flow piston and a different shim stack arrangement. Just as in the Vengeance, the HLR damper is a sealed but serviceable aluminum unit that separates the lubrication oil from damping duties. It is generally agreed upon that this layout makes for more consistent damping by keeping
cavitation to a minimum due to the system preventing the oil from sloshing about inside the fork, but it also eliminates the chance of dirt and grime that has managed to get past the seals from mixing in with the damping oil. The twin-tube layout is just how the name suggests, with the damper cartridge employing a tube within a tube layout that allows the oil to flow through the compression damping circuits that are located at the bottom of the cartridge and out ports that feed into the outer chamber created by the exterior damper cartridge wall. The opposite happens during the rebound stroke, with the oil flowing in through the ports, past the check valve, and through the rebound assembly. External adjustments included rebound speed that can be adjusted via a red anodized dial atop the right fork leg, with separate low-speed and high-speed compression dials found at the bottom. Our time on shorter travel versions of the HLR damper have shown it to be a top performer that can rival anything on the market, so we are very much looking forward to having a go on the 200mm travel RV1.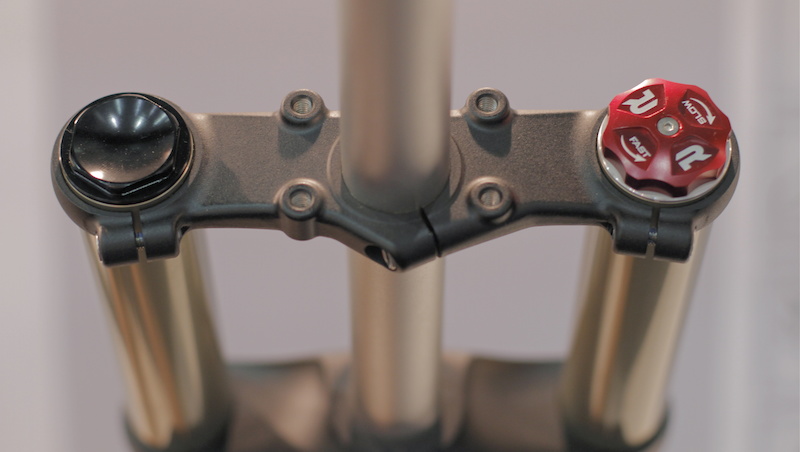 Different fork crowns will allow the RV1 to work with both 26'' and 650B wheel sizes.
26'' and 650B Versions
While 650B wheels are gaining ground fast on their long-standing 26'' counterparts when it comes to both OEM spec and consumer acceptance, no one is quite sure if they will have the same proliferation in the world of downhill bikes. We'll no doubt see some World Cup racers on-course with 650B wheels for the 2013 season, though, and X-Fusion may very well be one of them as the new RV1 will be available in both 26'' and 650B flavours. Both versions will utilize the very same lowers and stanchions but crown geometry will vary between the two in order to preserve handling, with the 26'' crowns featuring 42mm of offset and the 650B set running 46mm. Consumers will be able to purchase either version complete, or a set of aftermarket crowns that will allow them to switch between the two wheel sizes. Laser etched height markings on the upper portion of the stanchions will keep riders from having to measure to find where the tubes should be clamped.

The fork arch looks burly from the front, but a peek from behind reveals that X-Fusion has pared it down quite a bit in an effort to shave grams.
Carbon Lower Leg Guards
Bolted to the lower legs is a set of uni-directional carbon fiber guards that protect the magnesium tubes from rock strikes. The guards are held in place with four small hex head screws and can be removed if you don't feel like running them, although riders who frequent rocky terrain will likely prefer to leave them in place (
who's seen the countless photos of holes punched right through a set of fork lowers?
). Graphics are printed directly onto the guard.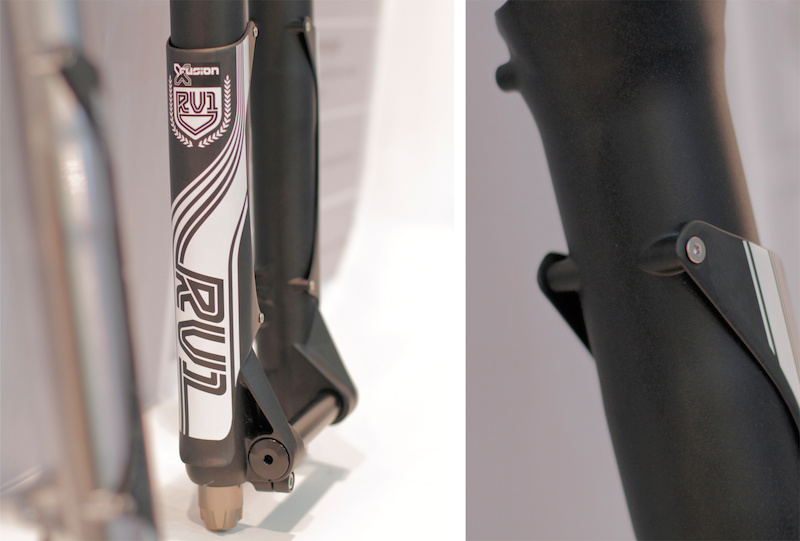 Uni-directional carbon fiber leg guards offer added protection.
Pressure Release Valves
While common in the moto world, pressure release valves are only just now showing up regularly on mountain bike forks (
although Marzocchi used them on their Shiver and Monster T forks many years ago
). The valves, which are located just below the seals on the RV1, can be opened with a 2.5mm hex key to allow the fork's internal pressure to return to ambient levels. This may not be a concern for the majority of casual riders, but it is a well known fact that pressure builds up within a fork as it cycles through its travel for an extended period of time, artificially raising the spring rate as this happens. These small ports allow racers (
or just picky riders
) to release the built up pressure without having to crack open the fork's caps, and X-Fusion is even planning on offering tool-free aftermarket buttons that will replace the hex head screws.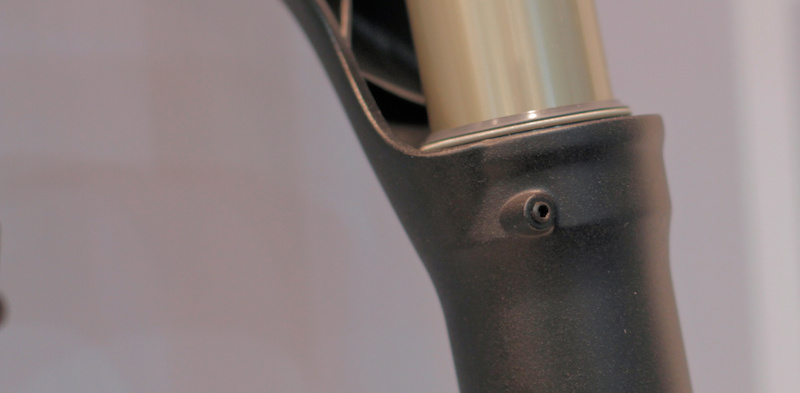 Pressure release valves allow for quick and easy discharge of any built up pressure without having to open the fork's top caps.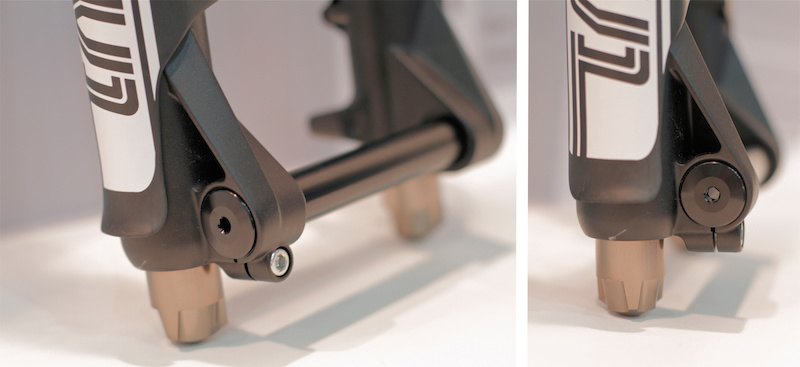 The fork's 20mm thru-axle requires a tool to remove - we like this on a true DH fork - and employs a single pinch bolt on the right hand side.
| | |
| --- | --- |
| | The reason we did it now is that we want to be involved in World Cup downhill racing and we think that is the pinnacle of suspension performance. It took us a long time to get here but we really wanted to execute a fork that we knew would be ready for the World Cup downhill circuit, and you know it's not easy, it took time, but I think we're finally there with a product that we think that someone could race and win a World Cup with. - Joel Smith, X-Fusion general manager |
www.xfusionshox.com