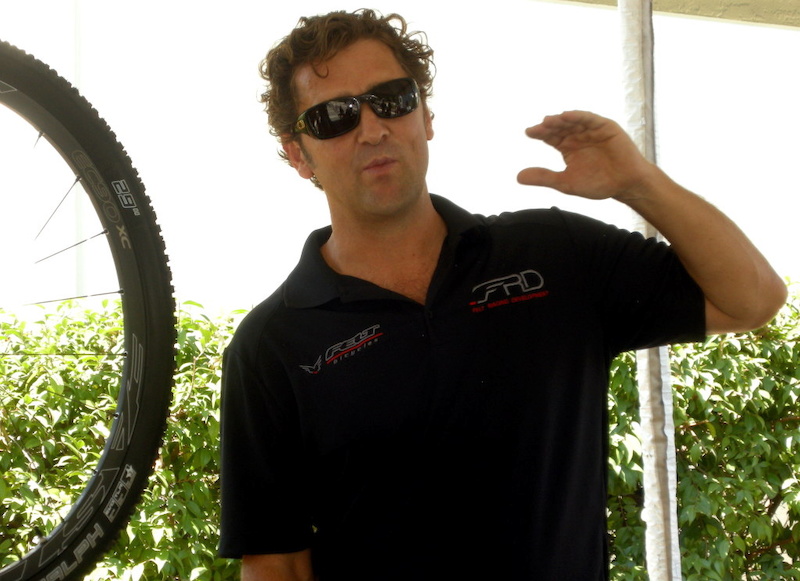 Scott Sharples is now the product manager for Felt's mountain bike range.
Felt

rolled out its 2014 bike range at its headquarters in Irvine, California, where we were treated to good food and had access to Felt's entire staff, which was on hand to answer questions. The big story was 'less equals more.' Felt pared much weight from its 2014 bikes - between 120 and 250 grams from its frames alone - and also dropped all of the redundant models from its mountain bike lineup in order to focus its attention on the bikes that Felt's riders and employees have a passion for. Felt also brought on Scott Sharples, an Aussie legend, who is the mountain bike product manager there - and his influence was evident in every new bike. The result was an impressive range of 29ers that tick all the boxes. Felt's show opener was the stunning, carbon fiber Edict Nine FRD (Felt Racing Development), a 100-millimeter-travel XC racing bike that weighs somewhere near 22 pounds. The bike for us, however, was Felt's 130-millimeter-travel Virtue Nine 1. The Nine 1's carbon chassis weighs only five pounds including its shock and it has both the numbers and the component selection to be a ripper on trail. Felt's aluminum models will hit the shops late Summer and early Fall, while its elite-level carbon bikes are expected in late December.
Edict Nine FRD
Edict Nine FRD Construction
Felt makes no apologies for the Edict being a quick handling, purpose-built machine for pro-level XC racers. The head angle is 71.5 degrees and the chainstays are short for a 29er, at 450-millimeters. Its chassis is designed with larger tube profiles for greater stiffness and less weight, and its rear suspension uses Felt's 'FAST'
(Fantastic Acronym for Simple Technology?)
flex-type rear stays, which eliminate the dropout pivot. With 100 millimeters of rear suspension backed by a equal-travel RockShox SID World Cup fork, the Edict Nine FRO has enough cushion for trail riding, considering its 29-inch wheels. The derailleur cables are internal and that means wires only to save weight, but removable caps at the housing entries make it easy work to thread the wires through the frame. Extensive use of TeXtreme carbon material and a lot of history in carbon manufacturing has brought the weight of the frame down 120 grams, 900 grams total, they tell us. Pivots run on dual-row ball bearings, with 15-millimeter tubular axles and titanium hardware. Out back, the axle is a 142/12-millimeter X-12 type, and the post-type brake caliper is tucked inboard, well out of harm's way. FRO modes use a single-chainring SRAM XX1 drivetrain, but a direct-mount front changer boss is built into the swingarm, should you need a derailleur in the future. Frame sizes are small, medium, large and X-large.
Key Components
Felt says that they worked closely with SRAM, especially RockShox, to customize the components of its elite level bikes. The Edict Nine FRD's Monarch shock and SID WC fork are linked with a Full-Sprint dual-remote lockout lever. One push on the hydraulic button locks out the entire system. The drivetrain and brakes are SRAM XX1 with 160-millimeter rear and 180-millimeter front rotors. Wheels are Easton EC90 carbon and the entire cockpit is outfitted with Easton EC-70 Carbon items, including the stem. Tires are Schwalbe Racing Ralph Evos and the wheels and tires are tubeless ready. Felt's MSRP for the Edict Nine FRD is $8899.
---
Virtue Nine 1
Felt's Virtue is now exclusively a 29er, and it is available in both carbon and aluminum models from $6199 to $2199 USD. The Nine 1 offers a RockShox Reverb Stealth dropper post and internal routing. Its frame numbers are good, with a 69-degree head angle, short, 450-millimeter chainstays and generous top tube lengths. Scott Sharples chose dirt-worthy stem lengths and handlebar widths, so the Virtue is ready to rock right off the dealer's floor. The Virtue's front derailleur features a high-type direct front derailleur mount, although the the SRAM X01 drivetrain does not need it. Like the Edict, all the pivot locations rock on dual-row ball bearings and light, 15-millimeter aluminum axles. Felt's Equilink rear suspension is tuned to provide a firm pedaling platform without stealing the suspension's bump-smoothing performance. Sizes are small. medium, large and X-large. Three carbon models, Virtue Nine 1, 2 and 3, as well as three aluminum models, Virtue nine 20, 50 and 60 are available.
---
Virtue Nine 20
Those who want a look at Felt's aluminum version of the Virtue Nine can feast on the Virtue Nine 20 - a special-issue design that is stuffed to the brim with elite level features, yet sells at a very competitive, $3799 USD. The Nine 20 reportedly weighs a bit under 30 pounds
(13.56kg)
and duplicates the geometry, suspension and technical features of its carbon brethren. Felt's aluminum suspension requires a dropout pivot, so the Virtue Nine 20 gets the new double-row ball bearings and rigid, clevis-type system. Like all of Felt's 2014 trailbikes, the '20 is sold with a dropper seatpost - a KS LEV - and if you need it, internal cable routing is included for a Stealth-type dropper. Drivetrain is all Shimano XT, with a 2 x 10 crankset, while brakes are Deore with 160-rear and 180-millimeter-front rotors. Suspension is all RockShox, but in the case of the Niner 20, the fork is a Revelatio RL with a Push-loc remote lockout system, and the shock is a Monarch RT. Suspension travel remains 130 rear and 140-millimeters up front. Wheels are DT Swiss 530D rims on Shimano XT hubs rolling on hard-wearing and super-grippy, 2.4 inch Continental X-King tires.
---
Compulsion LT 3
Felt kept its best 26-inch trailbike in its range and we'd agree that it was a good decision. The Compulsion LT3 has Felt's high-modulus,UCH carbon frame, with a trail-tuned Equilink rear suspension that can be configured with either 150 or 16-millimeters of rear wheel travel. The Rear suspension is alumninum, and essentially, is the same system as the 2013 model. Like its cousins, the Compulsion is suspended by a RockShox Monarch RT damper, but it gets the pearl of the new RockShox lineup up front: the new 160-millimeter-stroke Pike RC Solo Air fork. Geometry is in the sweet spot for a good AM/trail bike with a 67.5 degree head angle and a 73-5 degree seat angle. Wheels are WTB's tubeless ready Speed Disc i23 and tires are Schwalbe's grippy Hans Dampf. The drivetrain is a SRAM X7/X9 arrangement with a two-by crankset equipped with a generous bash ring. If you want to switch to a more bomb-proof single-ring drivetrain, ISCG-05 chainguide mounts are waiting on the frame. Compulsions are sold in two price points: The carbon LT3 at $3999 and the aluminum LT 50 at $2999 USD.
---
Q 24 Youth MTB
Felt wanted to make a quality mountain bike for the youth rider that was still inexpensive enough for a family budget. The $449 Q 24 is just that, with a Suntour hybrid spring/elastomer fork, 24-inch wheels, and Tektro mechanical disc brakes. It looks the part and has truly functional components. There is nothing glamorous about the Shimano Tourney/Altus drivetrain, or any other component, but the Q 24 is well put together, so its rider can hit the dirt without holding back and the rider's parents can be proud that he or she is riding the real deal - or a very close version of it.
.
Felt Bicycles