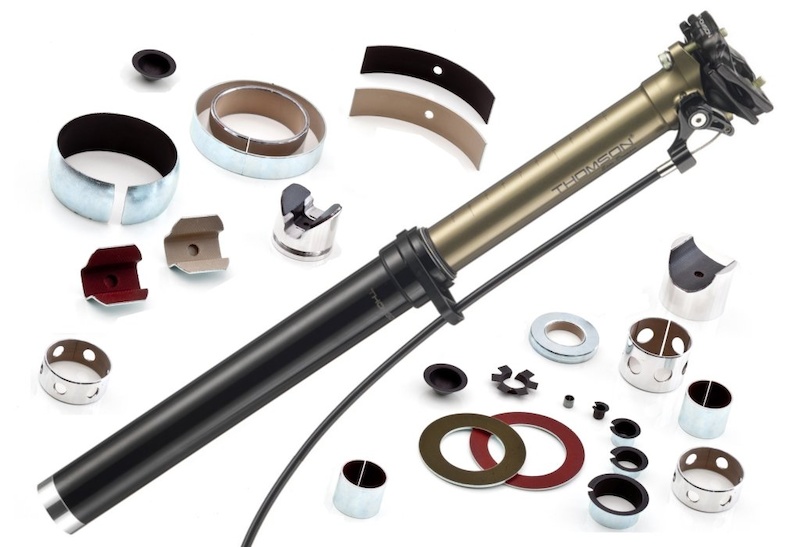 Various Norglide bushings surround Thomson's Elite Dropper seatpost. Norglide composite bushings use a hard metal backing, impregnated with a slippery plastic compound. The nature of the design enables the bushings to be custom-designed to fit specific applications.
When Thomson
decided to make its first dropper seatpost, long-term reliability was their number one concern. The following promo video documents the decision making process that brought the two companies together on the project.
Thomson's Elite dropper
uses Norglide composite bushings in the internal, nitrogen-charged cartridge, as well as for the sliding surfaces between the body and stanchion tube
(seat post extension)
. Norglide is part of Saint Gobain Performance Plastics, who are suppliers to Thomson and other key players in the bike industry who use the self-lubricated composite bushings inside shocks, for dual-suspension pivots and for other highly-stressed rotating components.
The following video, produced in cooperation with Norglide and Thomson, underscores the importance of industry partnerships that begin at the initial concept stage and continue through final production, in order to optimize the performance of a particular bearing application:
Thomson's dropper post uses an internal cartridge, which introduces additional sliding surfaces. Norglide's ability to maintain close tolerances helps to keep the post wiggle free, while providing smooth action for both of the post's telescoping components.
As the bicycle industry gains more experience with modern composite bushing technology, such as those manufactured by Norglide/Saint Gobain, we expect to see them appear in many applications that presently use ball bearings. The fact that bushings take up very little space increases the potential strength of critical suspension pivots and the weight reduction benefits are substantial. Industry partnerships, as the relationship between Norglide and Thomson demonstrate, will be key to the success of the concept.
Visit Thomson for a closer look at the Elite Dropper seatpost.
Visit Norglide/Saint Gobain for the inside on bushings vs ball bearings
About Saint-Gobain Performance Plastics Bearings and Tolerance Rings SBU
Saint-Gobain is a global leader in the design, production and distribution of innovative, high performance materials for industry and employs around 195,000 people. With 15 sites and six R&D centres globally, the Bearings and Tolerance Rings Group, a division of Saint-Gobain Performance Plastics, provides 'engineer-to-engineer solutions-in-motion' to high volume international OEMs in the automotive, leisure, energy, industrial, and other markets. Backed by a heritage of product innovation, technology, advanced materials and market leadership, they are dedicated to working with customers using their extensive engineering expertise to deliver standard and custom solutions in NORGLIDE® bearings, RENCOL® tolerance rings, SOLGLIDE® bearings, JOINSHIM® rings, and NORSLIDE® cable liners that meet the most demanding applications.